An easy recipe for vegan buckwheat pancakes you're going to love! Not only are these wholesome pancakes naturally gluten-free, they're also extra fluffy, egg-free, dairy-free, and very simple to make. They're perfect to add to your vegan breakfast or brunch table!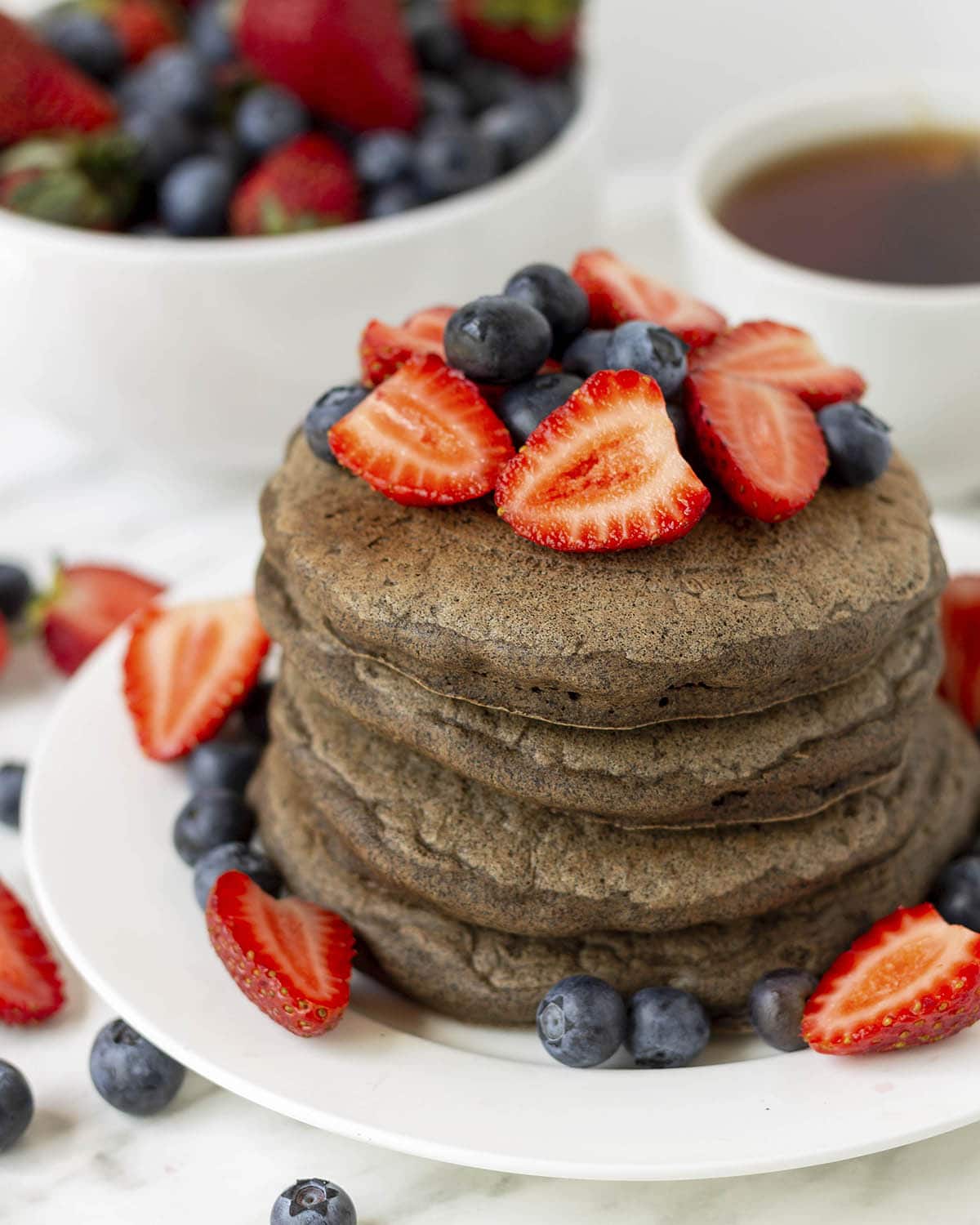 Pancakes are usually reserved for weekends around here, but while testing this recipe, I had to make them a few times to get them just right.
Throughout that testing period, I had lots of leftovers, so I would refrigerate them and then warm them up for a quick weekday breakfast. It was perfect.
So, in my home, pancakes are no longer saved for weekends. They're great to make on a weekend and then save for weekday breakfasts. Especially when they're these fluffy, easy vegan buckwheat pancakes.
And not only for this recipe, freezing or refrigerating the leftovers to reheat later works for all of my pancake recipes, like these:
So, let's talk about everything you need to know so you can learn how to make buckwheat pancakes from scratch.
Ingredients You'll Need
The ingredients you'll need are as follows (and you can also see them in the image below):
Dark buckwheat flour (we'll talk about the types of buckwheat flour next), non-dairy milk, oil, vanilla, baking soda, baking powder, cinnamon, and salt.
Let's Talk About Buckwheat Flour
First, even though the name has "wheat" in it, buckwheat contains no wheat and is not a part of the wheat family, the grass family, or even the grain family (it's actually a part of the rhubarb family!) It's referred to as a "pseudo-cereal," which means it's neither a grass or grain.
It's a naturally gluten-free flour (vegan, too, of course) and does not come from a ground grain, but from a ground seed, the buckwheat groat.
What Does Buckwheat Taste Like?
It's not neutral tasting, it has a stronger flavour which give buckwheat flour pancakes an earthy and nutty, really unique, and delicious.
A Note About Cross Contamination
If cross contamination with wheat is an issue for you, be sure that you purchase a brand that is certified gluten-free (look for the certification logo on the package).
Just like oats, even though buckwheat flour is naturally gluten-free, it could have been processed in a facility that processes wheat.
Some brands that are certified gluten-free are:
Bob's Red Mill also makes their own dark buckwheat flour but it is not certified gluten-free since it's processed in a facility that produces wheat products. This is a good choice for this recipe if gluten is not an issue for you.
The Types of Buckwheat Flour
There are two types, light and dark. Think of them like whole wheat and white flour.
The dark buckwheat flour is ground with the hull intact, so the flour contains little dark specks. That is the type I'm using for this recipe. And like whole wheat flour, dark buckwheat flour contains more fibre.
Light buckwheat flour is ground without the hull. I have not tried making these pancakes with light buckwheat flour yet, but it can be done, you may need to adjust amount of non-dairy milk added to the recipe.
You can read more about buckwheat flour here.
How to Make Them
(Note: I've outlined the step-by-step on how to make this recipe here, but find the full recipe, ingredients, and directions at the end of this post.)
This is a simple recipe, all you need to do is mix the wet ingredients in one bowl, the dry ingredients in another and then combine the two. Once that is done, your batter will be ready.
You'll notice that the batter does not look like regular pancake batter! It's darker because of the type of flour being used.
Just mix until everything has combined and there are no pieces of dry flour left but don't over mix.
Once the batter is ready, cook them in your pan or on your griddle and breakfast will be ready before you know it!
How to Serve Them
Pure maple syrup in highly recommended, to me, pancakes aren't pancakes without it! You can also garnish with fresh berries like I have or you can top with any of the following:
FAQ
Can Vegans Eat Buckwheat?
Of course! These pancakes wouldn't be on this website if we couldn't! As mentioned above, buckwheat flour is vegan, and naturally gluten-free. It contains no animal products, so yes, it's 100% suitable for vegans to eat.
Can A Different Flour Be Used to Make This Recipe?
I always use dark buckwheat flour to make this recipe and have not tried anything else.

Light buckwheat flour and homemade buckwheat flour can be used, but since I have not tested with either, I can't guide on any changes that will need to be made to the recipe. I do think that the amount of milk added to the batter will have to be adjusted slightly, so start by adding ¾ of what the recipe calls for and then add more as needed.

If you try it with light or homemade buckwheat flour made from untoasted groats, let me know how it went. And keep in mind that if you use a different type, your pancakes will not turn out as dark as the pancakes in the pictures.

And if you're just not interested in using buckwheat flour, you can check out some of my other non-buckwheat flour pancake recipes here.
Can Berries or Chocolate Chips Be Added to the Batter?
Sure! Fold them into the batter after the batter has been mixed. You can use blueberries to make them blueberry buckwheat pancakes or even chopped strawberries or pieces of chopped bananas.
Can the Oil Be Substituted with Something Else?
The oil contributes to the tenderness of the finished pancakes, but if you need to make your recipe oil-free, you can replace it with plain, unsweetened applesauce.
How Should Leftovers Be Stored?
Make sure they have fully cooled and then transfer them to an airtight container and store in the refrigerator. They'll last for about three days. When ready to serve, re-heat in the microwave or oven.

If you won't use them within a few days, you can also freeze them in an airtight container or freezer bag, separating them with pieces of parchment paper so they don't stick together. They will last this way for up to one month.
And...Are They Really Fluffy?
Yes! Just because they're vegan AND gluten-free, doesn't mean they're going to be flat, gummy, and not fluffy. If you make this recipe as it's written, the most fluffy buckwheat pancakes are in your future!
Just look at the picture below. Light and fluffy, right?
If You Make This Recipe…
…tell me about it in the comments below or post a pic on Instagram and tag me so I can see! I'm @delightfuladventures over there.
And If You Like This Recipe…
…you may also like these other vegan gluten-free pancakes!
You can help others to find this vegan gluten free buckwheat pancakes recipe by pinning it to your recipe board on Pinterest. Click here to pin it now!
Vegan Buckwheat Pancakes
An easy recipe for vegan buckwheat pancakes you're going to love! Not only are these pancakes naturally gluten-free, they're also super fluffy, egg-free, dairy-free, and very simple to make. They will make the perfect addition to add to your vegan breakfast or brunch table!
Ingredients:
2

cups

(480ml)

unsweetened dairy-free milk

3

tablespoons

oil

2

teaspoons

vanilla extract

2

tablespoons

pure maple syrup

(optional, use only if you prefer a slightly sweeter pancake)

2

cups

(240g)

buckwheat flour

*see note about flour below*

1

tablespoon

baking powder

½

teaspoon

baking soda

1

teaspoon

ground cinnamon

¼

teaspoon

salt
Instructions:
Whisk milk, oil, vanilla, and maple syrup (if using) together in a medium-sized bowl. Set aside.

Heat pan over medium-high heat for at least 2 minutes. The heat may need to be adjusted a few times while cooking the batch.

Whisk buckwheat flour, baking powder, baking soda, cinnamon, and salt together in a large bowl.

Slowly add wet ingredients to the dry ingredients, mix until all ingredients have combined, don't over mix.

Lightly coat surface of pan with a small amount of oil. Ladle about ⅓ cup (or less for smaller pancakes) of the pancake mixture into the center your pan, cooking 1 at a time.

Flip them after about a minute and a half, when bubbles form all over the top of the pancake and the edges start to look dry. After they are flipped, cook for another minute and a half, or so.

Repeat until the batter is done, placing pancakes on a covered oven-safe plate in the oven as they finish, to keep them warm.
Recipe Notes:
Please read all of the information and FAQ info above, as well as the notes below before making this recipe.
This recipe makes 10 x 5-inch pancakes, but they can be made smaller, if you'd like.
Be sure to use a very good non-stick skillet like cast iron or a non-stick griddle. If your skillet or griddle in not non-stick, be sure to grease well before adding each pancake to avoid sticking.
I've only used dark buckwheat flour (Amazon link) to make this recipe. Adjustments to the amount of non-dairy milk may need to be made if you use light or homemade buckwheat flour.
Be sure that your baking powder is fresh or your pancakes will not get the lift they need while cooking to become fluffy inside. Click here to learn how to test your baking powder for freshness.
This recipe will NOT work with coconut flour.
Store leftovers for up to three days in an airtight container in the refrigerator and reheat in the microwave or oven. To freeze, cool them completely,

separate with parchment squares, so they don't stick together and freeze for up to one month.

Nutrition info is based on 1 of 10 pancakes, without garnishes or maple syrup, and without the optional maple syrup added to the batter. Nutrition info is only to be used as a rough guide. Click to learn how nutrition info is calculated on this website.
Nutrition Info:
Serving:
1
pancake
|
Calories:
122
kcal
|
Carbohydrates:
17
g
|
Protein:
3.4
g
|
Fat:
5.5
g
|
Saturated Fat:
0.3
g
|
Polyunsaturated Fat:
0.7
g
|
Monounsaturated Fat:
3.6
g
|
Sodium:
247.4
mg
|
Potassium:
34
mg
|
Fiber:
3.4
g
|
Vitamin A:
100
IU
|
Calcium:
108
mg
|
Iron:
0.9
mg
Did You Make This Recipe?
If so, please share a picture with me on Instagram! Tag @delightfuladventures and hashtag #delightfuladventures. I can't wait to see!