Banana pancakes that are eggless and contain no butter, and no milk? Yes! It's true! These are the ultimate fluffy vegan banana pancakes and they'll become a new family-favourite breakfast. They're easy-to-make, soft, light, and filled with banana flavour, plus, you can also make them gluten free, details are below.
By now, you may have clued in on the fact that I love pancakes. I love coming up with delicious new recipes for all types of pancakes...I love making them, and, well, I love eating them! Don't you?!
It's absolutely not necessary to include eggs or dairy, or even wheat to make amazing vegan pancakes, this recipe is proof of that. Actually, all of my vegan pancakes recipes are proof of that! Check them out:
How to Make Them
These pancakes can be made just vegan or you can make them as vegan gluten free banana pancakes!
The only difference between each version is the amount of non-dairy milk and flour being used, everything else remains the same, you can find all of the steps and details below in the recipe.
This recipe is simple, dairy-free, egg-free and it's one of my new favourites. I hope you'll love them as my family and I do!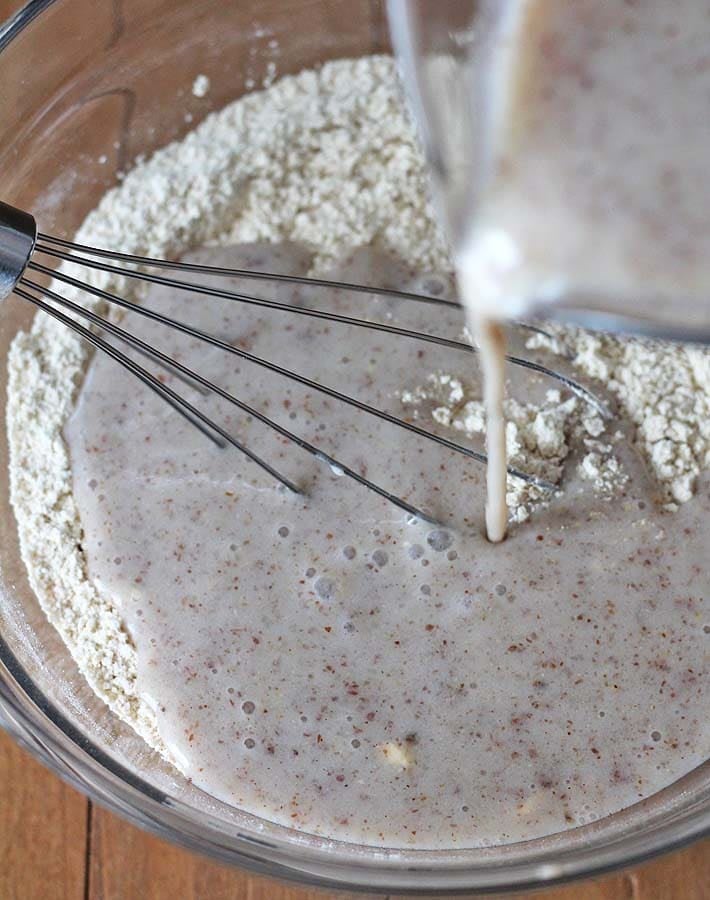 What Makes a Good Pancake?
Follow these steps to make the best vegan banana pancakes you've ever had. (These tips can also be applied to any other pancake recipe you make!)
The first step is to find a good recipe. Lucky for you, you've landed in the right place! In fact, this recipe is good enough to fool anyone into thinking they're eating non-vegan pancakes.
Follow the recipe exactly as it's written...at least the first few times you make them. Once you're used to making them and you're confident with making the recipe, you can adjust it to your liking.
If you're making gluten-free pancakes...use the exact flour blend the recipe has recommended. All gluten-free flour blends are different, so results will always vary, so if you want results like the recipe promises, be sure to follow the recommendation.
Make sure you're using a really reliable, non-stick pan or griddle. I use my cast iron pan which is naturally non-stick. If your pan is not non-stick, be sure to grease the pan between each pancake to ensure there is no sticking.
Make sure your pan (or griddle) is at the right temperature. You don't want it too hot (the pancakes will cook quickly on the outside and be raw / gummy on the inside) or too low (the pancakes won't brown or cook properly). I usually start with the heat on the higher side and then adjust as I go. You will likely need to adjust the heat a few times before the entire batch is made.
Be patient! Flip when the edges of the pancakes look dry and bubbles appear on the pancake. When flipped, the pancake should be golden brown. After you have flipped it, it will only take another minute or two to finish completely.
For more tips on making perfect pancakes, click here.
Should the Banana Be Mashed or Pureed?
I always puree my banana for this recipe because I like a perfectly smooth batter, but you can also mash really well with a fork until no chunks remain.
Can the Batter Be Made Ahead of Time?
No. The baking powder and baking soda will lose their effectiveness and your pancakes will not be fluffy.
What you can do to save some time is prepare all of the dry ingredients ahead of time, store in an airtight container, and then when ready, prepare the wet ingredients and add the dry ingredients.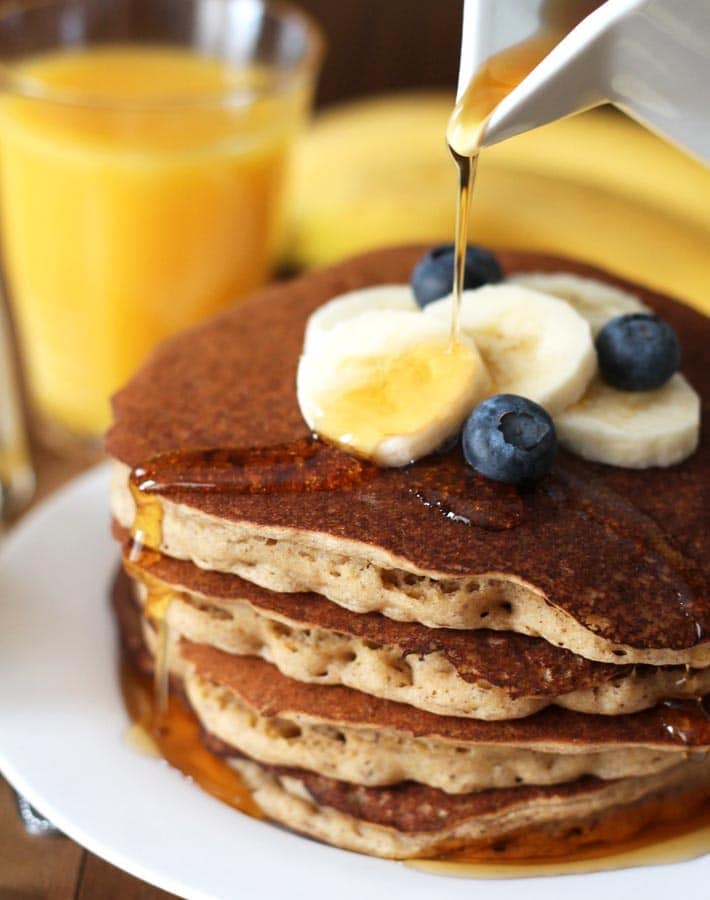 Topping ideas
I prefer them as shown in the pictures, with banana slices, fresh blueberries, and pure maple syrup, but you can top your pancakes any way you like!
Some ideas for you:
Speaking of mini chocolate chips, you can turn these into vegan banana chocolate chip pancakes by adding a handful of mini chips to the batter, or for some texture, you can add a handful of chopped walnuts to make them vegan banana nut pancakes!
OR...to make them vegan banana blueberry pancakes, add some fresh or frozen wild blueberries to the batter. You can also just leave them as-is, if that's what you prefer, they'll be delicious any way.
And...Are They Really fluffy?
YES. They are! Many recipes out there promise fluffy pancakes but when you make them, they end up being flat, and/or gummy, and are just...blah.
That's not the case with these pancakes. The photo below is of the vegan gluten free version and the just vegan versions are just as fluffy.
No matter which version you choose to make, as long as you follow the recipe exactly as written, you'll end up with fluffy pancakes that have a warm hint of spice from the cinnamon and nutmeg. Yum!
Can I Freeze Them?
Yes, you can! Be sure to freeze them in an airtight freezer bag with parchment squares separating them so they don't stick together. When you're ready for them, reheat in the microwave. They can also be refrigerated if they'll be eaten within a few days.
Can They Be Made Gluten Free?
Yes, I've included both a vegan version and a vegan-gluten-free version for you. Both are equally delicious.
If you like this recipe, then check out these other vegan banana recipes you may also like:
And if you make them, share a pic with me on Instagram! I'm @delightfuladventures over there and my hashtag is #delightfuladventures. I look forward to seeing your remake!
You can also help me to help others find this recipe by pinning it to your recipe board on Pinterest! CLICK HERE TO PIN IT NOW!
Vegan Banana Pancakes
Banana pancakes that are eggless and contain no butter and no milk? Yes! It's true! These are the ultimate fluffy vegan banana pancakes and they'll become a new family-favourite breakfast. They're easy-to-make, soft, light, and filled with banana flavour, plus, you can also make them gluten free, full details in the recipe!
Instructions:
Whisk non-dairy milk, banana puree, coconut oil, vanilla extract, and ground flax seeds together in a medium-sized bowl, whisking enough to incorporate the flax seeds. Let sit for 5-minutes.

Whisk flour, baking powder, baking soda, ground cinnamon, ground nutmeg, and salt together in a large bowl.

Slowly add wet ingredients to the dry ingredients, mixing well until incorporated. If the batter seems a little too thick, add a little more non-dairy milk, 2 tablespoons at a time.


Lightly coat surface of pan with a very small amount of oil. Ladle about ⅓ cup (or less for smaller pancakes) of the pancake mixture into the center your pan, cooking 1 at a time.

Continue cooking until the batter is done, placing pancakes on a covered oven-safe plate in the oven as they finish to keep them warm.
Recipe Notes:
If you are making the vegan gluten-free version and using the gluten-free flour blend, follow these directions:
Other Notes:
Please read all of the info and FAQ above and the notes below to ensure your pancakes turn out perfectly.
It's important to know that all gluten-free flour blends use different ingredients and ratios, so results will always vary when you use different brands. I have never used any other brand of flour to make these pancakes other than Bob's Red Mill with the red label, NOT the blue label, so please know that your results may not be the same as mine if you substitute with a different flour.
Coconut flour will NOT work in this recipe.
Be sure that the bananas you use are very ripe and browning. I puree the bananas until they are smooth and have no chunks. If you prefer to have some banana pieces, puree to the texture you like but you may have to add more milk to thin the batter out a little.
Optional maple syrup is for if you prefer a sweeter pancakes.
This recipe makes 8-10 pancakes, depending on how large or small you make them.
When I make my pancakes, I use a thick, cast-iron pan. I usually turn mine after about a minute. Some experimentation may be necessary until you get a feel for it. Everyone's griddle/pan will cook differently.
Nutrition info listed below is for 1 of 8 vegan banana pancakes, without the optional maple syrup, no toppings, and using unsweetened almond milk. Nutrition info is to only be used as a rough guide. Calorie count for 1 vegan gluten-free pancake is 173 calories. Click here for more info on how nutrition info on this website is determined.
Nutrition Info:
Calories:
158
kcal
|
Carbohydrates:
25
g
|
Protein:
3
g
|
Fat:
5
g
|
Saturated Fat:
3
g
|
Polyunsaturated Fat:
1
g
|
Sodium:
177
mg
|
Potassium:
136
mg
|
Fiber:
2
g
|
Sugar:
4
g
|
Vitamin A:
150
IU
|
Vitamin C:
4.1
mg
|
Calcium:
40
mg
|
Iron:
0.2
mg
Did You Make This Recipe?
If so, please share a picture with me on Instagram! Tag @delightfuladventures and hashtag #delightfuladventures. I can't wait to see!