If you're looking to buy one or a few vegan Instant Pot cookbooks and you're wondering which one to get, you're in the right place! I've put together a list of the best vegan Instant Pot Cookbooks that are all filled with easy plant-based pressure cooker recipes so you can start preparing easy vegan meals for yourself and your family and friends.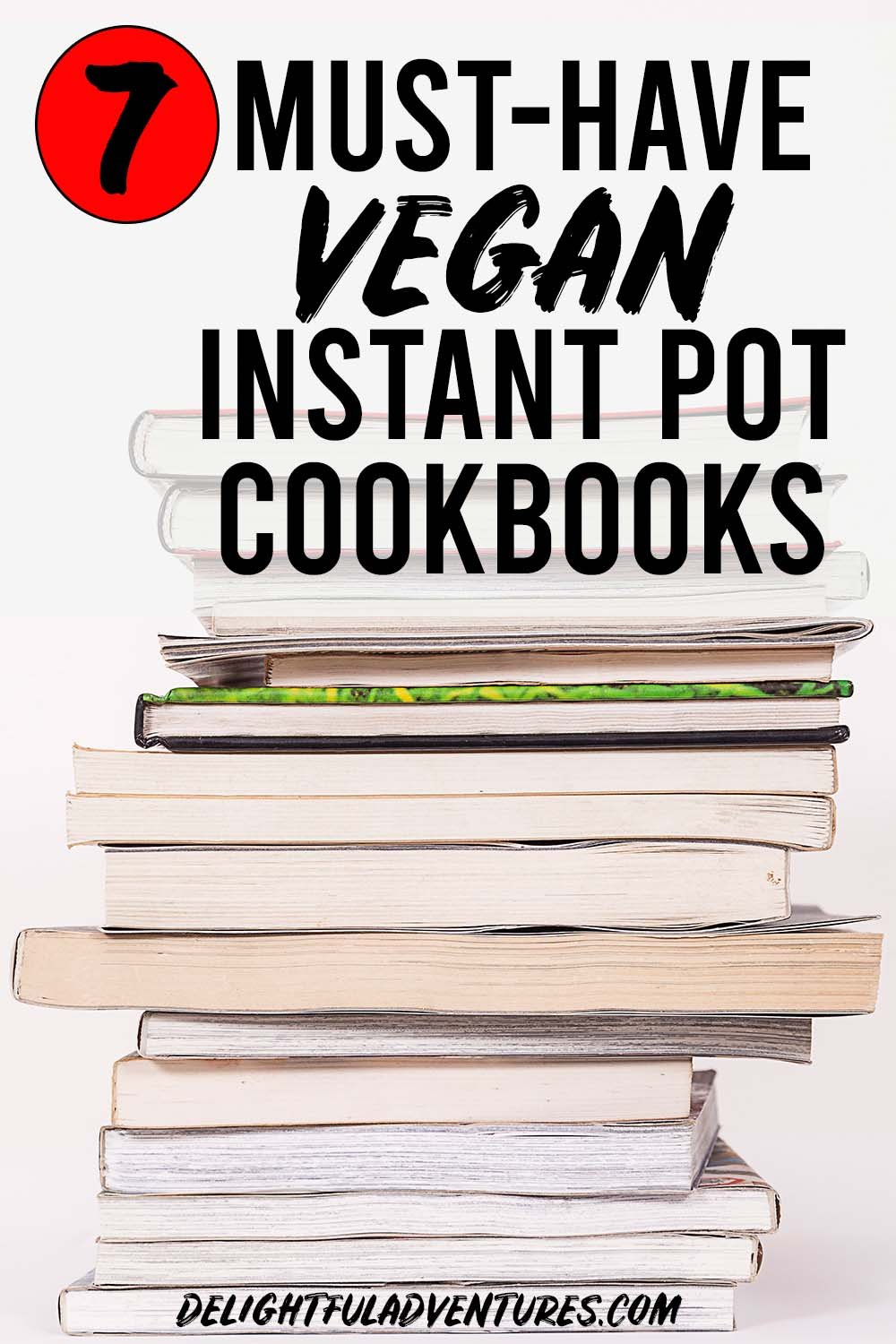 A few years ago, I heard of a magical machine that could prepare meals while I was out of the kitchen, doing something else.
Meals that were delicious, filled with flavour, and in some cases, would finish quicker than if I were to cook them on the stovetop.
It took me a little while to buy myself an Instant Pot, but I eventually got this one, the DUO Plus 60, 6 Qt 9-in-1:
The only regret I have about buying my Instant Pot is that I didn't buy it sooner. I use it to prepare so many things, several times a week. I've even shared a few of my own Instant Pot recipes.
It's the ultimate one-pot-meal cooking machine!
Vegan Instant Pot Cookbook Reviews
When starting out with the Instant Pot, there's a little bit of a learning curve (but please don't let that scare you, it's easy!), which is why your regular recipes need to be adjusted in a few ways for them to cook properly. This is where my vegan instant pot cookbook recommendations come in.
I own many of the books you see below and those that I do not own (yet), I polled my vegan Instant Pot loving friends to get their picks for the best vegan instant pot cookbooks and why they love them.
So all of these books are favourites and have all been read cover to cover to be sure that they're worthy of being recommended.
Let's get started!
The BEST Instant Pot Cookbooks
This was the first
vegan pressure cooker cookbook I bought after I purchased my Instant Pot. I pressure cook a lot of beans and chickpeas in my pressure cooker, so the timing charts in this book are very helpful.
This is a great book for beginners because it starts out with all the basics and need-to-know info about your pressure cooker. It will get you up and running before you know it.
There are 150 recipes in this book, 138 of them are gluten free, and all that I've tried, so far, are delicious. Note that this book only includes pictures for a handful of recipes, so if pictures for all recipes in a cookbook is important to you, keep that in mind.
Recipes to try first: Shane's Lentil Soup, Sassy Sesame Tofu, and Arroz Non Pollo.
This book is consistently rated one of the best vegan pressure cooker recipe books, and with good reason. This was another early purchase of mine and what I love is that, again, every recipe I've tried so far has been wonderful, and they're all easy.
The basics about your pressure cooker are outlined in the intro "Everything You Need to Know About Your Instant Pot" chapter.
Each recipe also has a picture, which is nice, and it also contains a mouthwatering dessert chapter. Yes, you can make desserts in your Instant Pot!
Recipes to try first: Snowy Day Potato Cabbage Soup, Vegan Cauliflower Queso, Spice Oat-Stuffed Apples.
This is one of the latest and greatest vegan instant pot cookbooks to hit the shelves, and it has received rave reviews so far, with good reason! Inside, you'll find bright, beautiful drool-worthy pictures throughout, not to mention, the wide range of delicious wholesome, indulgent recipes. (You can find my review and a recipe from this book here!)
Like the other books, it contains the standard intro to your Instant Pot chapter, and then we dive into the deliciousness.
The photography in this book is gorgeous and I think that you may want to make everything you see!
Recipes to try first: Savory Turmeric Breakfast Quinoa, Vegetable Paella, Thai Mango Sticky Rice.
Richa Hingle has a wonderful vegan blog that covers everyday favourites like soups, casseroles, and desserts, but the thing that makes her website special is that she has a huge amount of vegan Indian recipes that are simple and so delicious.
I've made many of her recipes over the years, so I was very happy to learn that she was publishing an Instant Pot cookbook.
Just like her website, you'll find recipes for classics and plenty of Indian food options, but the difference is that these recipes were ALL developed for the Instant Pot.
There are 150 recipes in the book, most of them are gluten free, and those that are not have info on how to make them gluten-free so you aren't left hanging.
For those that are soy-free, she also notes how to make her soy containing recipes, soy-free. The book also contains many nut-free options.
Recipes to try first: Masala Potatoes, Quick Lasagna, Tofu and Sweet Potato Korma, and Flan.
This book contains plenty of helpful info for all Instant Pot owners, like how to keep it clean, mistakes not to make, etc. All of the basics are covered, and then some.
Like all of the other books, this is another good one for any Instant Pot owner, from beginners to experts, and it will get you comfortable with your new machine in no time.
The cover image will be enough to have you wanting to dig into this book (it's an amazing looking lasagna!) and the rest of the images follow suit.
The recipes are all easy to follow, easy to make, and will have you wanting to use your pressure cooker daily!
Recipes to try first: Savory Tofu and Potato Casserole, Carrot Ginger Soup, Vanilla Poached Pears with Caramel Sauce.
This book is another one that came highly recommended when I first bought my Instant Pot. I have the original version, but it was revised and expanded in 2018, so even more vegan recipes to love!
It starts out like the others, with all the need-to-know pressure cooker info to get you started, plus a helpful FAQ. It also contains cooking time charts for almost anything you'll want to cook in your IP.
Recipes to try first: Mushroom Rice, Instant Pot Miso Soup, White Bean Dip.
This vegan pressure cooker cookbook is from 2011, but don't let that hold you back, all of the recipes, like Jill's other book above, are excellent.
It was not written specifically for an electric pressure cooker, but the recipes are easy make in your Instant Pot, as her instructions are interchangeable between a stove top pressure cooker and an electronic one.
Like her other book, this one also lacks pictures, but if you can get past that, this is a great handbook to have with you every time you pull out your Instant Pot.
Recipes to try first: Garlic Parsley Mashed Potatoes, Winter Fruit Compote, Mixed Vegetable Curry.
Whether you're vegan, trying to eat better, or just wanting to add a few meatless meals to your rotation, this is another good book to add to your vegan Instant Pot cookbook collection.
This book is also filled with helpful info for beginners, as well as more than 75 vegan electric pressure cooker recipes to try. The photos are bright and pretty, and the recipes are filled with good-for-you ingredients that will have you eating better even though you may not realize it!
Recipes to try first: Vegan Yogurt, Hoppin' John Burgers, Maple Mashed Sweet Potato Casserole.

***
So there you have it! Some of the best vegan instant pot cookbooks on the market at this moment. I'll add to this list as I get more, you can have enough good vegan recipes in your rotation 🙂
If you liked this post, you may also like these: