A velvety smooth and creamy vegan cauliflower soup you can make in either your Instant Pot or on the stove top (instructions for both methods are included!). This comforting plant-based soup is easy to make, naturally gluten-free, delicious (of course!), and it's filled with simple, wholesome ingredients. It can be served for either dinner or lunch and you can garnish it any way you like. Read on for all the details!
This delicious recipe (and really, probably the best vegan cauliflower soup I've ever had!) is from the book "The Vegan Instant Pot Cookbook: Wholesome, Indulgent Plant-Based Recipes" by Nisha Vora.
You may be familiar with Nisha if you follow her beautiful Instagram feed or her blog, Rainbow Plant Life where she shares nutritious, vibrant, and beautiful vegan recipes.
What she does on her blog has transferred over to her book because everything inside is equally nutritious, vibrant, and beautiful, PLUS, all of the recipes in the book were developed especially for your Instant Pot!
Is an Instant Pot Suitable for Vegans or Vegetarians?
One of the things I see over and over again online is plant-based people wondering if an Instant Pot is right for them, or if they already have one, they feel stuck for ideas on what they can use it for, other than cooking dry beans and making soup.
Well, if you've been following me, you know I LOVE my Instant Pot and I use it multiple times per week (this is the one I have) and I have several vegan Instant Pot recipes you can make in yours, right here on my site.
And then there are books like "The Vegan Instant Pot Cookbook" that will show you the abundance of amazing vegan Instant Pot recipes you can make. (I shared a few vegan instant pot cookbook reviews in my list of the best vegan Instant Pot cookbooks if you're looking for more!)
What Kind of Recipes Will I Find in The Vegan Instant Pot Cookbook?
Nisha's book is packed with over 90 delicious plant-based Instant Pot recipes that you can make today. It contains something for everyone, from breakfasts, sides, comfort foods, desserts, and tons more.
There's a picture for every recipes, which is always a nice bonus, right?! And all of the recipes are easy to make, even though some do call for a long list of ingredients.
Don't let those long lists deter you, anyone can make these recipes, from Instant Pot beginners to the seasoned pros!
The hardest thing about the recipes in this book will be deciding what to make first, which is the exact dilemma I faced when deciding which recipe to share with you!
Ultimately, I chose this cozy, easy vegan potato cauliflower soup (aka the Creamy Dreamy Cauliflower Soup from page 229!). I know you're going to love it as much as I do.
Ingredients You'll Need
To make this cauliflower soup, you're going to need the ingredients shown below. As you can see, everything is simple and there are no out-of-the-ordinary ingredients.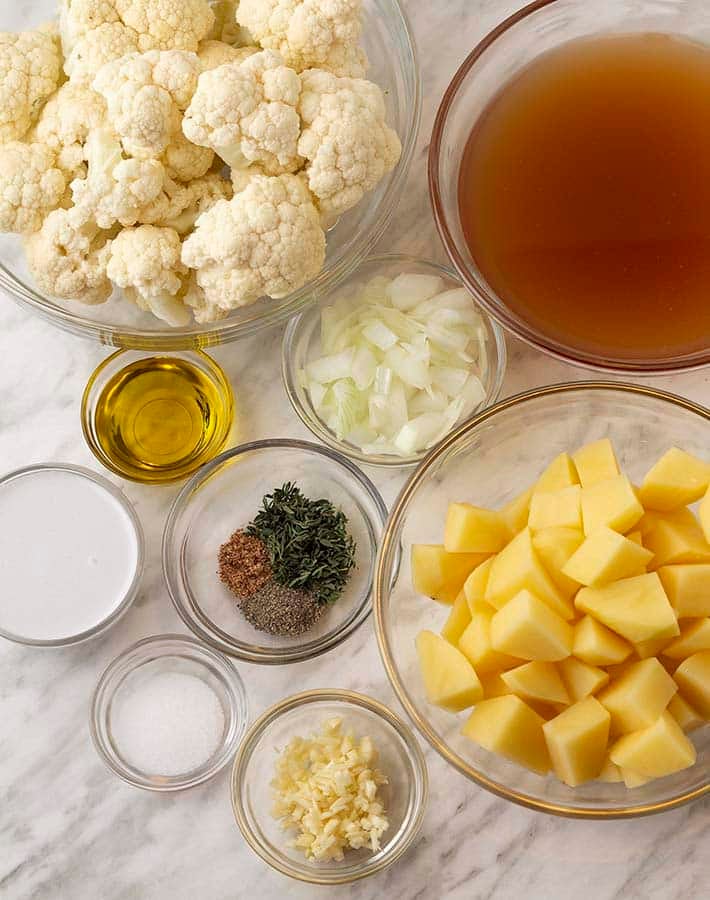 Can a Different Milk Be Used?
This soup calls for coconut milk from a can, but just 1/4 cup, so you won't detect the taste.
I'm certain Nisha used coconut milk because canned coconut milk is thick and adds a delicious creaminess to the soup, however, if you cannot have coconut milk, you can make your vegan cauliflower soup with almond milk or any other plant-based milk.
Steps to Make Dairy-Free Cauliflower Soup
(Note: I've outlined the step-by-step on how to make this soup here, but find the full recipe, ingredients, and directions for both cooking methods at the end of this post.)
Your first step will be to sauté the onions and garlic in olive oil for a few minutes. (If you're oil-free, you can use water or broth in this step in place of the oil.)
Next, add all the ingredients, except for the coconut milk, stir, and set to cook for 5 minutes. The pressure cooker will take roughly 15-minutes to come to pressure.
Once the time is has passed, open the lid, add the coconut milk, and using an immersion blender (a regular or high-speed blender can also be used for this step), purée the soup until it's smooth and creamy.
Garnishes for Cauliflower Soup
The recipe includes steps on how to make Nisha's preferred garnish for this soup, but since it contains bread crumbs, I skipped the recommended garnish to keep everything gluten-free.
However, it's still outlined in the recipe below, but know that you can garnish any way you like!
You can use fresh parsley and red pepper flakes like I did in the pictures, or you can use any of the following ideas:
roasted chickpeas
your favourite croutons (gluten free croutons if you're gluten-free!)
chopped green onions or chives
vegan cheese shreds
freshly cracked black pepper
fresh thyme leaves
Or, you can skip the garnishes and serve your soup plain!
This creamy, delicious soup is the perfect side dish or main course that can be served with a side of roasted vegetables, a salad, or your favourite sandwich (like this chickpea "chicken" salad sandwich!)
Can This Soup Be Made Ahead and Stored for Later?
Yes, it will last three to four days in the refrigerator.
Can I Freeze It?
Yes! Put your vegan cauliflower potato soup in freezer safe containers (without garnishes, of course!) and make sure it has cooled completely before placing it in the freezer. It can be stored this way for up to 3-months.
When you're ready to serve it, thaw in the refrigerator overnight and then re-heat.
Did You Make This Recipe?
If so, let me know by leaving a comment and rating in the comments below! And if you buy The Vegan Instant Pot Cookbook (I highly recommend it and I'm so happy to now have it in my collection), tell me which recipe you'll be making first!
If you like this recipe, here are some other vegan comfort food recipes you may also like:
How to Make Vegan Cauliflower Soup
I was sent a copy of "The Vegan Instant Pot Cookbook" at no charge from the publisher for review and to share a recipe. All images and opinions in this post are my own. Recipe excerpted from "The Vegan Instant Pot Cookbook" by Nisha Vora. Copyright © 2019 by Nisha Vora. Published by Penguin an imprint of Penguin Canada, a division of Penguin Random House Canada Limited. Reproduced by arrangement with the Publisher. All rights reserved.