Packed with flavor, these mouthwatering, vegan peanut noodles come together in just 15-minutes! This recipe is the ideal, quick, and easy vegan dinner for busy weeknights.
This page may contain affiliate links. Click to learn more.
You know those crazy weeknights when it's time to make supper but you really don't want to deal with making something that's going to take ages to finish and contains 945 ingredients?
I'm sharing a recipe below that's perfect for those kinds of evenings: 15-minute vegan peanut noodles! (You should also check out my super quick and easy recipe for vegan garlic pasta!)

This recipe comes from Sam Turnbull's new cookbook "Fuss Free Vegan." You may know her from her blog, It Doesn't Taste Like Chicken.
If you aren't familiar with her blog, the whole idea behind it is that being vegan can be fuss-free and that it really isn't that hard. With her recipes, she shows how easy (and delicious!), it can be.
Her book is the same. It's filled with veganized, fuss-free versions of recipes you may have once loved or may still love, very much like what I try to do here on my website!
The book contains recipes for breakfast, party foods, burgers and sandwiches, sweets, and more.
One of the recipes that caught my eye is the 15-minute vegan peanut noodles. Weeknights in my home can get a little hectic, especially the evenings when the kids have their practices, or when one of us has something to attend.
These vegan peanut butter noodles are filled with flavour and you can customize the veggies used in the dish based on what you have in your fridge…you don't have to use the vegetables listed in the recipe (see the recipes notes for more info on that!)
Vegan Peanut Sauce for Noodles
The reason for the bold flavour in this vegan noodles recipe is the delicious and easy vegan peanut sauce.
Doesn't peanut sauce make things taste so much better?
This one in particular contains fresh garlic, fresh ginger, fresh lime juice, tamari, and of course, peanut butter, plus a few other ingredients that take the sauce over the top.
(Not only is this sauce perfect for gluten-free peanut noodles, it would also be great as a dip for dumplings, summer rolls, or vegetables…YUM!)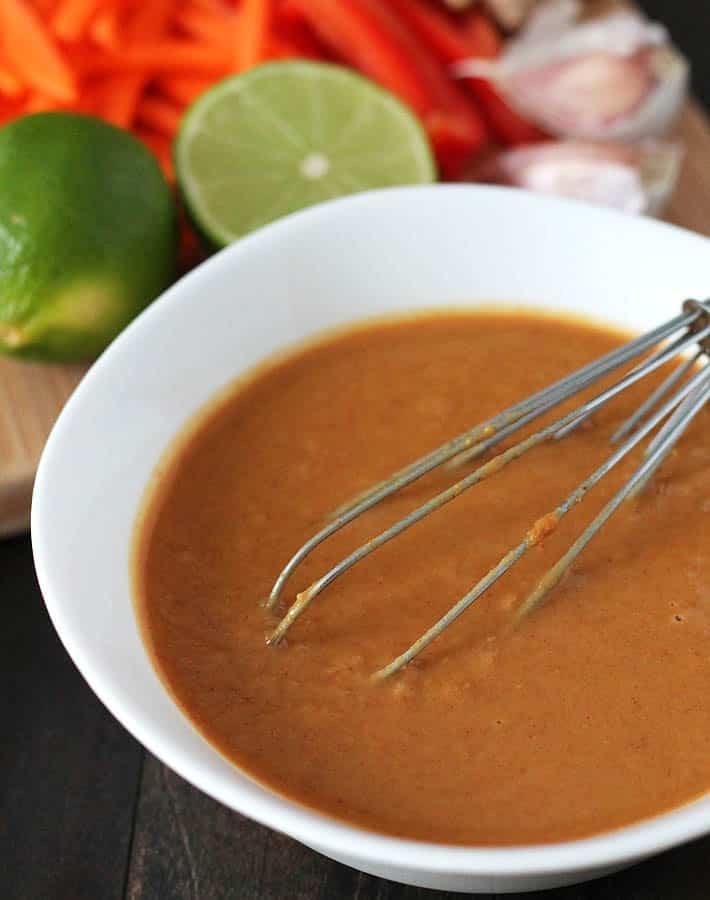 The book contains 101 easy to follow, simple recipes for your favourite comfort foods. Recipes like:
French Toast Bake
Cheddar & Chive Scones
Pizza Pockets
French Onion Soup
Puff Pastry Wrapped Lentil Loaf (this would be a great recipe to make for the holidays!)
Mac & Cheese
Carrot Cake
Crème Brûlée
Lemon Meringue Pie
…and so much more!
Whether you're dabbling with vegan food, have just decided to follow a vegan diet, or have been vegan for a while, "Fuss Free Vegan" is a good cookbook pick up for yourself or for someone else as a gift. As mentioned above, it contains recipes for foods you are already familiar with; the only difference is that these versions are vegan.
If you do pick up the book, tell me which recipe you want to make first (other than the vegan peanut noodles!) It's going to be hard to choose, just warning you 🙂
Oh, and if you choose to use rice noodles instead of the chow mein noodles, the recipe will also be gluten-free. Bonus! And if you prefer spicy peanut noodles, hot sauce is an option you can take advantage of 🙂
If you like this vegan peanut noodles recipe, you may also like these other quick, easy vegan dinner ideas:
And don't forget to pin this to your recipe board on Pinterest!
How to Make 15-Minute Vegan Peanut Noodles Recipe from the "Fuss Free Vegan" Cookbook
Penguin Random House Canada sent me a copy of "Fuss Free Vegan" at no charge to review and share a recipe from the book on my website. All opinions about this book and the recipes found in the book are my own. All images in this post were taken by me and are also my own.
Recipe excerpted from Fuss Free Vegan: 101 Everyday Comfort Food Favorites, Veganized. Copyright © 2017 Samantha Turnbull. Published by Appetite by Random House®, a division of Penguin Random House Canada Limited. Reproduced by arrangement with the Publisher. All rights reserved.