Flavour-filled, easy gluten free zucchini fritters that are crispy on the outside and soft on the inside (just the way zucchini fritters should be!). They're perfect for appetizers, lunch, or a light dinner and can be baked or fried, instructions for both ways are included!
This page may contain affiliate links. Click to learn more. As an Amazon Associate I earn from qualifying purchases.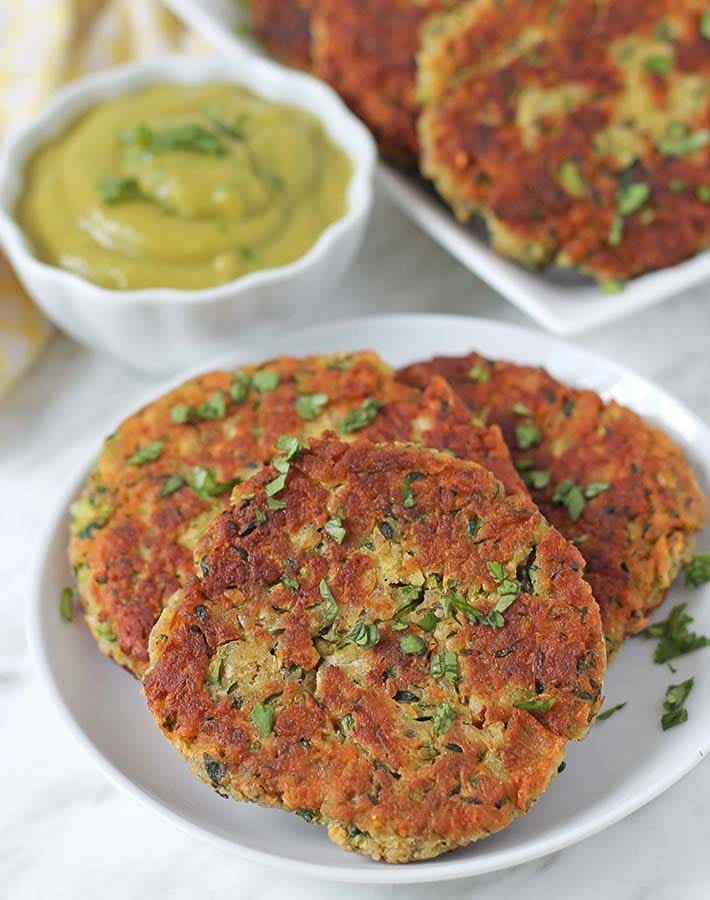 The world of blogging can be a lonely one at times. You work from home, by yourself (most of us do), and you don't have co-workers close by so you can roll your chair over and have a quick chat to break up the day.
However, many of us are lucky to have a few fellow blogger friends we can turn to when we have questions or want to run an idea by. One of those blogging buddies for me is Melanie McDonald. You may have heard of her, she is the blogger behind the popular blog, A Virtual Vegan.
Her beautiful new cookbook, Vegan Comfort Cooking was recently published and just prior, she put a call out for reviewers, so of course, I wanted to be one of them.
What Kind of Recipes Will I Find in Vegan Comfort Cooking?
All the comfort food of your dreams! You'll find recipes for:
Brunch (black forest crepes, berry breakfast cake, English muffins)
Main Courses (veggie hot pot, white bean soup, roasted garlic alfredo (that's it on the cover!)
Munchies (spinach and artichoke dip, jalapeno queso, salt and vinegar potatoes)
Sweets (Victoria sponge cake, baked berry cheesecake, peanut butter chocolate cake)
Extras (vegan butter, onion gravy, ranch dressing)
Those are just a few examples of the recipes you'll find in the book, in total, there are 75 (and there's a picture of every single one!). I chose to share the quick and crispy zucchini fritters with avocado crema from the Munchies chapter.
Who Is the Vegan Comfort Cooking Cookbook For?
If there are things you miss from your pre-vegan days, then this is the book for you. As you can see from the few recipes I mentioned above, they're all comfort foods that anyone will love, including these delicious, crispy gluten free zucchini fritters.
If you're gluten-free, make note that there are a bunch of recipes that are not gluten-free, but many are.
Ingredients for Vegan Zucchini Fritters
You may think that you need eggs and flour to bind fritters, but you don't. Because this recipe is gluten free and vegan, it's eggless, dairy-free, and flourless (instead of wheat flour, we're using chickpea flour, which also makes this recipe grain-free!)
What you see below is everything you need to make them: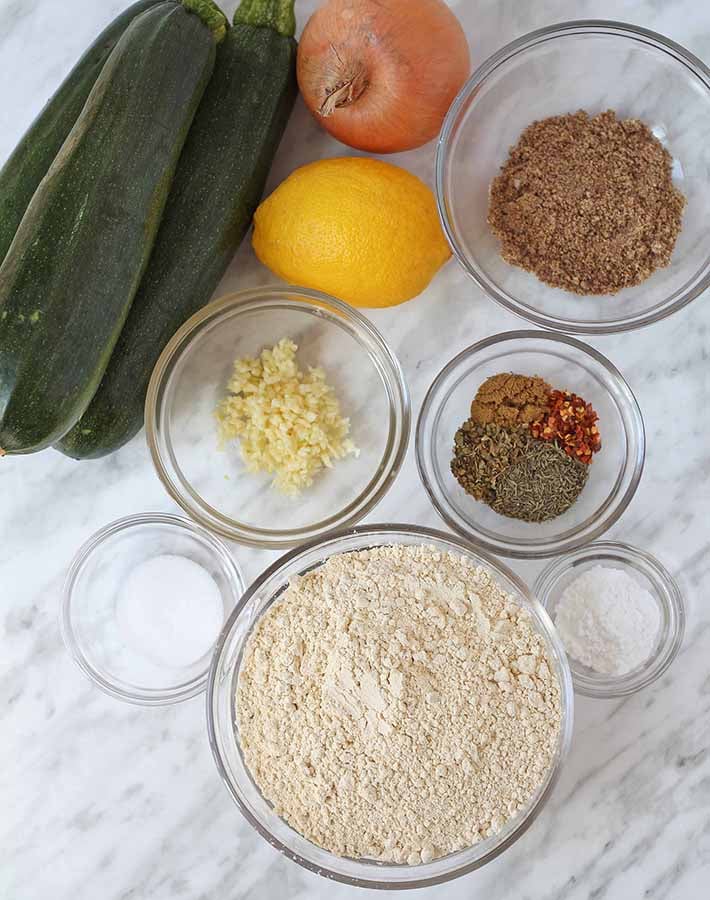 Steps to Make Vegan Gluten Free Zucchini Fritters
(Note: I've outlined the step-by-step on how to make these gluten free fritters here, but find the full recipe, ingredients, and directions at the end of this post.)
The first step is to grate the zucchini and onion. I used my food processor to get it done quicker, but if you don't have one, a regular box grater will work.
The next step, and this is an important one, is to salt the shredded onion and zucchini and let it sit for 30 minutes. This will draw out all the extra moisture. After the time has passed, squeeze out the excess liquid.
Next, add the remaining ingredients and stir to combine. The mixture will be quite stiff, but it will loosen up after a few minutes.
After that, they're ready to bake or fry.
Baked Zucchini Fritters or Fried Zucchini Fritters?
It's up to you! Instructions for both methods are included below. If you want to make your zucchini fritters healthy and oil-free, bake them but if you're craving something fried, then fry them up! (The fritters in my pictures are fried)
How to Ensure Your Fritters are Crispy
The trick to this is to squeeze as much liquid out of the zucchini as possible. Excess liquid will cause them to have a hard time firming up and will also result in runny insides. So that second step in the image above? Don't skip that!
From experience with the countless zucchini my garden has given me, know that garden zucchini tends to have more liquid than store bought zucchini.
How to Make the Avocado Crema Dip
Melanie also includes a delicious dip to go with her gluten free zucchini patties and it's very easy to make, the recipe is also below.
All you need is an avocado and a few other ingredients. Blend them up in your food processor or blender and it's ready for dipping!
Any leftover crema can be used as a dip for chips, tacos, burritos, veggie burgers and sandwiches. You can also thin it out with a little more water or a drop of white wine vinegar to make a quick salad dressing.
If you want to skip the avocado crema, you have lots of other options to top or dunk your fritters in. How about one of the following?
guacamole
ketchup
fresh chives
fresh parsley (like I did in the pictures)
How to Serve Your Gluten Free Vegan Zucchini Fritters
You can serve them as an appetizer (alongside my veggie pinwheels!), for lunch, as a side dish, or for a light dinner with something else like salad, grilled or roasted vegetables.
The recipe is meant to make eight fritters, and from the picture in the book, Melanie made hers larger and thinner than I made mine.
When I made them, I ended up with nine. You can make them as large or as small as you like, just be sure to account for the size in your baking/frying time.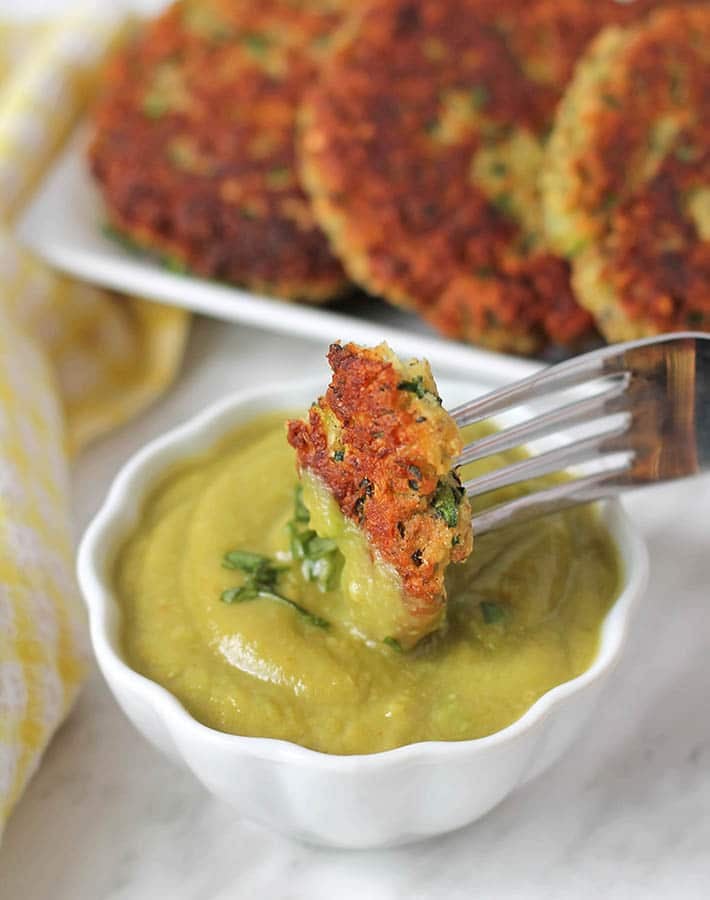 The next time you're looking to buy a new cookbook, I think Vegan Comfort Cooking would be an excellent choice. Everyone in my family loved this this vegan fritter recipe, even the kids! So not only is it delicious, it's also kid-friendly.
If you buy the book, let me know which recipe you want to make first! Or, if make this one, tell me about it in the comments below or share a pic with me on Instagram!
If you like this recipe, you may also like these other vegan zucchini recipes:
You can also help me to help others find this vegan zucchini fritters recipe by pinning it to your recipe board on Pinterest!
Click here to pin it now!
How to Make Gluten Free Zucchini Fritters
Print Recipe
Gluten Free Zucchini Fritters
Flavour-filled, easy gluten free zucchini fritters that are crispy on the outside and soft on the inside (just the way zucchini fritters should be!). They're perfect for appetizers, lunch, or a light dinner.
Ingredients:
For the Fritters:
3

medium

zucchini

1

medium

onion

1 1/2

teaspoon

salt

(8 g)

1/2

teaspoon

ground cumin

1

teaspoon

dried oregano

1

teaspoon

dried thyme

3

cloves

garlic, finely chopped

2

tablespoons

ground flax seeds

(14 g)

zest of 1 small lemon

(reserve the rest of the lemon for the avocado crema)

1 1/2

cups

garbanzo bean (chickpea) flour

(138 g)

1 1/2

teaspoon

baking powder

(6 g)

1/2

teaspoon

red pepper flakes

(optional)

olive or vegetable oil, for pan (if frying)
Instructions:
To prepare the fritters:
Grate the zucchini and onion. If you have a food processor, use the grating attachment to do this, which makes it really quick and easy. Transfer to a bowl, sprinkle
with the salt, stir really well and leave for at least 30 minutes; longer is okay.

Transfer the mixture to a large sieve or colander and use clean hands to press out the water; alternatively, wrap in a clean dish towel and wring out the water. It is important to get as much water out as possible.

Return the mixture to the bowl. Add the cumin, oregano, thyme, garlic, flaxseeds, lemon zest, garbanzo flour, baking powder and red pepper flakes (if using). Stir together really well so everything is distributed well and you cannot see any dry flour. It will be a very stiff batter. Leave it to rest for 10 minutes. During this time, it will loosen up a little.

Heat a griddle or large skillet over medium heat. Grease with a little oil if it's not nonstick. Once it's hot, give the batter a quick stir, and then add it to the pan, using around 1/3 cup (80 ml) per fritter and leaving about 2 inches (5 cm) around each one. Use a spoon to flatten the fritters to about ½ inch (1.3 cm) thick and allow to cook for about 7 minutes each side, or until golden brown. Serve them immediately or keep warm in the oven on its lowest setting while you finish cooking the rest.

You can also bake the fritters in a preheated 400°F (200°C) oven. Line a baking sheet with parchment paper and drop the mixture onto it in roughly 1/3-cup (80-ml) amounts; then flatten them to about ½ inch (1.3 cm) thick. Bake for 10 to 15 minutes, flip them and then bake for an additional 10 minutes.
To prepare the avocado crema:
Cut the avocado in half. Remove the pit and scoop out the flesh into a blender or food processor. Add all the other crema ingredients except the salt and blend until completely smooth. Season with salt to taste. You can adjust the thickness by adding a little more or less water. The olive oil is an optional addition. It makes the crema glossier, but you can easily omit it and add 1 to 2 tablespoons (15 to 30 ml) of extra water instead.

Serve the hot fritters with a generous dollop of avocado crema.
Recipe Notes:
Please read all of the helpful info and FAQ above to ensure recipe success.
Leftover fritters keep well for up to 5 days in the fridge. They also freeze really well.
Reheat fritters in a skillet over medium heat or in the oven. They are also surprisingly good cold!
The crema will keep in a sealed container in the fridge for 2 to 3 days.
Nutrition info is based on 1 of 8 baked fritters and is only to be used as a rough guide. Click to learn how nutrition info is calculated on this website.
Nutrition Info:
Serving:
1
fritter
|
Calories:
115
kcal
|
Carbohydrates:
18
g
|
Protein:
6
g
|
Fat:
3
g
|
Sodium:
395
mg
|
Potassium:
414
mg
|
Fiber:
6
g
|
Sugar:
4
g
|
Vitamin A:
150
IU
|
Vitamin C:
23.1
mg
|
Calcium:
560
mg
|
Iron:
1.8
mg
Did You Make This Recipe?
If so, please share a picture with me on Instagram! Tag @delightfuladventures and hashtag #delightfuladventures. I can't wait to see!
Reprinted with permission from Vegan Comfort Cooking by Melanie McDonald, Page Street Publishing Co. 2019. All opinions and images are my own.