You're going to love these soft, chewy vegan oatmeal chocolate chip coconut cookies! They're basically chocolate chip cookies with oatmeal and coconut. They're filled with chocolate chips, oats, and shredded coconut...so all good things!
AND, they also happen to be gluten-free, if you use certified gluten-free oats. The most difficult thing about this easy vegan cookie recipe is trying to eat just one!
Before writing up this recipe, I went back to look at how many cookie recipes I've shared with you so far. Considering how many times I make cookies around here, you'd think there would be many. But no.
There was one. ONE.
It's time I fix that. [update: I've added a few more vegan gluten free cookie recipes since writing this!]
To start the fix, here are some chewy, soft, coconut chocolate chip oatmeal cookies for you.
They also happen to be gluten-free (if you use gluten free oats) and, of course, they're 100% vegan! AND...they're super easy to make.
How easy?
Well, to SEE me make them, have a look at the video found either above or on the side (if you're on desktop) or below in the recipe card (if you're on mobile).
Did you watch? Easy, right?
How Do You like Your Oatmeal Cookies?
There seems to be two sides when it comes to oatmeal cookies, even when they're oatmeal chocolate chip coconut cookies. Those who like soft oatmeal cookies team and those who prefer crispy, crunchy oatmeal cookies.
Which side are you on?
I like both, but these happen to be soft, chewy vegan oatmeal coconut cookies. And they're perfect.
Right after they come out of the oven, the outside is nice and crisp while the inside is soft and gooey. But the outer crispiness goes away as they cool. And the longer you store them, the softer they become.
When it comes to chocolate chips and raisins, there are DEFINITELY two sides. Most are on the chocolate chip side, but that's a whole different post, so if you happen to like raisins in your oatmeal cookies (do you?) then be sure to check out my vegan oatmeal raisin cookies recipe.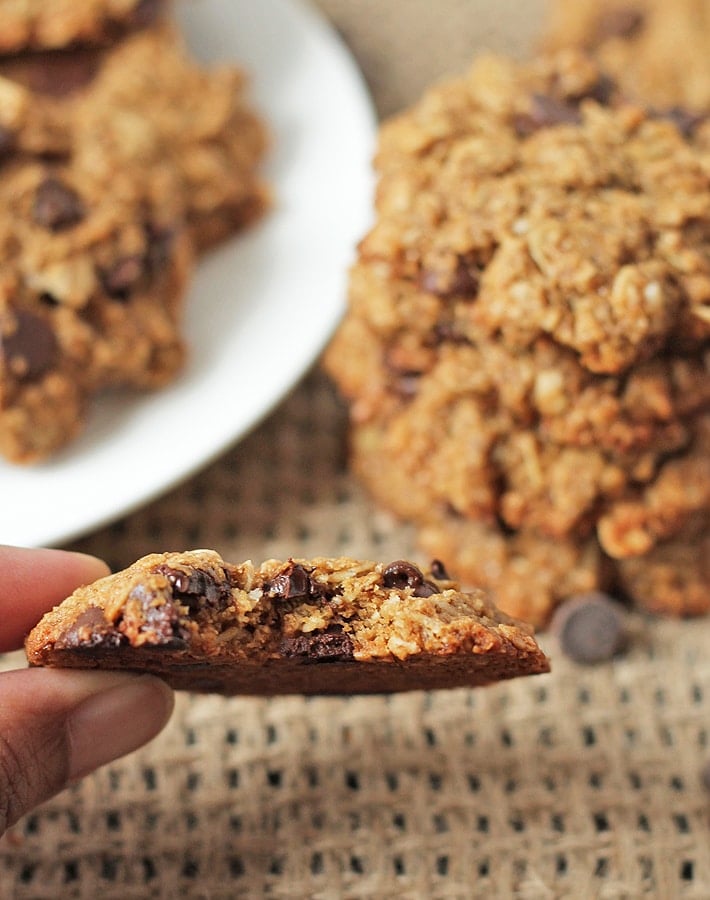 As you can see in the pic above, these delicious cookies are loaded with lots of tasty ingredients.
Each bite contains oaty (oaty is now a word, I made it up) chocolaty, coconutty (also a word) goodness.
They're perfect for school lunch snacks (work lunches, too!), after school snacks, and, well, any time snacks.
The recipe comes together quickly, they're bake quickly...the hardest thing about them is...eating just one!
Did You Make These?
If so, I hope you love them as much as I do. If you did make them, I'd love to see your remake, so please take a picture and tag me on Instagram so I can see! (@delightfuadventures) You're already following me on Instagram, right??
You can also help me to help others find this chocolate chip oatmeal coconut cookies recipe by pinning it to one of your food or recipe board on Pinterest! CLICK HERE TO PIN IT NOW!
If you like this recipe for oatmeal chocolate chip cookies with coconut, you may also like these other vegan gluten-free cookies:
How to Make Oatmeal Chocolate Chip Coconut Cookies
Oatmeal Chocolate Chip Coconut Cookies
Soft and chewy, oatmeal chocolate chip coconut cookies that are vegan AND gluten-free (if you use certified gluten free oats!). These easy vegan gluten free cookies are simple to make and they're filled with gooey chocolate, oats, and coconut. They're perfect for lunch boxes and they're the answer to any cookie craving you may have!
Instructions:
Preheat oven to 350°F (177°C).

Prepare your baking sheet(s) by lining with parchment paper.

Prepare your flax eggs by whisking together ground flax seeds and water. Set aside to thicken.

In a medium bowl, whisk together the oat flour, rolled oats, shredded coconut, baking soda, and salt.

In a large bowl, mix together the flax mixture, soft coconut oil, vanilla, and coconut sugar.

Add dry ingredients to wet ingredients and mix until combined.

Fold in chocolate chips.

Using a tablespoon (or a

medium sized cookie scoop

), scoop equal amounts onto the baking sheet(s). Flatten slightly. Leave enough space around each cookie, they will spread a little as they bake.

Bake for 10 minutes or until golden around the edges. Don't over bake! (see note below)

Leave cookies on the cookie sheet to cool for about 10 minutes, then remove and place on a cooling rack.
Recipe Notes:
Cookies may seem under baked when you take out of the oven because they will be very soft. Not to worry, they will firm up as they cool.
This recipe will make 24 cookies if you use a tablespoon to scoop them out. If you make them with a medium sized cookie scoop, as shown in the video (medium scoops are usually 1.5 tablespoons), you will end up with a little less cookies..
Fresh or dried coconut will both work fine in this recipe. Click to learn how to crack open and use a whole coconut.
Don't buy oat flour, make your own! It's really easy and so much cheaper. Here's how to make your own oat flour.
This recipe will NOT work with coconut flour.
For this recipe, you want your coconut oil to be soft, not melted.
Nutrition info is based on 1 of 24 cookies and on the recipe made as written. Nutrition info is only to be used as a rough guide. Click to learn how nutrition info is calculated on this website.
Nutrition Info:
Serving:
1
cookie
|
Calories:
133
kcal
|
Carbohydrates:
23
g
|
Protein:
3
g
|
Fat:
4
g
|
Saturated Fat:
2
g
|
Sodium:
46
mg
|
Potassium:
21
mg
|
Fiber:
2
g
|
Sugar:
10
g
|
Vitamin C:
2.5
mg
|
Iron:
1.3
mg
Did You Make This Recipe?
If so, please share a picture with me on Instagram! Tag @delightfuladventures and hashtag #delightfuladventures. I can't wait to see!