Last month, after picking a zucchini from my garden, I thought it would be the last one for the season. It was mid-September, after all. At that time, I remember seeing a tiny zucchini starting up but didn't think it would survive since frosty nights were happening and because the official start of fall was a few days away—but I was wrong! This past weekend, as I was pulling out what was left of this year's plants, I found that tiny zucchini—now very large...the size of my forearm, large—hiding under an over sized leaf. It was a nice surprise because I had recently learned how to freeze zucchini.
How to Freeze Zucchini for Baking and Other Uses
Did you even know you could freeze shredded zucchini? Very much like homemade pumpkin puree, after a little prep-work, all you have to do is package it up into freezer-safe, air-tight containers or bags and freeze. When you're ready to use your zucchini, thaw and use as you normally would.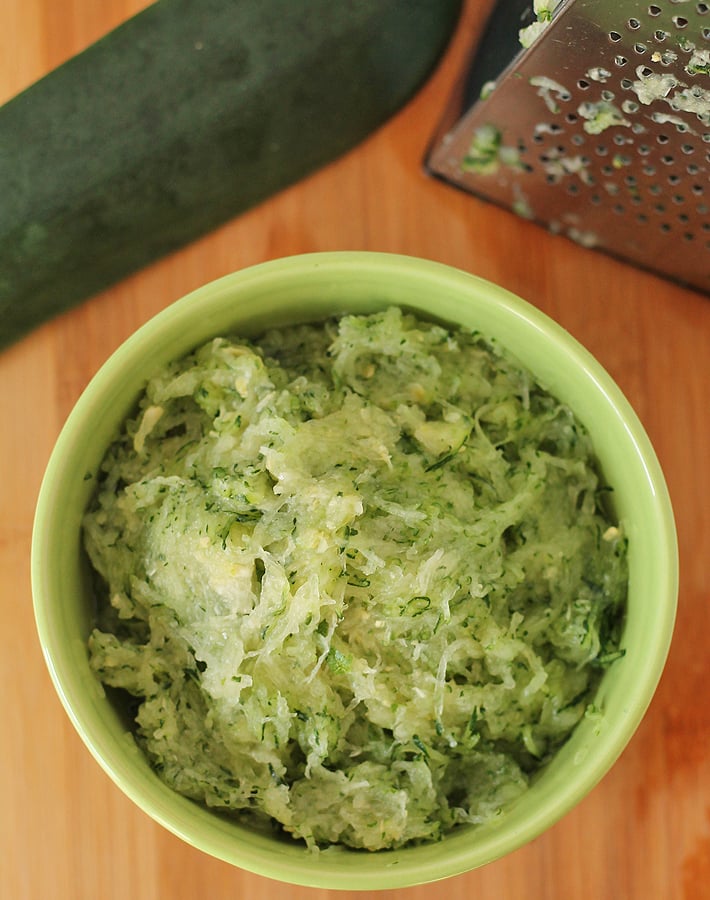 Depending on what you will be using your zucchini for will determine how you want to shred it. You can shred any way you like, I usually shred as shown in the two images above.
Does Shredded Zucchini Freeze Well
Yes! As long as you pack it up in airtight freezer bags or containers, it will be fine. NOTE: There will be more moisture than usual after you thaw it, so be sure to account for the extra moisture in your recipe or squeeze the extra liquid out.
Recipes for Frozen Zucchini
Shredded zucchini can be used in vegan gluten free zucchini chocolate chip muffins, vegan gluten free chocolate zucchini bread, waffles, brownies, cakes, cookies, and more. It can even add a little undetectable nutrition to soups, sauces, stews (try adding some to this lentil sweet potato chili!), and pasta dishes. There are so many possibilities and a great way to store a little bit of summer in your freezer for later.
How to Freeze Zucchini Step-by-Step:
1. Wash and cut the tops off of your zucchini.
2. If your zucchini is over sized, remove any large seeds. For regular sized zucchini, no need to remove the seeds.
3. Shred into a bowl using either the large or small hole shredder on a box grater (see pictures above). The shred size you choose will depend on preference and the type your recipe calls for.
4. Drain any excess liquid from the bowl, but don't squeeze the liquid out.
5. Separate into 1-cup portions. Place into freezer-safe containers, bags, or use a vacuum sealer and freeze.
If stored properly, shredded zucchini will keep for up to 8-months in the freezer. Mine never lasts that long, though!
Click here for more helpful kitchen tips! and follow my DIY in the Kitchen Pinterest board for more helpful DIY's and tips.