Easy and fluffy Vegan Gingerbread Pancakes that are perfectly spiced and make a festive addition to your holiday table (they're also great to enjoy-round!). They can also be made vegan AND gluten-free, full details below!
This page may contain affiliate links. Click to learn more.
Christmas morning breakfast in my home always includes my vegan gluten free gingerbread waffles. It became a fast favourite of ours after I came up with the recipe a few years ago. It's such a fave, that I sometimes make them outside of the holiday season (it's totally OK to have gingerbread waffles in July, right?!). This year, those waffles have a rival: fluffy vegan gingerbread pancakes.
For this recipe, I went back to that gingerbread waffle recipe mentioned above and adjusted it slightly to turn them into delicious gingerbread pancakes.
If you're gluten free, you can also make them gluten free gingerbread pancakes. I've included instructions on how to make a vegan-only version and a vegan gluten free version.
It is the season of giving, after all 🙂
As mentioned above, I tested a non gluten free version for you with all purpose flour.
It's perfect now, but it took me a while to get it to where I was happy to share it. I don't usually make pancakes that are not gluten-free, so I had a little bit of a learning curve.
With this recipe, it was not a straight cup for cup substitution for the gluten free flour, like with my baked doughnut recipes. The all purpose flour did not absorb the liquids as fully as the gluten free flour did, in this case, so I had to play around with measurements a bit.
BUT, I'm happy to say that it's now perfected.
My family ate a whole lot of gingerbread pancakes over the past few weeks as a result of all the testing, and they're still not sick of them.
That's a good sign!
Both versions are fluffy (just the way pancakes should be!) and packed with warm, holiday gingerbread spiciness.
And the gluten free gingerbread pancake version? If you make them the way the recipe is written and you use the same gluten free flour I did, no one would be able to tell they're gluten-free.
Recipes like my vegan gluten free gingerbread chocolate chip muffins and my vegan gluten free gingerbread loaf are must-makes during the holidays, and now I have my vegan gingerbread pancakes to add to that list!
How to top your vegan gingerbread pancakes
You can top your pancakes any way you like. Pure maple syrup is my go-to, but here, I also added coconut whipped cream and sliced fresh strawberries, and it was perfection.
You can also use maple caramel sauce instead of maple syrup, or you can use chocolate sauce (I love gingerbread and chocolate together!).
It all depends on how much sweet you like. If you don't like too much sweet, you can't go wrong with the fresh berries and coconut whipped cream.
No matter how you top them, they'll be delicious. Play around with different combos, and see which you like best!
If you do try these pancakes out, let me know how it goes and if you're on Instagram, tag me on your vegan gingerbread pancake pics! I'm @delightfuladventures
I'd love to see your remakes!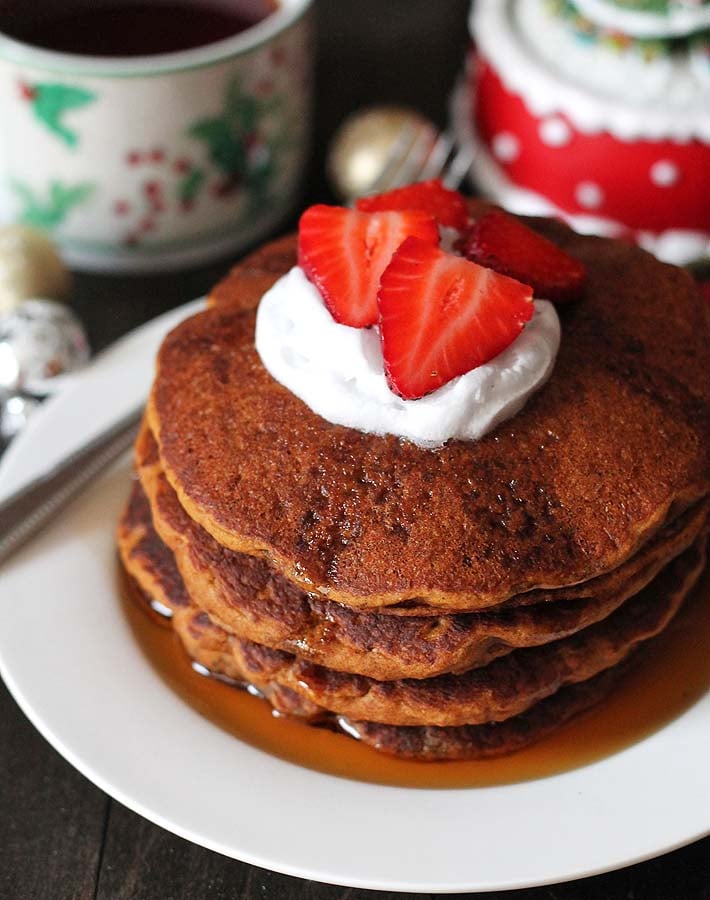 If you like this recipe for Gluten Free Vegan Gingerbread Pancakes, you may also like these:
And click here for more vegan gluten free holiday recipes!
Before you make this recipe, have a look at how easy they are to make in the video found either above or on the side (if you're on desktop) or below in the recipe card (if you're on mobile):
I'm making the vegan gluten free version in the video, if you make the non gluten free version, your batter will be slightly thicker.
How to Make Gluten-Free Vegan Gingerbread Pancakes