If you're new to cooking, baking, and eating gluten-free, there may be a little confusion about some common ingredients and whether or not they contain gluten. Baking powder is one of the ingredients that has a little mystery surrounding it.
So is baking powder gluten-free? Or not? The short answer is that most brands are free from gluten but there are a few out there that are not. Keep reading and I'll share more details about that answer and I'll also give you some brands to look for the next time you're out shopping for gluten-free ingredients to fill your pantry.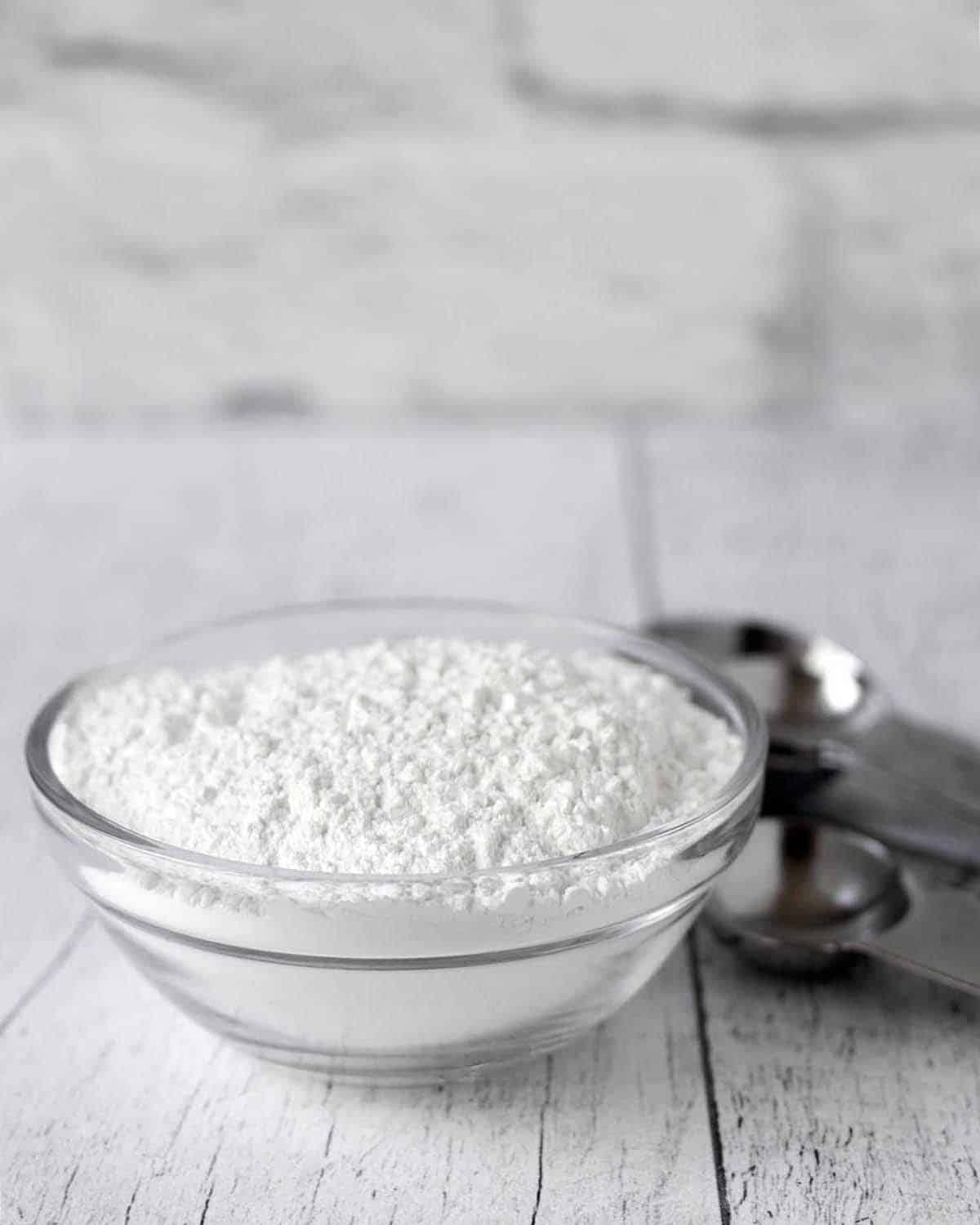 Last week, I received the following comment on one of my recipes that calls for baking powder as an ingredient:
When we're just starting with shopping and eating gluten-free (vegan, too!), there are so many questions, and "is there gluten in baking powder" is one of them, so I thought I would clear this up for those confused about it.
(This is the first article in a series of upcoming articles I will be sharing to clear up any confusion about whether a product/ingredients is gluten-free and/or vegan! Check out these others:
The Short Answer
As mentioned above, most brands are free from gluten but there are a few out there are that are not.
To understand that answer, you need to know a little bit about the ingredients that go into baking powder.
What is Baking Powder?
Not to be confused with baking soda (we'll discuss baking soda in another post), baking powder is a leavening agent used in baked goods (and pancakes and waffles!) to create bubbles and cause your recipes to rise and become puffy. For it to work, it needs to come in contact with a liquid.
There are two types of baking powders: single acting and double acting (most baking powders sold today are double-acting).
Single-acting baking powder reacts once it comes into contact with a liquid.
Double-acting baking powder reacts when it comes into contact with liquid and reacts once again when exposed to heat while baking.
Some brands use aluminum in their double-acting baking powder to get the second slower reaction while the recipe is baking.
The ingredients in baking powder are baking soda plus one, or sometimes two, acidic ingredients. It also contains starch as a buffer between the ingredients to help prevent them from reacting with each other (in humid climates) and to lengthen the shelf life.
Baking powder has a limited shelf life after it has been opened and won't work as it should if it's not used up quickly enough. If you're not sure if yours is still active, test your baking powder to ensure it's still active before adding it to your recipe and keep an eye on expiry dates. And remember that just because the expiry date hasn't come yet, doesn't mean your baking powder is still fresh.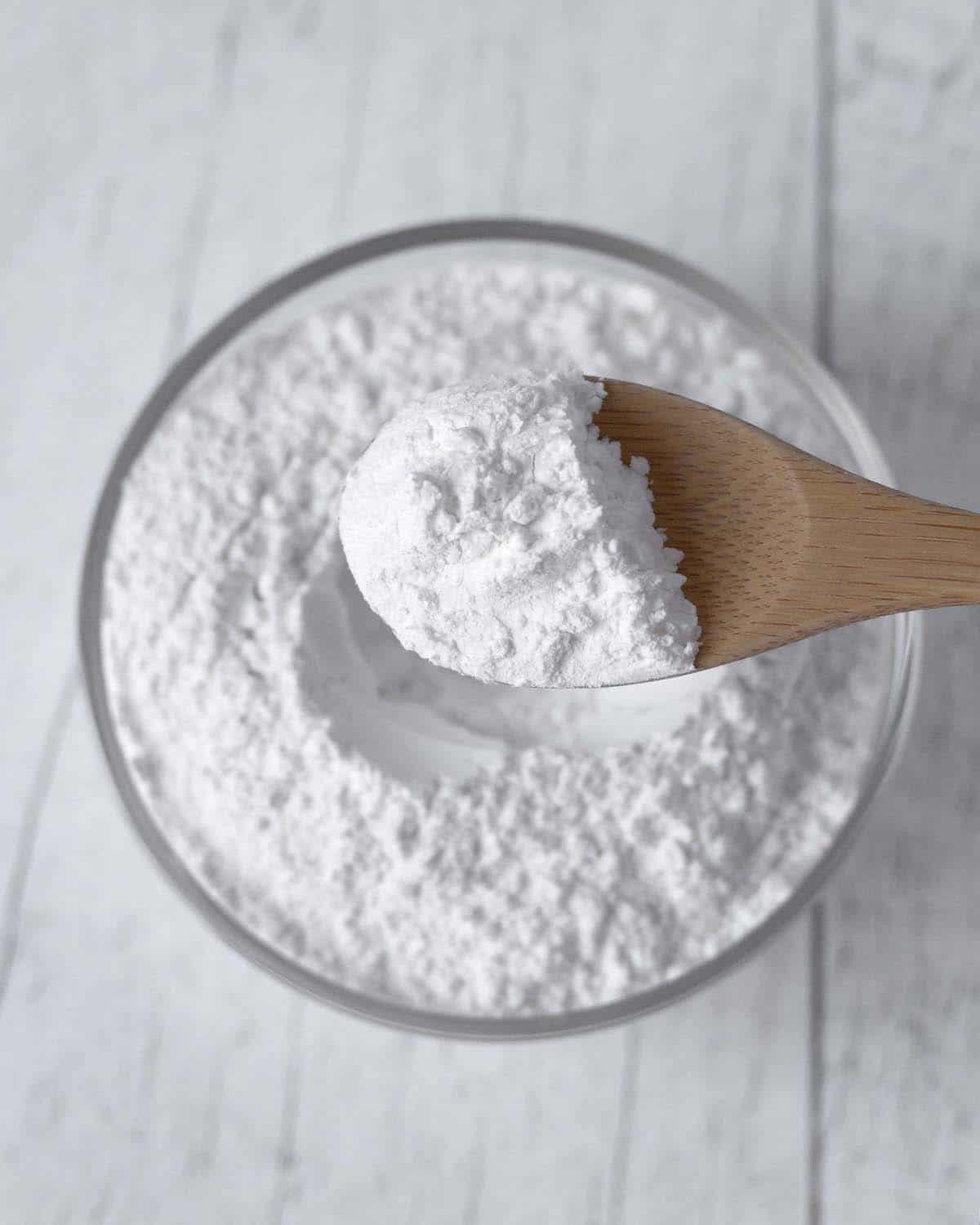 Why Baking Powder is Important for Gluten-Free Baking
Since vegan gf baking does not use eggs, wheat, or dairy (ingredients that provide structure and lift in conventional recipes), baking powder, used in conjunction with other ingredients, plays a very important role in the rising and final texture of your vegan gluten-free recipes.
So if a recipe calls for it, use it, don't leave it out, don't substitute, or you'll likely end up with a recipe fail.
I prefer to use an aluminum-free double-acting baking powder for my vegan gluten-free baking since it provides great lift and no metallic aftertaste when a larger amount is called for (which is sometimes the case with vegan gluten-free baking!).
There's a lot of science behind how baking powder works, I won't get into that here, but if you are interested, you can read all about how baking powder works when used in your favourite recipes.
Are you new to vegan gluten-free baking? If so, be sure to read all of my vegan gluten-free baking tips!
Why Some Baking Powder Isn't Free From Gluten
The starch used in most baking powder is usually cornstarch and a few brands use potato starch, BUT, it can sometimes be wheat starch, which of course, contains gluten.
How to Read and Understand the Labels
When shopping, to answer the question "does baking powder have gluten" you need to know what type of starch a particular brand of baking powder contains by reading the label.
The first thing you need to do when deciding on which baking powder to buy it to look for the label to say gluten-free: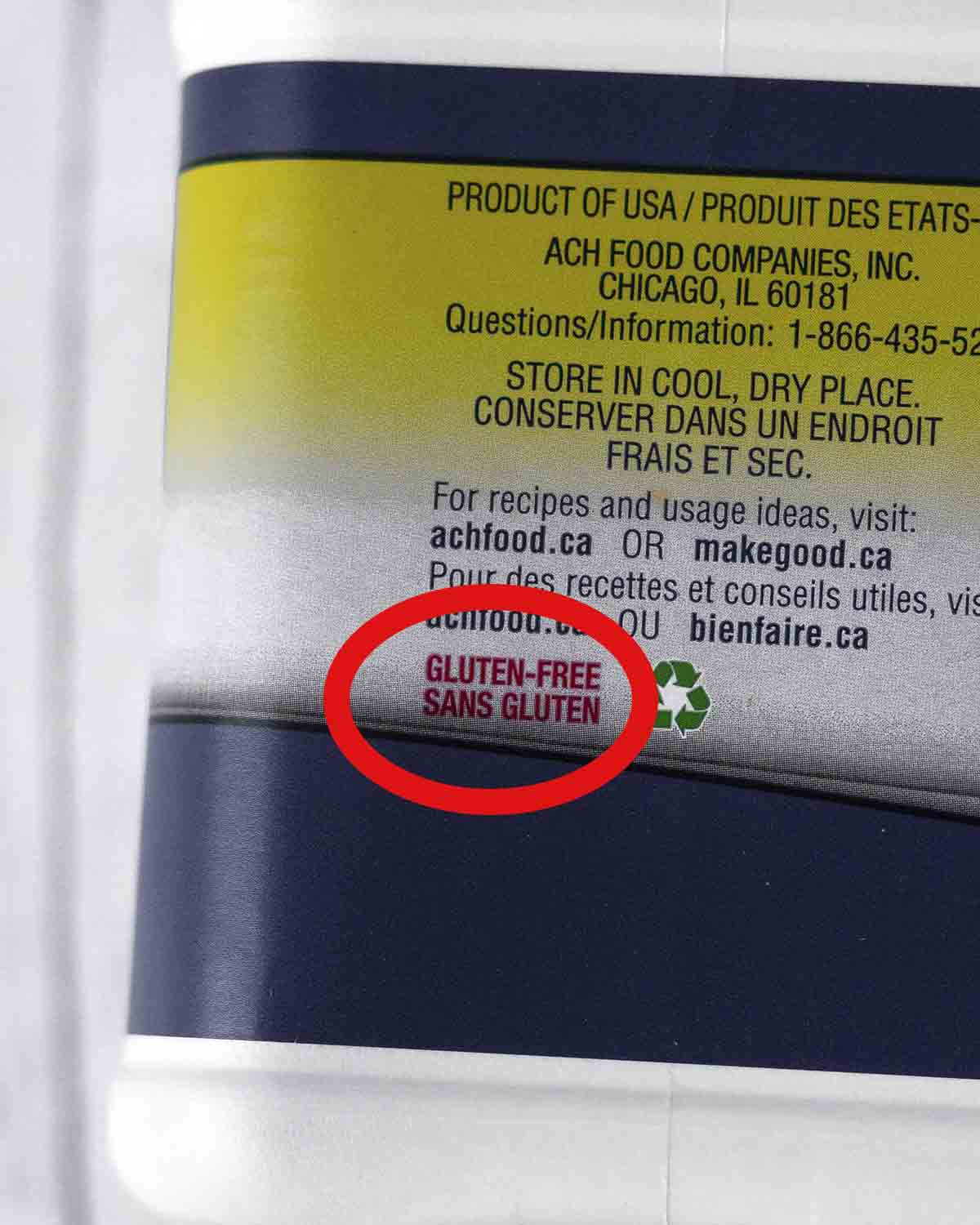 If the label does not say gluten-free, your next step should be to read the ingredients.
Look for the starch being used in that particular baking powder. If you notice that the ingredient list does not list wheat starch or any other gluten-containing ingredient, then it may not be marked as gluten-free because of possible cross-contamination during the manufacturing process.
At this point, if it's still unclear whether or not the baking powder you're interested in buying is gluten-free or not, check out the manufacturer's website (you can usually find the info on the product page or an FAQ page), you can contact the manufacturer and ask them directly, or you can keep reading to learn of some brands that are free from gluten.
Gluten-Free Baking Powder Brands
I've listed a few brands below that are all gluten-free. I've also noted the type of starch they use, and whether it's free from aluminum since this is important to some people. If a brand is only available in a specific country, I've listed that in brackets beside the brand name. All of them are also naturally vegan.
Look for them in your grocery store, for brands I could find on Amazon, I've included a link so you can see them over there.
The list above is not a complete one, there are many others out there, but I hope it gives you some good info to use when you go shopping.
How to Make Homemade Baking Powder
If you can't find one of the brands listed above or you just prefer to make it yourself, you can make your own using this gluten-free baking powder recipe.
Simply combine the following:
1 teaspoon baking soda
2 teaspoons cream of tartar
1 teaspoon cornstarch OR tapioca starch OR arrowroot starch (optional, only use if you are storing the baking powder for later)
This recipe will make 1 tablespoon (3 teaspoons) of gluten-free baking powder. The recipe can be scaled up if you want to make a bigger batch and store it for later or scaled-down if you are using it right away and you need less.
Store it in an airtight container in a cool, dry place for 3-4 months. Test your baking powder if you aren't sure if it's still active.
Note that since this recipe makes single-acting baking powder when you use it, you'll need to work quickly and get your recipe into the oven after the liquid has been added to the mixing bowl. It's best used for recipes that get baked right away, like muffins.
It's not ideal for recipes like pancakes and waffles since those batters sit around for a while as you cook the pancakes and waffles.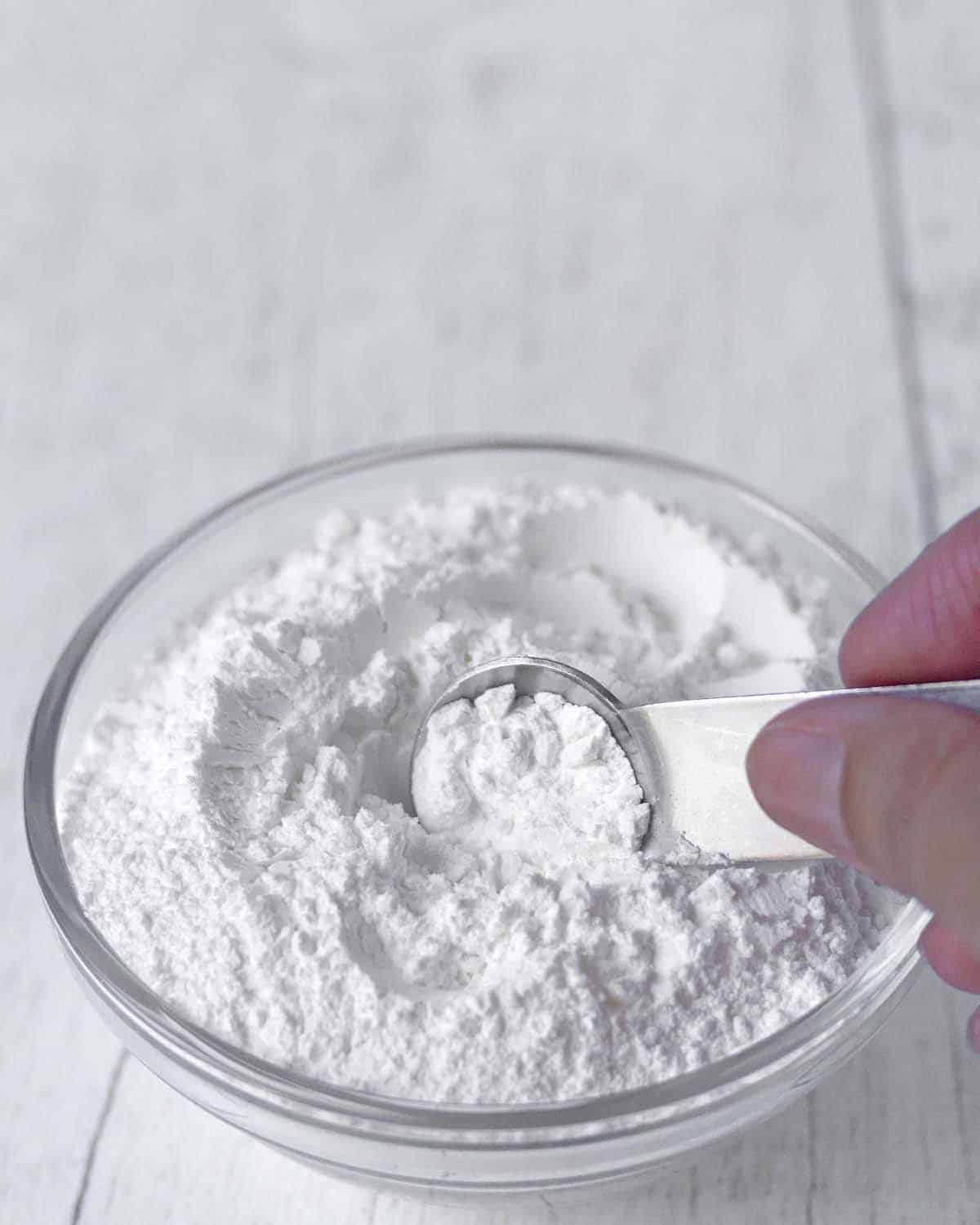 FAQ
Is Magic Baking Powder Gluten-Free?
Magic Baking Powder is a popular brand only available here in Canada and it's manufactured by Kraft. Kraft does not label this product as gluten-free, and it does not contain any wheat ingredients, but according to their website, there is a risk of cross-contamination during the manufacturing process.
Can You Use Baking Powder in Gluten Free Cakes?
Of course, as long as the recipe calls for it, add it and enjoy your cake!
Do You Need to Use Baking Powder with Gluten Free Flour?
That depends on the recipe you are making. If the recipe calls for it, follow the recipe and add the exact measurement called for.
Is Baking Powder Vegan?
Yes, since no animal products are used to make baking powder, it's naturally vegan.
Is Gluten Free Baking Powder the Same as Normal?
Yes! The performance will be the same as any other baking powder.
Recipes to Try
Now that you've either bought or made gluten-free baking powder, you need some recipes to make! How about one of these?
So there you have it! The answer to "is all baking powder gluten-free." I hope you stuck with me to the end, that you found this article helpful, and that there is no longer any question about whether or not baking powder is gluten-free.