Coming towards the end of most weeks, despite the best of intentions, we always end up with a few overripe bananas.

This page may contain affiliate links. As an Amazon Associate I earn from qualifying purchases.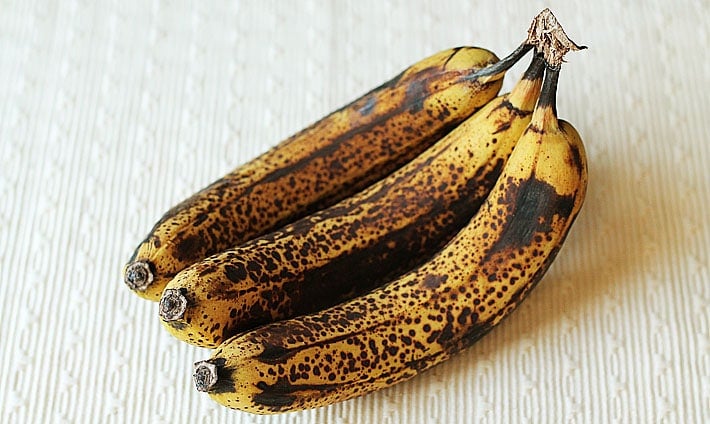 Most people end up throwing them in the compost bin, green bin, or trash but what they don't realize is that they can easily save them and turn them into delicious, fresh-baked treats like banana bread and healthy drinks like smoothies.
Instead of throwing them out, save them!
Once the bananas have reached the point where no one will eat them, throw them into the freezer! Then, when you've found a must-make recipe that calls for bananas, they will be waiting for you to use.
Note: Frozen banana peels turn a very dark brown, almost black, colour after being frozen. This is totally fine, they are still good to use!
Here's how to use them:
For smoothies:
Take a frozen banana out of the freezer, thaw slightly, peel, and throw it into the blender as you would with a fresh banana.
For baked treats:
Remove the amount of bananas needed and place on a plate to thaw for a couple hours.
When fully thawed, slice off the tops and squeeze the banana(s) into a bowl. Purée until smooth (I use an immersion blender). This is to ensure no banana lumps end up in your finished product. Measure and add to your recipe.
If you keep doing this, over time you will end up with a little stash of overripe bananas in your freezer, so this a great excuse to make delicious recipes that call for bananas!
Some recipes to try with those frozen overripe bananas sitting in your freezer:
Banana Steel Cut Oats
Easy, delicious, and warm banana steel cut oats that taste like banana bread! This Instant Pot steel cut oats recipe can be made in your Instant Pot pressure cooker or on the stove top.
Get This Recipe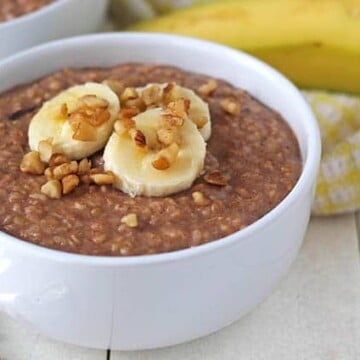 Vegan Gluten Free Banana Muffins
Soft, fluffy, and easy vegan gluten free banana muffins that are perfect for snacks and lunch boxes. This recipe can be customized in 4 delicious ways!
Get This Recipe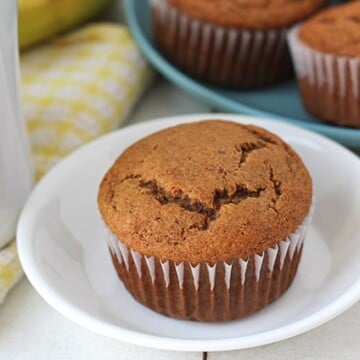 Vegan Gluten-Free Banana Bread
Not only is this vegan gluten free banana bread delicious, it's also oil-free, super easy to make, and can be customized with your favourite add-ins!
Get This Recipe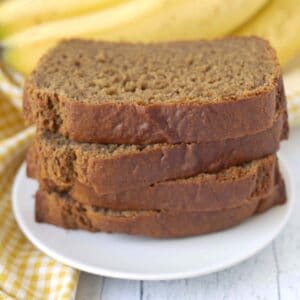 Gluten-Free Vegan Banana Waffles
Spiced vegan banana waffles that are crispy on the outside but soft and fluffy on the inside. This delicious gluten-free vegan breakfast will become a new favourite breakfast treat in your home!
Get This Recipe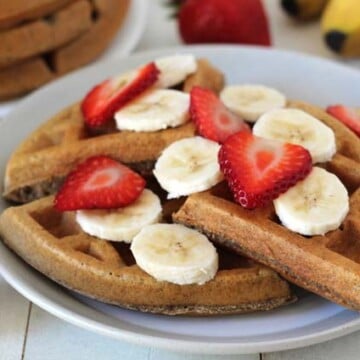 Chocolate Banana Cake (Vegan + Gluten-Free)
Cure your chocolate cravings with a slice of this triple chocolate banana cake that's both vegan and gluten-free! It comes together quickly, has just a few simple ingredients, and is very easy to make!
Get This Recipe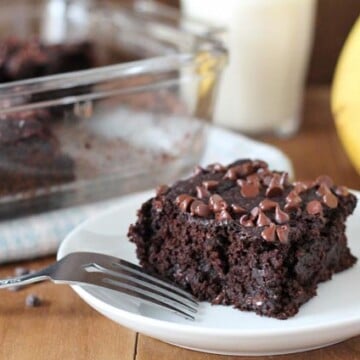 Vegan Banana Pancakes (with a gluten-free option!)
Treat your family to a batch of easy-to-make, fluffy vegan gluten free pumpkin pancakes. They're packed with pumpkin spice flavour everyone will love.
Vegan Gluten Free Blueberry Banana Muffins
The best of two worlds combine in these easy vegan gluten free banana blueberry muffins that are moist, delicious, and bursting with plump, juicy blueberries! Yes, it's possible to make fluffy, tasty muffins that are dairy-free, refined sugar free, and egg-free and this recipe shows you how. They come together quickly and are perfect for breakfast, a quick snack, and for lunch boxes.
Get This Recipe
Berry Beet Ginger Smoothie
Kick-start your day with this berry beet ginger smoothie — a healthy blend of fruits and vegetables with a little "zing" from fresh ginger.
Get This Recipe
Coconut Raisin Banana Bread
Take a break from plain old banana bread and shake things up with this quick and easy vegan gluten free coconut raisin banana bread!
Get This Recipe
Banana Oat Pancakes
These easy vegan, gluten-free, banana oat pancakes will become your new favourite weekend breakfast (or lunch...or supper!).
Get This Recipe