There's no need to buy expensive oat flour at the store because it's so simple to make yourself! This short post will show you how to make homemade oat flour (and save money!) and answer some of the questions you may have.

This page may contain affiliate links. As an Amazon Associate I earn from qualifying purchases.
For the past little while, I've been experimenting with oat flour in some of my recipes. I tend to lean towards pre-packaged gluten-free flour blends when I want to make a gluten-free recipe, but sometimes the results don't end up as good as I'd like them to be.
Ideally, I'd love to move away from those blends when possible so I can have more control over the results and to change things up a bit.
The first gluten-free flour I decided to experiment with (on its own) is oat flour.
Like with all gluten-free baking, it takes a lot of trial and error to make recipes work. Those who are familiar with gluten-free baking know exactly what I'm talking about! (Click here for tips on how to make your gluten free baking better)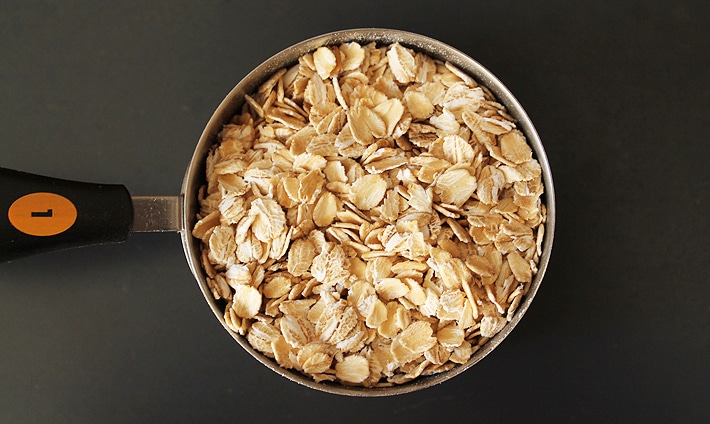 To get your hands on oat flour for your recipes, you can go 1 of 2 routes:
1. Buy it in the store and spend a lot of money for it.
2. Make your own! I choose to make my own because it is ridiculously easy (and cheaper than buying it!).
But Is Oat Flour Gluten-Free?
Not all of them are. In order to be sure your homemade oat flour will be gluten-free, you'll need to buy oats that are certified gluten free, read the label to be sure that what you are buying is actually gluten-free
If you are buying pre-made oat flour, look for the symbol as well. Depending on which country you live in, the symbol will be different.
Tips for Making the Best Oat Flour
To make the best and most fine oat flour, you'll need a blender, such as a Vitamix or a NutriBullet. I have made it in both of these machines and the oat flour turns out great every time.
I recommend both of these blenders because they both come with special dry canisters and special blades designed especially for grinding dry grains and oats to make flour.
Before making your oat flour, read your machine's instructions to learn the recommendation for grinding grains.
Keep blending until your oats are fine, powdery, and no more whole oat flakes remain.
Keep an eye on the oats while they grind down. If it's no longer grinding and you see the oat flour climbing up the sides of the canister, stop the blender and scrape down the sides and loosen up the packed flour from around the blade.
This shouldn't happen, but it's worth mentioning...if you smell something burning, stop the machine immediately. This means that your machine's motor is working too hard for too long. Give it a break to cool down and refer back to your machine's instructions as mentioned above.
Once you do make your oat flour, be sure to check out the following recipes that call for oat flour:
And click here for more kitchen tips!
How to Make Oat Flour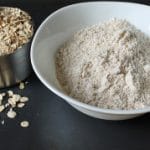 Print Recipe
How to Make Oat Flour
There's no need to buy expensive oat flour at the store because it's so simple to make it yourself! Here's how to make oat flour at home.
Ingredients:
1

heaping cup of

rolled oats

(gluten-free oats, if needed)
Instructions:
Grind the oats until all of it has turned into flour. Depending on your blender (I use my NutriBullet with the grinding blade attachment) it will just take a few minutes. Be sure that all oats have been ground.

Use the oat flour in your recipe right away or store in an airtight container.
Recipe Notes:
Please read all of the tips and FAQ above before making your oat flour for best results.
1 cup of oats = a little less than 1 cup of oat flour, so you will need to add a little bit more oats to the cup to get 1 exact cup of oat flour.
I don't typically make my oat flour ahead, I make it as needed. If making ahead, be sure to store it in an airtight container until you are ready to use it.
Calorie count is for 1 cup of oat flour.
Nutrition Info:
Did You Make This Recipe?
If so, please share a picture with me on Instagram! Tag @delightfuladventures and hashtag #delightfuladventures. I can't wait to see!