Soft-baked Peanut Butter Oatmeal Chocolate Chip Cookies that call for just a few simple ingredients and 10 minutes baking time. They also happen to be vegan AND gluten-free!
Over the past few weeks, quite a few peanut butter + chocolate recipe have been popping up in my feeds, so I thought it was time that I added to the Internet's collection of peanut butter cookies. It could always use another one 🙂
I have just a few other peanut butter + chocolate recipes here on Delightful Adventures:
They're all great recipes, so if you love peanut butter and chocolate together, like I do, you should try them!
So let's talk about this delicious recipe, shall we?
The Type of Peanut Butter You Need to Use
Be sure that you're using natural peanut butter, the runny kind. Read the ingredient list and if the only ingredient is peanuts, that's the one !
You don't want a peanut butter with any added ingredients like salt or sugar because it will throw the recipe off. I use smooth, natural peanut butter for my recipe, but you may also use crunchy if you'd like.
These cookies are also a little different from the classic peanut butter cookies because they are peanut butter chocolate chip cookies with oat flour and rolled oats!
These two extra ingredients make them heartier and more "toothsome."

When I first started testing this recipe, I started with no oat flour and rolled oats. The cookies came out fine but they weren't what I was aiming for.
Those cookies came out flat and crisp, what I wanted were cookies that were soft and chewy, and that's what adding the oat flour and rolled oats (and baking powder instead of baking soda!) gave me.
Have a look at this shot below to see what the inside of the cookies are supposed to look like after they have baked.
Soft-baked peanut butter oatmeal chocolate chip cookie perfection. And look at those melty chocolate chips...

Peanut butter oatmeal chocolate chip cookies are great on their own, especially when they're still warm, but they're even better with a cold glass of non-dairy milk.
No matter which way you decide to have or serve them, you can't go wrong. They're a simple cookie to make and I hope they become a regular on your baking rotation like they have here.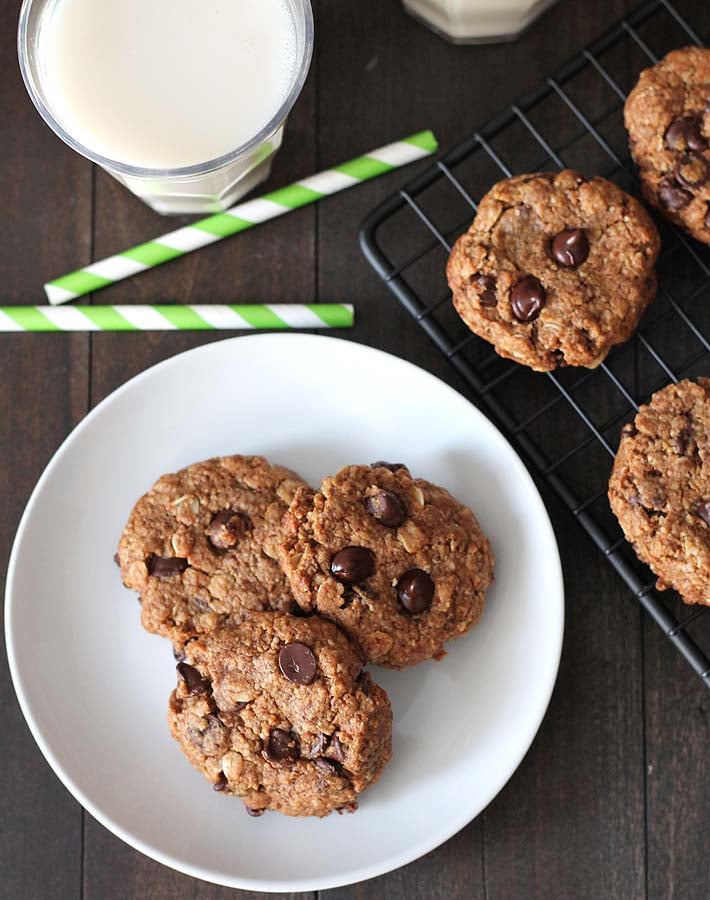 If you like this recipe for peanut butter oatmeal chocolate chip cookies, pin the recipe to Pinterest and then check out these other recipes you may also like:
If you make these vegan gluten-free peanut butter oatmeal chocolate chip cookies, or any of my other gluten free vegan cookie recipes, tell me what you thought of them in the comments below or even better, post a pic of your creation on Instagram and tag me, I'm @delightfuladventures over there and my hashtag is #delightfuladventures. I'd love to see your remake!
Peanut Butter Oatmeal Chocolate Chip Cookies
Vegan, gluten-free, soft-baked Peanut Butter Oatmeal Chocolate Chip Cookies are perfect for an after school snack with a glass of your favourite non-dairy milk.
Instructions:
Line 2 cookies sheets with parchment paper.

In a large bowl, add the peanut butter, coconut sugar, vanilla extract, and flax eggs. Stir to combine.

In a medium bowl, whisk the oat flour, rolled oats, baking powder, and salt together.

Add dry ingredients to wet ingredients and stir until combined.

Fold in the chocolate chips.

Scoop out cookie dough using a tablespoon, roll each portion into a ball and place onto cookie sheets. You can also use a medium-sized cookie scoop, see image above. Flatten each cookie slightly. These cookies will not spread much while they bake.

Bake for 10 minutes and be sure to not over bake! (see note below)

Leave cookies on the cookie sheet to cool for about 10 minutes, then remove and place each onto a cooling rack.
Recipe Notes:
Be sure to use runny, natural peanut butter for this recipe. The ingredient list should just have one ingredient: peanuts, and nothing else.
Brown sugar can be used instead of coconut sugar.
Don't buy oat flour, make your own! It's really easy and so much cheaper. Here's how to make your own oat flour.
This recipe will NOT work with coconut flour.
Be sure to not over bake your cookies, keep a close eye on them because the bottoms can burn very quickly.
Your cookies may seem under baked when you take them out of the oven because they will be very soft. Not to worry, they firm up as they cool.
Feel free to make your cookies larger or smaller. This recipe will make you 20 cookies if you use a medium-sized cookie scoop, (medium scoops equal 1.5 tablespoons). If you use a tablespoon, scoop out a little more than a tablespoon for each cookie to make 20.
Nutrition info is based on 1 of 20 cookies and is only to be used as a rough guide. Click to learn how nutrition info is calculated on this website.
Nutrition Info:
Calories:
146
kcal
|
Carbohydrates:
12
g
|
Protein:
5
g
|
Fat:
9
g
|
Saturated Fat:
2
g
|
Sodium:
23
mg
|
Potassium:
14
mg
|
Fiber:
2
g
|
Sugar:
5
g
|
Calcium:
20
mg
|
Iron:
1.4
mg
Did You Make This Recipe?
If so, please share a picture with me on Instagram! Tag @delightfuladventures and hashtag #delightfuladventures. I can't wait to see!