Soft-baked Peanut Butter Oatmeal Chocolate Chip Cookies that call for just a few simple ingredients and 10 minutes baking time. They also happen to be vegan AND gluten-free!
This page contains affiliate links. Click to learn more.
Over the past few weeks, quite a few peanut butter + chocolate recipe have been popping up in my feeds, so I thought it was time that I added to the Internet's collection of peanut butter cookies. It could always use another one 🙂
I have just a few other peanut butter + chocolate recipes here on Delightful Adventures:
They're all great recipes, so if you love peanut butter and chocolate together, like I do, you should try them!
So let's talk about this delicious recipe, shall we?
The type of peanut butter to use for your soft-baked peanut butter oatmeal chocolate chip cookies…
Be sure that you're using natural peanut butter, the runny kind. Read the ingredient list and if the only ingredient is peanuts, that's the one !
You don't want a peanut butter with any added ingredients like salt or sugar because it will throw the recipe off. I use smooth, natural peanut butter for my recipe, but you may also use crunchy if you'd like.
These cookies are also a little different from the classic peanut butter cookies because they are peanut butter chocolate chip cookies with oat flour and rolled oats!
These two extra ingredients make them heartier and more "toothsome."

When I first started testing this recipe, I started with no oat flour and rolled oats. The cookies came out fine but they weren't what I was aiming for.
Those cookies came out flat and crisp, what I wanted were cookies that were soft and chewy, and that's what adding the oat flour and rolled oats (and baking powder instead of baking soda!) gave me.
Have a look at this shot below to see what the inside of the cookies are supposed to look like after they have baked.
Soft-baked peanut butter oatmeal chocolate chip cookie perfection. And look at those melty chocolate chips…

Peanut butter oatmeal chocolate chip cookies are great on their own, especially when they're still warm, but they're even better with a cold glass of non-dairy milk.
No matter which way you decide to have or serve them, you can't go wrong. They're a simple cookie to make and I hope they become a regular on your baking rotation like they have here.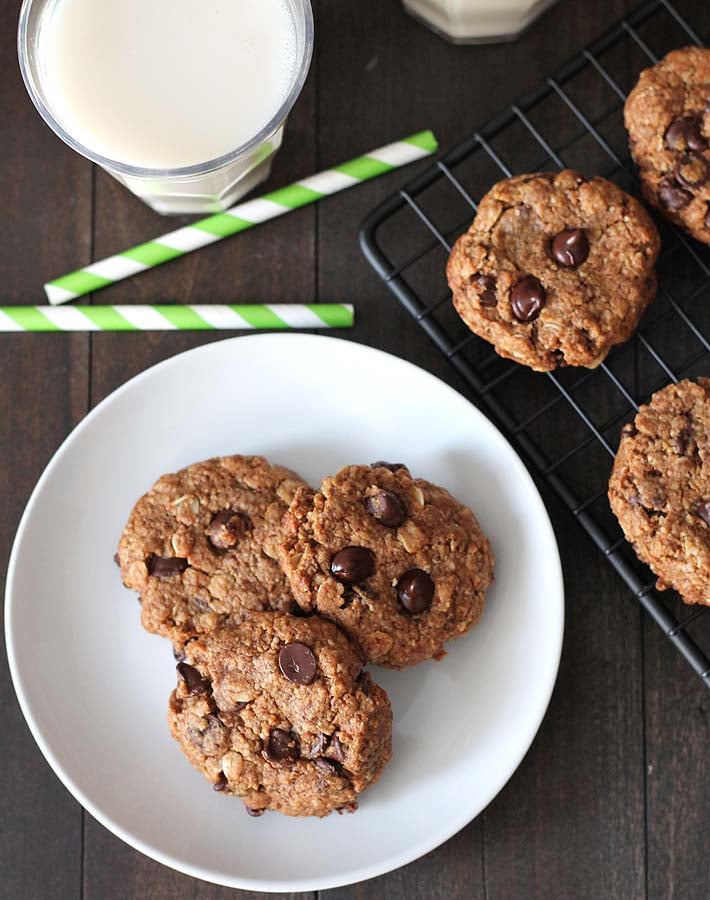 If you like this recipe for peanut butter oatmeal chocolate chip cookies, pin the recipe to Pinterest and then check out these other recipes you may also like:
If you make these vegan gluten-free peanut butter oatmeal chocolate chip cookies, or any of my other gluten free vegan cookie recipes, tell me what you thought of them in the comments below or even better, post a pic of your creation on Instagram and tag me, I'm @delightfuladventures over there and my hashtag is #delightfuladventures. I'd love to see your remake!
How to Make Peanut Butter Oatmeal Chocolate Chip Cookies