Soft and chewy oatmeal cranberry chocolate chip cookies that are easy to make and also happen to be vegan AND gluten-free! These cookies will become a new favourite to make during the festive season and beyond.
Cookies are, of course, a popular treat to have on your holiday baking list, but if you want to make something a little different from the regular sugar cookies, shortbread cookies, and gingerbread cookies, then I have a cookie recipe that looks just as good as it tastes and will make a nice addition to your holiday baking lineup.
Not only do they taste and look good, they're also VERY easy to make and require minimal ingredients and steps. PLUS, they're vegan, gluten-free, egg-free, and also dairy-free. AND...so delicious.
Are you new to vegan gluten-free baking? If so, be sure to read all of my vegan gluten-free baking tips!
In the picture above, you'll see the different components you'll need: the dry ingredients in one bowl, the wet ingredients in another and then the add-ins that make this cookie special...the dark chocolate chips and the cranberries.
Whole VS. Chopped Cranberries
I like to roughly chop the cranberries for this recipe so the pieces are smaller. This way, you won't get bites that are overpowered with whole tart cranberries.
You can keep them whole if you prefer them that way, but when you chop them, there will be more cranberry pieces in each cookie and the smaller pieces balance nicely with the dark chocolate chips.
How to Make Them
First, you'll combine the dry ingredients in one bowl and the wet ingredients in another and then combine the two.
After this is done, you'll then add in the chocolate chips and cranberries and mix well so everything is combined.
Next, you'll use either a tablespoon or a medium-sized cookie scoop (Amazon link), like the one I'm using in the picture below, to scoop out the dough for each cookie.
These cookies don't spread a lot as they bake, so you need to flatten them slightly before they go in the oven. And speaking of baking, they just take 10-minutes in the oven, that's it!
After they come out of the oven, they need to sit for a while to firm up. Once that time has passed (and it will be hard to wait!), you'll have a perfect batch of soft, chewy oatmeal cranberry chocolate chip cookies. for your family to snack on, to share with friends and family, for bringing to a potluck, or to bring in to the office to treat your co-workers.
They can also be given as a food gifts...because what better gift is there to give and receive than food?!
For some more holiday food gift ideas, check out this post that contains 20+ Vegan Food Gifts to Make and Give This Holiday and for some non-food gift ideas, check out these Gift Ideas for Vegan Foodies.
Can Fresh Cranberries be Used Instead of Dried?
I always use dried cranberries for these cookies and have not tried making them with fresh or frozen cranberries, so I can't say from experience if the cookies will still turn out. I do know that if fresh cranberries are used, they will release liquid as they bake which will likely alter the texture of the cookies, so proceed with caution.
What Kind Chocolate Chips Should be Used?
I use semi-sweet / dark chocolate chips in all of my baking. This type of chocolate chips work particularly well as a contrast to the tart cranberries. The flavours work very well together and will give you great-tasting dark chocolate cranberry cookies.
Most dark chocolate chips are vegan, but to be 100% sure yours are, read the ingredient list and look out for dairy ingredients.
PC Organics bittersweet chocolate chips are vegan and there's also Enjoy Life, and Equal Exchange. For more vegan chocolate chip recommendations, read this article: Are Chocolate Chips Vegan? (These Brands Are!)
If You Make These Cookies...
...let me know by sharing a pic with me on Instagram or by leaving a comment below!
And If You Like Them...
...you may also like these!
AND FINALLY...if you love cranberries, you'll probably like these other cranberry recipes: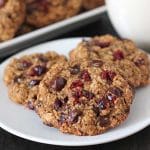 Print Recipe
Chewy Oatmeal Cranberry Chocolate Chip Cookies
Soft and chewy oatmeal cranberry chocolate chip cookies are easy to make and also happen to be vegan AND gluten-free! These cookies will become a new favourite!
Instructions:
Preheat oven to 350°F (177°C).

Prepare your baking sheet(s) by lining with parchment paper.

Prepare your flax eggs by whisking together ground flax seeds and water. Set aside to thicken.

In a medium bowl, whisk together the oat flour, rolled oats, cinnamon, baking soda, and salt.

In a large bowl, mix together the flax mixture, soft coconut oil, vanilla extract, and coconut sugar.

Add dry ingredients to wet ingredients and mix until combined.

Fold in cranberries and chocolate chips.

Flatten each cookie slightly. Leave enough space around each cookie, they will spread a little as they bake.

Bake for 10 minutes or until golden around the edges. Don't over bake! (see note below)

Leave cookies on the cookie sheet to cool for about 10 minutes, then remove and place on a cooling rack.
Recipe Notes:
Calorie count is based on 20 cookies, which is the amount you will get if you use a medium sized cookie scoop, (medium scoops are usually 1.5 tablespoons), you will end up with a few more cookies if you use a tablespoon.
For this recipe, you want your coconut oil to be soft, not melted.
Don't buy oat flour, if you can, make your own! It's really easy and so much cheaper. Here's how to make your own oat flour.
If you make your own flour for this recipe, make sure to sift it so there are no hard bits left. The oat flour must be fine (no graininess!) for this recipe or the texture will not be right.
This recipe will NOT work with coconut flour.
Cookies may seem under baked when you take them out of the oven because they will be very soft. Not to worry, they firm up as they cool.
Nutrition info listed below is based on one cookie made as thee recipe is written. Nutrition info is only to be used as a rough guide. Click here to learn how nutrition info is calculated on this website.
Nutrition Info:
Serving:
1
cookie
|
Calories:
153
kcal
|
Carbohydrates:
20
g
|
Protein:
2
g
|
Fat:
8.2
g
|
Saturated Fat:
5.7
g
|
Polyunsaturated Fat:
0.2
g
|
Monounsaturated Fat:
0.3
g
|
Sodium:
45
mg
|
Potassium:
68
mg
|
Fiber:
1.7
g
|
Sugar:
8.7
g
|
Vitamin A:
1
IU
|
Calcium:
7.3
mg
|
Iron:
0.8
mg
Did You Make This Recipe?
If so, please share a picture with me on Instagram! Tag @delightfuladventures and hashtag #delightfuladventures. I can't wait to see!