This Cherry Berry Coconut Limeade Smoothie (that was a mouthful, wasn't it!?) recipe was supposed to go live a few weeks ago but a series of events took place that prevented me from doing it.
My first set of pictures didn't turn out well, and re-shooting kept getting postponed because of a stretch of dark, cloudy days (poor lighting = hard to take good natural light pictures) and then I got distracted with strawberries. It's OK though, I think it's kind of fitting that this be the time it goes live. Last week, my berry beet ginger smoothie my berry beet ginger smoothie was featured in an article on Fitness Magazine's website (very cool!), so I think a great way to celebrate is with another smoothie recipe!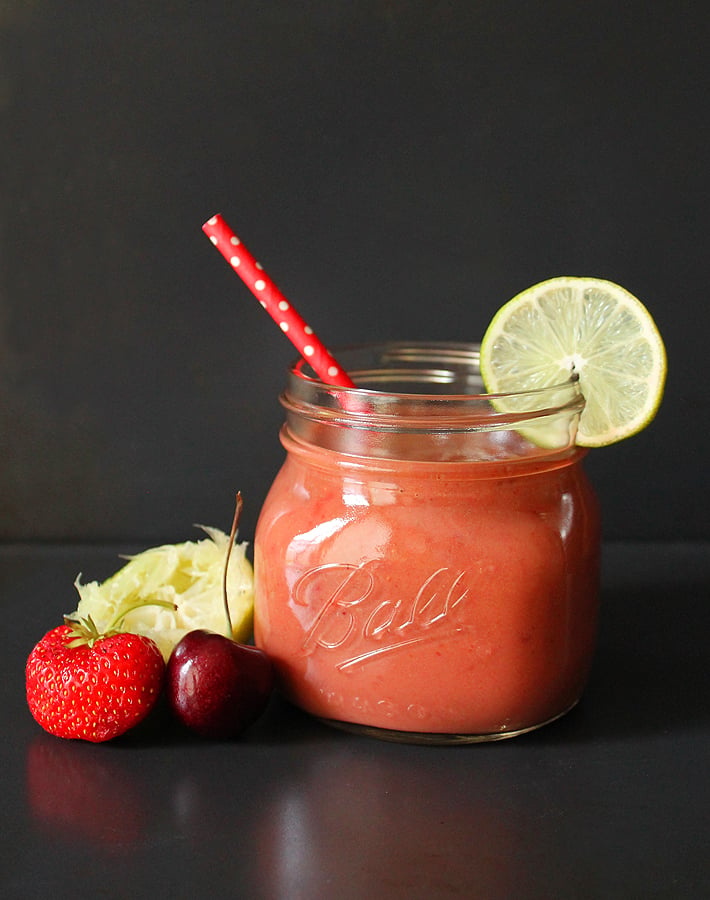 Cherries are one of my favourite fruits, so they just add to my love of summer. What's not to love about them? They're sweet, juicy, and can be eaten as-is or used in many summery recipes—like this dairy-free cherry vanilla ice cream I pinned not long ago to save for later. Yum.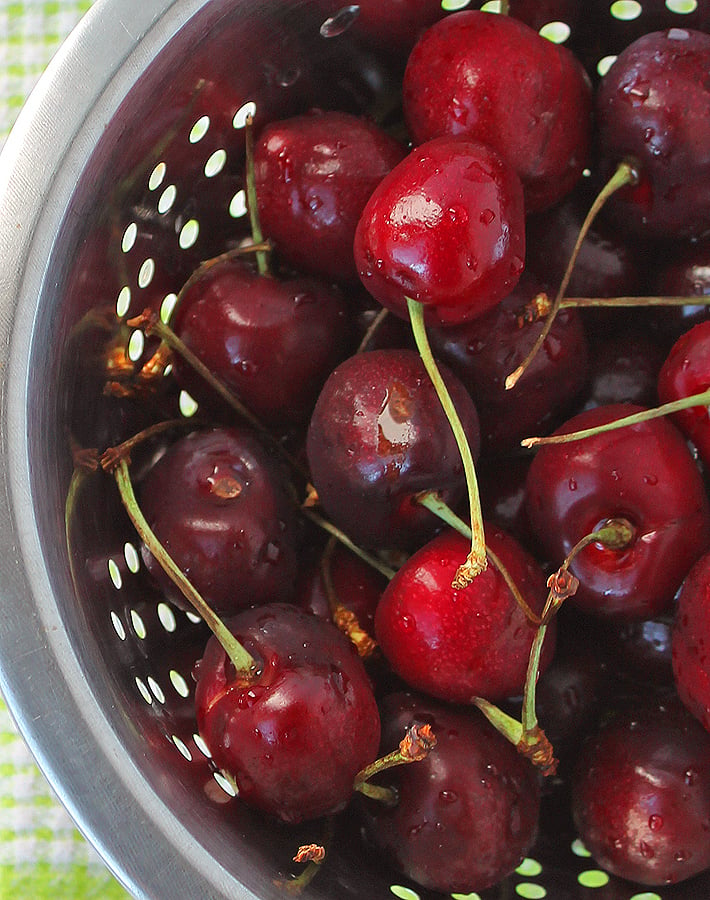 A Cherry Berry Coconut Limeade Smoothie says summer to me. It's refreshing, it's cool, and it's sweet...but tart at the same time—like a summer lemonade. Except it's not lemon juice it gets its tartness from, it's lime juice (is your mouth watering at the mention of lemon and lime juice? Mine is!). It's also a little tropical with the addition of the chilled coconut milk. Just the type of drink you crave on a hot day, isn't it?
Refreshing, cool, sweet, tart, tropical. *heart eyes*
You'll notice this smoothie recipe calls for chia and hemp hearts. They are optional, so it's up to you whether you want to add them or not. They don't take away or add to the flavour at all, you won't even notice they're there. Just like my Blueberry Pineapple Smoothie (and every smoothie I make!), I add chia and hemp seeds to bump up the nutrition factor. So add them if you'd like, leave them out if you don't have them. The taste is not affected at all, either way.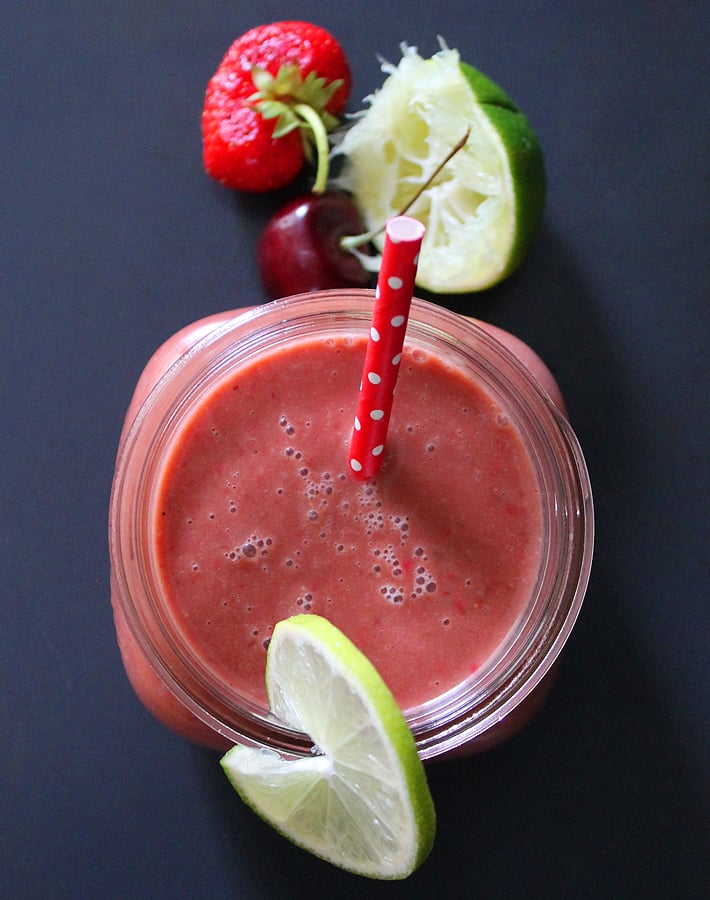 This recipe tastes best with fresh cherries and strawberries, but if a craving hits you when they're not in season, frozen berries will work too!
And one more thing...I used strawberries in my smoothie (I still have some leftovers from our recent strawberry picking outing!) but if you don't have strawberries, feel free to substitute with sweet raspberries or even blueberries.
If you're looking for more simple, everyday smoothies, here are a few:
Cherry Berry Coconut Limeade Smoothie
Craving a refreshing, sweet, but tart drink to cool you down on a hot summer's day? This Cherry Berry Coconut Limeade Smoothie will do the trick!
Ingredients:
1 ¼

cups

pitted cherries

, washed

¾

cup

hulled strawberries

, washed

juice from 1 lime

½

of a medium banana

½

cup

chilled coconut milk

(I use light canned coconut milk)

¼

cup

ice water

1

tablespoon

chia seeds

(optional)

2

tablespoon

hemp hearts

(optional)
Instructions:
Add cherries, strawberries, lime juice, banana, coconut milk, water, chia and hemp seeds (if using) to blender.

Blend all of the ingredients together until smooth.
Recipe Notes:
Recipe will make one 500ml serving.
Calorie count does not include optional ingredients.
Nutrition Info:
Did You Make This Recipe?
If so, please share a picture with me on Instagram! Tag @delightfuladventures and hashtag #delightfuladventures. I can't wait to see!