One of the best things about this aquafaba chocolate mousse is that NO ONE will know it's made with chickpea water (unless you tell them!). It's rich, creamy, and you can even transform it into a black forest mousse (I'll show you how!).
This 4-ingredient vegan chocolate mousse is THE dessert to make if you want to impress everyone you serve it to.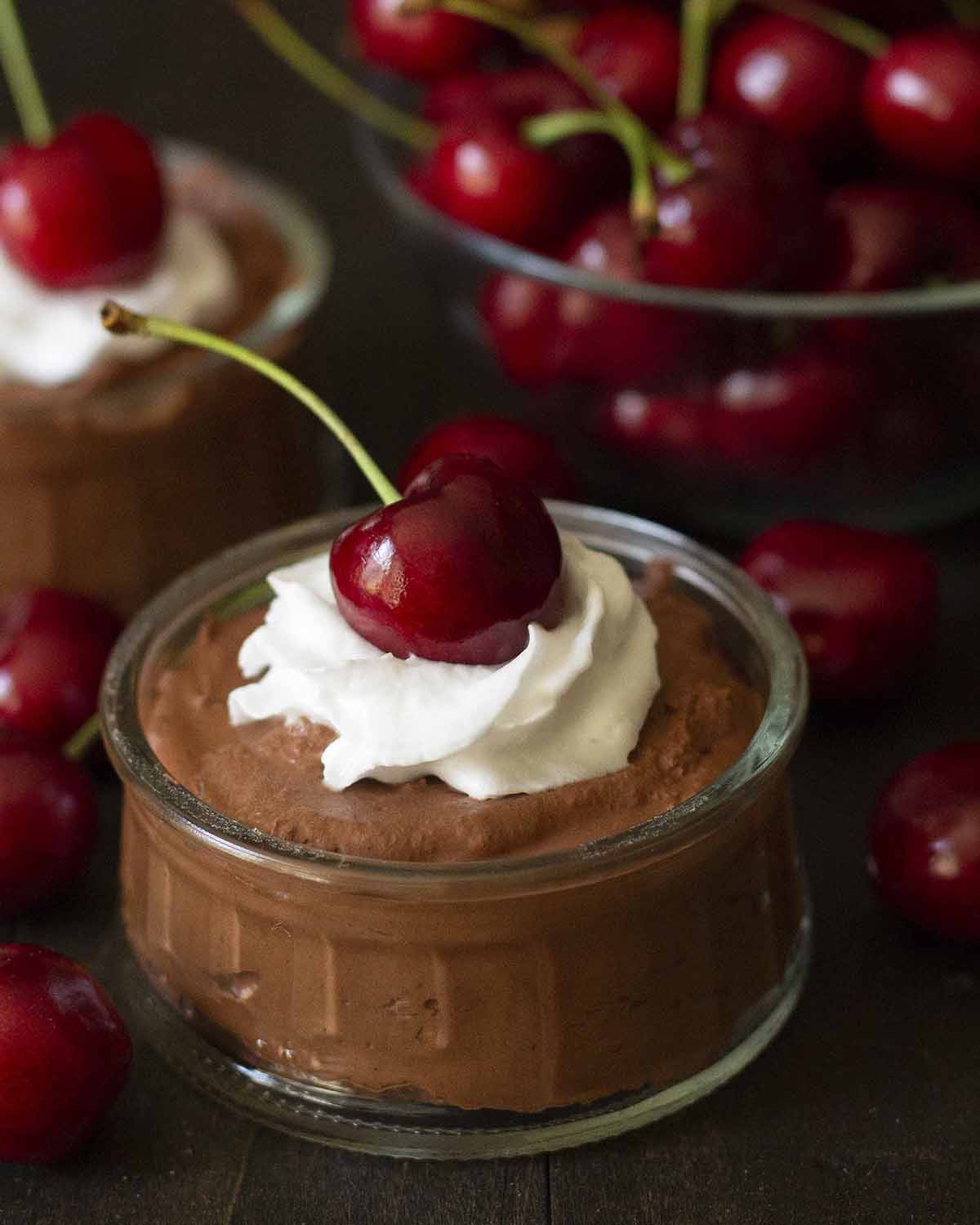 This is one of those "happy accident" mistake recipes. No, I didn't invent aquafaba chocolate mousse but I was trying to make it by following a recipe and expected it to turn out the way you would expect a vegan chocolate mousse to turn out:
Light, fluffy, airy, creamy, melt-in-your-mouth, and lots of bubbles.
But I made an error when measuring the chocolate and what I ended up with was actually better than what I had originally set out to make.
My version is still fluffy, it has lots of bubbles, it's creamy, and definitely melts in your mouth, but it doesn't have the same light airy texture that a regular mousse does.
THIS one is thicker and a little more dense, and that may sound less than ideal, but stay with me. You're going to have to trust me when I say that this is one of the best chocolate vegan desserts you will ever make.
It contains NO coconut, NO avocado, NO tofu, NO eggs, and definitely NO dairy and all you need is just four-ingredients to pull it all together.
One other thing you'll love is that you're going impress everyone you serve it to. And like I said above, NO ONE will know it contains chickpea water...unless you decide to tell them!
So let's go, let's discuss how to make chocolate mousse with aquafaba so you can also dig in and enjoy this rich, chocolaty beauty of a dessert.
Ingredients You'll Need
You just need four of them: aquafaba, melted chocolate, vanilla extract, and apple cider vinegar.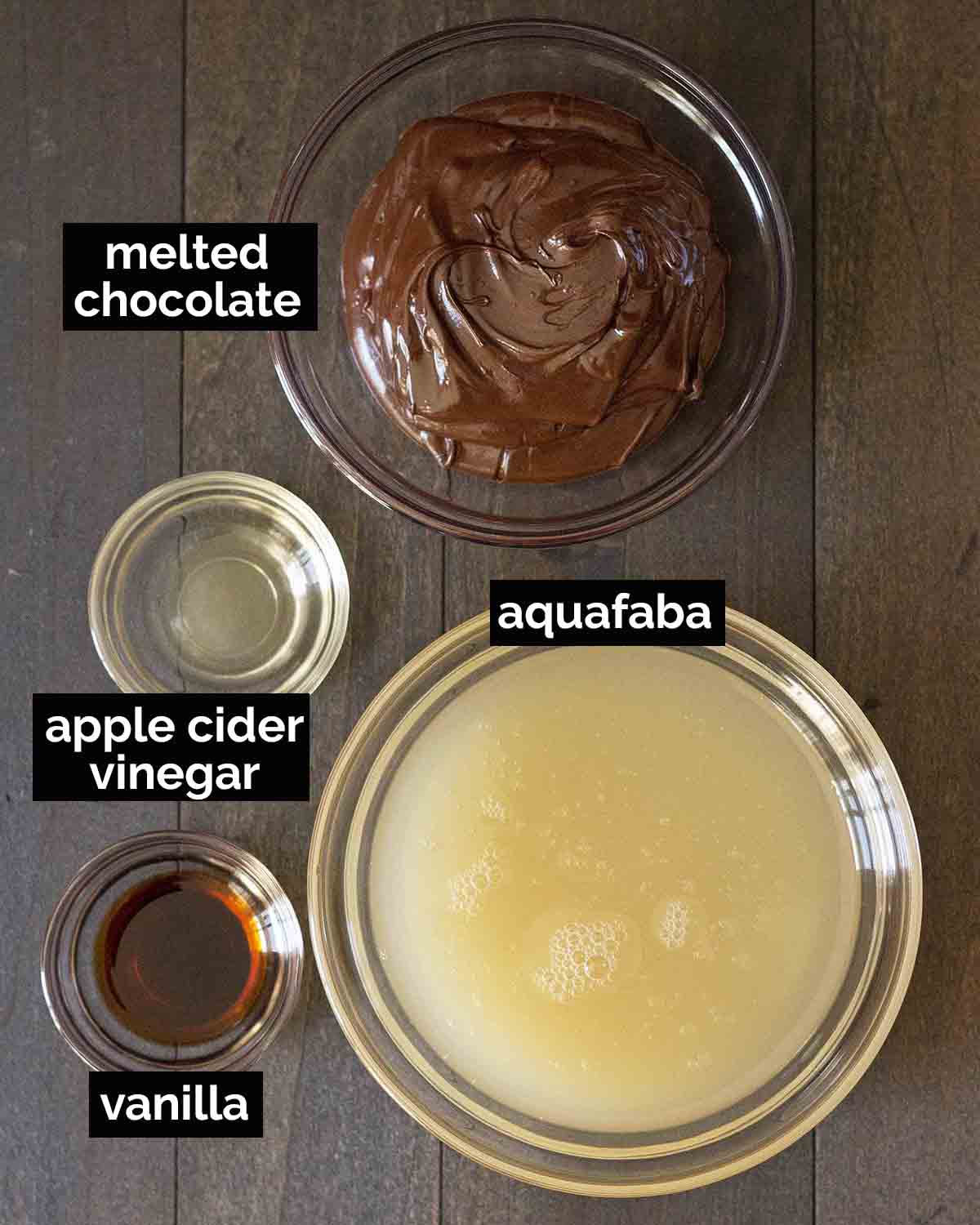 Ingredient Notes
Aquafaba - You can make your own or get it from a can of unsalted chickpeas. Make sure that it is room temperature before starting. There is no substitute for aquafaba in this recipe.
Apple Cider Vinegar - This is used to stabilize the aquafaba, if you don't have any, white vinegar or lemon juice can be used instead.
Melted Chocolate - I weigh out and melt vegan semisweet chocolate chips when making this recipe but chopped and melted chocolate can also be used. Weighing your chocolate is highly recommended for accuracy. Cocoa powder will not work as a substitute for the melted chocolate.
How to Make It
(Note: I've outlined the step-by-step on how to make this recipe here, but find the full recipe, ingredients, and directions at the end of this post.)
Before you start, and this is very important, make sure all of the tools that will come into contact with the aquafaba are free from any oil residue.
I also highly recommend using an electric hand mixer to whip it, a stand mixer can also be used, but a electric hand mixer is my preferred tool
The first thing you need to do is melt the chocolate and set it aside to cool.
Next, you'll whip up the aquafaba until it gets to the stiff peaks stage.
(I go through everything you need to know about working with aquafaba in my how to whip and use aquafaba post which is a great resource if you're new to working with it.)
Note that the timing I mention below may be different for you depending on the tool you use to whip, what speed you have it set to, and the state of your aquafaba. I use my electric hand mixer and I set it to the highest speed.
1. Within the first few seconds of whipping, the aquafaba will start to form bubbles.
2. After about a 30-seconds, it will start to get foamy and after about a minute, all of it will be foam.
3. After about a minute and a half (or longer), you will be at the soft peaks stage. This is when the aquafaba sticks to the beaters, but flops down when the mixer is held up.
4. After about two and a half minutes of whipping (or longer), you'll reach the stiff peaks stage, this is when the aquafaba is stiff and it sticks straight out from beaters when the mixer is held up.
After you have reached the stiff peaks stage, whip for another 2 minutes. Next, add the melted chocolate to the whipped aquafaba and mix again.
After you add the chocolate and begin to whip again, you'll notice the aquafaba deflate and become watery, but soon after, the mousse will start to thicken, once that happens, stop whipping. The mousse will be thick, similar to the consistency of buttercream.
Finally, divide your mousse into separate serving bowls and serve immediately or refrigerate it for later. (I usually split it into four servings, but it can be stretched out to six if you want smaller portions.)
Note that when you refrigerate it, it will firm up a little bit. If you want it to be less firm, remove the bowls from the fridge well before serving time and let them come to room temperature.
When you're ready to serve, you can serve it plain or you can dress it up with a dairy-free whipped cream like coconut whipped cream, fresh berries, or cherries.
And look at that texture in the picture below! Soft, bubbly, rich and chocolaty. Not quite like classic chocolate mousse, but better!
If you want to make your mousse a little fancier (if it wasn't already fancy enough!), you can do that by turning it into black forest chocolate mousse. Keep reading to learn how!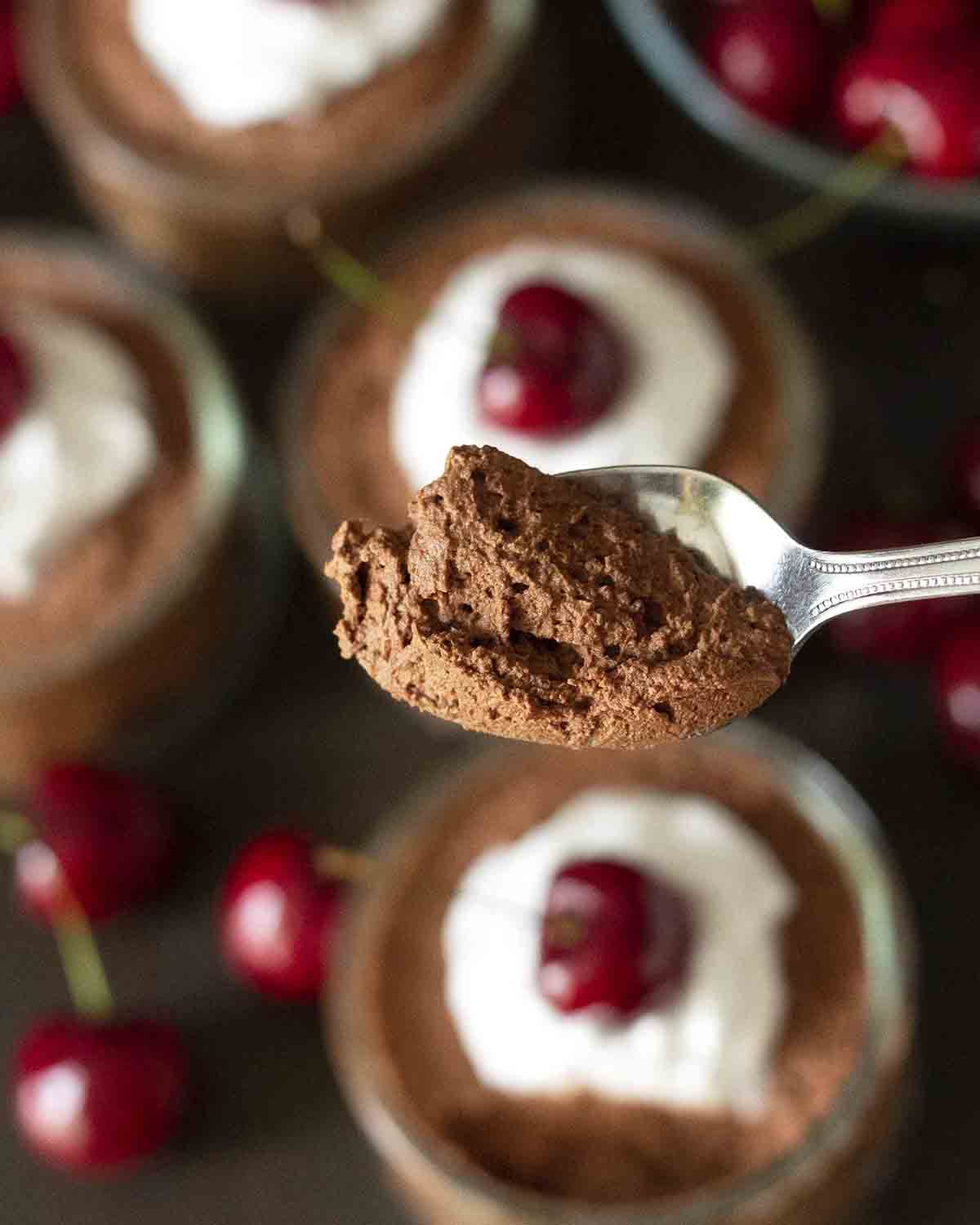 Switch it Up: Vegan Black Forest Chocolate Mousse
When I have the time and some frozen cherries in my freezer, I like to make a cherry compote / sauce to layer with the mousse to make an even more decadent, fancy treat.
I've included the recipe for the cherry compote in the recipe below, so pick which version you like, based on the time you have and which version you're craving more. You'll be happy with either result.
Expert Tips Before You Start
I've made this aquafaba mousse recipe countless times and when I first started, I had a few mishaps, but I've ironed them out over the past year and I get perfect results every time.
Follow these tips to make sure your recipe turns out perfectly every single time:
Use a glass or metal bowl to whip the aquafaba. Plastic can hold on to oil residue which will cause your aquafaba to not whip properly.
I prefer to use an electric hand mixer any time I whip aquafaba, because I find that it whips faster, and because I'm controlling it, I have a better feel for when I reach the soft and stiff peak stages (see above).
Make sure your aquafaba is room temperature before you start whipping. If it's too cold, the chocolate will seize when it's added and the recipe will not work or you will end up with mousse that's grainy.
After you melt the chocolate, wait until it cools almost all the way down before adding it to the whipped aquafaba. You don't want it to be too hot, but you don't want it to get so cold so it hardens, you want it to be almost room temperature.
I always use a good quality dairy-free semi-sweet chocolate that has a percentage of 51% cacao for this recipe, I find it works perfectly and provides the best balance of sweetness. Stick with a brand that falls within the 50-55% range for best results. However, you can go with a higher cacao percentage if you'd like (the lower the percentage, the sweeter the chocolate). Keep in mind that this may affect the texture of your mousse. You may have to experiment to see what you prefer.
After you hit to stiff peaks stage, make sure to continue mixing for another 2 minutes. If this step is skipped, the mousse will remain watery and not firm up as it should.
Don't skip the apple cider vinegar! This is used as a stabilizer to make the aquafaba whip quicker. It also helps the aquafaba to be strong and not deflate when you stop whipping. And don't worry, the vinegar taste will not come through in your final mousse.
If you plan on making this recipe for a special occasion, practice beforehand so you're comfortable with the recipe.
Read this post from top to bottom before you start. I've included a lot of tips and tricks so you get things right. Also read through the actual recipe before getting started.
Follow the recipe exactly as it's written for the very best results.
Troubleshooting
Aquafaba can be tricky to work with, so read the expert tips above before getting started and if things still did not work out, read through the following to diagnose what went wrong.
My Aquafaba Didn't Whip
Several things could be going on for this to happen:
There was oil on something that came into contact with the aquafaba;
Your aquafaba was too watery;
You didn't whip the aquafaba for long enough or you mixer's speed was not set high enough;
You left out the apple cider vinegar stabilizer;
You made ingredient substitutions or added something extra. It's important to follow this recipe exactly as it's written for it to work. (and no, cocoa powder will not work as a substitute for the melted chocolate)
My Mousse Turned out Grainy
Your chocolate was too warm or your aquafaba was too cold.
My Mousse Turned Out Watery
You added the chocolate too soon before the aquafaba reached stiff peaks or you did not whip the aquafaba for long enough after it reached the stiff peaks stage.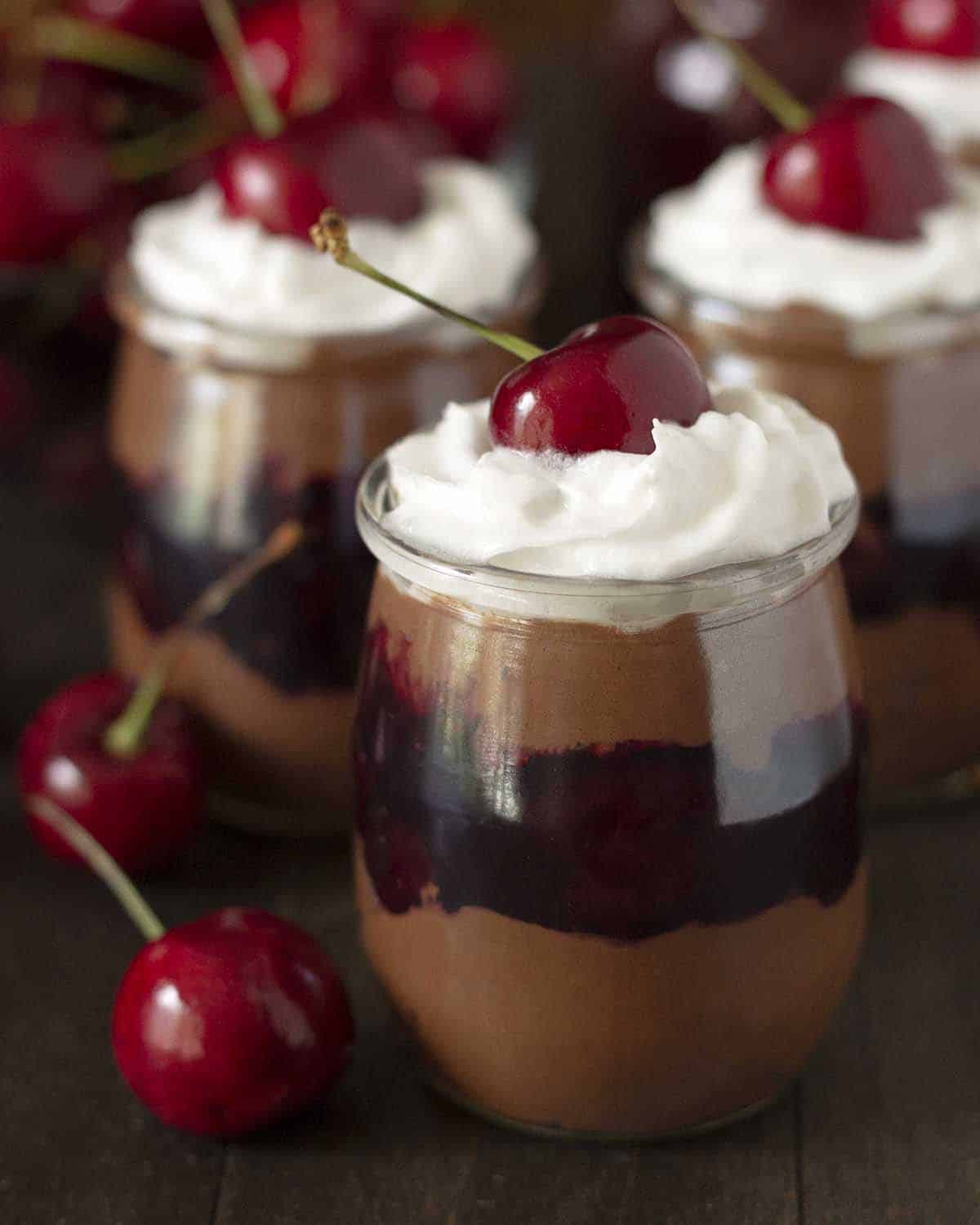 FAQ
Can You Whisk Aquafaba by Hand?
It depends on the recipe. If it just needs to be whipped just until it's foamy, then yes, doing it by hand will work just fine, but if you need to get it to the stiff peaks stage, it's going to take you a VERY long time to get there and there's the chance your aquafaba will just not be as stable and as strong as it needs to be. For this particular recipe, I don't recommend whipping it by hand.
What are Some Vegan Chocolate Chip Brands?
I always use dark chocolate chips / semi-sweet. One thing to keep in mind is to make sure the chocolate chips you use are vegan. It can be tricky to know which brands are vegan because they may not always be labelled as vegan or they were not intended to be vegan, they just happen to be "accidentally" vegan.

PC Organics bittersweet chocolate chips are vegan and there's also Enjoy Life, and Equal Exchange. For more vegan chocolate chip recommendations, read this article: Are Chocolate Chips Vegan? (These Brands Are!)
If You Make This Recipe
Please leave me a comment and rating below and/or post a picture on Instagram and tag me so I can see! (I'm @delightfuladventures on Instagram!)
If You Like This Recipe...
You may also like these:
You can help others to find this vegan chocolate mousse recipe by pinning it to your recipe board on Pinterest. Click here to pin it now!
Print Recipe
Aquafaba Chocolate Mousse
Rich and creamy vegan chocolate mousse made with a secret ingredient...aquafaba! There's NO coconut, NO avocado, NO tofu, NO eggs, and definitely NO dairy in this four-ingredient decadent treat that will impress everyone you serve it to. And the best part about this recipe? NO ONE will know this aquafaba chocolate mousse is made with chickpea water! (Unless you tell them!)
Ingredients:
Cherry Sauce (optional)
¼

cup

water

2-3

tablespoons

sugar

2

teaspoons

cornstarch

1

teaspoon

lemon juice

½

pound

(227g / 1 ¾ cups)

frozen cherries
Instructions:
Place chocolate in a bowl and place the bowl in the microwave and set for 30 seconds. When the time is up, remove the bowl and stir the chocolate. Scrape down the sides and repeat until just a few lumps remain. At this point, don't put the bowl back in the microwave, just stir until all of the chocolate has melted and is completely smooth, set aside to cool. (The double boiler method can also be used to melt the chocolate, see notes below.)

Once the chocolate is almost cooled down, add aquafaba and apple cider vinegar to a clean metal or glass bowl and begin whipping at high speed.

When you reach the soft peaks stage, add the vanilla extract. Keep whipping until you get to the stiff peaks stage. This can take anywhere from 2.5 minutes or more, depending on your mixer and your aquafaba. Once you reach the stiff peaks stage, mix for another 2 minutes.

Add the cooled chocolate and continue whipping with your mixer. After adding the chocolate, the mixture will deflate and become runny and then it will start to become thick. Once it starts to get thick, stop whipping.

Divide the mousse into separate serving bowls and serve immediately or place in the refrigerator to chill.

Serve with the topping you like such as coconut whipped cream and/or fresh berries.
Cherry Sauce (Optional)
Add water, sugar, cornstarch, and lemon juice to a small pot. Whisk until all ingredients have been incorporated.

Place pot over medium heat and whisk mixture continuously until it starts to thicken.

Add frozen cherries and stir. When mixture starts to bubble, turn the heat down to low and simmer for 8-10 minutes. Stir occasionally so the mixture does not stick to the bottom of the pot.

After the time has passed, remove the pot from the stove and allow the sauce to cool completely in the pot. Once cooled, place the cherry sauce in a jar and refrigerate. You will end up with ¾ cup of cherry sauce.

When separating chocolate mousse into bowls, add a layer of cherry sauce in between two layers of mousse. See images above.
Recipe Notes:
Aquafaba can be tricky to work with, so before making this recipe, please read all of the expert tips and troubleshooting info above, as well as the notes below to ensure the recipe result is successful for you.
It is important that all tools you will be using be free from any oil and oil residue. Oil will prevent your aquafaba from whipping.
Chopped chocolate can be used in place of chocolate chips, but I recommend that you weigh it using a scale since using cup measurements for chopped chocolate is not reliable, an inaccurate amount can ruin your recipe.
If using the double boiler method to melt your chocolate, fill a medium pot ⅓ of the way with water and place it on the stove over medium-low heat. Place a tempered glass or stainless steel bowl on top of the pot and stir until the chocolate has fully melted. Be sure that no water makes its way into the bowl or your chocolate will seize. Click this link to see this method in action.
Fresh lemon juice or white vinegar can be used in place of apple cider vinegar.
If making the cherry sauce, I like to use just 2 tablespoons of sugar which makes it not very sweet, but if you prefer it to be sweeter, add 3 tablespoons.
Recipe timing above is based on the plain version without making the optional cherry sauce.
The recipe makes 4-6 servings, depending on how large or small you make each serving.
Nutrition info is for one ½ cup serving of the plain chocolate mousse with no toppings or cherry sauce and is to be used only as a rough guide. Click here to learn how nutrition on info is calculated on this website.
Nutrition Info:
Serving:
0.5
cup
|
Calories:
218
kcal
|
Carbohydrates:
28
g
|
Protein:
3.5
g
|
Fat:
13.6
g
|
Saturated Fat:
7.5
g
|
Sodium:
1.5
mg
|
Potassium:
190
mg
|
Fiber:
3
g
|
Sugar:
22
g
|
Calcium:
24
mg
|
Iron:
3
mg
Did You Make This Recipe?
If so, please share a picture with me on Instagram! Tag @delightfuladventures and hashtag #delightfuladventures. I can't wait to see!