Soft-baked chewy vegan oatmeal raisin cookies loaded with raisins and subtle cinnamon flavour. These easy-to-make cookies also happen to be 100% gluten-free and they make the best snacks!
This page contains affiliate links. Click to learn more.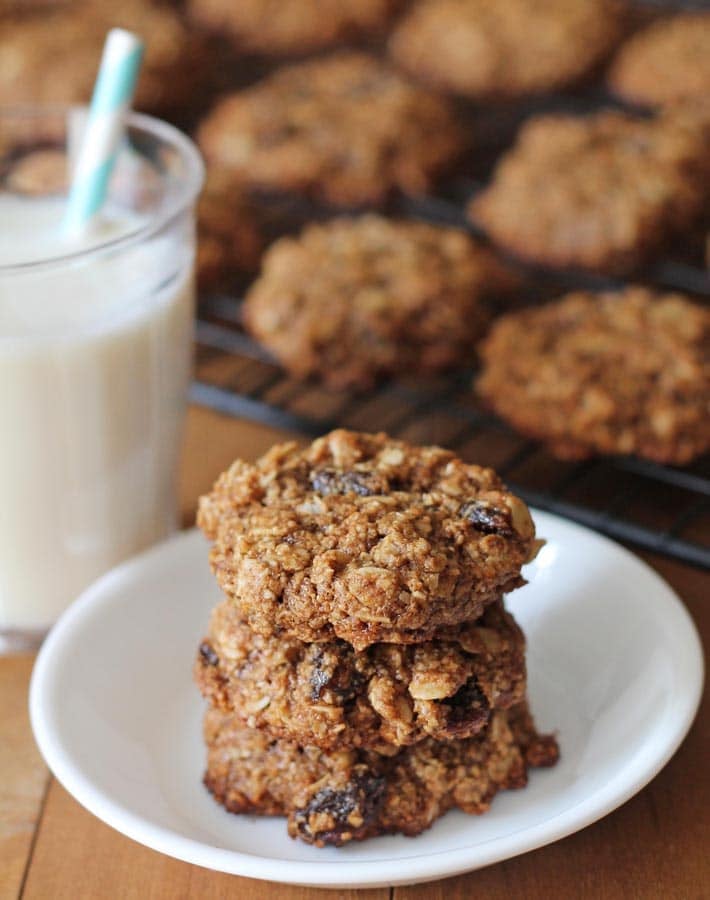 So…are you #TeamOatmealChocolateChip or #TeamOatmealRaisin?
I asked this question in my Instagram stories a little while back and really, I already knew the answer before I asked.
Can anything ever beat chocolate? Likely not, but when put up against raisins, well…
67% of those who answered question went for oatmeal chocolate. Not a shocker.
I'm on both teams, I love both types of cookies equally. I like any type of cookie, if we're being honest.
However, as the poll shows, and from general knowledge, AND my family's preference for non raisin things, I know a lot of people have a hate on for raisins.
For those of you who don't like raisins but are still with me here, this recipe for Oatmeal Chocolate Chip Coconut Cookies is for you.
Go ahead, check it out, no hard feelings. And if you ever get curious and you feel like trying a really good oatmeal raisin cookie, come back and try this recipe. Okay?
Now, for those of you who DO like raisins and oatmeal raisin cookies, this recipe…mmm…this recipe. You're going to like it.
They're soft, chewy, and loaded with as many (or as little) raisins as you want. (See the recipe details for more info on that.)
They also have a subtle, really nice background cinnamon flavour. If you are a raisin fan, you already know that cinnamon pairs perfectly with raisins.
Have a look at what they look like on the inside:
If you don't like raisins, or think you don't like them, maybe what I've said so far, combined with all the drool-worthy images will convince you to try the recipe? I hope so!
If not, we're still cool, just be sure to check out that oatmeal chocolate chip recipe I linked to above.
If you're ready to take the leap and try something you think you won't like, yay! I hope you like them and I hope I've convinced you to give raisins the fair chance they deserve 😉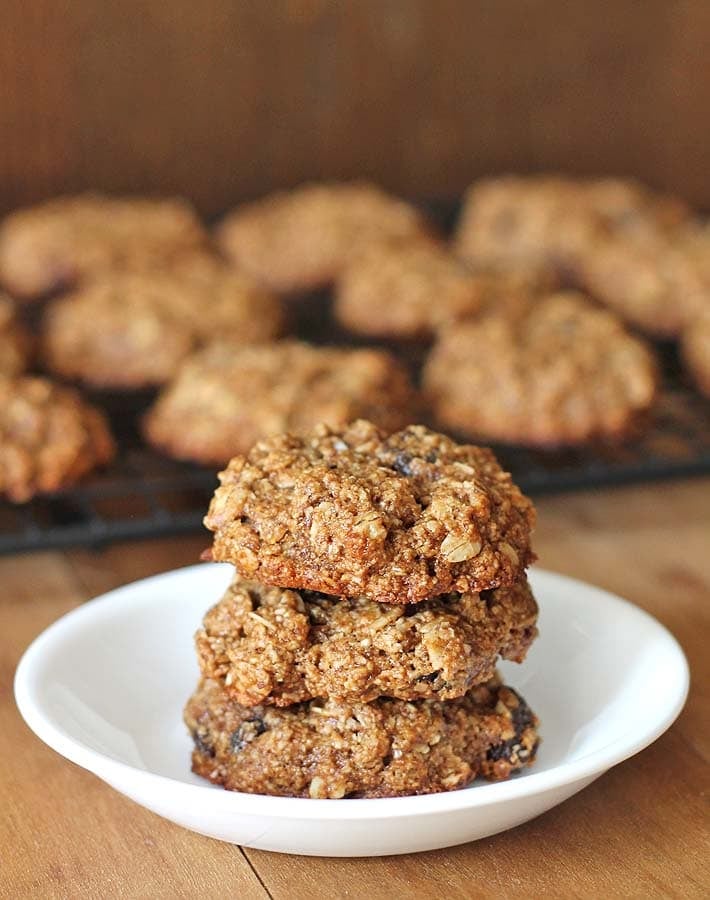 Can I use a different flour, other than oat flour, to make these cookies?
I have not tried using any other flour in this recipe, so I can't say for sure if any other would work.
Based on experience, I do think there are some that would work very well. One flour that I know will definitely NOT work as a direct replacement for the oat flour is coconut flour, so please don't go there 🙂
Is it possible to omit or replace the oil with something else?
No, don't omit the oil, it's an important part of the recipe. I have not tried replacing it with another ingredient (like plain applesauce, a good oil replacement in some recipes) so I can't say for sure if it would work, so keep that in mind.
If you make these vegan oatmeal raisin cookies, please leave me a comment below or please tag me on Instagram and show me a pic!
I'm @delightfuladventures 🙂 And tell me if you're #TeamOatmealChocolateChip or #TeamOatmealRaisin …or #TeamBoth like me!
AND, if like this recipe, then be sure to check out these others you may also enjoy:
This page contains affiliate links. Click to learn more.
How to Make Gluten-Free Vegan Oatmeal Raisin Cookies
Print Recipe
Gluten Free Vegan Oatmeal Raisin Cookies
Soft-baked vegan oatmeal raisin cookies loaded with raisins and cinnamon. They also happen to be 100% gluten-free and are perfect for snacks and school lunch boxes.
Instructions
Preheat oven to 350°F.

Prepare your baking sheet(s) by lining with parchment paper.

Prepare your flax eggs by whisking together ground flax seeds and water. Set aside to thicken.

In a medium bowl, whisk together the oat flour, rolled oats, cinnamon, baking soda, and salt.

In a large bowl, mix together the flax mixture, soft coconut oil, vanilla extract, and coconut sugar.

Add dry ingredients to wet ingredients and mix until combined.

Fold in raisins.

Flatten each cookie slightly. Leave enough space around each cookie, they will spread a little as they bake.

Bake for 10 minutes or until golden around the edges. Don't over bake! (see note below)

Leave cookies on the cookie sheet to cool for about 10 minutes, then remove and place on a cooling rack.
Recipe Notes:
Calorie count is based on 24 cookies, which is the amount you will get if you use a tablespoon to scoop them out. If you make them with a medium sized cookie scoop, (medium scoops are usually 1.5 tablespoons), you will end up with less cookies. When I make them with a scoop, I get about 20).
Don't buy oat flour, make your own! It's really easy and so much cheaper. Here's how to make your own oat flour.
This recipe will NOT work with coconut flour.
For this recipe, you want your coconut oil to be soft, not melted.
Use either 1/2 or 3/4 cup of raisins, depending on how many raisins you like in your cookies.
Cookies may seem under baked when you take out of the oven because they will be very soft. Not to worry, they firm up as they cool.
Nutrition info listed below is based on one cookie. Nutrition info is only to be used as a rough guide. Click here to learn how nutrition info is calculated on this website.
Nutrition Info:
Serving:
1
cookie
|
Calories:
109
kcal
|
Carbohydrates:
12
g
|
Protein:
2
g
|
Fat:
6
g
|
Saturated Fat:
4
g
|
Sodium:
31
mg
|
Potassium:
48
mg
|
Fiber:
2
g
|
Sugar:
6
g
|
Calcium:
2
%
|
Iron:
4
%