Quick and easy vegan oatmeal raisin cookies made with oat flour! These cookies are soft, chewy, and irresistible, plus, since they're vegan, they're eggless, dairy-free…gluten-free, too (if you use gluten-free oats and flour)! They're simple to make and you can have them ready to enjoy in under 30-minutes.
Add as little or as many raisins to these vegan cookies as you'd like (all the details are below!) and get ready for family and friends to ask for more!
A little while back, I asked my Instagram followers if they preferred oatmeal raisin or oatmeal chocolate chip cookies. 67% of those who answered chose oatmeal chocolate chip.
For me, I would never turn down any type of cookie, so great news for those of you who DO like raisins in your cookies, you're going to love these vegan oatmeal raisin cookies.
They're soft, chewy, and loaded with as many (or as little) raisins as you want and they have a very light touch of cinnamon flavour. (If you're a raisin fan, you already know that cinnamon pairs perfectly with raisins!)
Now, if you happen to be among the 67% who don't favour oatmeal raisin, I have good news for you, too. I have these other oatmeal cookie recipes you may like:
So go ahead, check those recipes out (and see all of my other cookie recipes here), no hard feelings.
And if you ever get curious and you feel like trying a REALLY good oatmeal raisin cookie, come back and try this recipe. Okay?
Ingredients You'll Need
If you keep a well-stocked vegan gluten-free pantry, you probably have all the ingredients to make this recipe right now!
Ingredient Notes
As always, I recommend sticking with the recipe the way it was written for the intended results, but I've included a few notes here about the ingredients and what you can and can't substitute.
Oat Flour – Rather than using regular flour or a gluten-free blend, you'll need to use oat flour, for this recipe. It gives the cookies a great texture and heartiness. You can use store-bought oat flour, but you can also make your own (click here to learn how to make your own oat flour), BUT, if you do make your own, make sure to sift it to get rid of any hard bits and THEN measure / weigh it out for the recipe. If you need the recipe to be gluten-free, be sure to buy oat flour that is certified gluten-free and if you are making your own, make sure your oats are gluten-free.
NOTE: When baking, measuring your flour accurately is so important in order to get the best results. Check out my article all about how to measure flour correctly, before you start.
Rolled Oats – If you need the recipe to be gluten-free, be sure to buy rolled oats that are certified gluten-free. Stick with rolled oats, do not use steel-cut oats, quick oats, or instant oats.
Flax Eggs – Since this recipe is being made without eggs, the flax eggs act as the binder. If you can't have flax eggs, chia eggs will work as a substitute.
Baking Soda – This is essential to the texture of the cookies and it helps them to brown and rise. It cannot be substituted with baking powder.
Coconut Oil – This is a dairy-free recipe and contains no butter. Instead, coconut oil is being used. If you use extra virgin coconut oil, your cookies will have a slight coconut taste. If that's something you don't think you'd like, then use refined coconut oil. I have not tried making this recipe with anything other than coconut oil, but I do think softened vegan butter will work well.
Coconut Sugar – If you don't have coconut sugar, brown sugar can be used instead. I have not tried making this recipe with any sugar alternatives or with liquid sweeteners.
Are you new to vegan gluten-free baking? If so, be sure to read all of my vegan gluten-free baking tips!
How to Make Them
(Note: I've outlined the step-by-step on how to make this recipe here, but find the full recipe, ingredients, and directions at the end of this post.)
First, you'll mix all the dry ingredients in one bowl, then, in a separate bowl, mix all of the wet ingredients.
Add the dry ingredients to the wet ingredients and stir everything together to form the cookie dough.
Next, stir the raisins in.
The next step is to scoop out the cookie dough, using a spoon or a medium cookie scoop (this is the scoop I own, love, and use A LOT!), onto your cookie sheet.
The cookies will spread a little while baking, but you need to give them a little help, so press each cookie down to slightly flatten them.
Next, bake the cookies and once they come out of the oven, let them sit for a couple of minutes before transferring them to a cooling rack.
Allow them to cool for a while and then serve them warm or fully cooled.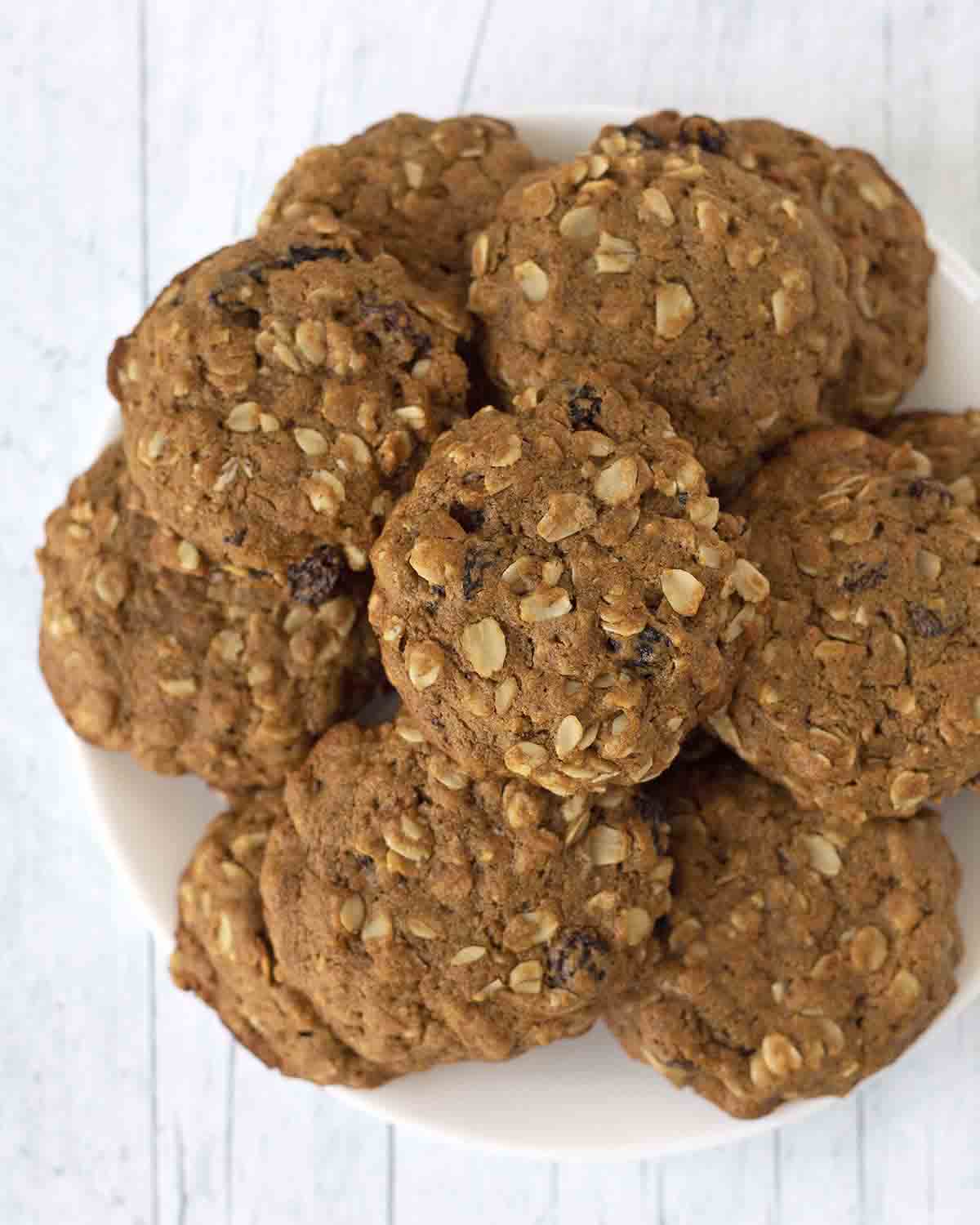 Storing Leftovers / Freezing for Later
To Store Baked Cookies
Store your cookies for 5-6 days in an airtight container at room temperature.
Freezing Baked Cookies
If you won't be able to finish all of the cookies within 5-6 days, you can freeze them after you've baked them and they have fully cooled.
To do that, place the baked and cooled cookies in an airtight container or freezer bag, separating each layer with parchment paper, for up to 2 months.
When you're ready to serve, just place them on a plate, bring them to room temperature, and enjoy.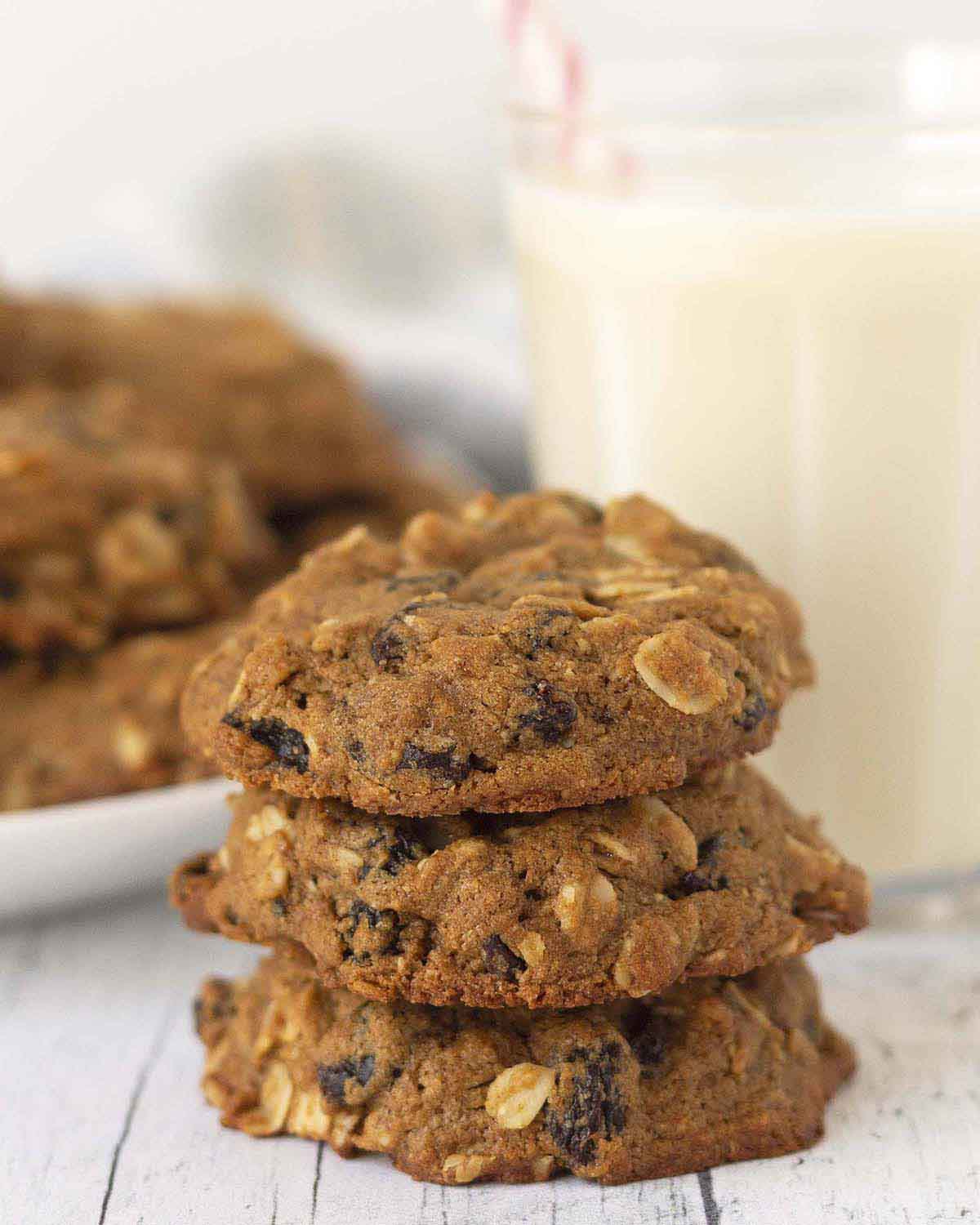 What's the Texture Like?
After they have cooled a bit, the outside edges will be a little crispy and on the inside, they'll be soft and chewy.
After you store the leftovers in an airtight container, the crispy edges will become soft like the rest of the cookie. The only thing that changes after you store them is that the crispy edges will soften.
These cookies are just as good on day one as they are on day three and beyond (maybe even better!).
FAQ
Are Oatmeal Raisin Cookies Vegan?
Most store-bought oatmeal raisin cookies and recipes for them are NOT vegan since they contain eggs and dairy. To be sure the recipe you're making or the cookies you are buying are vegan / plant-based, be sure it says "vegan" on the package or read the ingredient list to be sure. This recipe is 100% vegan since it does not contain any animal products.
Can This Recipe Be Made Oil-Free?
I have not tried replacing the oil with another ingredient (like applesauce), so I can't say for sure if it would work very well.
Can Vegan Butter Be Used Instead of Coconut Oil
I have not tried it but I think using soft non-dairy vegan butter (same measurement) will work well as a replacement.
Can I Use a Different Flour, Other Than Oat Flour?
I haven't tried using any other flour in this recipe, so I can't say for sure if another type would work as well as the oat flour does.
Can Quick Oats or Steel Cut Oats be Used Instead of Rolled Oats?
Rolled oats (also known as old-fashioned oats) contribute to the perfect texture of these cookies. All oats have their ideal uses, but for these cookies, in particular, the best type to use is rolled oats.
Can a Sugar Alternative Be Used? How About a Liquid Sweetener?
Brown sugar can be used to replace the coconut sugar. I have not used sugar alternatives in my baking, so I can't provide specific directions on how your cookies will turn out if they are used. Maple syrup, or any other liquid sweetener, will not work without altering the other ingredients in the recipe to account for the extra moisture.
If You Make This Recipe...
...please leave me a comment below or please tag me on Instagram and show me a pic! (I'm @delightfuladventures)
And If You Like This Recipe...
...you may also these other vegan gluten-free cookie recipes:
Vegan Oatmeal Raisin Cookies
Soft-baked vegan oatmeal raisin cookies loaded with raisins and cinnamon. They also happen to be 100% gluten-free and are perfect for snacks and school lunch boxes.
Instructions:
Preheat oven to 350°F (177°C).

Prepare your baking sheet(s) by lining with parchment paper.

Prepare your flax eggs by whisking together ground flax seeds and water. Set aside to thicken.

In a medium bowl, whisk together the oat flour, rolled oats, cinnamon, baking soda, and salt.

In a large bowl, mix together the flax mixture, soft coconut oil, vanilla extract, and coconut sugar.

Add dry ingredients to wet ingredients and mix until combined.

Flatten each cookie slightly. Leave enough space around each cookie, they will spread a little as they bake.

Bake for 10 minutes or until golden around the edges. Don't over bake! (see note below)

Leave cookies on the cookie sheet to cool for about 2 minutes, then remove and place on a cooling rack.
Recipe Notes:
Please read all of the helpful tips and FAQ above before making this recipe.
Calorie count is based on 17 cookies, which is the amount you will get if you use a medium sized cookie scoop, (medium scoops are usually 1.5 tablespoons).
If you make your own oat flour sift it to get rid of any larger pieces and only after it has been sifted, then measure / weigh it for the recipe. Don't skip the sifting or your measurement will be off.
Make sure to measure / weigh your oat flour correctly.
This recipe will NOT work with coconut flour and has not been tested with any others, only oat flour.
For this recipe, you want your coconut oil to be soft, not melted.
Use either ½ or ¾ cup of raisins, depending on how many raisins you like in your cookies.
Cookies may seem underbaked when you take them out of the oven because they will be very soft. Not to worry, they firm up as they cool.
Store leftovers in an airtight container for 5-6 days.
To freeze baked cookies, place them in single layers in a freezer bag or airtight container, with parchment paper separating each layer, for up to 2 months. Thaw in the refrigerator or on the counter and when you're ready to serve, place them on a plate, bring them to room temperature, and enjoy.
Nutrition info listed below is based on one of 17 cookies. Nutrition info is only to be used as a rough guide. Click here to learn how nutrition info is calculated on this website.
Nutrition Info:
Serving:
1
cookie
|
Calories:
159
kcal
|
Carbohydrates:
21
g
|
Protein:
2
g
|
Fat:
8
g
|
Saturated Fat:
5.7
g
|
Polyunsaturated Fat:
0.2
g
|
Monounsaturated Fat:
0.3
g
|
Sodium:
54
mg
|
Potassium:
50
mg
|
Fiber:
1.8
g
|
Sugar:
8.7
g
|
Vitamin A:
0.4
IU
|
Calcium:
5.9
mg
|
Iron:
0.6
mg
Did You Make This Recipe?
If so, please share a picture with me on Instagram! Tag @delightfuladventures and hashtag #delightfuladventures. I can't wait to see!
This post was updated July 2021 to update the pictures, add a video, and to update the recipe slightly. Below are the old images: