Easy Vegan Gluten-Free Pancakes that whip up quickly and are super fluffy. They're the perfect breakfast to serve for a lazy weekend breakfast or brunch.
This page may contain affiliate links. Click to learn more.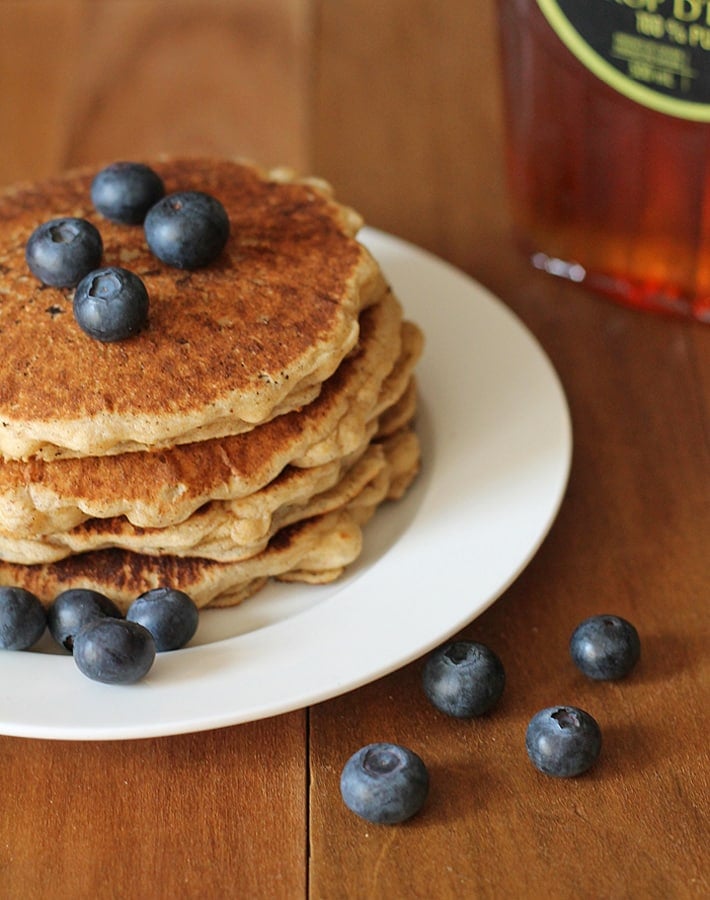 Back when I started experimenting with turning my favourite recipes into plant-based and/or gluten free versions, this recipe for easy vegan gluten free pancakes was one of the first I came up with.
Come to think of it, it may have actually been the first!
This was quite a few years ago and since then, the recipe has not changed at all. I make these pancakes often and they have become one of the most requested things to eat here at breakfast (and sometimes a weekend lunch or weeknight supper…breakfast for dinner is the best, isn't it?)
I took these shots almost 4-months ago but held on to them. If you follow me on Instagram, you would have seen a sneak peek. (BTW, are you following me on Instagram yet? If you don't, come follow and say hi!)
I held on to the shots because I thought, "hmm…this is *just* a pancake recipe. Does the internet really need another pancake recipe?" And the answer is YES. It does. Because these easy vegan gluten free pancakes are special.
They're special because they are everything you would expect a pancake to be, but maybe NOT what you would expect a vegan AND gluten free pancake to be. They are light, fluffy, and they're delicious.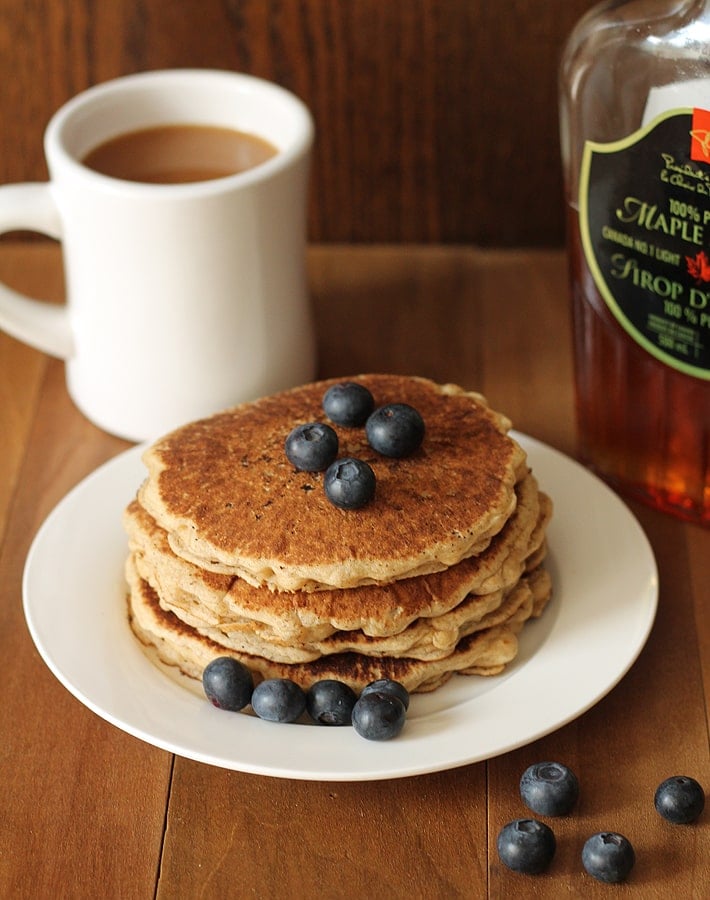 When I serve them, pure maple syrup is a must but if I have some fresh berries on hand, they pair really well together. Sliced bananas are nice too. If you want to make your pancakes extra special, try topping them with some coconut whip. Mmm…
Fun fact: I actually used this pancake recipe as the starting point for my easy vegan gluten free waffles. I tinkered with this recipe a little bit and after a few tries, those waffles came to be! (And by the way, they are also perfection.)
Then, that waffle recipe served as the base for all my other waffle recipes. Funny how developing recipes work! (how many times did I just say recipe? 😉 )
When you find something that works, stick with it. Use it as a base and make small adjustments to suit whatever new thing you're trying to come up with.
Now, on to my next creation…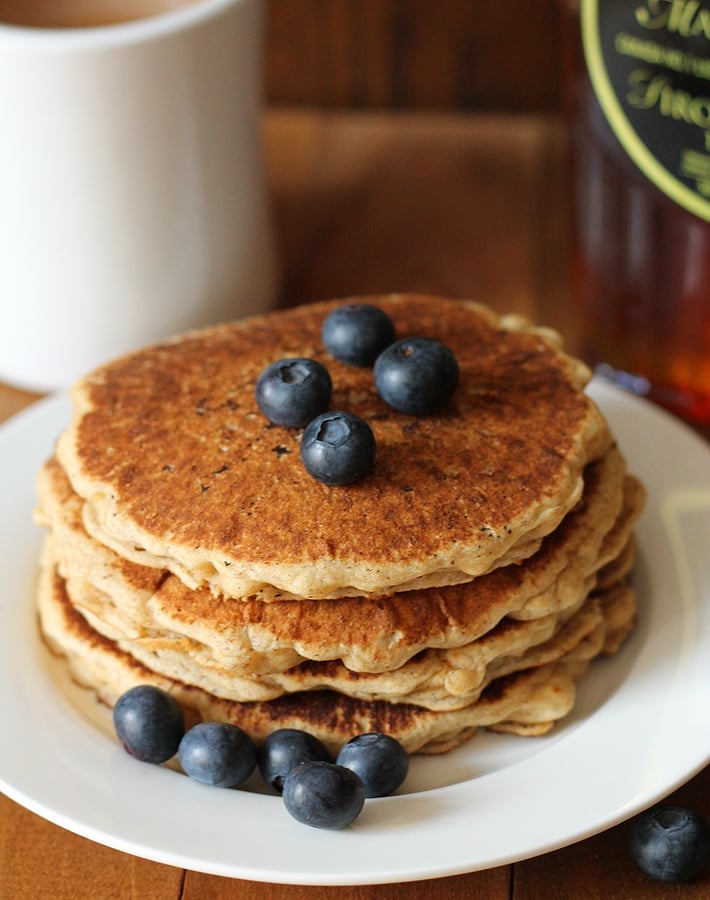 What kind of flour should be used for this recipe?
I have only tested this recipe with Bob's Red Mill Gluten-Free All-Purpose Baking Flour. (the one with the red label you see in that link, NOT the one with the blue label!). You can find it in your grocery store (likely in the natural foods section), your health food store, or you can buy from Amazon.
This flour is a blend of different flours and all gluten-free flour blends cannot always be interchanged easily because they all contain different ingredients and ratios. I have had readers who have used different flours with success, read through the comments below, but I can only speak about the flour I use for this recipe with confidence since I have been using it to make these pancakes for many years and have not had any fails.
And…I know for sure that coconut flour will not work with this recipe.
If you like this easy vegan gluten free pancakes recipe, here are a few others you may like too:
If you make them, post a pic on Instagram and tag me! I'd love to see your remake. I'm @delightfuladventures over there and my hashtag is #delightfuladventures.
And be sure to check out my other delicious vegan breakfast recipe ideas!


How to Make Easy Vegan Gluten Free Pancakes