This page may contain affiliate links. Click to learn more.
Have you ever tried chia pudding? If you haven't, I've got a must-try recipe for you. Despite the numerous recipes floating around (you can find lots on
my Breakfast pin board on Pinterest
), I only made it for the first time not long ago…and I really like it! I found
this recipe
by nutritionist Joy McCarthy online, which is a little different than any of the other chia pudding recipes I've seen out there, and I changed her recipe slightly to come up with this Chocolate Banana Coconut Chia Pudding.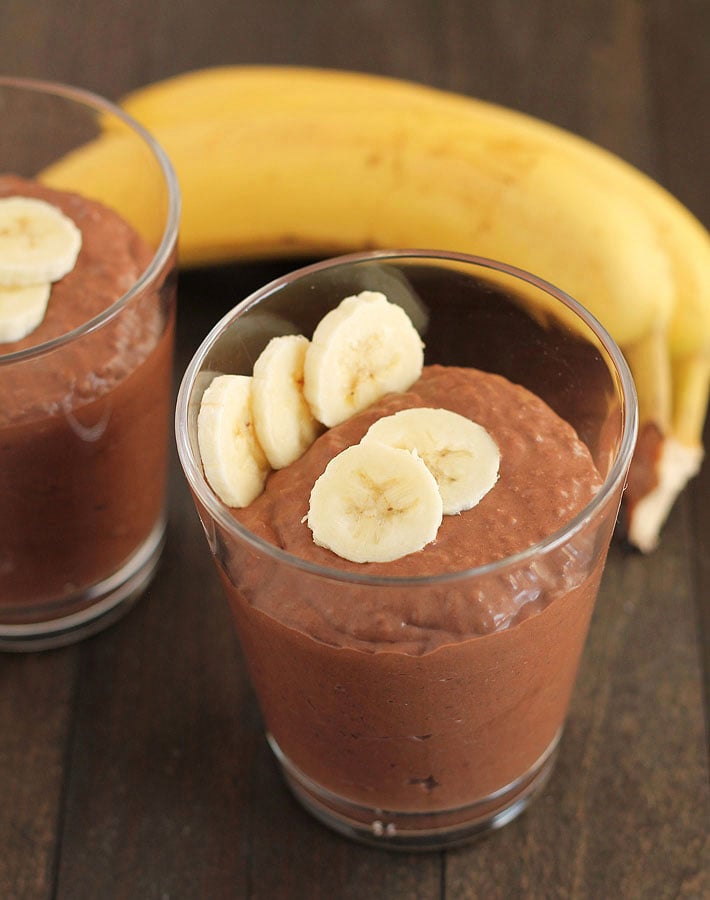 With just a few simple and nutritious ingredients, you can whip it up and have it waiting in the fridge for when you need a snack or you can even have it for breakfast. Yes, chocolate for breakfast!
If you're unsure about having it for breakfast, know that it is not overly sweet, all the sweetness is provided by the bananas and the dates. So it's naturally sweetened. The cocoa powder dulls out any chance of it being too sweet. You'll have to try it to taste what I mean!
Chocolate Banana Coconut Chia Pudding is simple to put together but it takes a little time to set. I usually make it in the evening and refrigerate overnight so it's ready for the next day.
When you look at my pictures, the chia seeds in the pudding probably stand out. I know some people prefer to grind the chia seeds when making chia pudding so the end result is smooth (smooth like my chocolate mint avocado pudding!), but I like to keep them as they are because they add a nice little texture.
I have not tried grinding the chia seeds for this recipe but if you do try it, let me know how it turns out!
If you like this Chocolate Banana Coconut Chia Pudding Recipe, you may also like these:
And click these links for more breakfast and snack ideas!
How to Make Chocolate Banana Coconut Chia Pudding