This page contains affiliate links. Click to learn more.
Working from home has its upsides and its downsides. For me, there are definitely more upsides than down, I will never complain about it. Never. I enjoy it too much for that. One of my favourite perks is having the luxury of walking to the kitchen and making something from scratch whenever I feel like it. Like this beet carrot apple juice. Or as I like to call it: My "afternoon slump" juice.
Some days, particularly really busy ones, I hit a point in the afternoon where I just feel like: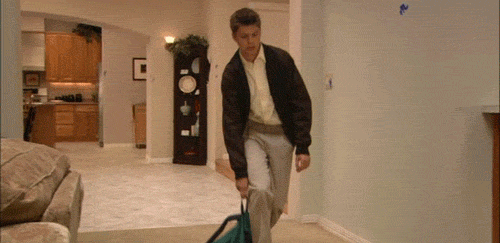 But, being the responsible person I am, I can't just turn off my computer and call it a day. Since I don't rely on caffeine to keep me going, one of my alternatives is to get up and make some fresh juice using whatever happens to be in the fridge.
I bought a compact juicer over the holidays after debating whether I should get one for quite a while (for those of you who have asked, this is the one I bought!). I was on the fence because I swear by my smoothies and I think throwing away all that healthy fibre after juicing is a waste. BUT, I know that despite the lack of fibre, juicing is still healthy, so why not?
This was the first juice combo I tried after buying my juicer. Naturally, it contains beets, because I love them for their health benefits. Plus, look at the vibrant colour they add to this Beet Carrot Apple Juice! Don't you want to drink this RIGHT NOW?
Beets also happen to be a main ingredient in my favourite Berry Beet Ginger Smoothie (another must-try!). In addition to the beets, I also have carrots and apples (carrots and apples work so well in pretty much any juice) cucumber which adds a nice "cleanness", and one of my faves, fresh ginger, which adds a nice little "hi there!" zing. It really is a nice combo. I hope you like it.
Oh, and, if you are looking for more drink recipes to try out, click here to see my drinks archive or follow my Healthy Juice and Smoothie Recipes Pinterest board.
Beet Carrot Apple Juice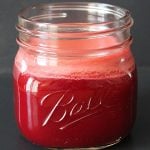 Beet Carrot Apple Juice
Have you hit an afternoon slump? You'll be energized to keep going after making yourself a glass of this refreshing beet carrot apple juice.
Serves
:
1
x 500ml serving
Ingredients
2

medium raw beets

2

Granny Smith apples

3

carrots

1/2

of an English cucumber

2"

piece

of fresh ginger
Instructions
Wash and trim all ingredients.

Cut into pieces that will fit your juicer.

Run all ingredients through your juicer.
Save
Save
Save
Save