If you're looking for an easy, delicious, and nutritious vegan comfort meal, look no further! This easy and hearty vegetarian Slow Cooker Lentil Sweet Potato Chili checks all of those boxes and it's the perfect way to warm up on a cold day.
This page may contain affiliate links. Click to learn more.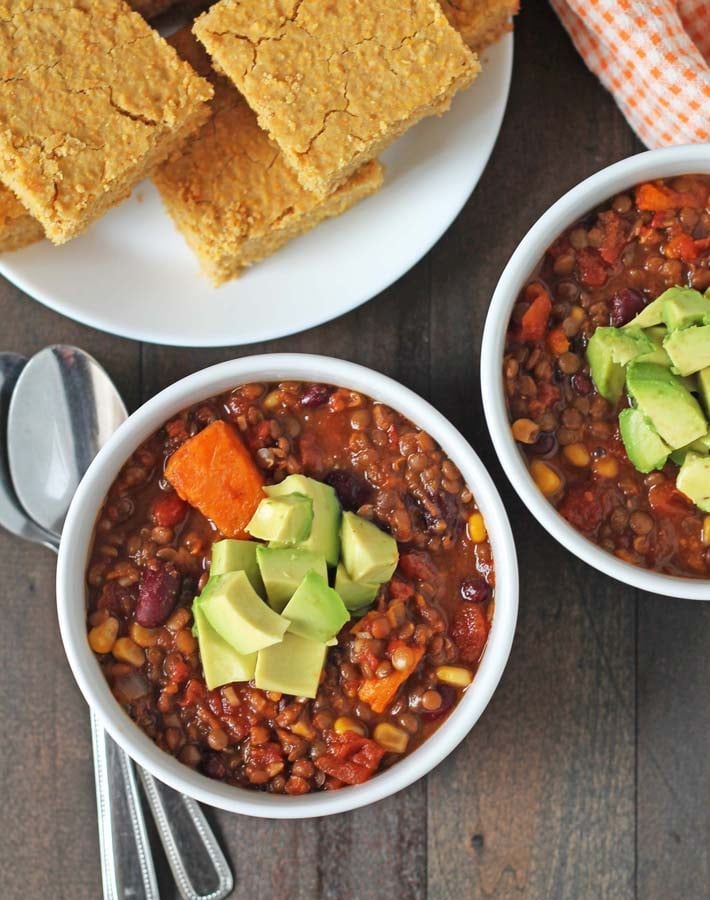 Remember when I told you how cold it has been here when I shared my recipe for slow cooker curried cauliflower sweet potato carrot soup? Well, not much has changed since I wrote that post.
We did get a little breather for a few days when the weather was unseasonably warm(er), but until we hit May, I'm all about easy, slow cooker comfort meals. Like this Slow Cooker Lentil Sweet Potato Chili.
Chili has actually been on the "banned list" in my home for a while. Why? Because at one point, I made it so many times in the span of a couple months, everyone became sick of it (is it just me or is that kinda of funny?!).
Except I never got sick of it because I love chili. Especially chili made in the slow cooker.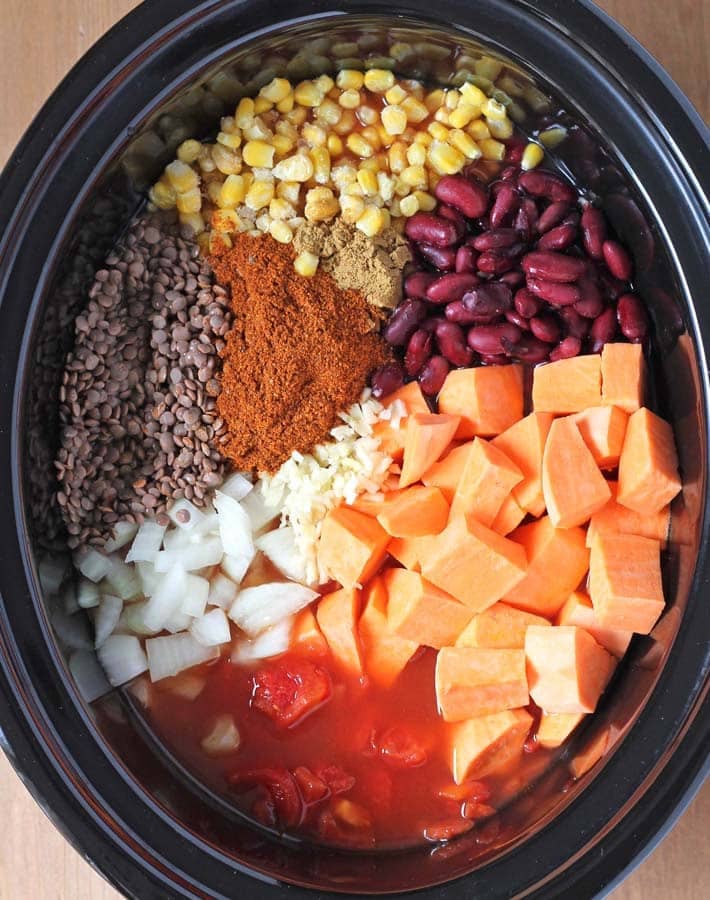 Before this time, I think it had been about a year since I made a batch of chili. I gave everyone a heads up that I had planned to make it but instead of making the same old boring bean chili, I was going to change things up.
This time, I decided to throw in lentils, cut back on the beans and add sweet potato. It was a huge win and I'm happy to say that chili is back on the rotation. I've have been "permitted" to make it again, as long as it's this Lentil Sweet Potato Chili!
(This time, I'll be sure not to make it too many times!)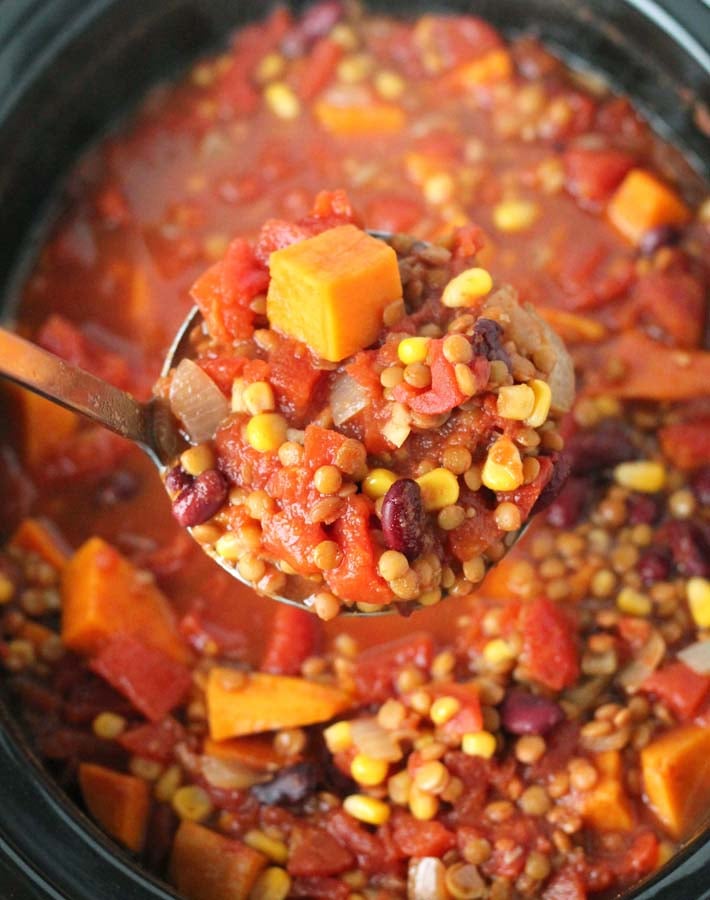 What are the best chili garnishes?
You can have your chili plain or add a garnish. My favourite way to have it is with diced avocado, like in the pictures, but you can top it with what you like. Some ideas:
minced parsley
minced cilantro
crushed tortilla chips
sliced green onions
finely diced red onions
guacamole
And you can serve your chili with a batch of cornbread, the best side for chili!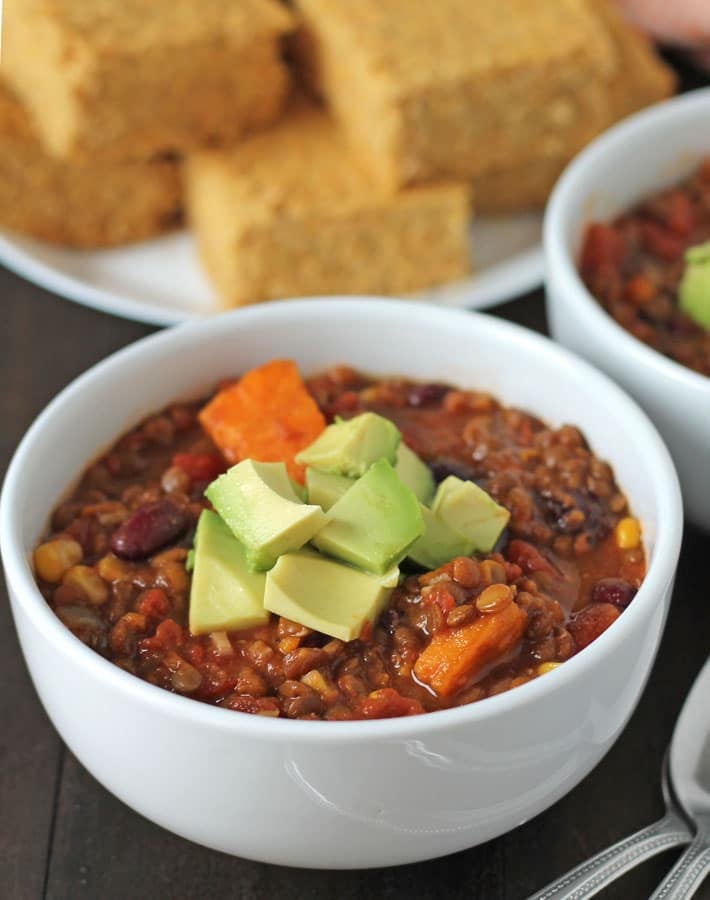 Can I freeze this chili?
Yes. This recipe makes a HUGE batch, but the good news is that it freezes well and works great for lunches or a leftover supper for a night you don't feel like cooking.
Keep up with what's new by following me on social media! Follow me here: Instagram, Facebook, Pinterest, Twitter.

If you like this lentil sweet potato chili recipe, you may also like these:
How to Make Slow Cooker Lentil Sweet Potato Chili
This Slow Cooker Lentil Sweet Potato Chili recipe was originally published January 26, 2015, images were updated October 2018.
Original Images before post update: