A big question some vegans have is: are marshmallows vegan? The answer is: the majority of marshmallows you find in stores are NOT vegan, however, there are some wonderful brands making delicious vegan marshmallows that taste just like the real thing. So how can you tell which brands are vegan-friendly?
In this article, you'll find a list of 10 vegan marshmallow brands you can buy today, plus, you'll also learn other helpful tips and info to help you feel confident the next time marshmallows make an appearance on your grocery list.
S'mores, hot chocolate, rocky road squares, sweet potato casserole, roasted marshmallows, rice cereal treats...the list of things you can make with marshmallows is lengthy, so what are you supposed to do when you're vegan or vegetarian and all the popular brands are neither?
The great news is that we don't have to forget about ever being able to make those classic favourites again because we still can! Thankfully, some companies ARE making vegan versions of these sweet treats, and the best part is that these vegan options are delicious! So, no need to go without.
Before we get into all the details you need to know about the vegan versions of these fluffy treats, if you have questions about whether or not other store-bought products are vegan, gluten-free (or both!) or if you want to make vegan versions of common kitchen ingredients, check these out:
The pillowy soft marshmallows you know and love today are nothing like the original marshmallows. I won't get into the lengthy history of how marshmallows came to be what we know them as now, but if you're interested, you can read all about the history of marshmallows.
Over the years, the recipe changed to become more modern and animal products, such as gelatin, and in some cases, eggs were added to the recipe.
How Do You Know Marshmallows Are Vegan?
The easiest way to know if the marshmallows you want to buy are vegan is to look for a symbol of vegan certification on the package.
One of the most recognized is the "certified vegan logo." Seeing that symbol on a package says that the product is 100% vegan.
Depending on the country you live in, or the certifying body the marshmallow company worked with, the symbol may be different.
If there is no certification symbol on the package or if the package does not clearly say the marshmallows are vegan then you need to do a little work to figure things out.
Ingredients to Look For
If you're purchasing marshmallows that are labelled and/or certified vegan, then you don't have to be concerned about the following ingredients being included in your marshmallows.
Lower down, you'll find a list of vegan brands to buy, however, if you want to do your own detective work to determine if a brand not mentioned below is vegan or not, this is what you need to look for in the ingredients list:
Gelatin - The main thing that makes mainstream marshmallows not vegan is the use of gelatin. If you're not familiar with this gelatinous animal protein ingredient, it's made by boiling down various parts (connective tissues, skin, etc.) taken from animals. It's what gives regular marshmallows their gooey, sticky, stretchy texture.
Eggs - Another non-vegan ingredient to be on the lookout for is egg whites. This ingredient is usually found in marshmallow fluff (but there is also vegan marshmallow fluff, see the FAQ section below!)
Sugar - This is one of the main ingredients in marshmallows, and unless it's stated that the cane sugar used is organic, it may have been processed through animal bone char to make the sugar white.
Food colouring - Another ingredient to be on the lookout for since many artificial colours contain animal ingredients.
Artificial and Natural Flavours - Since companies don't list the details about natural and artificial flavours, the only way to know if they are plant-based and not animal-derived is to contact the company and ask them directly.
Not sure which brands of chocolate chips are vegan? Read through the article "are chocolate chips vegan" to find a large list of vegan chocolate chips to add to your list!
What Are Vegan Marshmallows Made Of?
So now you may be wondering since all of the ingredients mentioned above are usually found in regular marshmallows, what goes into making vegan marshmallows?
Each brand contains different ingredients, but there are common ingredients you will find in all of them: a gelling ingredient, sugar, corn syrup, water, etc.
The main ingredient that needs to be replaced is gelatin. To do this, a plant-based ingredient called agar agar or agar powder is sometimes used as the gelling agent (it's algae but not to worry, it's tasteless!). Some brands that don't use agar replace the gelatin with tapioca syrup, tapioca starch, or other plant-based ingredients.
Some brands of vegan marshmallows also contain cassava syrup, soy, soy protein, rice protein, carrageenan, guar gum, natural vanilla flavour or extract, xanthan gum, or corn starch (to name just a few!)
Always read the ingredient list to know what you are buying, especially if there are ingredients you cannot have or are concerned about.
What Brands of Marshmallows Are Vegan?
In the list below, you'll find a list of vegan marshmallow brands, presented in no particular order.
I've noted a few points about each brand, including a link to each brand's website and a link to purchase the product online.
A few things to keep in mind as you read through the list:
Even though these companies manufacture vegan marshmallows, that does not mean all of their products are also vegan, it is up to you to understand the labels, and if you don't, get in touch with the company to ask your questions.
If cross-contamination is an issue for you, look for cross-contamination statements on the package. Depending on your level of comfort, it is up to you whether or not you want to purchase that particular product. If you are still not satisfied, or you can't find the info you are looking for, contact the company directly.
Look for these vegan marshmallows at your local stores or online retailers (or the specific stores stated). If you cannot find them, look for the store locator on the brand's website for availability in your area.
Dandies vegan marshmallows manufactures both regular-sized and mini marshmallows. This brand is are probably the easiest to find since they are quite popular. Dandies also makes maple-flavoured marshmallows and seasonal marshmallows (pumpkin in the fall and peppermint during the holiday season). This brand is also gluten-free.
Sweets from the Earth is a Canadian company producing delicious vegan products and one of those products happens to be marshmallows! This brand is also gluten-free.
This American grocery store chain offers vegan marshmallows under their name brand but they are seasonal and only available during the summer months. Your best bet is to stock up when they become available or if you miss the window, look for another brand in this list. Trader Joe's vegan marshmallows are also gluten-free.
Buy at Trader Joe's stores
Yummallo offers several types of marshmallow products, but not all of them are vegan, so make sure you read the package. They are sold mainly at Walmart in the US and through other online retailers. Yummallo vegan marshmallows are also gluten-free.
Buy at Walmart (US)
This is a huge 1.5-pound bag of vegan marshmallows that will last you a long time! This brand seems to only be available for purchase through Amazon US. This brand is also gluten-free.
Max Sweets manufactures several marshmallow flavours, but they only offer ONE vegan selection. They are US-based but ship worldwide. All of their marshmallows are sugar-free (they use allulose as a sweetener in their vegan marshmallows). This brand is also gluten-free.
Ananda's offers a wide range of flavoured vegan marshmallows perfect for any occasion. This is a UK company, but they do ship worldwide. You will have to get in touch with them directly to obtain a shipping quote. This brand is also gluten-free.
Freedom makes plain, flavoured, and chocolate-covered vegan marshmallows. This is another UK-based company, but they ship worldwide. This brand is also gluten-free.
This company manufactures many different types of flavoured marshmallows, but not all of them are vegan, so read the listing/label carefully to make sure you are buying the correct product. They are based in the UK, but ship to various international countries, including Canada and the US. Check the website to see if they will ship to you. This brand is also gluten-free.
Mallow Puffs does not offer the plain marshmallows you would use for making rice cereal treats or for roasting over a campfire, but rather, they make delectable chocolate-covered vegan marshmallows. They are based in Belgium and only directly ship to various EU countries, BUT, they are available in Canada. At the time that this article was written, I was unable to find any retailers in the US that stocked this brand. This brand is manufactured in a facility that also works with milk, nuts, peanuts, and gluten so there is a risk of cross-contamination.
One last note, if you have a Marks and Spencer store where you live, they also offer gelatin-free marshmallows as part of their Plant Kitchen line. I was not able to find a lot of info about it, so I could not give a full listing here, but this article includes some info.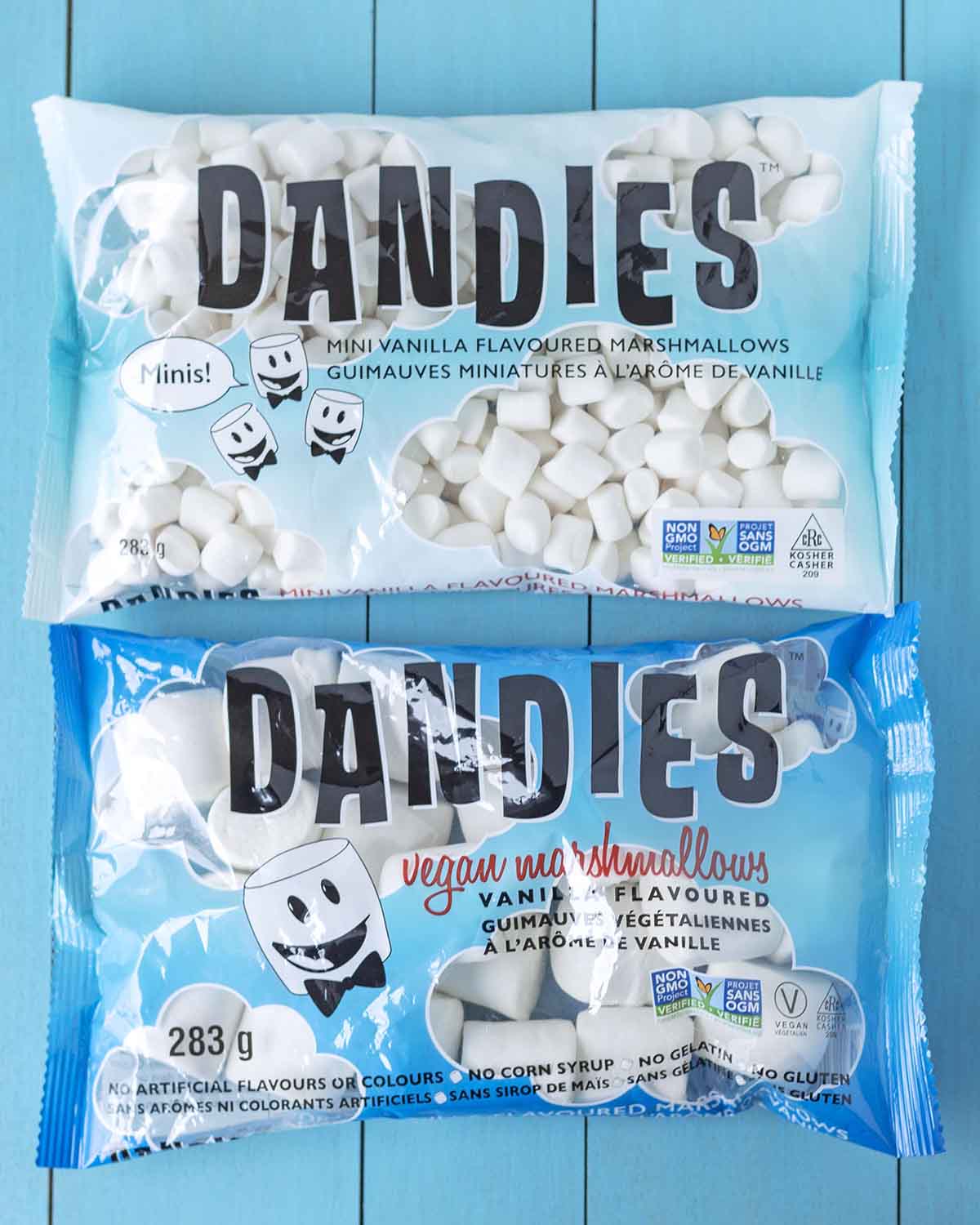 Vegan Marshmallow FAQ
Are Marshmallows Vegetarian?
No, traditional marshmallows are not considered vegetarian because they contain gelatin, an ingredient made from animal parts. However, there are many vegan marshmallow brands, so seek one of those out, they will all be suitable for vegetarians.
Are Jet-Puffed Marshmallows Vegan?
No, they are not. Jet puffed marshmallows are one of the more popular marshmallows in North America, but they contain gelatin, an animal product, making them not suitable for vegans or vegetarians.
Are Marshmallows Dairy-Free?
Marshmallows typically do not contain any dairy, but always make sure you read the ingredient label and the package to be 100% sure, especially if you are buying a novelty flavour, a special edition, or chocolate-covered marshmallows. If dairy is a concern for you, be sure to read the package carefully for a cross-contamination statement. If you are unsure of the info you find, contact the company directly to get the info you need.
Are Kraft Marshmallows Vegan?
No, Kraft marshmallows contain gelatin. At this time, Kraft does not manufacture any marshmallows that are considered vegan (or vegetarian).
Are Lucky Charms Marshmallows Vegan?
No, they are not vegan. Lucky Charms' marshmallows contain gelatin. The ingredient label states that they contain less than 2% of gelatin, but any amount, no matter how small it may be, makes it not suitable for vegans.
Are Marshmallow Peeps Vegan?
No, there are no varieties or flavours of marshmallow peeps that are vegan since they all contain gelatin. The "Ingredients and Allergen Info" of the Just Born (the company that manufactures Peeps) website states the following: "The gelatin used in our marshmallow candies is derived from pork products." [source]
Is Marshmallow Fluff Vegan?
Most marshmallow fluff is not vegan since it usually contains eggs or egg whites. However, there are a few brands out there that are vegan. The first is Smuckers Marshmallow Topping which happens to be "accidentally" vegan. Look for it at your local grocery store or online. The other one is Suzanne's Ricemellow Creme which can be found on their website.
So with that list of the best vegan marshmallows, there's no longer a need to wonder: "are there vegan marshmallows?" There are vegan versions of this sweet treat, and they are amazingly delicious, no one will know the difference.
And anything you can make with regular marshmallows, you can make with vegan marshmallows!
Recipes to Try
You now have plenty of vegan and vegetarian marshmallows to look for the next time you need them. What will you do with them? Eat them as-is? Roast them? Make a recipe with them? Here are a few hot cocoa recipes to try them out in: