Savoury vegan pinwheels filled with a rainbow of fresh vegetables and a delicious, easy to make spread. You can serve these vegetable pinwheels as vegan appetizers at your next get-together or potluck, or enjoy them as snacks or even for lunch.
This page may contain affiliate links. Click to learn more.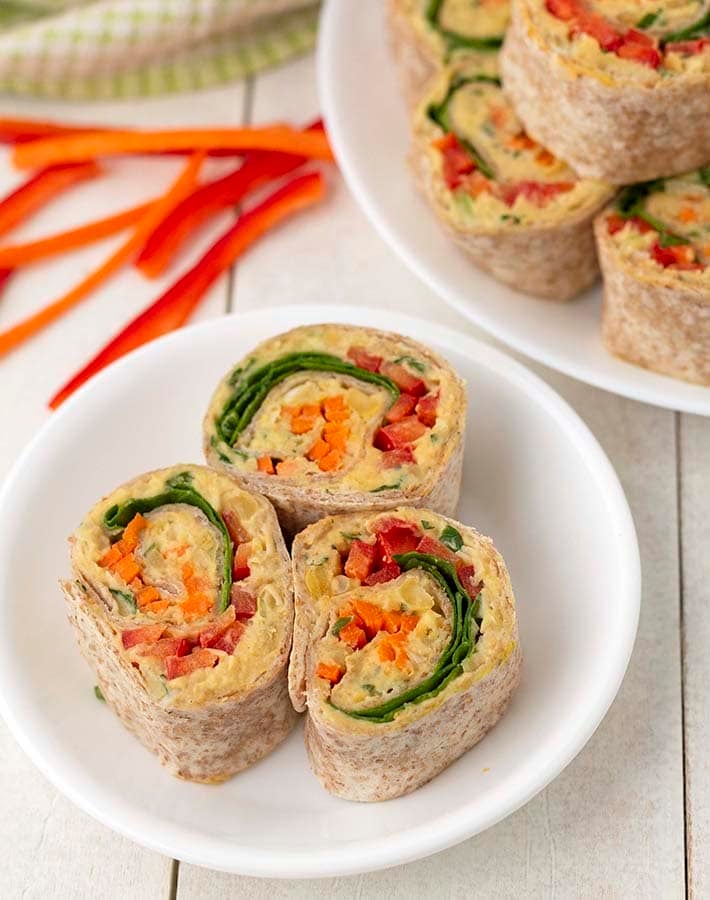 This is one of those easy vegan recipes (gluten-free, too if you make it with gluten-free tortillas!) that's super simple to make, is filled with great flavour, and can be served for several different occasions.
You can serve them as:
vegan pinwheel appetizers so they can be the star vegan appetizer at your next gathering.
vegan pinwheel sandwiches for you or your kids for lunch (they're very kid-friendly!).
snacks if you feel like a little something in between meals.
Multi-purpose recipes are the best, aren't they?
So let's talk about everything you need to know before you make yourself these veggie pinwheels, shall we?
Ingredients for Vegetable Pinwheels
You'll find that many other vegan pinwheel recipes call for hummus, but I take it a step further by making a delicious chickpea spread instead (a different version of my chickpea chicken salad).
To make the spread, you'll need cooked chickpeas, chopped onions, parsley, lemon juice, salt and pepper and vegan mayonnaise.
Note: You can make this without mayonnaise by substituting it with mashed avocado.
For the veggies, you'll need red pepper, carrot, and some baby spinach. And of course, you'll need tortillas. Your favourite regular or gluten free wraps will work just fine.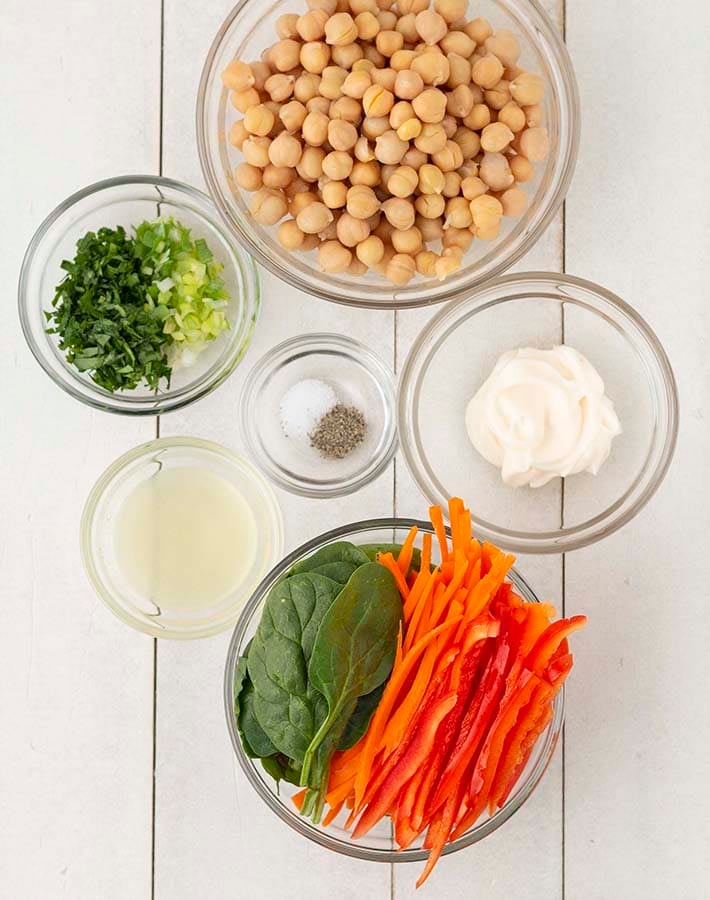 How to Make Dairy Free Pinwheels
(Note: I've outlined the step-by-step for my vegan pinwheels recipe here, but find the full recipe, ingredients, and directions at the end of this post.)
The first step is to mash the chickpeas. Next, add all the remaining chickpea spread ingredients and mix until everything has combined.
After that, spread half of the spread on a tortilla, ensuring that it's spread almost all the way to the edges as shown in the picture below.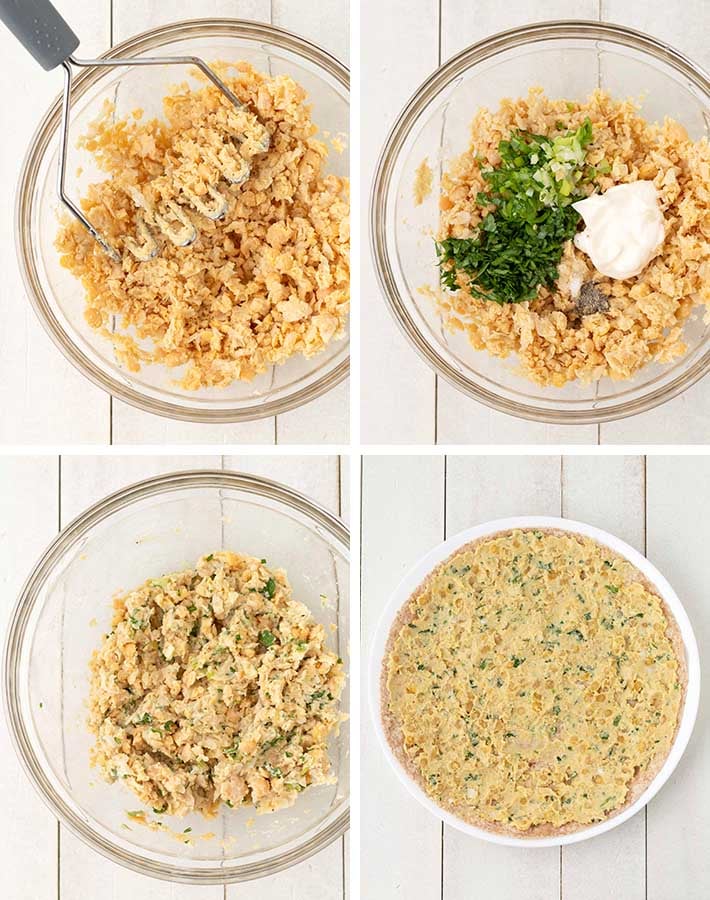 Next, you'll top the chickpea spread with the veggies.
Be sure to place the veggies directly on top of the spread rather than stacking them on top of each other so they have something to stick to as you roll the wrap up.
If you don't place them directly onto the spread, after you've rolled and sliced, the veggies will fall out because they have nothing to stick to.
(A mistake I made the very first time I made pinwheel roll ups 🙂 )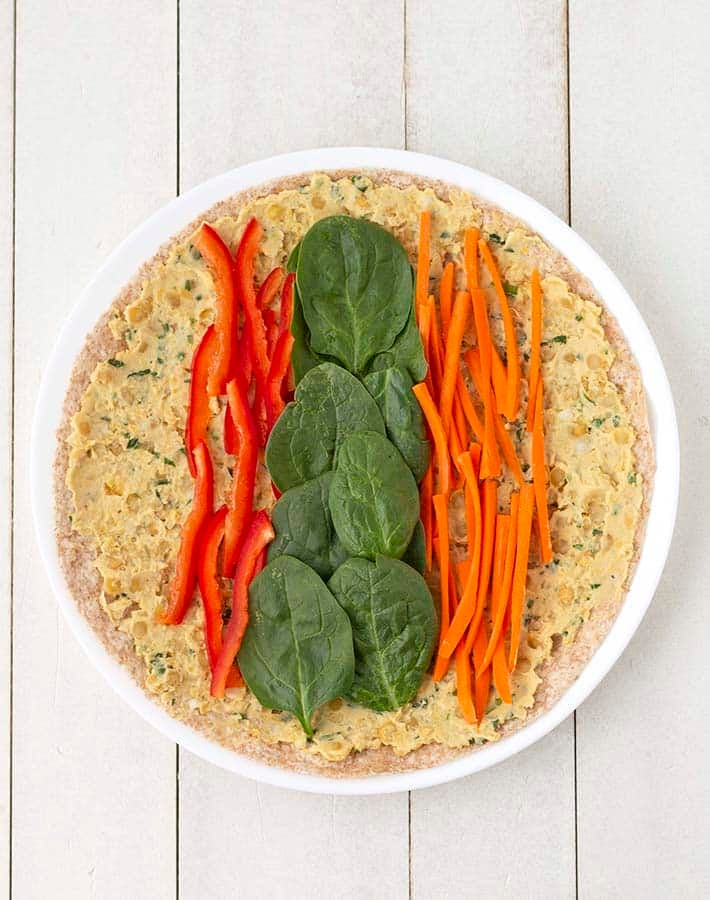 After you've placed the veggies, you'll roll everything tightly. Then it's time to slice!
I usually slice off each end and eat them since those pieces aren't going to be perfect…I call it taste-testing to be sure everything tastes good 🙂
You'll then slice into 6-8 pieces, and you can slice them to any thickness you like.
I usually stick to slicing them to a thickness just slightly over one inch and this gives me seven pinwheels per tortilla, but you can slice them a little thinner (for appetizers and snacks) or thicker (for lunches), if you'd like.
Your tasty little vegetarian pinwheels are now ready to serve!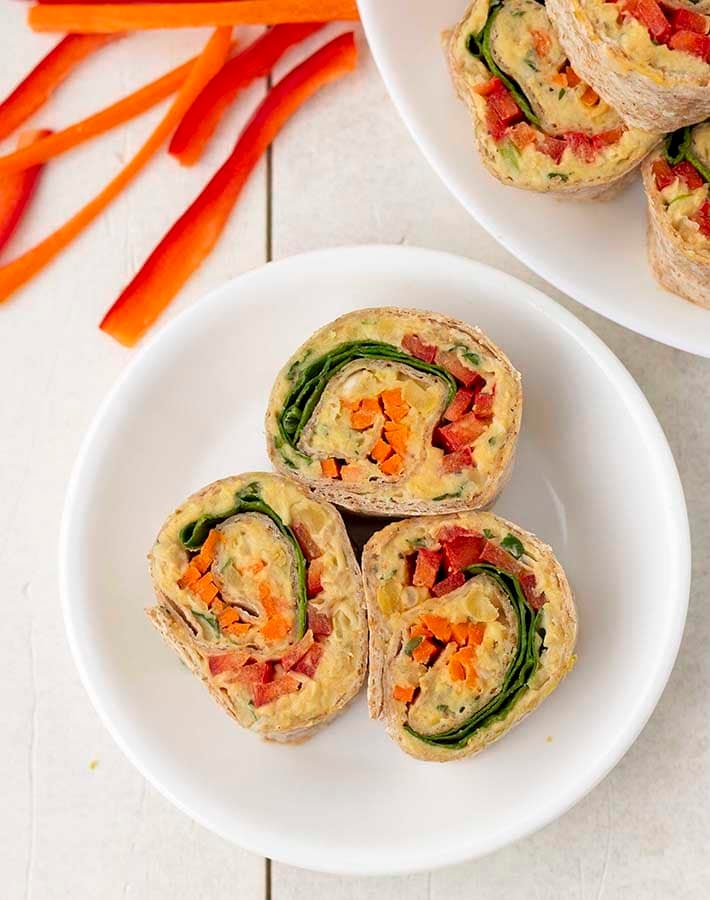 Tips to Ensure Your Vegan Pinwheel Roll-Ups are Perfect:
Be sure that your tortillas are fresh and pliable (especially if they're gluten free) or they will break when rolling. If your tortillas are a little stiff, you can soften them by warming them up for a few seconds in the microwave.
Place the veggies on top of the spread rather than stacking them on top of each other before rolling so they stick to the chickpea spread (see the picture above).
Slice the veggies thinly as shown in the pictures. It will make the pinwheels easier to eat and easier to roll.
Roll the tortilla up as tightly as you can so the final pinwheels are not loose and won't fall apart.
Use a serrated knife to slice the pinwheels, a regular knife can flatten the pinwheels and they won't be round.
I recommend the veggies called for in my recipe, but you can use different veggies. Just be sure they aren't juicier veggies (like tomatoes) or your pinwheels will not hold up and will become soggy, very fast.
You can also use purple cabbage (this would make them rainbow veggie pinwheels!) and yellow or orange bell peppers also work nicely.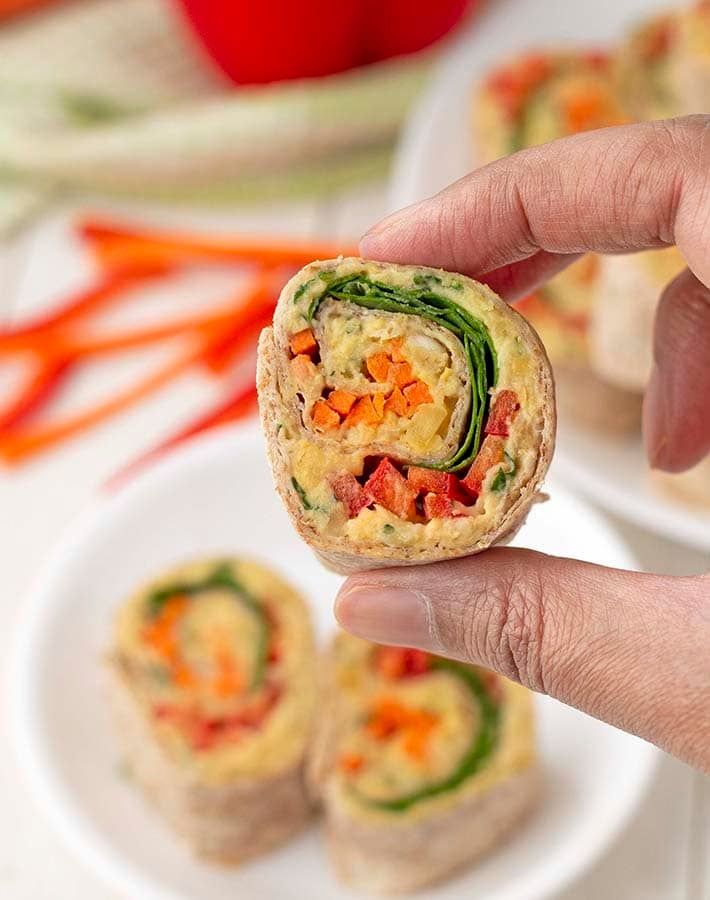 Can They Be Made In Advance? How Do You Avoid Soggy Pinwheels?
I don't like to make my pinwheels too far in advance from the time they'll be served because, depending on the veggies used, they tend to get soggy the longer they sit.
The "drier" the veggies (like the ones I use in my recipe), the better. If you need to make them in advance, avoid using veggies that will release liquid like cucumbers, tomatoes, etc.
That being said, I've made these vegan pinwheel wraps in the morning, for serving later in the day, and I've also made them at night for lunches the next day. When I make them in advance, I roll them up, wrap tightly, refrigerate and I only slice them just before serving.
Whether you serve them as appetizers, a party snack, or lunch, these pinwheels will become an easy, go-to recipe to make. I hope you love them as much as I do!
If you like this veggie tortilla pinwheels recipe, here are a few other recipes you may also like:
You can also help me to help others find this easy vegetable pinwheels recipe by pinning this post to your recipe board on Pinterest! CLICK HERE TO PIN IT NOW!

How to Make Vegan Pinwheels