This 3-ingredient, easy, garlicky shortcut vegan aioli recipe comes together in just 5-minutes! It's the perfect sandwich spread and dip for your favourite finger foods.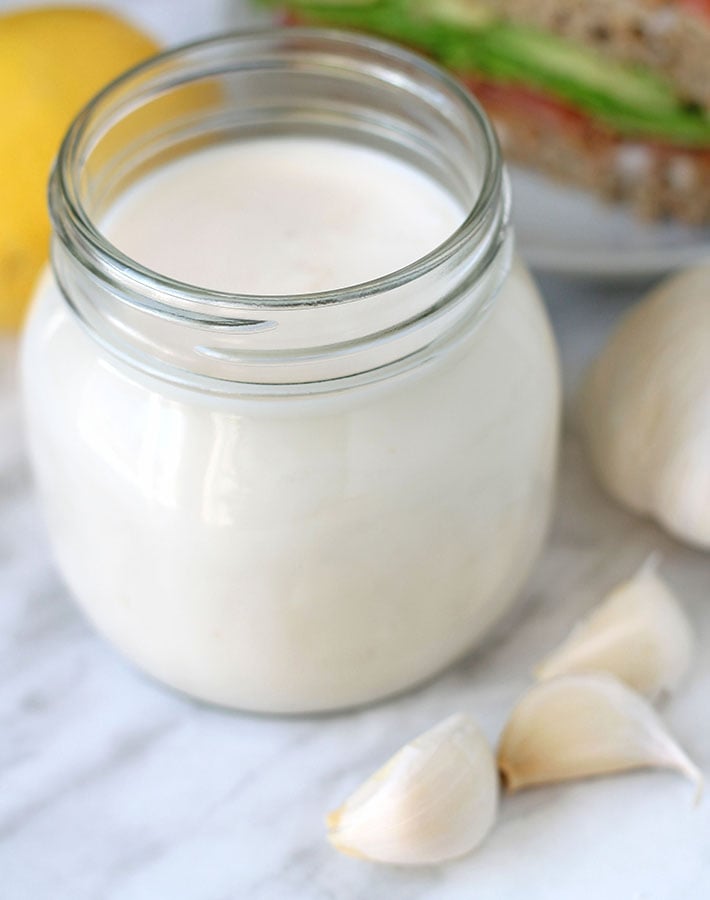 This shortcut vegan aioli is a recipe I've been making for quite a while. It's a favourite in my home and I serve it in so many ways! But before we get into the recipe, let's get one thing out of the way…
This is NOT your classic aioli recipe!
If classic is what you're looking for, this recipe is not it.
Classic aioli is an emulsion made with olive oil, a few other ingredients, and a mortar and pestle. There are also aioli recipes from other countries that call for egg yolks.
What makes this recipe different? This recipe is dairy-free, egg-free, and olive oil-free and it's made with prepared vegan mayonnaise, so it's definitely not a classic aioli.
You can find from-scratch vegan aioli recipes that walk you through making your own vegan mayo emulsion and then building the up flavours, but again, that isn't what this recipe is.
If what you're looking for is a quick, easy, shortcut vegan garlic aioli (or vegan aioli mayonnaise), then you're in the right place!
What Makes this a Shortcut Recipe?
The base of this recipe is store bought mayonnaise, so there's no need to whip up vegan mayo from scratch. There are also minimal ingredients in this vegan aioli sauce….just three! Mayo, fresh garlic, and fresh lemon juice.
How Do You Make Vegan Garlic Mayo?
(Note: I've outlined the step-by-step here, but find the full recipe, vegan aioli ingredients, and directions at the end of this post.)
You'll start out with your mayo, which serves as the base of the recipe.
What is the Best Vegan Mayo?
There are many brands you can buy, my personal favourite is Hellman's Vegan but if you can't find that one, other popular choices are Vegenaise and Just.
No matter which one you use, the important thing is that you use a vegan mayonnaise that you love since it will be the base of your vegan mayo aioli.
Next, you'll add the pressed garlic to the mayo. Be sure you're using fresh garlic and not garlic powder, garlic salt, or garlic granules. Fresh garlic only 🙂
To press your garlic, you're going to need a good garlic press like this one.
If you don't already have a garlic press, I highly recommend you get one because they're great to have in the kitchen and it will make preparing this recipe so much easier! If you don't have one, you can still make this garlic sauce, you'll just need to take some time to mince the garlic very fine so there are no big pieces.

Next, you'll add the lemon juice. It's important that you use freshly squeezed lemon juice and not the lemon "juice" that you can buy in the little plastic lemons.
Fresh is always best and the lemon flavour helps to give the vegan aioli a slight, mouthwatering tartness that mixes so well with the other flavours.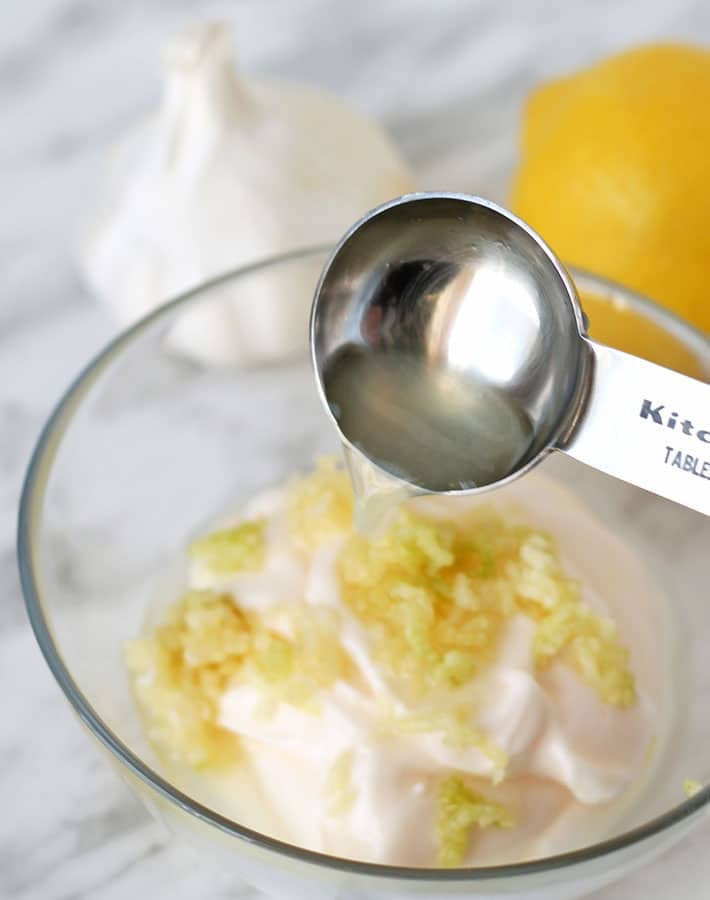 You'll then mix everything together until all the ingredients have combined.
After mixing, you can taste it to see if it needs salt. Whether it needs salt or not will be dependent on the mayo brand you use. I find that the Hellman's already has the right amount of salt, so I don't add any but if the brand you use doesn't contain much, then feel free to add some, to taste.
When you taste the aioli at this point, it will taste good, but it will not be the final flavour. The next step is to transfer it to an airtight jar and refrigerate for at least an hour.
That hour will give the ingredients a chance to mix, mingle and fully develop into the best shortcut vegan aioli.
How to Serve Vegan Aioli
My favourite way is in sandwiches, and my favourite sandwich to have it in is a TTLA sandwich.
If you haven't heard of or had this sandwich before, you need to try it! "TTLA" stands for tempeh, tomato, lettuce, and avocado. And it's SO good. Especially with a big slather of vegan aioli mayonnaise. YUM.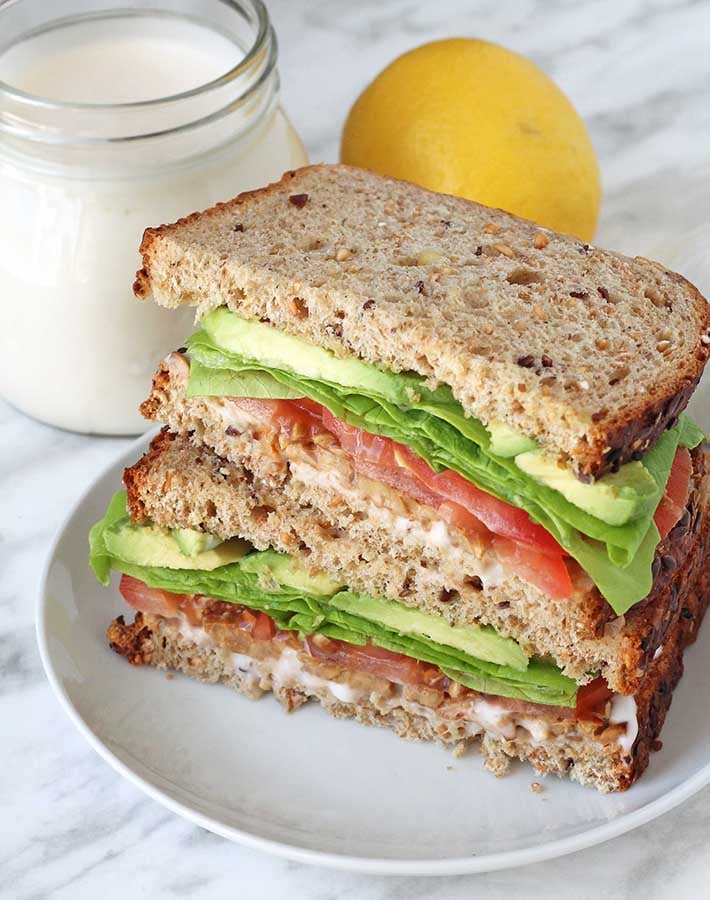 You can also serve it with the following as a dip, sauce, or spread:
burgers
fries
roasted potatoes
roasted vegetables
raw vegetables
so much more!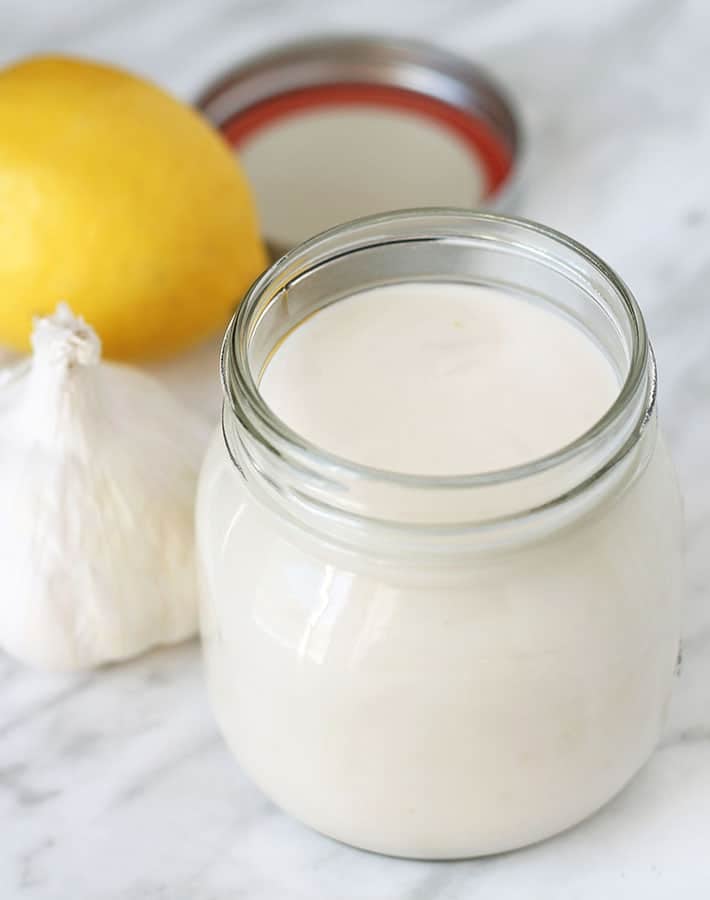 If you make this, tell me about it in the comments below! I'd love to hear what you serve it with! You can also pin this recipe to Pinterest.
And for more easy vegan recipes, be sure to check out all of my recipes!
If you like this vegan garlic mayo recipe, you may also like these:
How to Make Vegan Aioli