This is the perfect creamy vegan veggie dip to serve at a party, a potluck, or just for snacking on at home. It's nut-free, dairy-free, oil-free, and so quick and easy to make!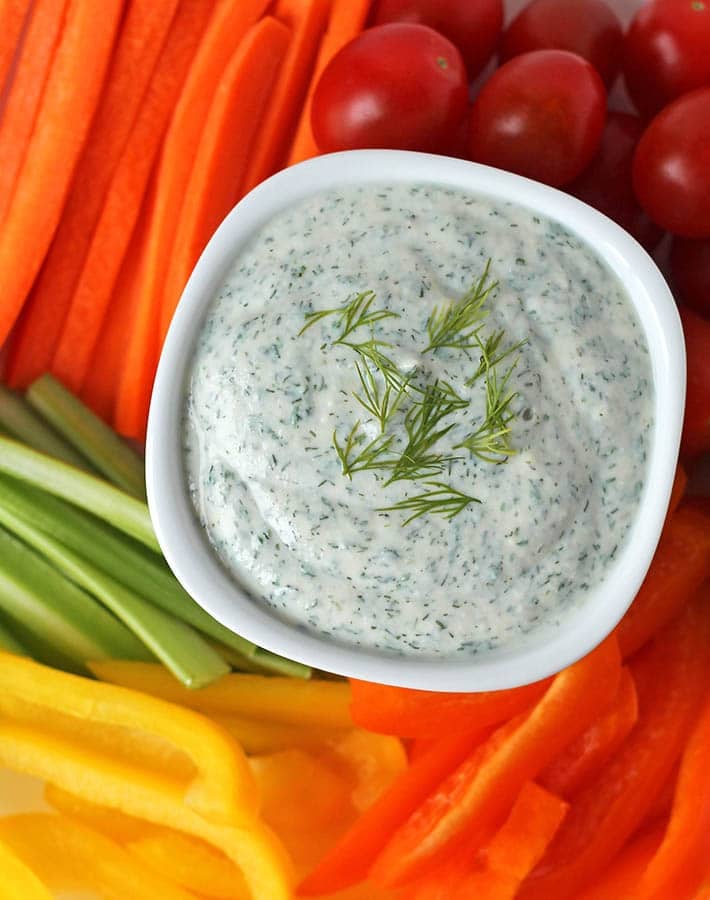 If you're looking for a quick and easy vegan dip recipe or even a vegetarian dip, I've got a really delicious one for you!
This dip is easy to make (just like my vegan dill dip and my vegan yogurt dip), it's simple, it's packed with savoury herbs, and it can be paired up with so many things, other than veggies.
All you need to make it is a few simple ingredients. Most vegan vegetable dips contain a base made from cashews, vegan sour cream, or vegan mayonnaise, but this one contains none of those things. The base for this vegan dip is silken tofu.
Ingredients You'll Need
As mentioned, you'll need silken tofu (or soft tofu as some brands refer to it). I would not substitute with any other type of tofu, you need one that becomes perfectly smooth when blended and will not be gritty. Silken tofu is what you need for this recipe, don't substitute.
In addition to the silken tofu, you'll need a few other herbs and spices, fresh lemon juice, and salt.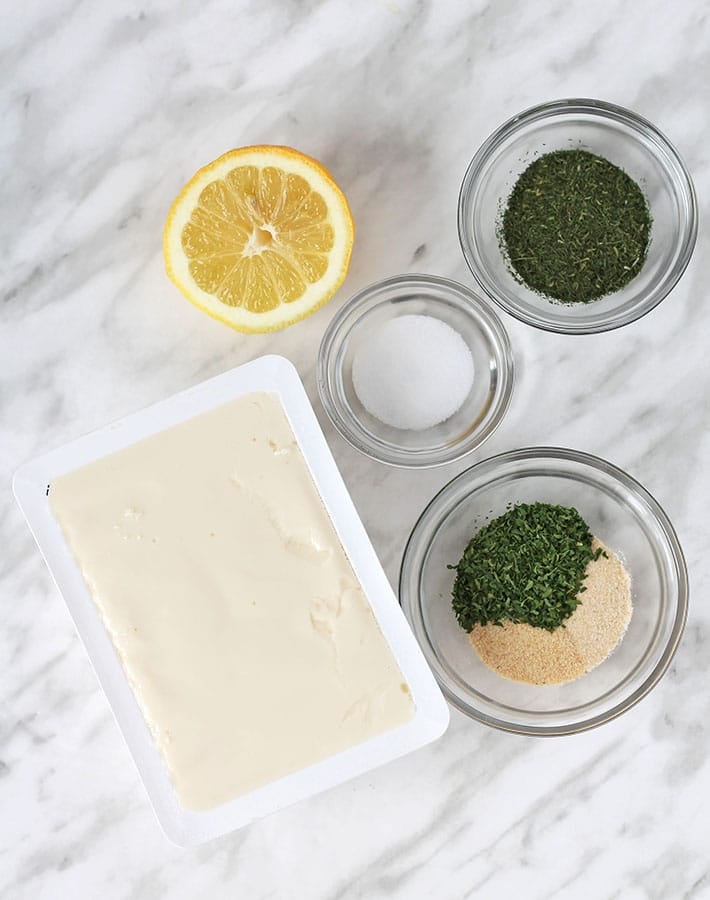 How to Make It
Making this recipe is super fast and uncomplicated. All you need to do is add all the ingredients to your food processor and process. You'll need to stop once to scrape down the sides, then blend again, and that's it!
After the dip has come together, you'll need to place it in an airtight container and chill for at least 1 hour so all the dry herbs can hydrate and the flavours can mix together.
Once the chill time has passed, give it a quick stir and your dip is ready to serve!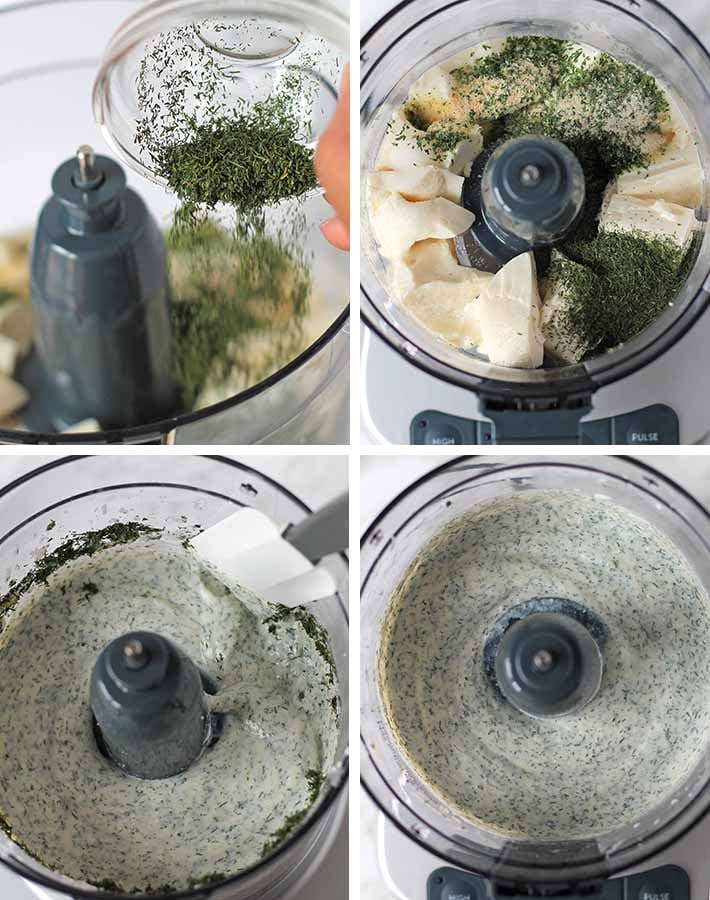 What to Serve It With
For this dipping sauce, the obvious choice is veggies because, yes, it's called a vegan veggie dip, but you definitely aren't restricted to serving it with just vegetables (use the veggies I used in the pictures or read this article for more ideas).
My second favourite way to serve it is as a vegan chip dip. Rippled potato chips + this dip…mmm…
Here are a few more ideas:
crackers
pita triangles
tortilla chips
rice cakes
bread
pretzels
Make this dip, gather some of the things listed above, create a big platter, and serve to your family and friends. You can even make it a vegan party dip! No matter how you serve it, everyone will love it.
You can also pack the dip in your kids' lunches, it may make them want to eat more veggies!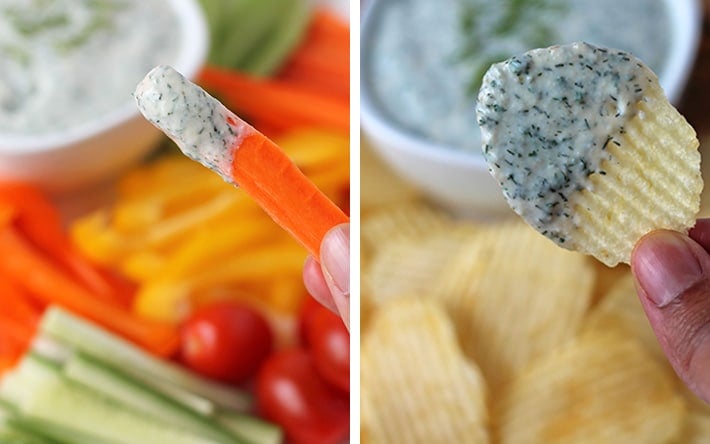 Can Fresh Herbs Be Used Instead of Dry?
Yes, you can, just be sure to chop them up really small. You don't want chunks of herbs in the dip. The dill is easy to chop finely, but the parsley will take you a little longer.
Also keep in mind that fresh herbs don't have as strong a flavour as dried herbs. The flavour in dried herbs is way more concentrated, so you'll need to bump up the measurements if using fresh.
The general rule is to use triple the amount of dried herbs that the recipe calls for. However since this is not a large recipe, I use double the amounts rather than triple.
So for this recipe, you'll need to use 2 tablespoons of finely chopped fresh dill and for the parsley, use 4 teaspoons of finely chopped fresh parsley. Taste after everything has blended and if you feel it needs a little more punch of flavour, add more.
There is also one other modification you'll need to make if using fresh herbs and that is to not add the fresh herbs to the food processor with all of the other ingredients.
Add everything except the herbs, blend and then either mix the herbs in by hand, or add the fresh herbs to the food processor and pulse to distribute. This will prevent your dip from turning green.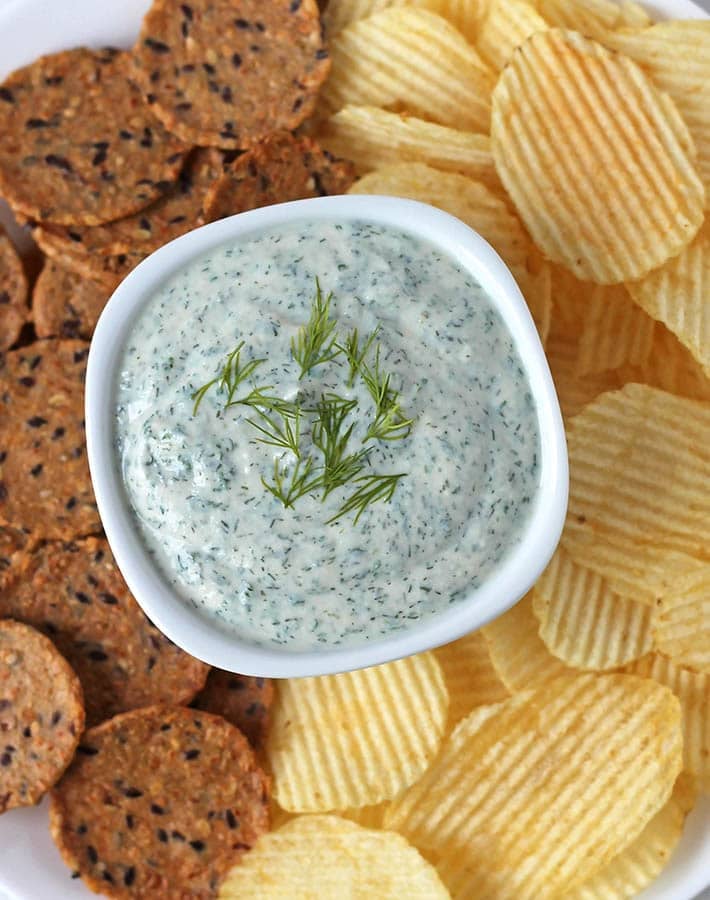 What if I Don't Have a Food Processor?
The silken tofu needs to be blended very well so it breaks down into dip consistency. Mixing by hand will work to blend everything together, but it may not be able to achieve the creamy smooth consistency that's needed
If you don't have a food processor, you can also use a NutriBullet, a regular blender, a high-speed blender, or even a hand/stick blender. And if you're looking to buy a food processor, this is the one I own and love and highly recommend (it's the one I'm using in the pictures)
Does it Taste Like Tofu?
No. If you follow this recipe exactly as it's written, and you don't omit any ingredients, you won't be able to detect any hint that there's tofu in the dip.
The herbs and spices work well together to give a very savoury, delicious flavour to the dip.
Because the dried dill is the dominant flavour, I originally wanted to call this vegan dill dip, but after making it a couple times, I decided to not call it that because it didn't taste exactly like what I remember dill dip tasting like. So vegan veggie dip, it is! (if you're looking for an actual dill dip, check out my vegan dill dip recipe!)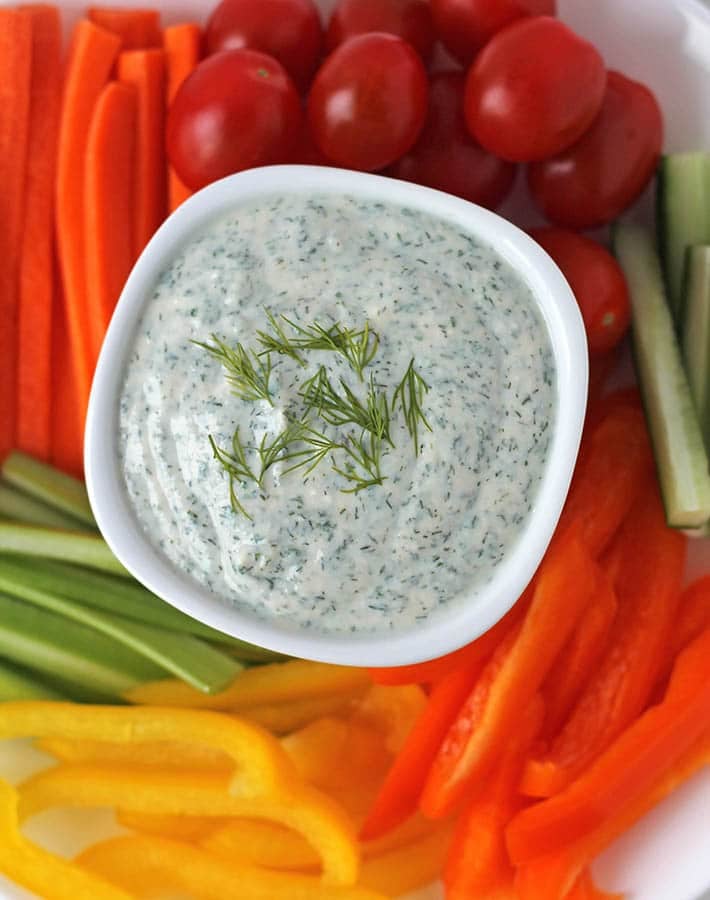 If you make this vegan dip recipe, snap a pic and share it with me on Instagram! Tag me so I can see it, I'm @delightfuladventures.
If you like this recipe, you may also like these:
How to Make Vegan Veggie Dip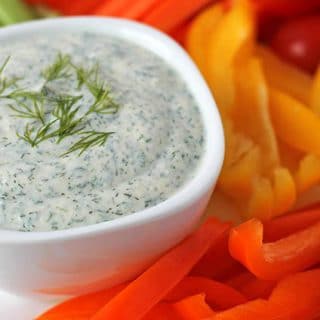 Print Recipe
Vegan Veggie Dip
This is the perfect creamy vegan veggie dip to serve at a party, a potluck, or just for snacking on at home. It's nut-free, dairy-free, oil-free, and delicious!
Ingredients:
300 g

soft / silken tofu

(1 1/4 cup)

1

tablespoon

dried dill weed

2

teaspoons

dried parsley flakes

1/2

teaspoon

garlic powder

1/2

teaspoon

onion powder

1/2

teaspoon

salt

1

tablespoon + 1 teaspoon

fresh lemon juice

fresh or dried dill weed or parsley for garnish

(optional)
Instructions:
Add all ingredients to a food processor and blend. Stop the food processor once to scrape down the sides. Blend again.


Put dip into an airtight container, cover, and place in the refrigerator for at least 1 hour.


. Serve cold and stir before serving with your favourite veggies, chips, or crackers (see above for more suggestions).

Recipe Notes:
Please read all of the helpful tips and info above before making this recipe.
This dip needs to be made in advance and chilled for 1 hour before serving, keep that in mind before starting.
A little liquid may separate from the dip after being in the refrigerator for a while. This is fine and totally normal, just give it a stir and serve.
Fresh herbs can be used in place of dry. See info above.
Store dip in an airtight container in the refrigerator for up to 3 days.
Nutrition info is based 1 of 10 servings (each serving is 2 tablespoons). Nutrition info is only to be used as a rough guide. Click to learn how nutrition info is calculated on this website.
Nutrition Info:
Serving:
2
tablespoons
|
Calories:
17
kcal
|
Carbohydrates:
1
g
|
Protein:
1
g
|
Fat:
1
g
|
Sodium:
85
mg
|
Potassium:
5
mg
|
Vitamin C:
1.7
mg
|
Calcium:
10
mg
|
Iron:
0.4
mg
Did You Make This Recipe?
If so, please share a picture with me on Instagram! Tag @delightfuladventures and hashtag #delightfuladventures. I can't wait to see!