One summer morning a few years back (on grocery day), I found myself in the kitchen looking for something to make for breakfast. The things I usually enjoyed for breakfast were unfortunately all out. But this turned out to be a good thing (in this case) because what I came up with was a breakfast I now have regularly during the summer, a Berry Coconut Breakfast Bowl.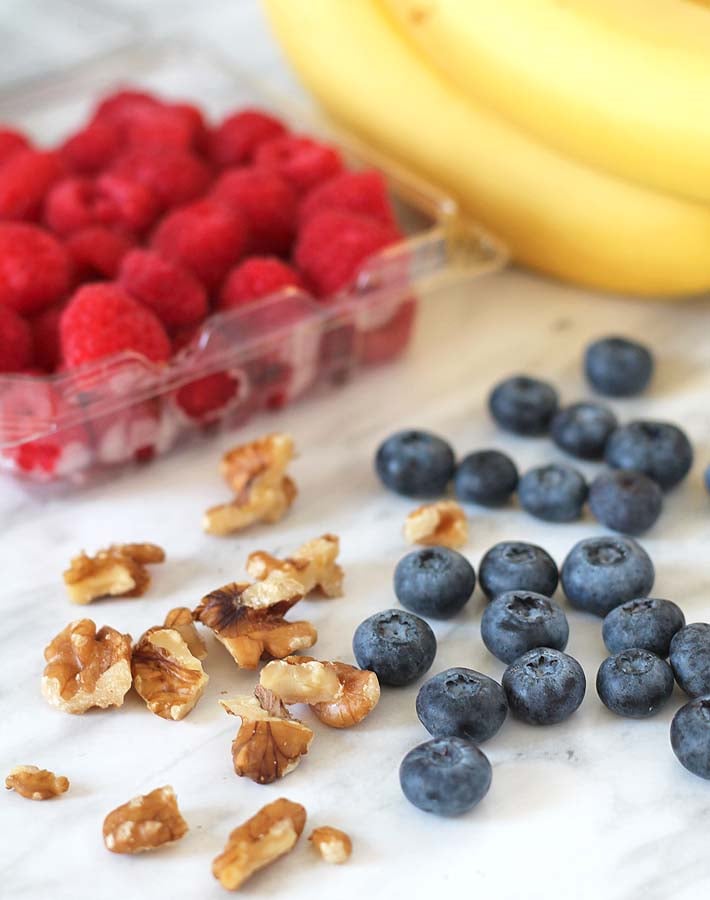 What I did manage to find in my kitchen that day was a banana and some remaining fresh berries from last week's grocery run. So that was my challenge: come up with something for breakfast with those ingredients...or in other words, play real-life Chopped.
Playing real life Chopped doesn't just happen to me on a regular basis, does it? Please tell me it happens to you too!

The wheels started spinning and I thought, hmm...how about slicing up the banana, adding some berries to them and then pouring a little coconut milk on top? And then to get some protein in there, some chia seeds, hemp hearts, and nuts? Nothing complicated at all, and I knew I would like it. At the time, I didn't know this easy breakfast bowl would become a summertime favourite. A new breakfast staple was born and I called it my berry coconut breakfast bowl.
When making your breakfast bowl, know that you are not bound to the ingredients I used in my recipe below. Feel free to use the berries you have on hand (strawberries, blackberries, and even though they are not technically a berry, you can use cherries too!). Use whatever nuts you have (sliced almonds, walnuts, and pecans are all great). When it comes to the coconut milk, light or full fat both work well (full fat of course makes it a little more decadent!)
Chia seeds can be subbed with hemp hearts or you can use both. For those who are not banana fans, I have subbed in peaches or nectarines when I didn't have any bananas.
Whatever ingredients you decide on, you will love your berry coconut breakfast bowl creation.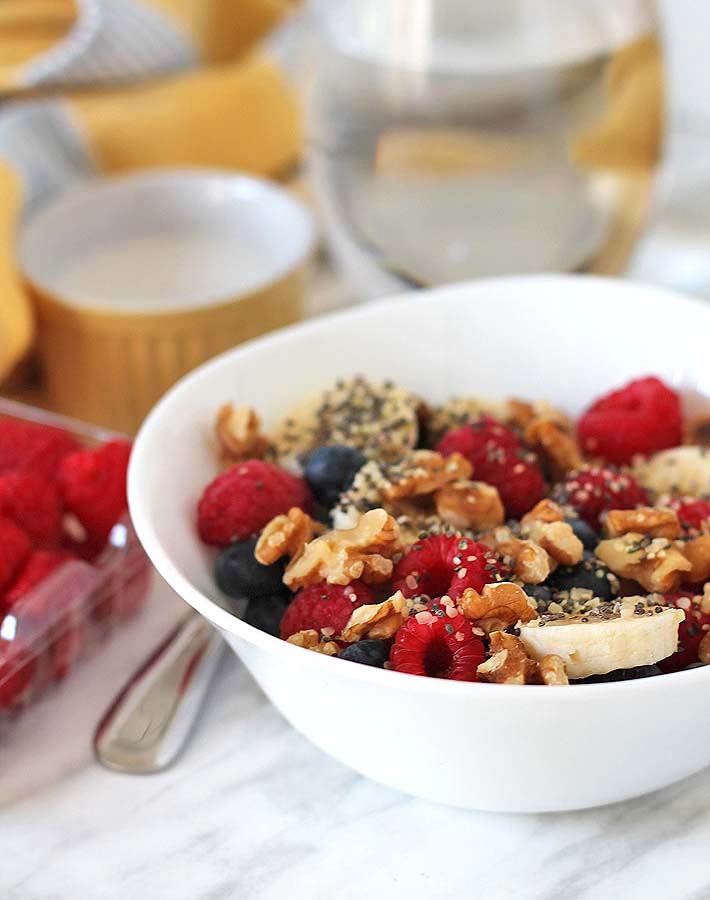 Take advantage of all the beautiful, fresh summer fruits and berries while they're at their peak. Try this healthy breakfast bowl of deliciousness the next time you find yourself playing a breakfast-themed episode of Chopped in your own kitchen 🙂
P.S. Are you sensing a theme with some of my recipes? If it's not obvious, I LOVE using coconut in all its forms. Here are some other recipes that contain coconut for you to enjoy:
And here are some of my other breakfast recipes you may like too!
How to Make a Berry Coconut Breakfast Bowl
Berry Coconut Breakfast Bowl
You're going to love this quick, delicious, and customizable Berry Coconut Breakfast Bowl. It's loaded with fresh berries, seasonal fruit, and coconut milk!
Ingredients:
1

cup

berries, washed

(blueberries, raspberries, strawberries...whatever you have on hand)

1

sliced banana

2

tablespoon

chopped walnuts

2

teaspoon

chia seeds

2

teaspoon

hemp hearts

(optional)

¼

cup

coconut milk
Instructions:
Add berries, sliced bananas, and chopped walnuts to a bowl.

Sprinkle chia seeds and hemp seeds (if using) on top.

Pour in coconut milk.

Mix, enjoy!
Nutrition Info:
Did You Make This Recipe?
If so, please share a picture with me on Instagram! Tag @delightfuladventures and hashtag #delightfuladventures. I can't wait to see!