A refreshing and tasty way to start your day is with a tasty blueberry pineapple smoothie. It's loaded with fruits, vegetables, and, of course, tastes delicious!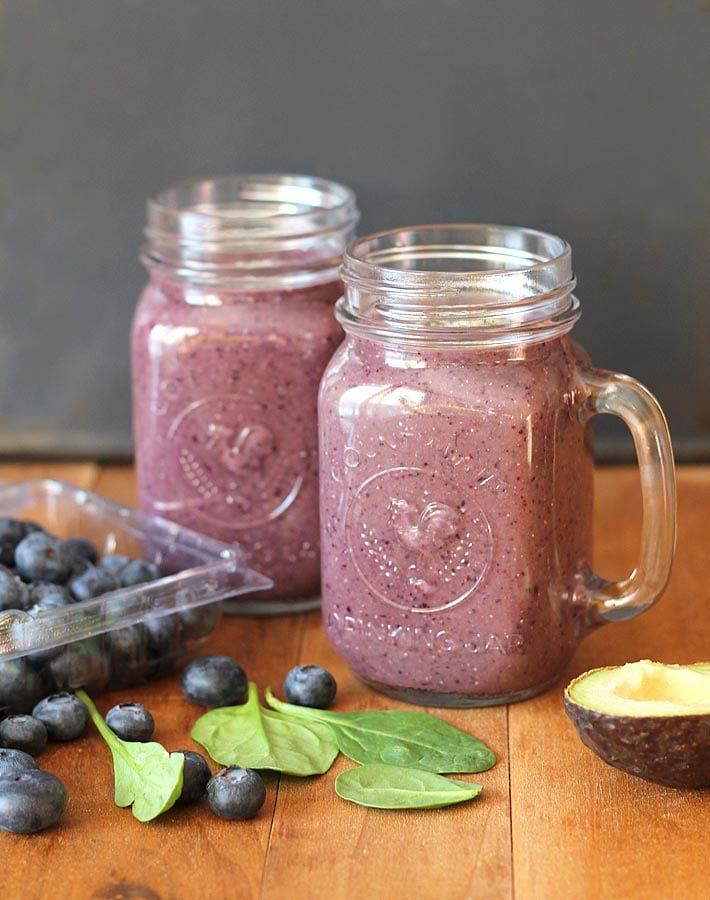 There are so many reasons to love smoothies, but one of the things I love most is that depending on what's in your fridge, you can have one that looks and tastes different each time.
On this particular day, I had a piece of leftover pineapple from when I made my Tropical Pineapple Orange Mango Juice and a package of blueberries I couldn't say no to at the store.
So, there it was, those would be two of the ingredients that would go into making my next smoothie creation: A Blueberry Pineapple Smoothie.
What Ingredients Are Needed?
The name of this recipe (or even the pictures! I had no more pineapple left!) doesn't even come close to letting you know what actually makes up this smoothie.
It's filled with more than just blueberries and pineapple. It actually contains quite a few nutritious ingredients, (but don't let that statement scare you off because it's delicious! And check out the colour!).
Most smoothies use yogurt as a thickener, but this is a blueberry pineapple smoothie without yogurt. I don't particularly like yogurt in my smoothies, I prefer to use bananas or avocados to thicken.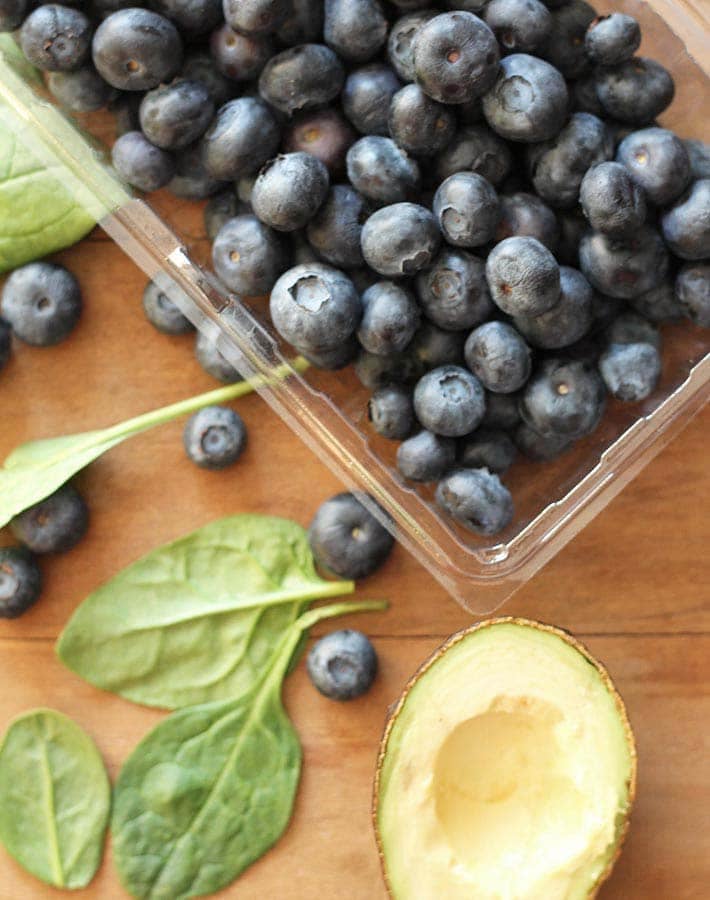 If you've tried any of my other smoothies, you'll know that there are some ingredients I carry over from one to the other. Banana, avocado, spinach, hemp hearts, chia seeds...they all make regular appearances.
When I made this blueberry pineapple smoothie, I also threw in a piece of fresh ginger like I did with my Berry Beet Ginger Smoothie. So it became a blueberry pineapple ginger smoothie!
I like the taste fresh ginger adds to smoothies, but as noted in the recipe, it's optional. Whether you want that little "zing" ginger will give you is for you to decide, but if you don't add it, know that the smoothie will be just as good!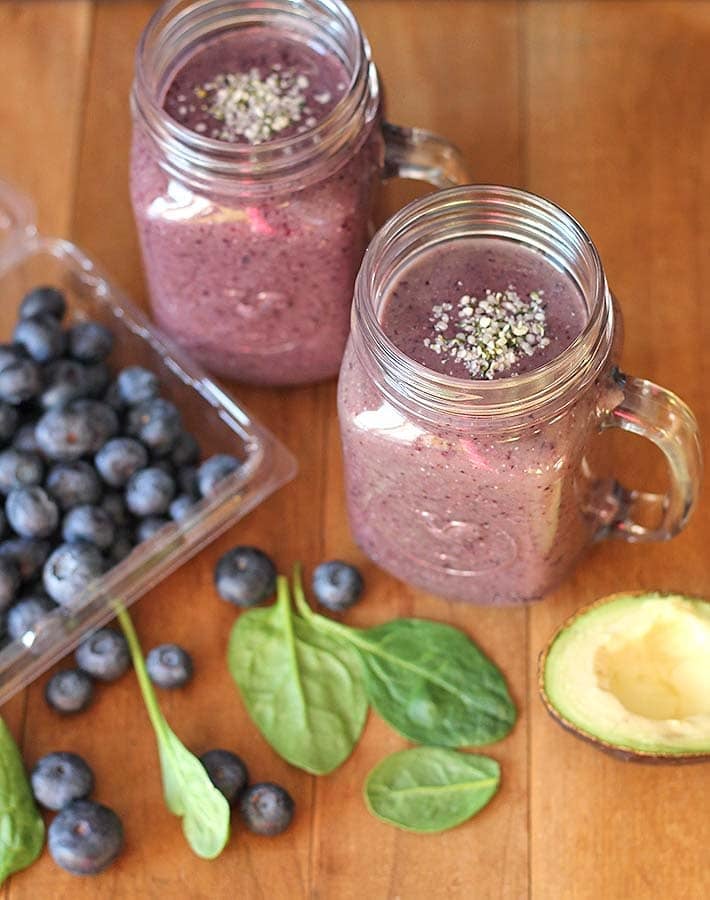 Can Frozen Fruits and Vegetables Be Used Instead of Fresh?
Yes! If you can't find the fresh fruits and vegetables needed for this smoothie because of where you are located or because of the time of year, feel free to use frozen blueberries, pineapple, and / or spinach. Your blueberry pineapple spinach smoothie will be just as good!
And the same goes for avocado. I saw frozen avocado chunks at my grocery store not long ago, it's a new product but I have never tried it before. Have you?
Note that if you do use frozen ingredients, the finished smoothie will be a little thicker than if using the fresh stuff. If you want to thin it out, just add a little more liquid.
Be sure to pin this recipe to Pinterest and if you make it, please share a pic with me on Instagram or leave a comment below letting me know how things went.
If you like this blueberry pineapple smoothie recipe, you may also like these other vegan smoothie recipes:
Blueberry Pineapple Smoothie
A refreshing and healthy way to start your day is with a blueberry pineapple smoothie. It's loaded with fruits, vegetables, and it tastes delicious!
Ingredients:
1 ¼

cup

blueberries

1

cup

pineapple chunks

1

banana

½

avocado

1

cup

baby spinach

2

tablespoons

chia seeds

3

tablespoons

hemp hearts

1 ½

cups

water or coconut water

¾"

piece

fresh ginger, peeled

(optional)
Instructions:
Add all the ingredients to your blender and blend until smooth.
Recipe Notes:
Recipe makes two 500ml servings.
Calorie count is for 1 serving using water and the optional piece of ginger. Data is only to be used as a rough guide. Click here to learn how nutritional info is calculated on this website.
Nutrition Info:
Serving:
500
ml
|
Calories:
357
kcal
|
Carbohydrates:
49
g
|
Protein:
11
g
|
Fat:
15
g
|
Saturated Fat:
2
g
|
Polyunsaturated Fat:
8
g
|
Monounsaturated Fat:
5
g
|
Sodium:
17
mg
|
Potassium:
857
mg
|
Fiber:
14
g
|
Sugar:
26
g
|
Vitamin A:
1600
IU
|
Vitamin C:
85
mg
|
Calcium:
120
mg
|
Iron:
4.1
mg
Did You Make This Recipe?
If so, please share a picture with me on Instagram! Tag @delightfuladventures and hashtag #delightfuladventures. I can't wait to see!