I have a slight big weakness for chips. Potato chips. And ya, I know, potato chips are not the healthiest snack out there, but I can't help it, I can never eat just one. I've been trying to cut back on my chip intake and one thing I like to have as a substitute are these easy kale chips.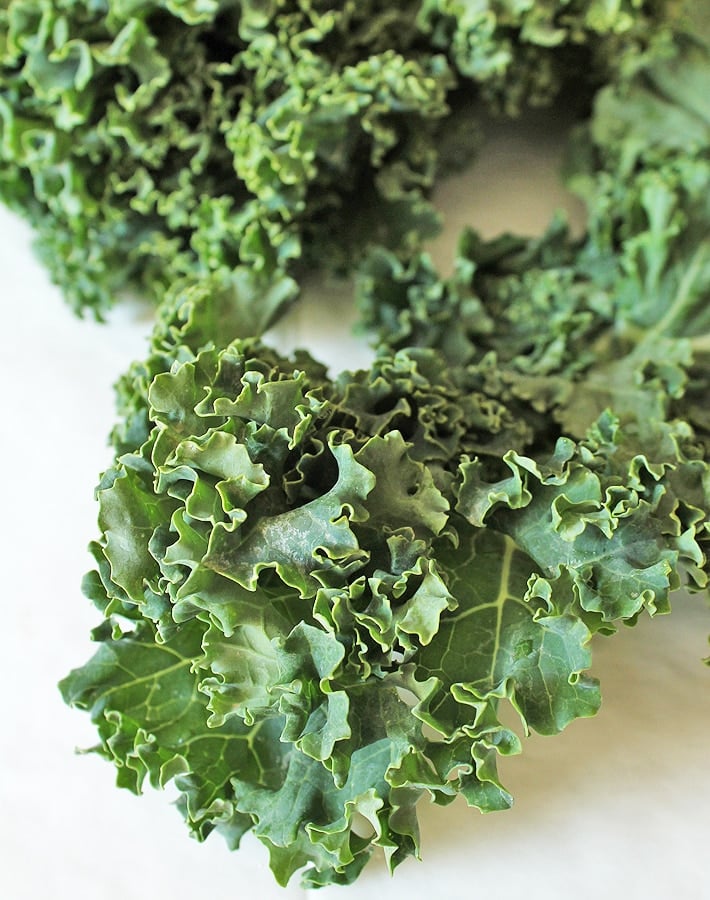 Straight up, let's get one thing out of the way: kale chips are not potato chips and they will never be. It's like comparing apples and oranges. They are both great in their own different ways and are similar in some, but they are two different things. The main reason why I like reaching for kale chips instead of potato chips is because they have that same similar crunchy texture and salty taste. Like potato chips. Yum.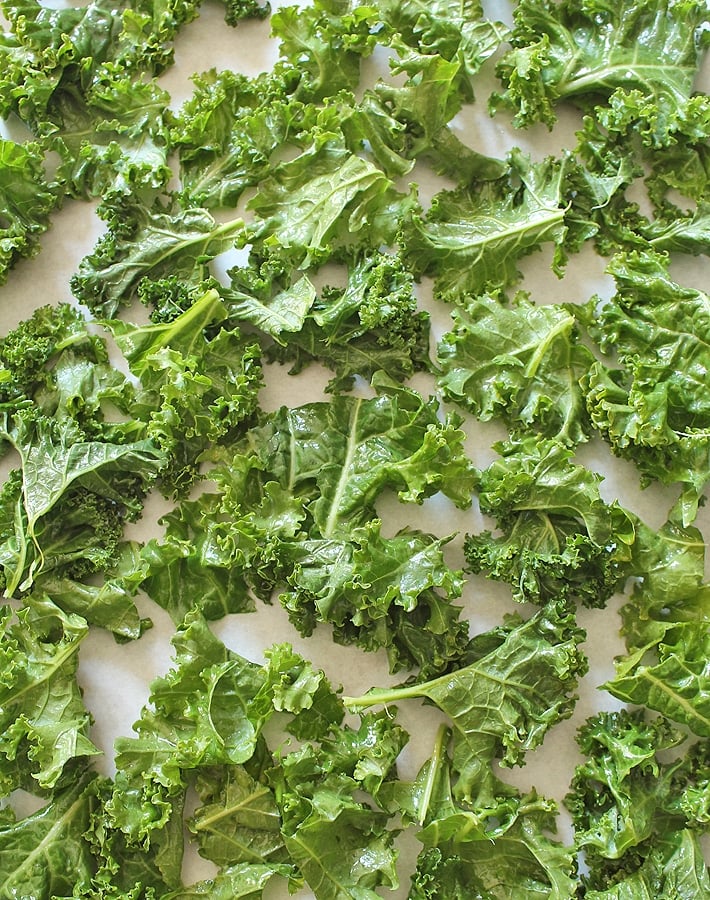 The other (obvious) reason why I love these easy kale chips is because they are healthier. You know by now that kale is packed with vitamins, fibre, and minerals for days…BUT, you have to prepare them the right way to retain a lot of the good stuff. Most kale chip recipes call for the oven temperature to be set really high and the bake time to be really short. Nope. To keep all the goodness in, you have to cook them low and slow.
So instead of baking them at a super high temperature, you go for a lower temperature and cook them longer. The downside to this is that you will have to wait longer to enjoy your kale chips. But it's worth it.
Prepare your kale, thrown it in the oven and go about doing other things. Like reminiscing about your 80's childhood with this post all about your favourite retro TVOntario shows. Or since you are making a healthy snack, you can look around for some more healthy fare to enjoy. Like a Berry Beet Ginger Smoothie. Or, you can follow my Healthy Snacks Pinterest board. However you spend your time, at the end, you will have a delicious batch of crispy kale chips waiting for you.
Each time I make these, they don't last long at all, they are gone within the same day. I don't ever remember having to store them. Everyone loves kale chips in my home, even the kids.
So the next time you're tempted to grab a bag of chips at the store, grab a big bunch of kale instead and make these super easy kale chips. Your body (and your family!) will thank you.
How to Make Easy Kale Chips
Easy Kale Chips
Searching for a recipe for easy kale chips? Search no more, this is it! Plus, learn the trick to retaining the nutrition in your baked kale chips.
Cuisine:
Gluten-Free, Vegan
Ingredients
1

large bunch of kale

1

tbsp

extra virgin olive oil

1/4

tsp

sea salt
Instructions
Preheat oven to 250ºF.

Line two baking sheets with parchment paper.


Break the kale up into bite size pieces. Discard the stems and ribs.

Place kale in a colander and wash well. Shake out all excess water.

Place kale into a large bowl and add olive oil and salt. Using your hands, massage the oil and salt onto the kale pieces.

Divide the kale evenly onto the two baking sheets and bake for 45 minutes or until the kale becomes crispy.