Bake up a batch of these fluffy, perfectly spiced Vegan Hot Cross Buns to make your Easter celebration complete! They're so good, you'll want to make them year-round!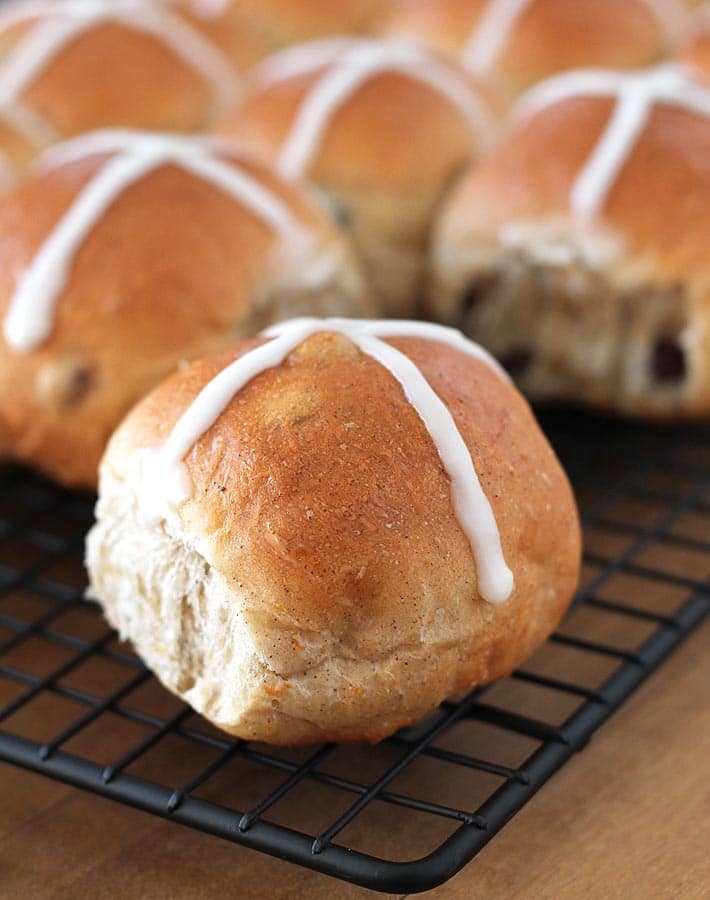 Have you ever eaten something for the first time and it's so good you want to buy more, or make more and just have it all the time?
I'm pretty sure the answer to that question is yes. Right? We've all been there. I've been there many times.
Years ago, I bought a package of hot cross buns from the grocery store. Yes, store bought hot cross buns. I KNOW.
Store bakery hot cross buns are not known for being the best tasting things, but these were different. They weren't made at the store, they were brought in from a very high quality outside bakery.
So they had to be better, right? They so were. They were perfect.
The Perfect Hot Cross Buns
They were so fresh and soft and had big flavour bursting through every bite. I think the package came with six buns and we finished them up really quickly.
I went back a few days later and bought another package. Shh, don't judge.
We made our way through those as well but I didn't go back right away to get more. Instead, I waited until it was grocery day. Grocery day came along and as I stepped through the store doors, the first place I headed to was the bakery section.
I went over to the area where the buns were found, but no hot cross buns in sight. Maybe they had moved them?
I searched, but couldn't find them anywhere. I went over to the bakery counter and asked when they would be getting more. The woman I spoke with said they weren't getting any more shipped in, that was it.
Sadness. No more of those heavenly hot cross buns.
I checked back the year after in the weeks leading up to Easter and the year after that and they were never to be found again. I've never had them since.
I did cut out the ingredient list from one of the packages I bought and have held on to it all these years. Since Easter is almost here, those hot cross buns came to mind again.
It was time to dig out that ingredient list I've kept for so many years ago and make my own vegan hot cross buns.
Of course, an ingredient list does not list measurements, so I had to figure those things out for myself.
Those original buns were also not vegan, so that was another thing to figure out.
You will find that my recipe is not for "traditional" hot cross buns. They're not loaded with mixed fruit peel and they do not have the flour paste crosses on top.
These are my take on those buns I enjoyed so many years ago.
Overall, I think my results are pretty amazing. I didn't grow up having hot cross buns at Easter, so it's not a tradition for me but I think after making these buns, I need to make it a tradition! They're that good.
But don't only make vegan hot cross buns at Easter. They can be made year-round to enjoy at breakfast, brunch, or just to have around to enjoy as a snack or with tea, coffee, or a vegan hot chocolate.
These vegan hot cross buns are fluffy, they're bursting with raisins and currants, and they're just so, so good.
They also have that classic hit of citrus flavour from the orange and lemon zest and the cinnamon and nutmeg complete them and make all the flavours balance perfectly.
They're also not too sweet but the icing crosses on top gives them a nice little burst of sweetness. It's totally not needed though, so if you want to leave the crosses off, go ahead!
I have made them with and without the icing crosses and they're perfect either way.
If you leave the crosses off, you can just call them Easter sweet rolls! And when you make them any other time of the year, let's call them sweet rolls!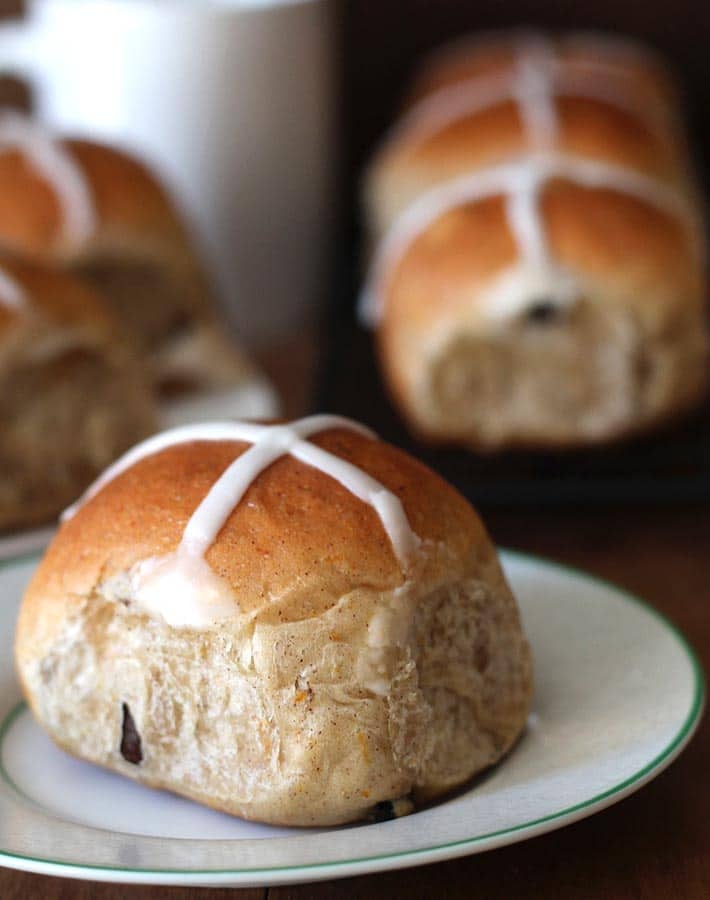 And hey, if you aren't vegan and you've made it this far down, don't dismiss this recipe!
Just because it doesn't contain eggs, milk, and butter like a traditional hot cross buns recipe would, doesn't mean a thing.
You won't miss those ingredients at all and I'm pretty sure those you share these with won't know the difference!
If you like this vegan hot cross buns recipe, you'll also like these recipes no one would ever guess are vegan, too!
And if you make them, please share a pic with me over on Instagram. I'd love to see your remake! I'm @delightfuladventures over there and my hashtag is #delightfuladventures!
How to Make Vegan Hot Cross Buns
Vegan Hot Cross Buns
Bake up a batch of these fluffy, perfectly spiced Vegan Hot Cross Buns to make your Easter celebration complete! So good, you'll want to make them all year!
Ingredients:
Dough
2 ¼

teaspoons

yeast

1

teaspoon

sugar

½

cup

(125ml)

lukewarm water

¾

cup

(189ml)

room temperature/lukewarm unsweetened dairy-free milk

⅓

cup

(83ml)

oil

¾

teaspoon

salt

1 ½

teaspoons

ground cinnamon

½

teaspoon

ground nutmeg

¼

cup

(50g)

sugar

1

tablespoon

orange zest

1

tablespoon

lemon zest

3 ½ - 4

cups

(438g - 500g)

all-purpose flour

½

cup

(65g)

raisins

¼

cup

(35g)

dried currants

(see note below)
Instructions:
In your stand mixer bowl, add the yeast, 1 teaspoon of sugar, and lukewarm water. Let stand for a few minutes.

When the yeast has foamed up, add the room temperature/lukewarm milk, oil, salt, ground cinnamon, ground nutmeg, sugar, orange zest, lemon zest, and 1 cup of flour. Mix with a spoon to combine.

Put stand mixer bowl in place, add 2 more cups of flour and using the dough hook, set the mixer to knead.

If the dough is sticky, add flour ½ cup at a time.

Let mixer knead dough for about 4 minutes and until it is no longer sticky. In the last minute of mixing, add the raisins and currants to incorporate them.


Lightly oil the inside of a medium-sized bowl.


Remove dough from mixer bowl and place into the oiled bowl. Cover the bowl with a towel and let it sit in a warm spot until it has doubled in size, about 1 hour.

Line a 9" x 13" pan with parchment paper. Allow an overhang on each side so they can be easily removed from the pan when done.

After the hour has passed, punch the dough down and knead for a few seconds to get rid of any air pockets.


Separate the dough into 12 equal sized pieces.


Roll each piece into a ball and place each one into the parchment lined pan. It's OK if they are close together.

Cover with a towel and place in a warm spot. Let rise for 30 minutes. Preheat oven to 375°F (190°C.)
Make the vegan "egg" wash...
Mix the unsweetened non-dairy milk and the maple syrup together.


After the rolls have rested, using a pastry brush, brush the vegan egg wash over each bun.


Bake for about 20 minutes or until they are golden brown.

Remove from oven and let sit for a few minutes in pan.

Remove buns using parchment paper overhang as handles and place onto a cooling rack. The buns will have joined together while rising/baking. Do not separate them yet.

While cooling, make the icing...
Add the powdered sugar, vanilla, and unsweetened non-dairy milk to a small bowl. Mix well until it has all combined to form a thick icing. Place into a piping bag with a very small tip or a small ziplock bag. If using a ziplock bag, snip off one of the bottom corners.


Once the buns have cooled, pipe the icing onto the buns to make the crosses. (3 horizontal lines and 4 vertical lines)

Recipe Notes:
I use my stand mixer to knead the dough, if you don't have a stand mixer, you can still make this, just knead by hand.
If you don't have currants, replace them with more raisins or if you don't want to add more raisins, omit the currants.
Wait until the buns have fully cooled to add the icing crosses on top or the icing will melt.
Store leftovers in an airtight container for a few days. If you know you will not be able to use up all of them within a few days, only put the icing crosses on the ones you know will be eaten quickly. If you add the icing too far in advance and then store, the icing will melt and soak into the buns.
Buns will stay fresh for up to 3 days.
TO MAKE FLOUR CROSSES - The crosses on hot cross buns are traditionally made with a flour and water mixture and the buns are also brushed with an apricot glaze after they have baked. If you would rather do this instead of using icing, skip the vegan egg wash and the icing steps. Whisk together ½ cup of flour and 5 tablespoons of water until a paste forms. Add the paste to a piping bag and pipe the crosses onto the buns just before baking. After they have baked and are still warm, mix 1 tablespoon of apricot jam with 2 teaspoons of water and warm for 30 seconds in the microwave. Brush onto each bun and allow to cool before serving.
TO MAKE THE NIGHT BEFORE AND BAKE IN THE MORNING: Follow all the steps up to #11. When you get there, cover the rolls tightly with plastic wrap and refrigerate overnight. When ready to bake, remove from the refrigerator and let sit at room temperature for 1 hour before baking. After the 1 hour has passed, continue at step #1 in the "Make the vegan "egg" wash…" section. And to clarify, you're not going to let them rise for the 30 minutes before you put them in the fridge, you'll just form them into the rolls, cover, and put them in the fridge.
If you need your buns to be gluten-free, check out my vegan gluten-free hot cross buns recipe.
Nutrition info includes icing and is only to be used as a rough guide. Click here to learn how nutrition info is calculated on this website.
Nutrition Info:
Calories:
250
kcal
|
Carbohydrates:
43
g
|
Protein:
4
g
|
Fat:
7
g
|
Sodium:
105
mg
|
Potassium:
77
mg
|
Fiber:
2
g
|
Sugar:
15
g
|
Vitamin A:
50
IU
|
Vitamin C:
2.5
mg
|
Calcium:
30
mg
|
Iron:
0.2
mg
Did You Make This Recipe?
If so, please share a picture with me on Instagram! Tag @delightfuladventures and hashtag #delightfuladventures. I can't wait to see!