Chewy, perfectly spiced, and covered with sparkly sugar, these vegan gluten free gingerbread cookies will make a welcome addition to your Christmas baking list and become a new favourite!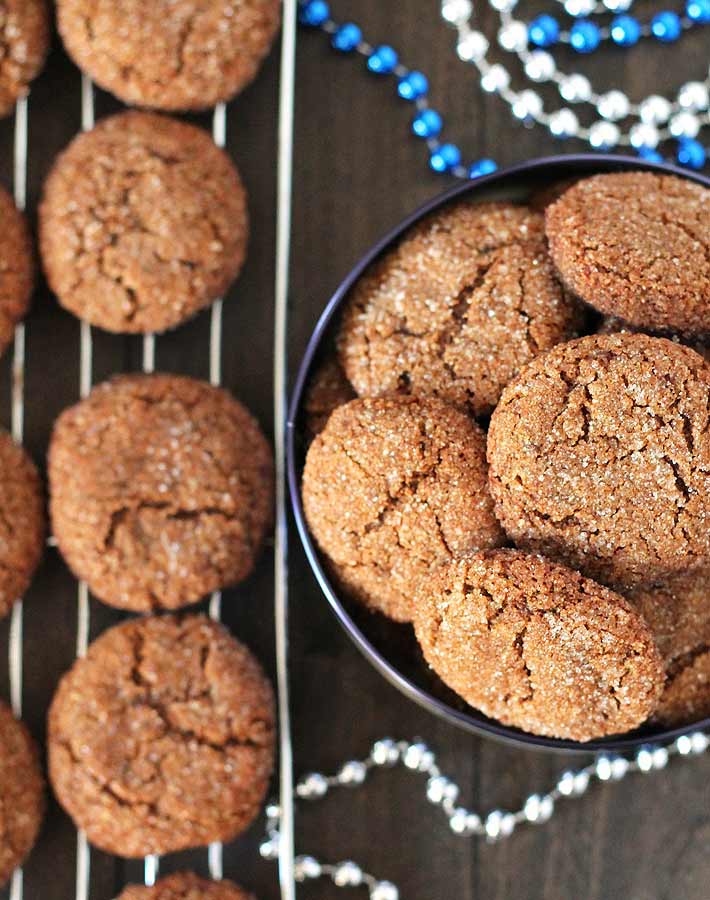 When the holiday season rolls around, it's all about baking in my kitchen, and I'm sure your kitchen is the same!
As I write this, two days before Christmas, I have a large container full of chocolate chip shortbread, another filled with cranberry, chocolate chip cookies, a tin of vegan coconut fudge, and these delicious, chewy vegan gluten free gingerbread cookies.
Of all the Christmas cookies I make, these are one of my favourites. I came up with this recipe a few years ago when I was experimenting with some of my regular recipes to veganize and de-glutenize (those are words, right?) them.
It took a few tries to get this one just right, but the final recipe is perfect. Now, each year, they make a regular appearance on my "holiday stuff to bake" list.
I make them to give as food gifts and I also make a batch (or two!) for us at home. It just isn't the holidays without them.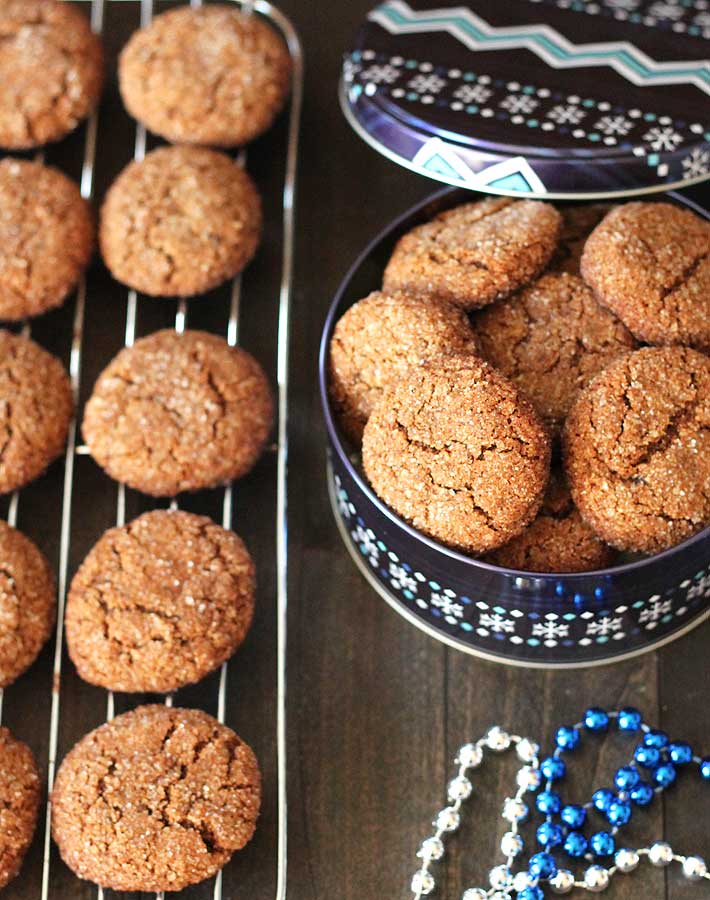 So what makes them so special?
They're soft, chewy, sweet, and they have that special holiday molasses gingerbready (I'm making up a lot of words today, aren't I?) spiciness. PLUS, they have an extra hit of ginger flavour, thanks to the addition of the freshly grated ginger.
Once you make these vegan gluten free gingerbread cookies, they'll surely become a favourite. And if you have friends on your list who are vegan and/or gluten-free, I guarantee they will love you for making these special cookies for them.
Even if they aren't vegan or gluten-free, still make these for them, they'll never know!
If you want to make these cookies a little more special, you can fold in ¾ cup of dark chocolate chips after the wet and dry mixtures have been combined.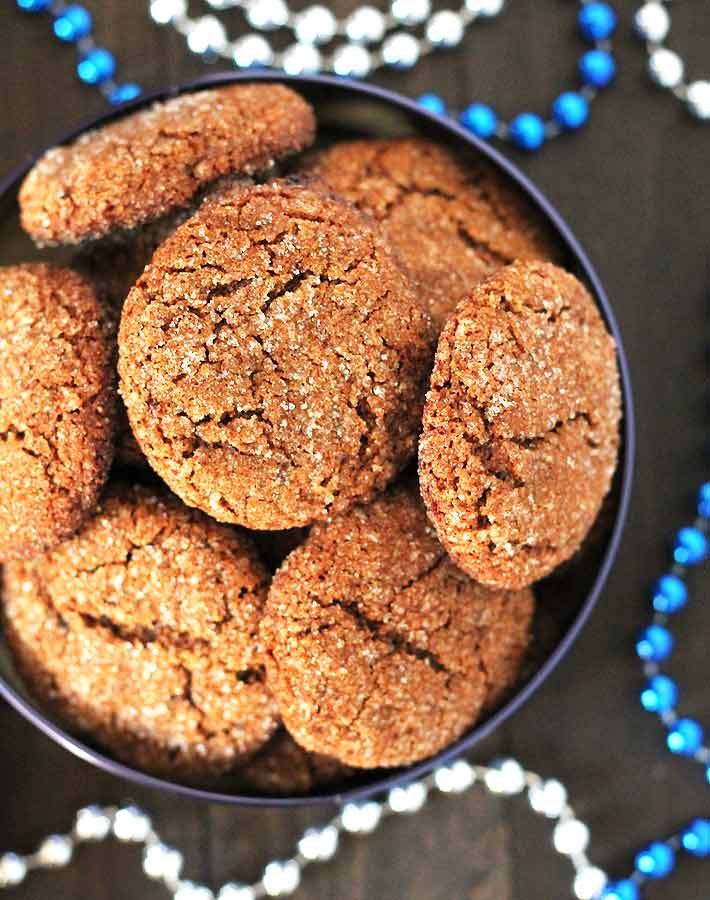 Have a cozy, Christmasy night in and enjoy them with a homemade gingerbread latte or a decadent vegan hot chocolate while watching a Christmas movie on the couch by the Christmas tree lights. That is my kind of December evening 🙂
If you love gingerbread, be sure to check out these other delicious gingerbread recipes:
And if you're looking for cut-out gingerbread cookies, I've got a recipe for those, too!

How to Make Chewy Vegan Gluten Free Gingerbread Cookies
Print Recipe
Chewy Vegan Gluten Free Gingerbread Cookies
Chewy, perfectly spiced, vegan gluten free gingerbread cookies that will make a nice addition to your Christmas baking list and become a new favourite!
Instructions:
Whisk the tablespoon of ground flax seeds with three tablespoons of water. Let the mixture sit until it thickens.

In a medium bowl, add the almond flour, gluten-free flour blend, cinnamon, ground ginger, nutmeg, cloves, baking soda, and salt. Whisk to combine.

In a large bowl, add the coconut oil, coconut sugar, flax mixture, molasses, vanilla, and grated ginger. Mix well to combine.

Add the dry mixture to the wet mixture a little at a time and mix well until they are both incorporated into each other.

Refrigerate the dough in the mixing bowl for 30 minutes.

Line cookie sheet(s) with parchment paper.

Using a spoon (I use a little less than a tablespoon per ball), scoop up a small amount of the dough and roll it into a ball.

Roll each ball in the granulated sugar and place on cookie sheet.

Refrigerate the balls on the cookie sheet(s) for 20 minutes. (This step is important to ensure you get the crackly tops!)

Preheat oven to 350°F

Remove from fridge and bake for 10 minutes.

Let cookies cool on the tray for a few minutes before transferring to a cooling rack. They will appear very soft when taken out, that's OK, when they cool they will firm up.
Recipe Notes:
Your coconut oil must be soft, not liquid. If it is liquid, put it in the fridge for a short while until it firms up.
To make these cookies a little more special, you can add in ¾ cup of dark chocolate chips after the wet and dry mixtures have been combined together.
It's important to know that different gluten-free flour blends use different ingredients and ratios, so results will always vary if you substitute. I have never used any other brand of flour to make this recipe (other than Bob's Red Mill in the red bag NOT the blue bag), so please know that your results may not be the same as mine if ingredients are substituted.
This recipe will NOT work with coconut flour.
This recipe makes 30-36 cookies, it all depends on how big or small you make them.
Nutrition info listed below is for 1 cookie (without optional chocolate chips) and is only to be used as a rough guide. Click here for more info on how nutrition info on this website is determined.
Nutrition Info:
Serving:
1
cookie
|
Calories:
108
kcal
|
Carbohydrates:
9
g
|
Protein:
2
g
|
Fat:
11
g
|
Saturated Fat:
7
g
|
Sodium:
61
mg
|
Potassium:
36
mg
|
Fiber:
1
g
|
Sugar:
6
g
|
Calcium:
20
mg
|
Iron:
0.5
mg
Did You Make This Recipe?
If so, please share a picture with me on Instagram! Tag @delightfuladventures and hashtag #delightfuladventures. I can't wait to see!