We all have that one recipe...or two. You know. The recipe we make only once a year or only upon special request. The reason? It's so unhealthy and contains absolutely no nutritional value that we cannot even fathom making it more often than we do. This vegan coconut fudge recipe is *that* recipe for me.
This fudge and I have a long history. I found the original non-vegan and non-gluten-free recipe in a magazine a verrrrry long time ago:
I made it and it was amazing. My family loved it, my friends loved it, my friends' parents loved it. It was a hit and became a keeper recipe that I made every holiday season. Since everyone loved it so much, it became one of my favourite things to give at Christmas.
I love making and giving food gifts during the holidays, and this fudge quickly became a regular on the "food-gifts-to-give" list each holiday.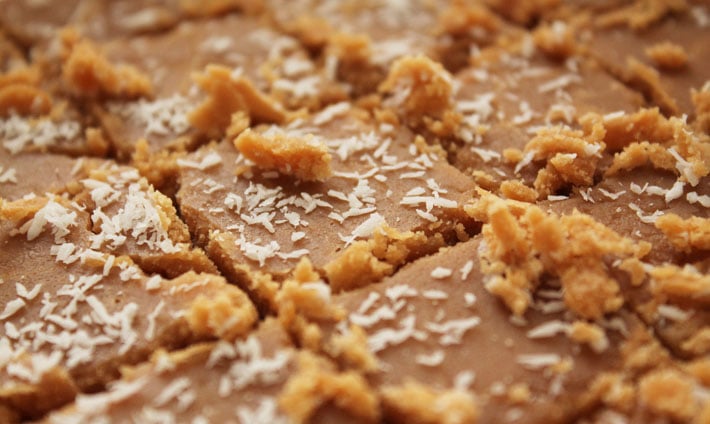 The original recipe calls for milk, heavy cream, butter, and flour. But, not this re-vamped vegan coconut fudge recipe. I took the time a couple years ago to experiment and make it vegan and gluten-free. So while it's still not healthy for you (the sugar, oh, the sugar...) it's a *tiny* bit better for you than the original. What better time of year to treat yo'self than during the holidays? If there is ever a right time, it's now.
The original recipe also makes the kind of fudge you are probably used to. Smooth, sticky, not grainy at all. I added a step to this vegan coconut fudge that makes it crumbly, and melt in your mouth...fudge the way I like it. If this is the type of fudge you like too, then you have got to give this recipe a try!
As I mentioned above, I love making this fudge to give as gifts during holiday time. Here are some other good ideas for holiday food gifts:

This page may contain affiliate links. As an Amazon Associate I earn from qualifying purchases.
How to Make Crumbly Vegan Coconut Fudge
Print Recipe
Crumbly Vegan Coconut Fudge
This vegan coconut fudge is not your typical fudge! It's crumbly, decadent, and melts in your mouth. It's a great food gift to give during the holidays.
Instructions:
Line an 8x8 inch baking pan or dish with parchment paper.

In a large pot, add the brown sugar, white sugar, lite coconut milk, and the full fat coconut milk. Stir until blended.

Clip a candy thermometer to your pot and over medium-high heat, stir just until the sugar dissolves. Bring to the point of boiling. Mixture will look foamy as it boils. It's not necessary to stir constantly, but stir every now and then.

Boil uncovered until the mixture reaches 240F (115C) on the candy thermometer. This takes about 15 minutes but timing may vary slightly. If you do not have a candy thermometer, boil until it reaches the "soft ball" stage (see info below).

Once the proper temperature has been reached, remove from the heat and start stirring with a wooden spoon. After about 30 seconds of mixing, add in the coconut oil, the vanilla and the salt and continue stirring. The mixture will start to lose its shininess and start to appear more gritty.

When the mixture starts to thicken, quickly pour it into your parchment-lined dish and smoothen with the wooden spoon. (**you will need to move really quickly or the mixture will set and you will not be able to pour it into the dish**).

Sprinkle shredded coconut on top and let sit until it stiffens up a little more.

Cut the fudge into squares. This must be done while the fudge is still warm. If you wait until it has fully cooled, you will not be able to cut properly because it will be totally solid.

Once cooled down, store in an airtight container.
Recipe Notes:
It's so important to move quickly after the mixture has started to stiffen up. There is a very small window between when it is pourable to when it totally seizes up in the pot. Keep this in mind as you are stirring.
If you do not have a candy thermometer, watch this short video on how to know when you have reached the soft ball stage.
I usually cut the fudge into 36 pieces, but you can make your squares larger or smaller, depending on your preference.
Calorie count is for 1 of 36 pieces.
Nutrition Info:
Did You Make This Recipe?
If so, please share a picture with me on Instagram! Tag @delightfuladventures and hashtag #delightfuladventures. I can't wait to see!