We all have that one recipe…or two. You know. The recipe we make only once a year or only upon special request. The reason? It's so unhealthy and contains absolutely no nutritional value that we cannot even fathom making it more often than we do. This vegan coconut fudge recipe is *that* recipe for me.
This fudge and I have a long history. I found the original non-vegan and non-gluten-free recipe in a magazine a verrrrry long time ago:
I made it and it was amazing. My family loved it, my friends loved it, my friends' parents loved it. It was a hit and became a keeper recipe that I made every holiday season. Since everyone loved it so much, it became one of my favourite things to give at Christmas.
I love making and giving food gifts during the holidays, and this fudge quickly became a regular on the "food-gifts-to-give" list each holiday.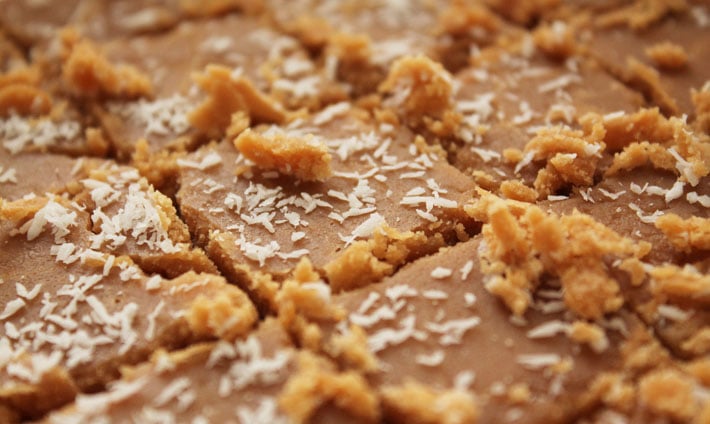 The original recipe calls for milk, heavy cream, butter, and flour. But, not this re-vamped vegan coconut fudge recipe. I took the time a couple years ago to experiment and make it vegan and gluten-free. So while it's still not healthy for you (the sugar, oh, the sugar…) it's a *tiny* bit better for you than the original. What better time of year to treat yo'self than during the holidays? If there is ever a right time, it's now.
The original recipe also makes the kind of fudge you are probably used to. Smooth, sticky, not grainy at all. I added a step to this vegan coconut fudge that makes it crumbly, and melt in your mouth…fudge the way I like it. If this is the type of fudge you like too, then you have got to give this recipe a try!
As I mentioned above, I love making this fudge to give as gifts during holiday time. Here are some other good ideas for holiday food gifts:
This page may contain affiliate links. Click to learn more.
How to Make Crumbly Vegan Coconut Fudge