A cheesy vegan almond cheese makes up the base for this savoury, delicious vegetable vegan almond cheese ball that's great for snacking on or for serving at parties or during the holidays.
Back when I made my garlic herb vegan almond cheese spread, I thought that it would also be great as a vegan cheese ball but didn't really have any plans to actually make one.
But lately, I've been seeing so many of them in my feeds ('tis the season!), that I decided to revisit that recipe and adapt it to make a cheese ball. So here, we have my Vegan Almond Cheese Ball.
Most of the recipe you'll find are usually made with cashews, but because I cannot have cashews, I went with the next best thing...almonds!
Almonds don't get creamy smooth, like cashews, after you blend them, but that's perfectly fine because the texture works well with the chopped veggies.
So keep in mind that this vegan cheese ball is not going to be as smooth as a cashew-based cheese ball or a dairy cheese ball.
When I still ate cream cheese, my favourite kind was a specific veggie cream cheese from a small neighbourhood bagel shop.
They would make it on site and sell it in little containers so you could buy it to go with your fresh bagels. This one in particular had little pieces of different veggies in it and such a great flavour.
It has been many years since I had that veggie cream cheese, and I don't quite remember what the ingredients were, but I do remember how it looked, so I took a guess, based on memory, and went with that for my version.
The flavour is similar, but obviously, it doesn't taste like dairy cream cheese, what this vegan veggie cheese ball does taste like is a cheesy, savoury, nutty spread. Yum.
It's a very similar recipe to my garlic herb almond cheese spread, except this recipe has a few more ingredients.
In addition to the vegetables you see above, another key ingredient is a few tablespoons of refined coconut oil to firm it up and keep it in a ball shape. But not to worry, refined coconut oil is being used, so there is no coconut flavour, at all.
Can This Recipe Be Made Without Oil?
If you prefer to keep the recipe oil-free, you'll still be able to form it into a ball but it won't keep its shape and it won't be as firm. It will be more of a loose spread, which is perfectly fine and just as delicious!
What is the Best Coating to Use?
When it comes to the herb coating, parsley is a go-to herb for me in recipes, so that is what I chose to cover the ball.
If you prefer to use another herb like dill or chives, (both of which are perfect!), feel free to do so.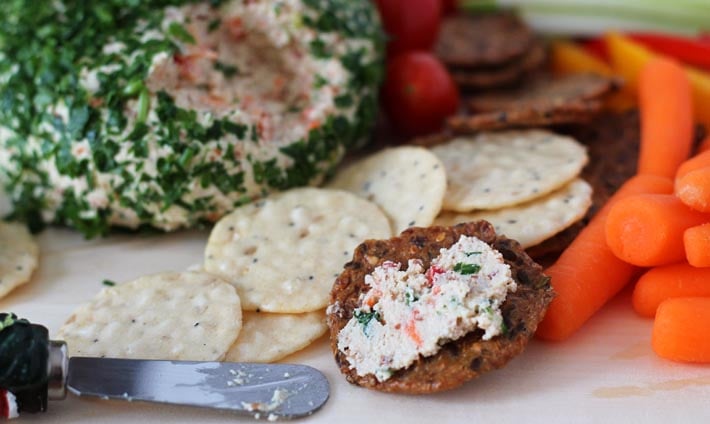 How Should It be Served?
Serve it cold and with anything you would serve with a regular cheese ball! Some ideas:
Crackers
Veggies
Small pieces of crusty bread
Pita triangles
Pretzels
Those are just a few ideas, it's totally up to you based on your preferences.
Those Crackers...
After I posted my almond cheese spread recipe, I received a lot of messages from readers, here and on Facebook, asking where they could buy the crackers in my pictures (the same crackers in the picture above this paragraph).
They are made by a brand called "Mary's Gone Crackers." They're a little on the pricey side for crackers, but they're worth it because they taste great and they're vegan and gluten free.
I have bought them from Costco, here in Canada, (I'm not sure if they're available in US Costco's) or you can also look for them at your grocery or natural foods store. You can also find them on Amazon.
And if you're wondering about the other crackers further up, those are rice crackers, and they're also vegan and gluten free 🙂
If you like this dairy-free cheese ball recipe, you may also like these:
How to Make a Vegan Cheese Ball
Print Recipe
Vegan Cheese Ball
A cheesy vegan almond cheese makes up the base for this savoury, delicious vegan vegetable almond cheese ball. it's great for snacking and for serving at get-togethers and parties.

Ingredients:
1

cup

soaked raw almonds

(almond should have been soaked for 24 hours)

½

cup

water

2

tablespoons

lemon juice

3

tablespoons

nutritional yeast

3

tablespoons

coconut oil, melted

(refined works best in this recipe, see note below)

½

teaspoon

garlic powder

½

teaspoon

onion powder

¾

teaspoon

salt

¼

cup

finely chopped green or red onion

¼

cup

finely chopped red pepper

¼

cup

finely shredded carrots

¼

cup

finely chopped parsley

(see note below)
Instructions:
Place the soaked almonds, water, lemon juice, nutritional yeast, melted coconut oil, garlic powder, onion powder, and salt into a high speed blender. Blend until smooth.

Empty mixture into a bowl and add chopped onions, red pepper, and carrots. Mix until everything has combined.

Transfer mixture to plastic wrap, wrap and form into a ball. Place ball into a round bottomed bowl (so it keeps its shape) and refrigerate for 4 hours so the flavour can develop and the ball can firm up.


After the chilling time has passed, remove from plastic wrap and place onto a plate. Sprinkle the finely chopped parley onto the ball and gently press the parsley onto the ball until the entire surface is coated.


Store unused ball in the refrigerator in an airtight container for 4-5 days.
Recipe Notes:
Be sure that you're using a high-speed blender for this recipe. A regular blender will not work. (I use my Vitamix and have also used my Nutri Bullet)
Use only whole, raw almonds for this recipe, NOT slivered almonds or roasted almonds.
Use your favourite herb to coat the ball and be sure to chop it up really well. My favourite is parsley, but finely chopped dill or chives will also work well.
Only use raw, natural, unsalted almonds for this recipe. Blanched raw almonds can also be used.
Refined coconut oil works best in this recipe because to does not have a flavour. If unrefined coconut oil is used, it may give the vegan cheese ball a slight coconut flavour.
After soaking your 1 cup of almonds, they will expand a little. The soaked almonds will be 1 ½ cups.
Vegan Cheese Ball will keep in the fridge for 4-5 days.
Vegan Cheese Ball equals 1 ¾ cups.
Nutrition info is based on a ¼ cup serving of the recipe, made as it was written. Nutrition info is only to be used as a rough guide. Click to learn how nutrition info is calculated on this website.
Nutrition Info:
Serving:
0.25
cup
|
Calories:
174
kcal
|
Carbohydrates:
6
g
|
Protein:
5
g
|
Fat:
15
g
|
Saturated Fat:
6
g
|
Sodium:
173
mg
|
Potassium:
54
mg
|
Fiber:
3
g
|
Sugar:
2
g
|
Vitamin A:
1150
IU
|
Vitamin C:
16.5
mg
|
Calcium:
50
mg
|
Iron:
1.1
mg
Did You Make This Recipe?
If so, please share a picture with me on Instagram! Tag @delightfuladventures and hashtag #delightfuladventures. I can't wait to see!