Bake up a batch of these fluffy, perfectly spiced Vegan Hot Cross Buns to make your Easter celebration complete! They're so good, you'll want to make them year-round!
This page may contain affiliate links. Click to learn more.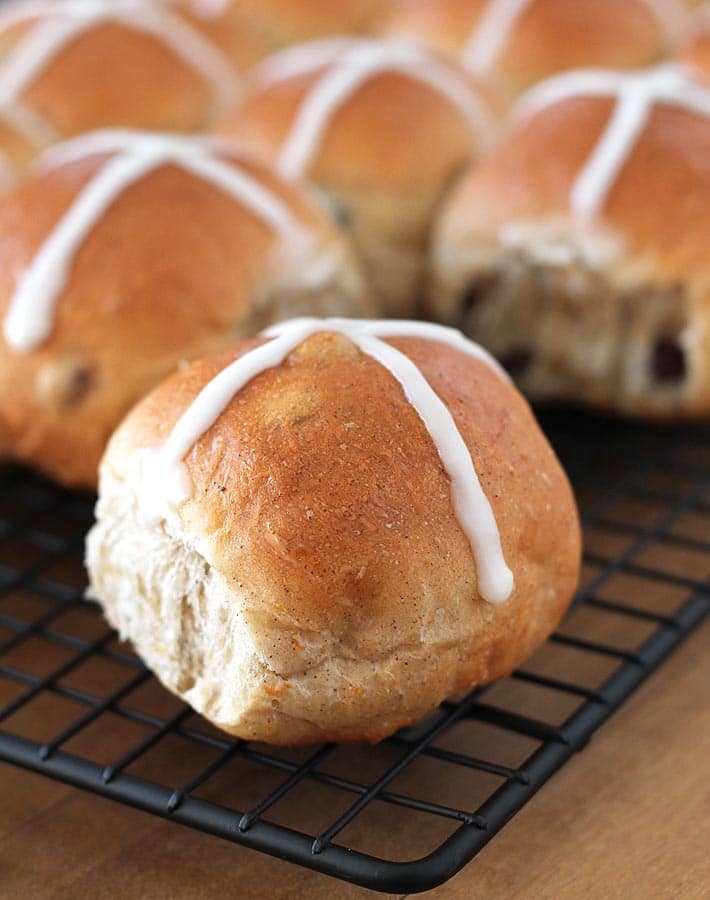 Have you ever eaten something for the first time and it's so good you want to buy more, or make more and just have it all the time?
I'm pretty sure the answer to that question is yes. Right? We've all been there. I've been there many times.
Years ago, I bought a package of hot cross buns from the grocery store. Yes, store bought hot cross buns. I KNOW.
Store bakery hot cross buns are not known for being the best tasting things, but these were different. They weren't made at the store, they were brought in from a very high quality outside bakery.
So they had to be better, right? They so were. They were perfect.
The Perfect Hot Cross Buns
They were so fresh and soft and had big flavour bursting through every bite. I think the package came with six buns and we finished them up really quickly.
I went back a few days later and bought another package. Shh, don't judge.
We made our way through those as well but I didn't go back right away to get more. Instead, I waited until it was grocery day. Grocery day came along and as I stepped through the store doors, the first place I headed to was the bakery section.
I went over to the area where the buns were found, but no hot cross buns in sight. Maybe they had moved them?
I searched, but couldn't find them anywhere. I went over to the bakery counter and asked when they would be getting more. The woman I spoke with said they weren't getting any more shipped in, that was it.
Sadness. No more of those heavenly hot cross buns.
I checked back the year after in the weeks leading up to Easter and the year after that and they were never to be found again. I've never had them since.
I did cut out the ingredient list from one of the packages I bought and have held on to it all these years. Since Easter is almost here, those hot cross buns came to mind again.
It was time to dig out that ingredient list I've kept for so many years ago and make my own vegan hot cross buns.
Of course, an ingredient list does not list measurements, so I had to figure those things out for myself.
Those original buns were also not vegan, so that was another thing to figure out.
You will find that my recipe is not for "traditional" hot cross buns. They're not loaded with mixed fruit peel and they do not have the flour paste crosses on top.
These are my take on those buns I enjoyed so many years ago.
Overall, I think my results are pretty amazing. I didn't grow up having hot cross buns at Easter, so it's not a tradition for me but I think after making these buns, I need to make it a tradition! They're that good.
But don't only make vegan hot cross buns at Easter. They can be made year-round to enjoy at breakfast, brunch, or just to have around to enjoy as a snack or with tea, coffee, or a vegan hot chocolate.
These vegan hot cross buns are fluffy, they're bursting with raisins and currants, and they're just so, so good.
They also have that classic hit of citrus flavour from the orange and lemon zest and the cinnamon and nutmeg complete them and make all the flavours balance perfectly.
They're also not too sweet but the icing crosses on top gives them a nice little burst of sweetness. It's totally not needed though, so if you want to leave the crosses off, go ahead!
I have made them with and without the icing crosses and they're perfect either way.
If you leave the crosses off, you can just call them Easter sweet rolls! And when you make them any other time of the year, let's call them sweet rolls!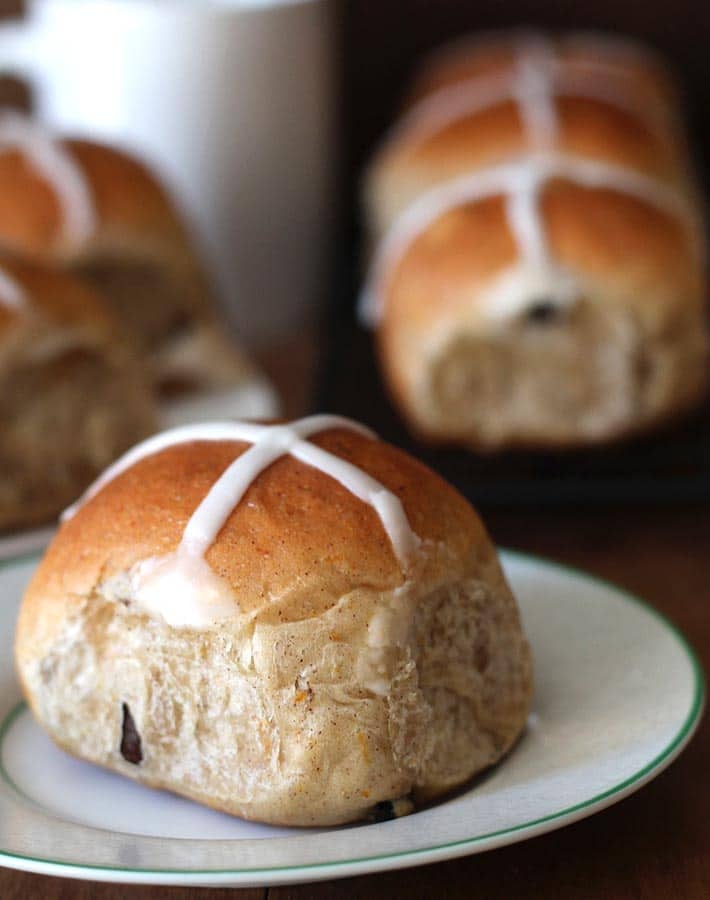 And hey, if you aren't vegan and you've made it this far down, don't dismiss this recipe!
Just because it doesn't contain eggs, milk, and butter like a traditional hot cross buns recipe would, doesn't mean a thing.
You won't miss those ingredients at all and I'm pretty sure those you share these with won't know the difference!
If you like this vegan hot cross buns recipe, you'll also like these recipes no one would ever guess are vegan, too!
And if you make them, please share a pic with me over on Instagram. I'd love to see your remake! I'm @delightfuladventures over there and my hashtag is #delightfuladventures!
How to Make Vegan Hot Cross Buns