Soft, melty vegan gluten-free peanut butter cookies that are loaded with chocolate chips. These easy flourless cookies require just a few simple ingredients and 20-minutes…from start to finish. You can have one of these tasty, warm, melt-in-your-mouth cookies in your belly in no time!
This page may contain affiliate links. Click to learn more.
A little while back, I shared my recipe for vegan almond butter cookies. These cookies are a variation of that recipe, which was an adaptation of my peanut butter oatmeal chocolate chip cookies.
You can't go wrong with any of my vegan gluten free cookie recipes…all of them are simple to make, they're all delicious, and they take minimal time to prepare. You can go from an immense cookie craving situation to fixing up that cookie craving in under 30-minutes…with all of those recipes!
It's up to you which cookie you choose to make, but if you love the combo of peanut butter and chocolate, I'd like to recommend these cravable and easy gluten free peanut butter cookies that I think may just become one of your new favourites!
Vegan Gluten Free Peanut Butter Cookie Ingredients
All you need is seven ingredients. Two of them (the water and ground flax seeds) will combine to make a flax egg (click here to learn how to make a flax egg).
How Do You Make Vegan Peanut Butter Cookies?
(Note: I've outlined the step-by-step here, but find the full recipe, ingredients, and directions at the end of this post.)
The first step towards making some of the best peanut butter cookies you've had in a long time is mixing all of the ingredients together.
Add all of the ingredients (except the chocolate chips) to a bowl, mix, add in the chocolate chips, and mix again until they're evenly distributed in the dough.
You'll notice from the picture below that the peanut butter needed to make these vegan gluten free peanut butter cookies is the runny kind that needs to be stirred and has just has one ingredient in the list: roasted peanuts. Make sure that the peanut butter you use has no other added ingredients like salt, sugar, or oil.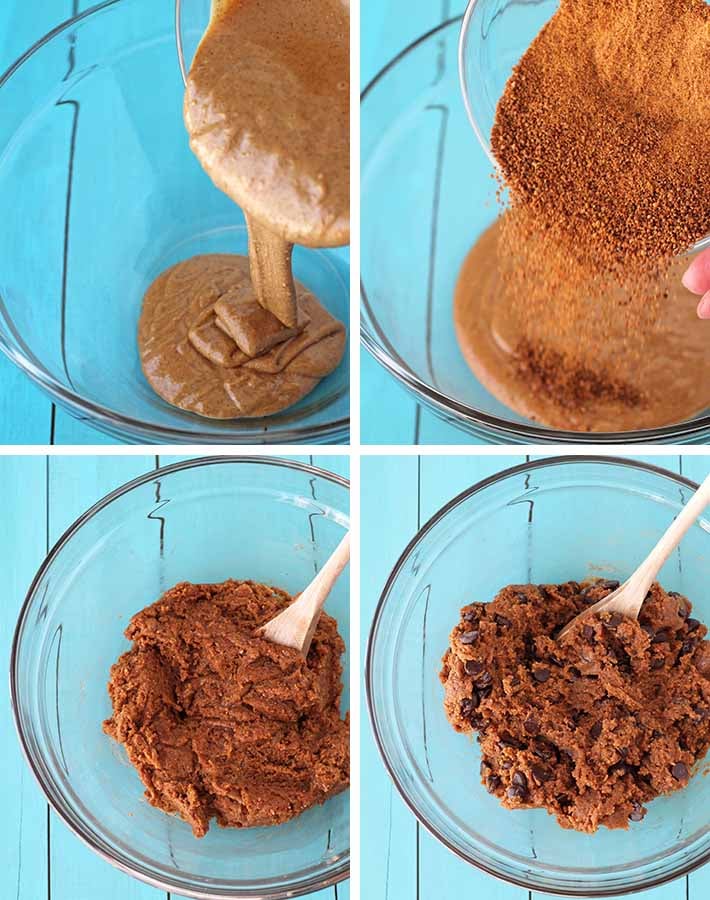 The next step is to scoop out your gluten free peanut butter cookie dough using a spoon or a medium cookie scoop (this is the one I own, love, and use A LOT!) onto your cookie sheet.
Next, flatten each cookie ball slightly. Then bake and after a few minutes, you'll have a batch of soft peanut butter cookies that will likely disappear faster than you expect!
After taking them out of the oven, you'll need to let them sit and cool for a bit before eating or they'll crumble apart, so be patient.
And if you're looking for a durable, high quality cookie sheet, I recommend the one I'm using in the picture below, you can check it out here on Amazon.
Vegan Peanut Butter Chocolate Chip Cookies…or Not
It's totally up to you whether you want make your gluten free peanut butter cookies with chocolate chips, or not. Plain peanut butter cookies are also pretty amazing, so if you want to omit the chocolate, feel free to do so. The result will be just as good, just not as chocolaty 🙂
If you're making them plain, after scooping out the vegan peanut butter cookie dough onto your cookie sheet, you can take a fork and press in the classic peanut butter cookie criss cross marks.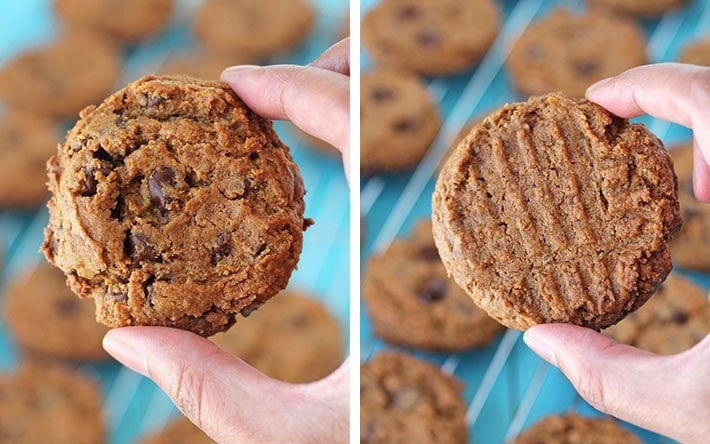 What Kind of Sugar Should Be Used?
I use coconut sugar in most of my recipes, including this one, but if you don't have coconut sugar, brown sugar can be used instead.
Which Chocolate Chips Are Vegan?
President's Choice decadent semi-sweet chocolate chips are vegan and very easy to find here in Canada. For us Canadians, there's also Enjoy Life, Made Good, or Kirkland Signature at Costco.
In the US, you can use Enjoy Life, Kirkland Signature from Costco, or check at stores that offer a good selection of vegan products like Whole Foods, or Trader Joe's.
What is the Texture Like in Flourless Peanut Butter Chocolate Chip Cookies?
Every time I make any of my flourless nut butter cookie recipes, I'm always amazed by the texture. Despite not having any flour or eggs, they hold together nicely and they look like cookies that have flour in them.
And the answer to the question: "can I make peanut butter cookies without eggs" is a definite yes! No eggs are needed for this recipe. This recipe uses a vegan flax egg, the texture is unaffected, and you won't miss a thing.
All that to say, the texture is delicate, slightly crumbly, and these cookies melt in your mouth. And because there's no flour, the peanut butter flavour is very prominent. Mixed with the chocolate, they taste like a peanut butter cup. Mmm…so good.
And as you know, I always share a peek of what the inside of my vegan gluten-free treats look like, so there's never any mystery over what to expect: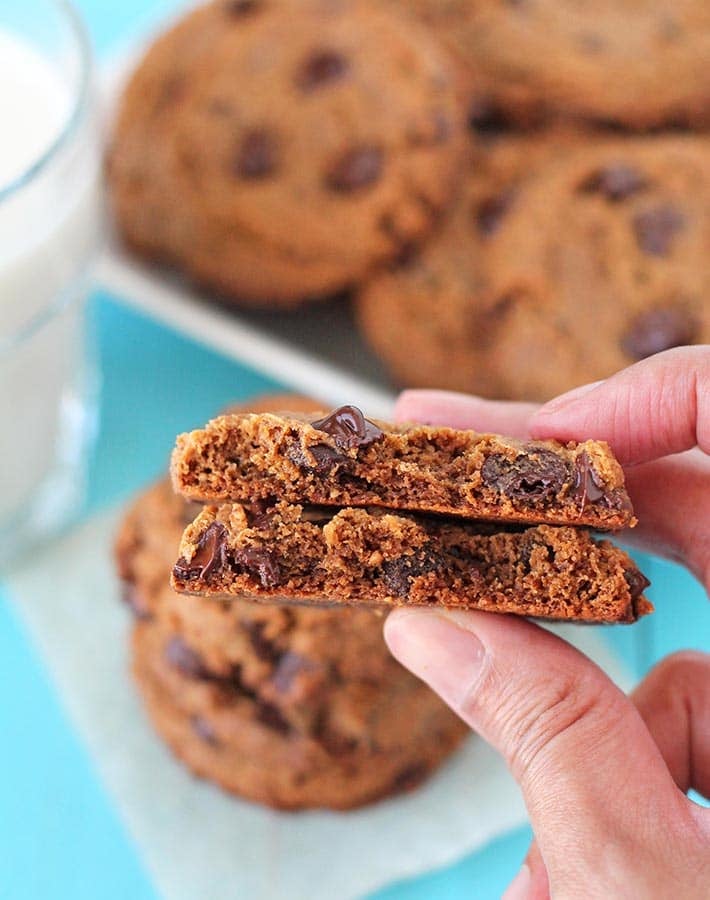 Whether you choose to use coconut sugar, brown sugar, or add chocolate chips (or not), these egg-free, dairy-free, no flour, super easy and quick vegan gluten free peanut butter chocolate chip cookies (wow, that was a mouthful!) will turn out perfectly every time (so long as you follow the recipe exactly as it's written!).
I hope they become a new fave in your home (like it is in mine!)
If You Make These Easy Vegan Gluten Free Cookies…
…please let me know by leaving a comment below or by posting a pic and tagging me on Instagram.
If you like this easy-to-make vegan gluten free peanut butter cookies recipe, you may also like these:
How to Make Vegan Gluten Free Peanut Butter Cookies