You're going to love these easy-to-make vegan gluten free banana muffins! They're soft, fluffy, and make great snacks. And the best part? You can make them plain or customize them with your favourite add-ins, read on for all the details!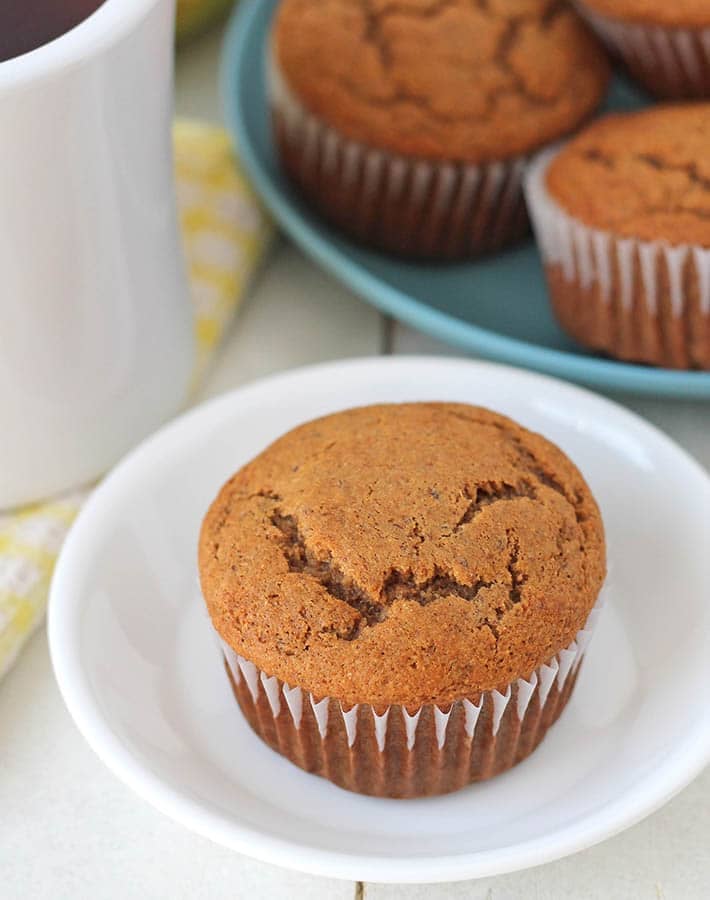 To say that I love baking banana treats is an understatement. I just checked and this is the 14th vegan gluten free banana recipe I've shared with you!
I have everything from:
And now, the latest addition is this recipe for vegan gluten free banana muffins (and they taste just like banana bread!)
How to Make Them
Like all of my recipes, this is another easy one that has just a few simple steps. Even if you think you aren't good at baking or if you're new to vegan gluten free baking, this recipe is a good one for you to try!
Are you new to vegan gluten-free baking? If so, be sure to read all of my vegan gluten-free baking tips!
To start this recipe, you'll first prepare the flax eggs, mix the dry ingredients together, mix the wet ingredients together, combine both of them, and mix!
If you're using add ins, this is the point where you'll fold them into the batter.
Next, you'll separate the batter evenly into your muffin pan. You can do this with a tablespoon or an ice cream scoop (this is the scoop I'm using in the picture below!)
The next step is to bake the muffins. Once they're finished baking, let them cool for a bit and then dive in!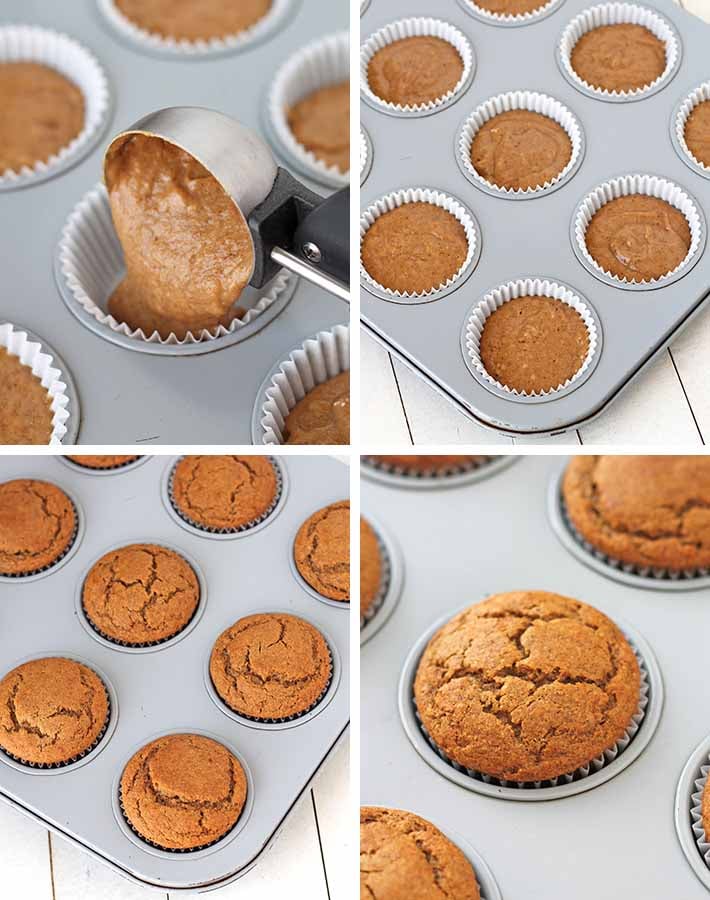 How to Customize Them
As mentioned above, these eggless, dairy-free, gluten free banana muffins can be made four different ways.
You can make them plain, or you can add:
raisins to make gluten free banana raisin muffins
walnuts to make gluten free banana nut muffins
chocolate chips to make gluten free banana chocolate chip muffins!
It's up to you, based on what you like. Not sure what you'll like? Try all of them to see which one is your favourite! Which one will you try first?!
(And if you want something a little more chocolaty, be sure to try my double chocolate banana muffins!)
Can a Different Gluten-Free Flour Be Used?
I've only tested these easy gluten free banana muffins with Bob's Red Mill Gluten-Free All-Purpose Baking Flour (the one in the red bag, not the blue bag), so if you do decide to use a substitute flour, proceed with caution because I'm not sure if the particular flour you use will work well.
And I know for a fact that coconut flour will not work in this recipe without some big modifications, so stay far away from that one!
Can a Different Sugar Be Used Instead of Coconut Sugar?
I use coconut sugar in these vegan muffins, which is my go-to in the majority of my recipes, but if you don't have it, you can swap it out for brown sugar.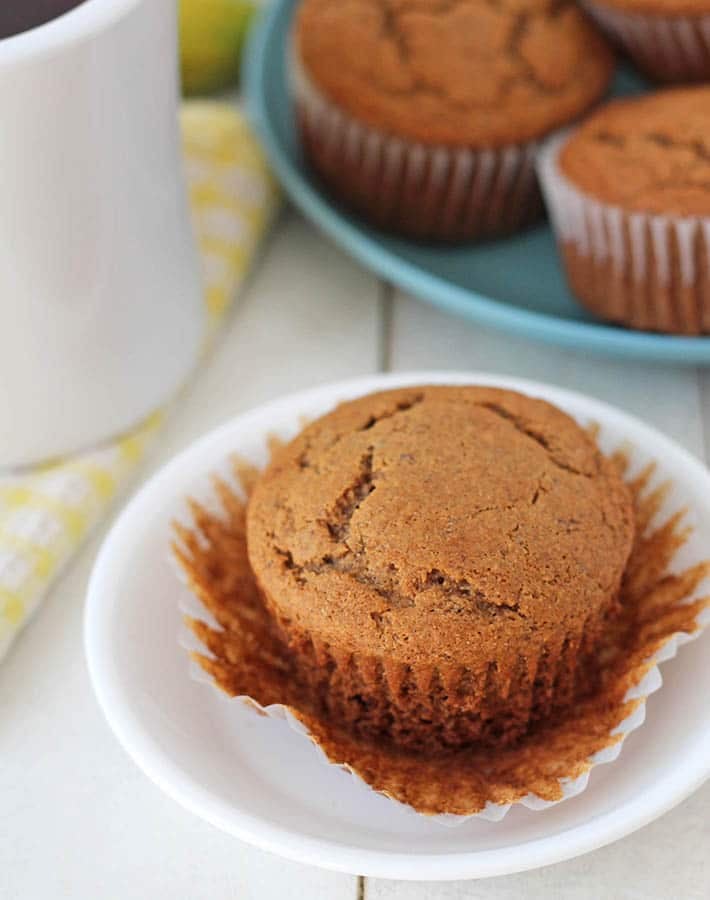 Can a Different Oil Be Used?
Feel free to substitute the coconut oil for a different one, just be sure that what you use does not have a strong flavour.
Can They Be Made Oil-Free?
If you're oil-free, you can replace the oil with unsweetened plain applesauce, but note that your muffins will be drier and not as moist.
If using applesauce, I recommend not using regular paper muffin wrappers. Since the recipe will have no oil, you won't be able to remove the wrappers easily and they will stick.
I would bake them either directly in a high-quality non-stick muffin pan, in silicone muffin cups, or in parchment paper liners, which are all naturally non-stick.
If You Make This Recipe...
...please leave me a comment below, letting me know how your banana muffins turned out! And tell me what add-ins you used!

If you like these gluten-free banana muffins, you may also like these other vegan gluten-free muffins:
You can help others to find this recipe by pinning it to one of your food boards on Pinterest. Click here to pin it now!
Vegan Gluten Free Banana Muffins
Soft, fluffy, and easy vegan gluten free banana muffins that are perfect for snacks and lunch boxes. This recipe can be customized in 4 delicious ways!
Instructions:
Preheat oven to 350° F (177° C).

Prepare your flax eggs by whisking together ground flax seeds and water. Set aside to thicken.

Line a muffin tin with liners or generously grease the inside of each cup with coconut oil.

In a large bowl, whisk together the flour, baking powder, baking soda, salt, cinnamon, and nutmeg.

In a medium bowl, mix the flax eggs, coconut oil, coconut sugar, banana puree, and vanilla, together until blended.

Slowly add the wet mixture to the dry mixture and stir until combined. If using, fold in chocolate chips, nuts, or raisins.

Using a spoon or a large scoop, divide batter into the 12 muffin cups.

Bake for 16-18 minutes or until toothpick inserted in the middle of the largest muffin comes out clean.

Let muffins cool in muffin pan for a few minutes and then remove and place them on a cooling rack.

Recipe Notes:
Please read all of the FAQ info above before making this recipe.
It's important to know that different gluten-free flour blends use different ingredients and ratios, so results will always vary if you substitute. I have never used any other brand of flour to make this recipe (other than Bob's Red Mill Gluten Free All Purpose Baking Flour (Amazon link) with the red label, NOT the blue label), so please know that your results may not be the same as mine if you substitute with another gluten-free flour blend.
This recipe will NOT work with coconut flour or any other single gluten-free flour, it must be a blend, the one listed above for the best results.
Make sure to measure your flour correctly.
Any type of neutral flavoured oil can be used in place of coconut oil, such as safflower or sunflower.
Puree the bananas until there are no chunks left and is completely smooth.
Nutrition info is based on 1 vegan gluten-free banana muffin without any add-ins and the recipe made as written. Nutrition info is only to be used as a rough guide. Click to learn how nutrition info is calculated on this website.
Nutrition Info:
Serving:
1
muffin
|
Calories:
172
kcal
|
Carbohydrates:
27
g
|
Protein:
2
g
|
Fat:
7
g
|
Saturated Fat:
5
g
|
Polyunsaturated Fat:
1
g
|
Monounsaturated Fat:
1
g
|
Sodium:
144
mg
|
Potassium:
117
mg
|
Fiber:
3
g
|
Sugar:
12
g
|
Vitamin C:
3.3
mg
|
Calcium:
20
mg
|
Iron:
0.7
mg
Did You Make This Recipe?
If so, please share a picture with me on Instagram! Tag @delightfuladventures and hashtag #delightfuladventures. I can't wait to see!