So apparently, eating black-eyed peas on new year's day for good luck is a thing. How did I not know that until this past December? Did you know? I only learned about this tradition on new year's eve, so I didn't have any black-eyed pea dishes planned. But I wanted to make one, because why not? It may all be for fun, but who wouldn't want the chance at a bit of good luck in the new year? I checked to see what I had in the cupboards and fridge. Luckily, I had some dried black-eyed peas and lots of veggies. So with what I had, I threw together this simple black-eyed pea salad as a side dish for our new year's day supper.
(If you're curious, the tradition seems to have started in the southern United States, and the traditional black-eyed pea dish served is called Hoppin' John <– that's a link to the vegan version of the dish!)
When I say this salad is simple, I mean it's really simple. You probably have most, if not all, of the veggies in your fridge right now. And if you don't have something, you can swap things out. It's a flexible recipe. You can also add things to it, depending on your tastes (red bell pepper, green bell pepper, corn, etc.). The dressing is also simple, just four ingredients and it's super tangy with a very slight hint of sweet. Have a look at how easy it is to throw together!
See? Quick and easy, right? My kind of recipe.
Another plus for this recipe, other than being really easy to make (and the chance of it bringing you a little luck!), is that it can be used in many ways. You can serve it as a side dish, a light supper, a potluck contribution, a summer BBQ salad, and even lunch.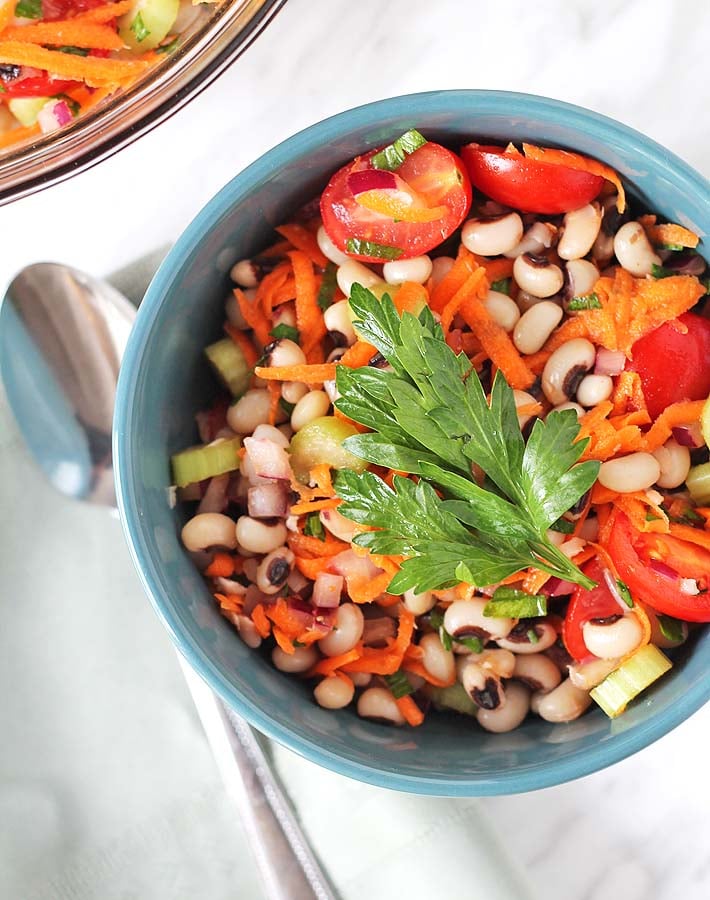 Since making this salad on new year's day, it has become a go-to for lunches. Despite having easy access to all of the recipes on the internet, the many cookbooks I own, and even all of my own recipes, I always seem to have a problem with lunch. I work from home, and I can sometimes get really into my work, so when it's lunch time, I want to have something quick, nutritious, and delicious. This simple black-eyed pea salad recipe has, thankfully, become one of the solutions to that problem.
Salads are usually pretty simple to make and it doesn't get any more simple than this. If you make it, tag me on Instagram (@delightfuladventures) or post a pic of it on my Facebook wall. I'd love to see!
If you like this simple black-eyed pea salad recipe, you may also like these other simple recipes:
This page contains affiliate links. Click to learn more.
How to Make a Simple Black-Eyed Pea Salad
Simple Black-Eyed Pea Salad
Perfect for lunch, a side dish, or even a light supper, you're going to love this Simple Black-Eyed Pea Salad because it's delicious and so easy to make.
Course:
Lunch, Main Course, Side Dish
Cuisine:
Gluten-Free, Vegan
Ingredients
Salad:
3

cups

black-eyed peas

(see note below)

2

medium

carrots,

shredded

3

stalks

celery,

sliced

12

cherry tomatoes,

halved

1/3

cup

parsley,

finely chopped

1/2

cup

red onions,

diced
Instructions
Add all salad ingredients to a bowl. Mix.


Add all dressing ingredients to a small bowl and whisk together.


Pour dressing over salad and mix until dressing has coated the entire salad.

Recipe Notes
I use dried black-eyed peas to make this salad. I soak them overnight and boil them the day I am making the salad. If you prefer to use canned black-eyed peas, that is fine! Just be sure to rinse them well before using.
Nutrition Facts
Simple Black-Eyed Pea Salad
Amount Per Serving
Calories 156
* Percent Daily Values are based on a 2000 calorie diet.