Delicious vegan Lentil Sloppy Joes that can be made in your Instant Pot, slow cooker, or on the stove top. Instructions for all methods are included below!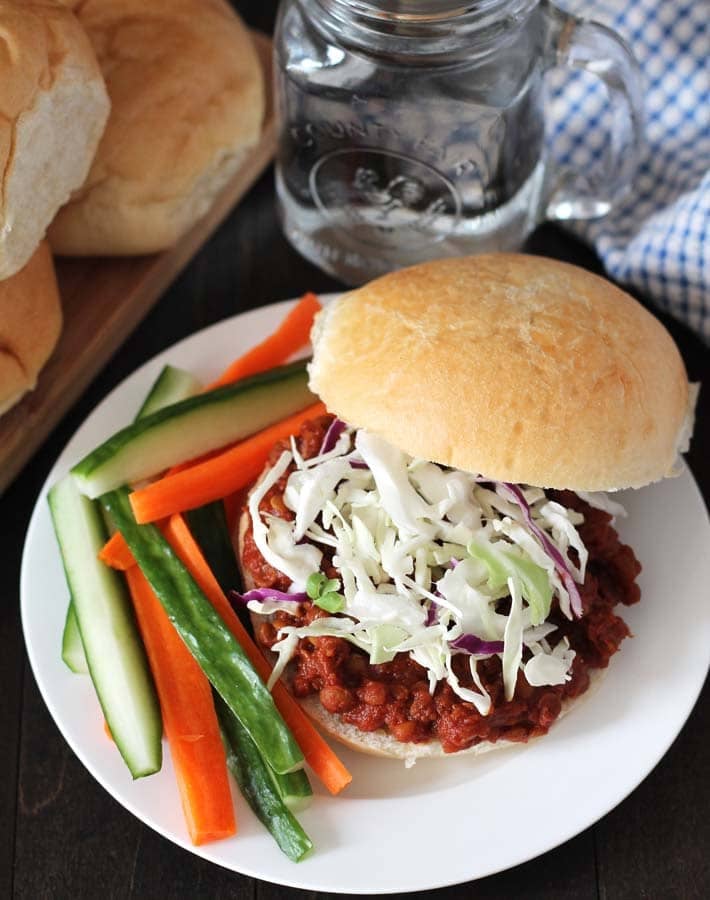 Vegan sloppy joes have always been an easy favourite meal to make and eat around here.
Up until I bought my Instant Pot (this is the one I own and I LOVE it! (Amazon Link)), I made slow cooker lentil sloppy joes or I made them on the stove top (when I forgot to put everything in the slow cooker in the morning 🙂 )
Since I bought my Instant Pot, I've adapted my recipe to be made the pressure cooker way and this has become my favourite way to make them.
The main reason being is that there's no babysitting the Instant Pot. You just set it and walk away until your Instant Pot sloppy joes are done. And it's quick!
Not to worry if you don't have an Instant Pot, though…
I've included directions on how to make this recipe for vegetarian sloppy joes with lentils without one (slow cooker / crock pot and stove top) and no matter which way you go, you're going to end up with the same delicious result.
What Kind of Lentils Should I Use?
I prefer to use brown lentils because I like the finished texture they give and how they hold their shape. Green lentils also work very well but I don't recommend red lentils.
Red lentils can be used to make vegetarian sloppy joes, but the cook time will have to be adjusted. Red lentils cook very quickly so if you cook them too long, the texture will be mushy.
What is Liquid Smoke?
Note: If you prefer to leave this ingredient out, that's okay, the recipe will be just fine and just as delicious without it!
These smoky lentil sloppy joes get some of their flavour from liquid smoke. If you've never used it before, it's a bottled liquid you add to recipes to give them a smoky flavour.
You can find it in the condiment section of your grocery store and it's fairly inexpensive, usually under $4 for a bottle. And a little goes a long way (this recipe only calls for a 1/2 teaspoon!) so your bottle will last a very long time.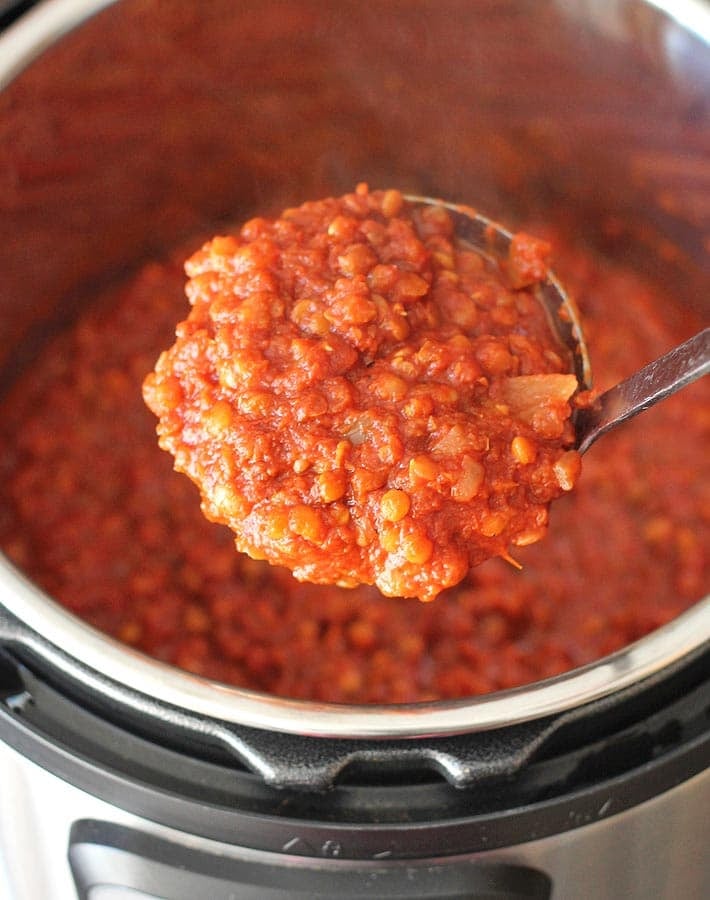 What Can Be Done with Leftovers?
You can make more sandwiches, nothing wrong with that!
Or, if you want something a little different, you can make these loaded sweet potatoes topped with your leftover lentil sloppy joe sandwich filling: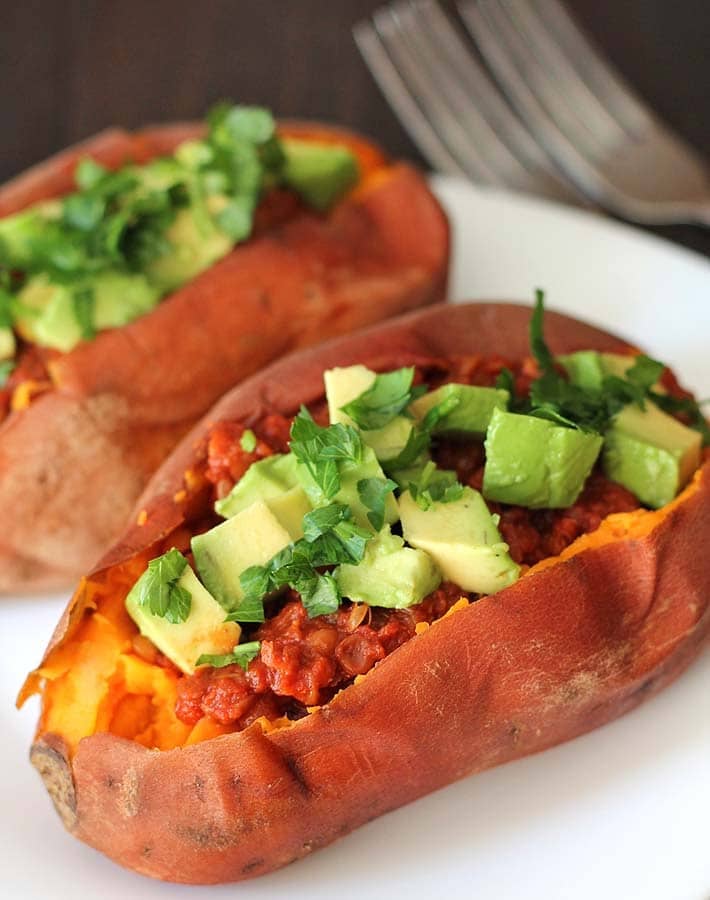 This is a nice idea for a quick lunch, and I like to top with the lentils, cubed avocado, and parsley or cilantro. They're so good. The sweet potatoes can also be made quickly in your Instant Pot, see this post to get the directions –> Instant Pot Sweet Potatoes.
The leftover lentil mixture can also be served on top of rice or as a side.
Can This Recipe be Made In Advance?
Yes! This is a great make-ahead recipe for weekly meal prep. It can be refrigerated and reheated, if needed, and it also freezes well. When reheating, if you find it's too thick, add a small amount of water to thin it out.
Can You Freeze Lentil Sloppy Joes?
Yes, this recipe freezes very well. Thaw in the refrigerator and when ready, heat, and serve. If you find it's thickened a bit, you can add some veggie broth or water to get it to the consistency you like.
How Should These Sandwiches be Topped?
That is entirely up to you 🙂
You can serve your meatless sloppy joes plain, but my preference is to top with something that has some crunch for texture contrast. Here are some suggestions:
Shredded cabbage
Shredded lettuce
Shredded carrots
Coleslaw mix without the dressing
Sliced or diced red onions
Pickles
Vegan cheese shreds
Avocado
What Should I Serve with Them?
Again, you can have them with anything you like or serve your vegan sloppy joes on their own.
I like to have them with veggies, like in the pictures, but the following suggestions also pair nicely:
A salad
Fries, sweet potato or regular
A vegetable-based side dish
Any cooked, steamed, or raw vegetables you have on hand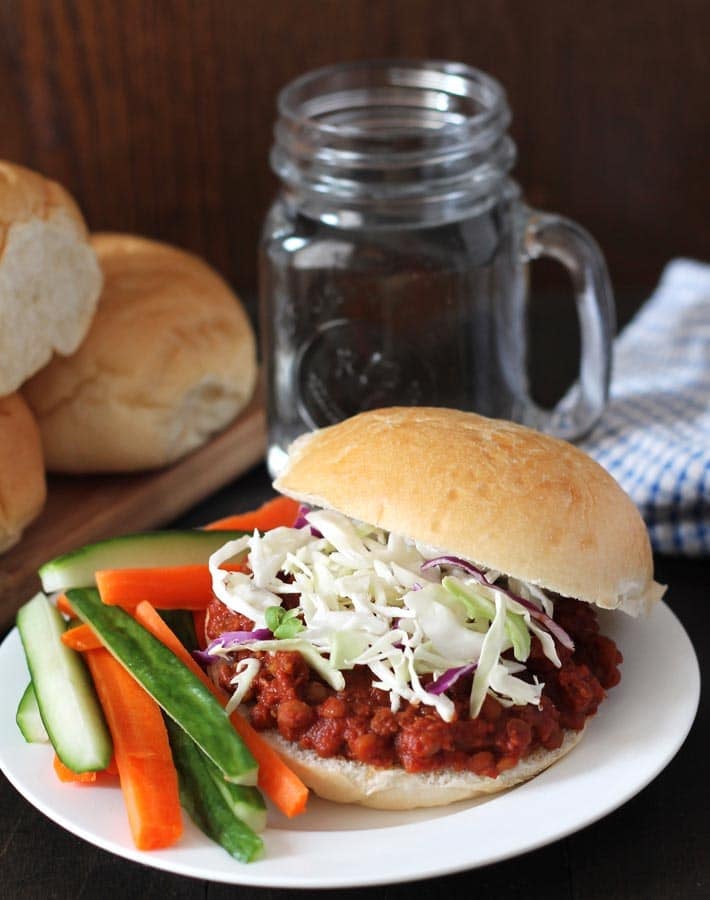 If you like this recipe, you may also like these:
And finally, if you make this recipe, please leave a comment and rating below or share a picture of your vegan lentil sloppy joes with me on Instagram. Don't forget to tag me, I'm @delightfuladventures!
How to Make Lentil Sloppy Joes