An easy recipe for 6-ingredient granola cups that can be served at breakfast or for snacks and filled with whatever you like!
This page may contain affiliate links. Click to learn more.
You know when you're looking for something a little fancier or different than the usual stuff to serve at breakfast or a brunch or even to serve to your kids for a change from the usual snacks?
These cute little fruit and yogurt granola cups are perfect for those situations.
The nice thing about them is that you can top them any way you like.
I have a particular vegan coconut yogurt that I'm a little obsessed with (that's what I've filled the granola cups in the pictures with) that I always use as the filling.
However, they will be perfectly delicious with whatever yogurt you prefer. And for the fruit, you can use whatever you have on hand and what's in season.
Right now, it's the middle of January, so I had to go with what I could find at my grocery store and what they had didn't end up being so bad, as you can see.
Summer time offers a whole beautiful range of berries and other fruits that would match perfectly with your granola cups. Strawberries, cherries, peaches, raspberries…so many options!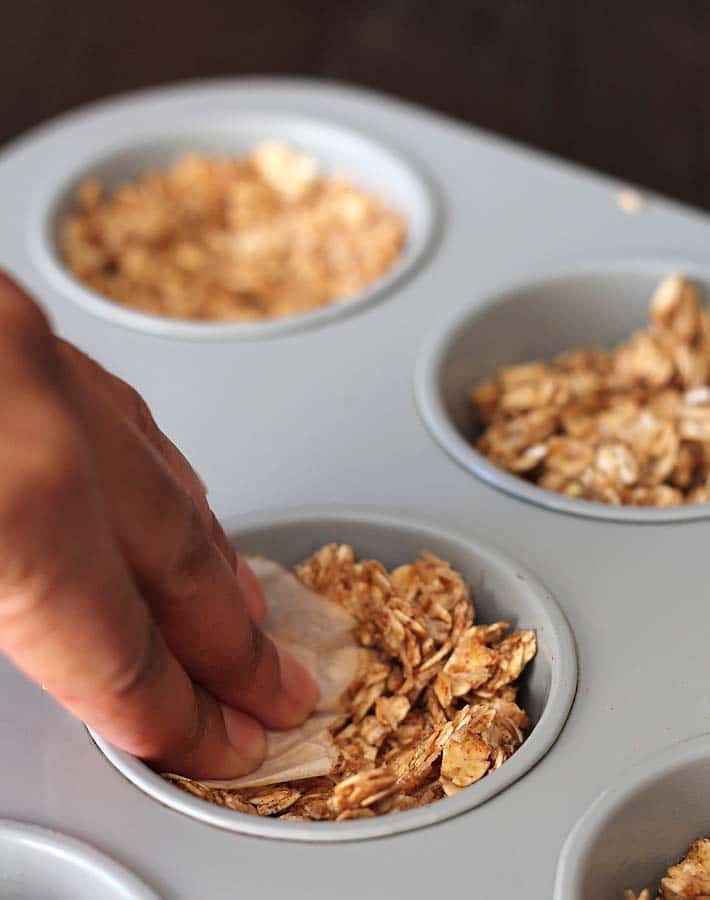 And they're so easy to make. Just 6 ingredients and you're set.
As you'll notice, almond butter is one of the ingredients, but don't be hesitant about that.
Since almond butter is much milder in taste than other nut butters like peanut butter, your granola cups will not taste like almond butter at all.
In fact, I don't detect any almond butter taste when I have these. The almond butter is used more for structure than taste.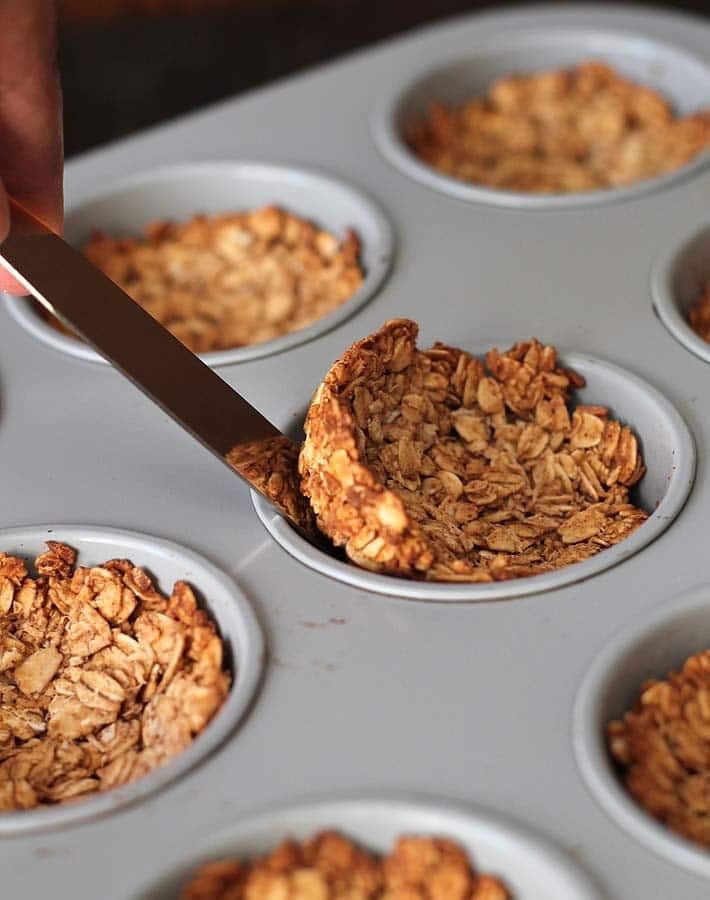 Once the cups have cooled off, be careful when removing from the muffin tin, or they can crumble.
When they come out of the oven, the outer edges will already be crispy, but the entire cup will crisp up even more as they cool.
Be sure to let them your granola cups cool off all the way before attempting to fill them or they won't have a chance to fully crisp up and they may end up soggy.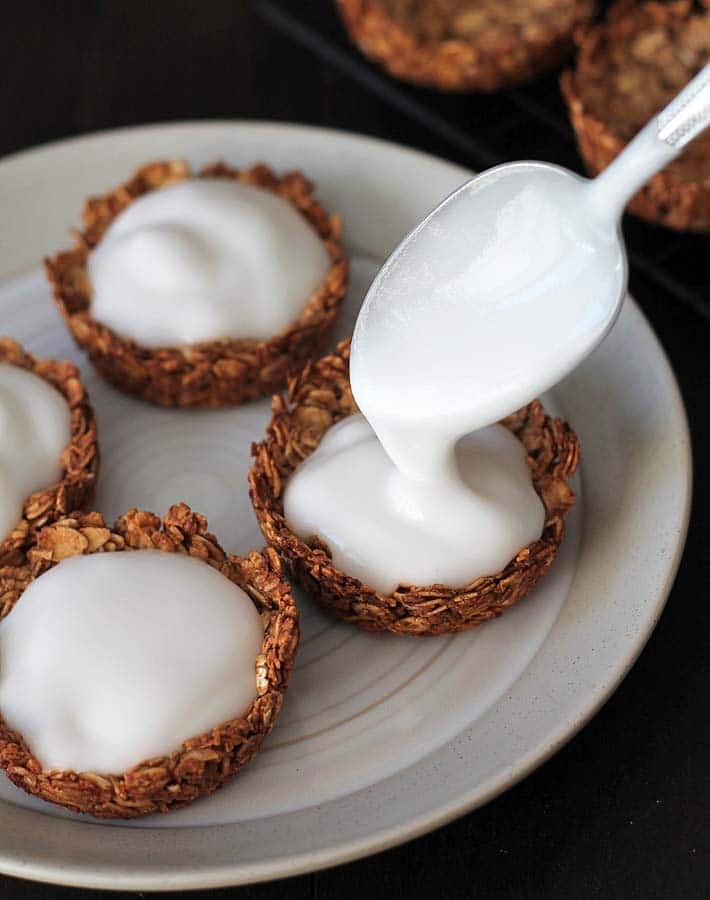 If you're not a yogurt fan, not to worry!
You can still make these and fill them with something else, like avocado pudding, chocolate banana coconut chia pudding, or any other favourite pudding or dessert that would go great in a granola cup.
Fill them up and top them with your favourite fruit or seed toppings! Get as creative as you'd like.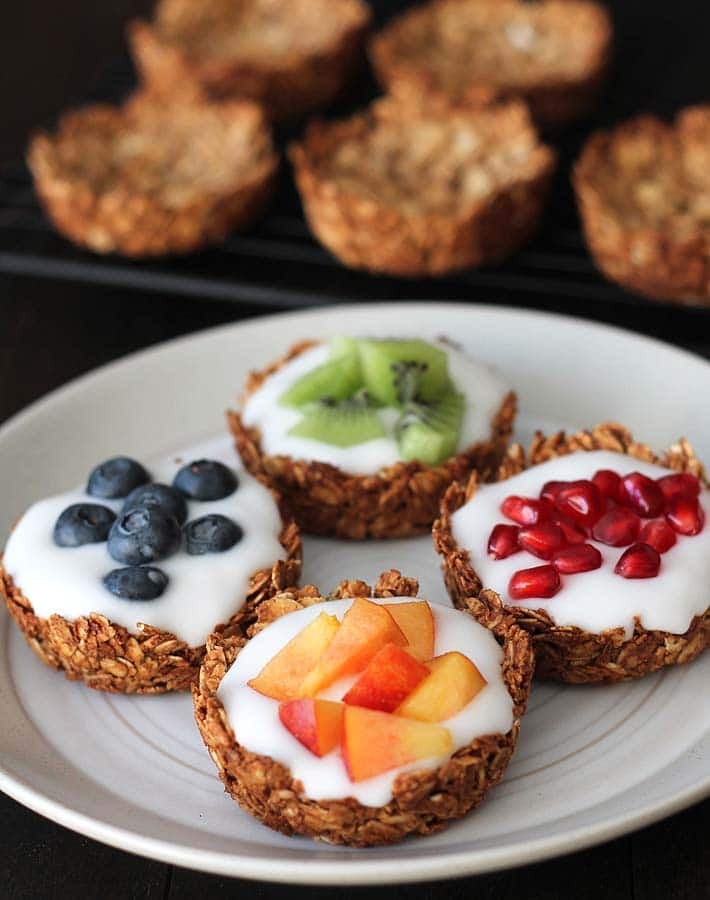 If you make this recipe, please share a picture with me on Instagram and tag me so I can see! @delightfuladventures
And if you like these fruit and yogurt granola cups, you may also like these other recipes:
How to Make Vegan Fruit and Yogurt Granola Cups