Four simple ingredients is all you need to make yourself a mug of hot dairy-free, rich vegan peppermint hot chocolate. A nice, sweet warm up for chilly days!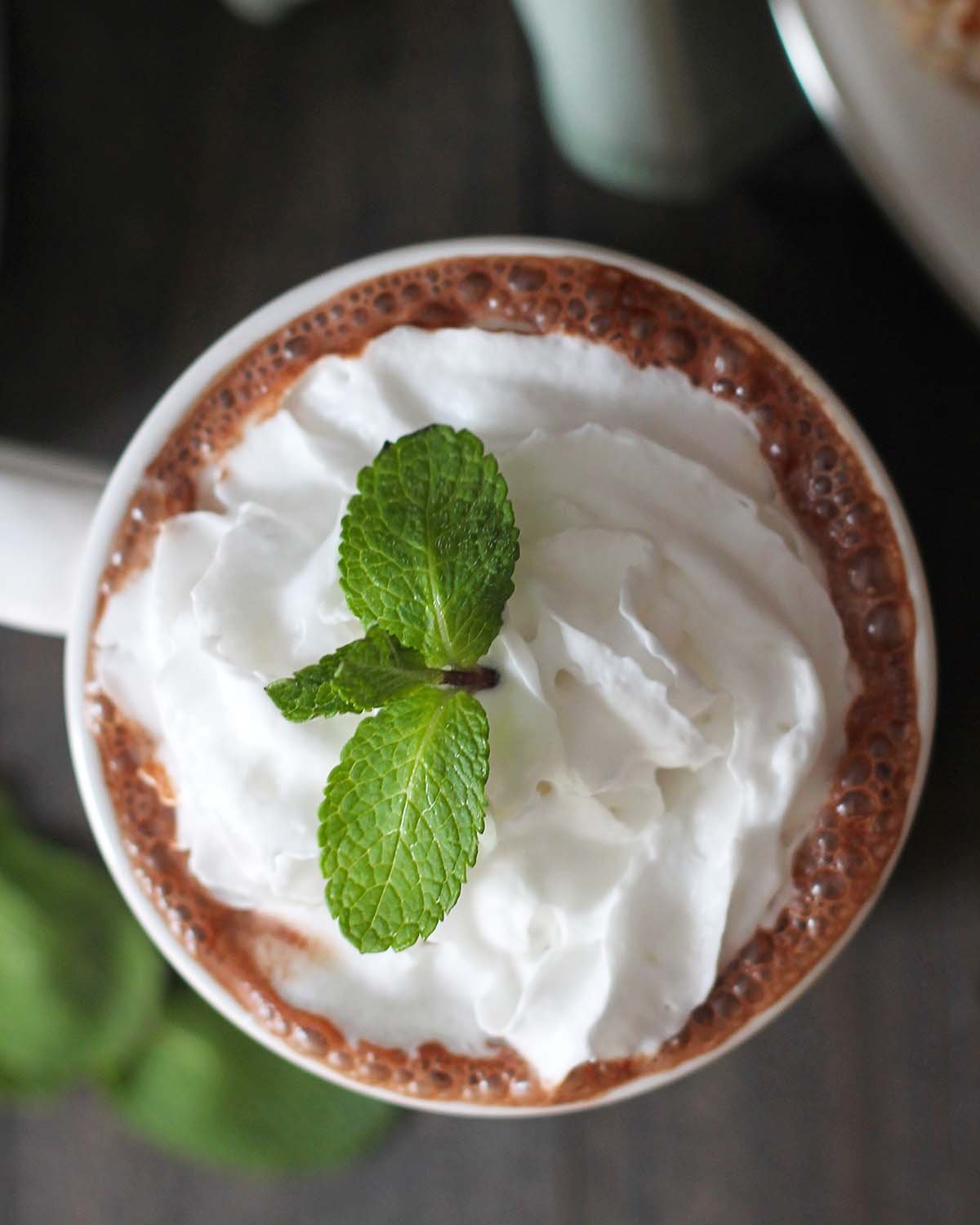 One of my favourite hot drinks to warm up with on a cold day or during the holidays is hot chocolate. If I had to choose between regular hot chocolate and this recipe for decadent vegan peppermint hot chocolate, this one would win every time (although, I do love regular and oat milk hot chocolate, too!).
I've already mentioned a few times how the chocolate + mint combo is my favourite, so this should be no surprise! (Have you tried my vegan peppermint patties or my peppermint bark recipes yet?!).
The thing that makes this peppermint hot chocolate "rich" is the use of coconut milk. Sure, you can skip the coconut milk and use non-dairy milk in its place and it would still be fine, but it won't be as creamy and slightly thicker than the regular stuff.
If you're going to treat yourself, go all out and use the coconut milk. You'll be glad you did.
And of course, you don't need to top off with coconut whip, but if you have some around, I recommend using it (here's how to make your own coconut whip!). It will take your peppermint hot chocolate over the top and truly earn having the words "rich and creamy" used to describe it.
After you make your vegan peppermint hot chocolate, sit back, relax, and enjoy it with one of the following:
And if you like chocolate mint as much as I do, I think you'll also like these recipes:
Print Recipe
Vegan Peppermint Hot Chocolate
Just a few ingredients is all you need to make yourself a mug of dairy-free, rich vegan peppermint hot chocolate. It's a nice, sweet warm up on a chilly day or a festive treat during the holidays!

Instructions:
Heat non-dairy milk and coconut milk in a small pot. Heat until steaming but not boiling.

Whisk in cocoa powder.

Add sweetener to taste, whisk.

Add ⅛ teaspoon of the peppermint extract, whisk again, and taste. Add another ⅛ if it needs more.


If using coconut whip, add to the top.
Recipe Notes:
You can use either full fat or light coconut milk (we're talking the canned stuff here, not the refrigerated stuff you buy in cartons). Using the full fat coconut milk thickens the hot chocolate slightly and makes it extra creamy.
Some peppermint extracts are stronger than others. Start out by adding ⅛ of a teaspoon to your hot chocolate, stir, and taste. If it needs more peppermint flavour, add another ⅛ of a teaspoon.
Nutrition info is based on the recipe as it is written using full fat coconut milk, 2 teaspoons of coconut sugar as a sweetener, and no toppings. Nutrition info is only to be used as a rough guide. Click to learn how nutrition info is calculated on this website.
Nutrition Info:
Serving:
1.25
cup
|
Calories:
183
kcal
|
Carbohydrates:
17
g
|
Protein:
4
g
|
Fat:
14
g
|
Saturated Fat:
9
g
|
Polyunsaturated Fat:
1
g
|
Monounsaturated Fat:
2
g
|
Sodium:
207
mg
|
Potassium:
373
mg
|
Fiber:
4
g
|
Sugar:
9
g
|
Vitamin A:
500
IU
|
Calcium:
450
mg
|
Iron:
1.6
mg
Did You Make This Recipe?
If so, please share a picture with me on Instagram! Tag @delightfuladventures and hashtag #delightfuladventures. I can't wait to see!