An easy recipe for moist, chewy homemade aquafaba macaroons. This recipe is made without eggs, condensed milk, or any type of flour making them eggless, dairy-free and gluten-free. You can make them plain or dip them in chocolate, I let you know how to make them both ways below, so keep reading!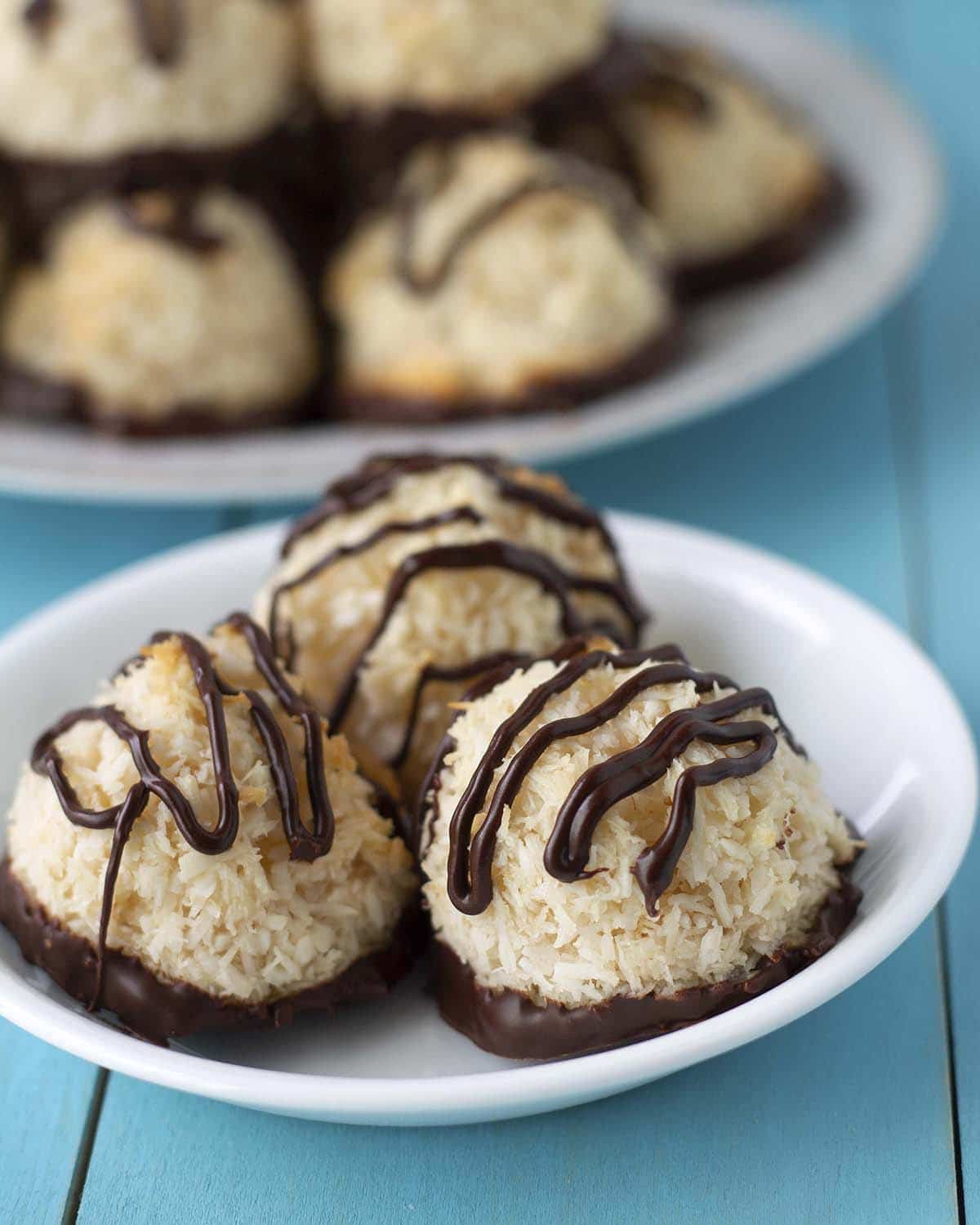 So apparently, coconut macaroons are considered to be cookies. Huh? Are they being mistaken for macarons? Because I consider those to be cookies!
I'm not really sure what I considered them to be, but it wasn't cookies! These are what I consider to be cookies, but anyways...
No matter what category they fall under in your mind, these cookies (ha!) are chewy, moist, a little crisp on the outside, and the answer to a coconut lover's dreams.
And unlike other vegan coconut macaroons, these do not contain any condensed milk or flour of any sort making them vegan AND gluten-free. And being vegan, they also contain no eggs making them eggless macaroons!
Ingredients You'll Need
You just need FIVE of them (six if you include the optional almond extract): finely shredded unsweetened coconut, aquafaba, apple cider vinegar, sugar, and vanilla.
You can make your own aquafaba or you can get it from a can of unsalted chickpeas.
The Proper Type of Coconut
To make these vegan macaroons, you need unsweetened, finely shredded coconut. This is a VERY important part of the recipe being a success
Unsweetened because you want to control the sugar in the recipe and finely shredded so they hold together well.
Have a look at the image below. The coconut on the left is shredded but that's NOT the kind you need. You need the type of coconut on the right, the kind that's finely shredded.
Some brands that make finely shredded coconut are Let's Do Organic, NOW, Bob's Red Mill, Anthony's, and Camino. I've included a link in the recipe card below.
If you're unsure of the brand you want to use, send me a message and I will let you know! I want your vegan macaroon recipe to turn out perfectly!
If you cannot find finely shredded coconut, you can still use the type on the left, you'll just need to pulse it a few times in your food processor until it looks like the coconut on the right. After pulsing, measure it again, and you'll be good to go.
And no, coconut flour cannot be used as a substitute for the shredded coconut and neither can freshly grated coconut. For more info on the different types of coconut, read this article.
How to Make Them
(Note: I've outlined the step-by-step on how to make this recipe here, but find the full recipe, ingredients, and directions at the end of this post.)
The first thing you're going to do is preheat the oven and then line your baking sheet with parchment paper or a silicone / silpat liner, this is to avoid having your macaroons stick to the sheet.
Next, whip the aquafaba.
(I go through everything you need to know about working with aquafaba in my how to whip and use aquafaba post which is a great resource to read through if it's a new ingredient to you.)
Note that the timing I mention below may be different for you depending on the tool you use to whip, what speed you have it set to, and the state of your aquafaba. I use my electric hand mixer and I set it to the highest speed.
Follow along with the images below.
1. Within the first few seconds of whipping, the aquafaba will start to form bubbles.
2. After about a 30-seconds, it will start to get foamy and after about a minute, all of it will be foam.
3. After about a minute and a half (or longer), you will be at the soft peaks stage. This is when the aquafaba sticks to the beaters, but flops down when the mixer is held up.
4. After about two and a half minutes of whipping (or longer), you'll reach the stiff peaks stage, this is when the aquafaba is stiff and it sticks straight out from beaters when the mixer is held up.
Once you get to the stiff peaks stage, you'll then do the following:
5. Gradually add the sugar, making sure the previous addition has dissolved before adding the next addition.
6. After all the sugar has been added, the aquafaba will be stiffer and look glossy/shiny, like in image #6.
7. Slowly add the coconut, a little at a time.
8. Gently fold it into the aquafaba.
After all the coconut has been folded in, the coconut will look like the image on the left, below.
The next step is to scoop the mixture onto your baking sheet using a medium 1.5 tablespoon scoop. Press the coconut mixture into the scoop to get rid of any air pockets and so the coconut is packed.
Next, bake! Be sure not to over bake, this will dry them out and they won't be moist.
After the baking time has passed, remove them from the oven. When they first come out, they'll be very fragile and can fall apart easily, so let them cool for a few minutes before handling. When ready, place them on a cooling rack.
You can keep them plain, or you can dip the bottoms in chocolate and drizzle a little on top as well like I did, it's up to you, they're great either way!
How Long Will They Last?
Probably not very long because they are SO GOOD! But seriously, they will last quite a while if stored properly.
If your kitchen isn't too warm, you can keep them in an airtight container on the counter for 4-5 days, after that, move them to the fridge. If you dipped them in chocolate, don't store on the counter, always keep them in the refrigerator.
Both the plain and chocolate dipped versions will keep in the fridge for up to 2-weeks
Expert Tips
Use a glass or metal bowl to whip the aquafaba, plastic can hold on to oil residue which will cause your aquafaba to not whip properly.
I prefer to use an electric hand mixer any time I whip aquafaba, because I find that it whips faster, and because I'm controlling it, I have a better feel for when I reach the soft and stiff peak stages.
Make sure your aquafaba is at room temperature before you start whipping it.
Don't skip the apple cider vinegar! It's used as a stabilizer to make the aquafaba whip quicker. It also helps the aquafaba to be strong and not deflate when you stop whipping. And don't worry, the vinegar taste will not come through in the macaroons.
Use a scoop for this recipe for best results. It's easier to pack the coconut into the scoop to get rid of any air pockets and all of your macaroons will be uniform in size.
I have not tried this recipe with any other type of sweetener other than regular sugar, so I'm not sure how others will work, I do know that liquid sweeteners will require modifications to the rest of the recipe, so stick with the recipe as it was written so your result is perfect. And don't reduce the sugar as its stickiness also helps to bind the coconut together.
Read this post from top to bottom before you start. I've included a lot of tips and tricks so you get things right. Also read through the actual recipe before getting started.
Follow the recipe exactly as it's written for the very best results.
Troubleshooting
Aquafaba can be tricky to work with, so read the expert tips above before getting started with your aquafaba macaroons and if things still did not work out, read through the following to diagnose what went wrong.
My Aquafaba Didn't Whip
Several things could have happened causing your aquafaba not to whip:
There was oil on something that came into contact with the aquafaba;
Your aquafaba was too watery;
You didn't whip the aquafaba for long enough or you mixer's speed was not set high enough;
You left out the apple cider vinegar stabilizer (this was a mistake I made several times in a row when I first started testing this recipe. Each time, the recipe failed but once I figured out what I did wrong, the recipe worked);
You made ingredient substitutions or added something extra. It's important to follow this recipe exactly as it's written for it to work.
My Macaroons Didn't Hold Together When Placed on the Baking Sheet
When scooping out the coconut mixture, you need to make sure that you tightly pack the coconut into the scoop so there are no air pockets, you need a solid mound of coconut for the macaroon to hold together.
This can also happen if you:
didn't measure your ingredients correctly
reduced the amount of sugar that was called for
used the wrong type of coconut. See above for info on the proper type to use.
My Macaroons Turned Out Crumbly
Same as above, make sure the mixture is packed tightly into the scoop. You also need to wait at least 5 minutes before handling them after they come out of the oven or they can fall apart.
This can also happen if you:
did not measure the ingredients correctly making the ratio between the coconut and the aquafaba not right
didn't use the correct type of shredded coconut, see above for info on the proper type to use.
reduced the amount of sugar the recipe calls for
Did You Make This Recipe?
If so, tell me about it in the comments below or post a pic on Instagram and tag me so I can see. I'm @delightfuladvetures over there.
And If You Like This Recipe...
...you may also like these:
You can help others to find this gluten free coconut macaroon recipe by pinning it to your recipe board on Pinterest. Click here to pin it now!
Print Recipe
Aquafaba Macaroons
An easy recipe for moist, chewy homemade vegan coconut macaroons. This recipe calls for aquafaba instead of eggs, making these aquafaba macaroons 100% egg free. These aquafaba macaroons also happen to be dairy-free, gluten-free and are made without condensed milk or any type of flour. These classic vegan cookies can be enjoyed plain or dipped in chocolate, instructions for both ways are included.
Ingredients:
Melted Chocolate (Optional)
Instructions:
Preheat oven to 325°F (165°C).

Prepare your baking sheet(s) by lining with parchment paper.

Add aquafaba and apple cider vinegar to a clean metal or glass bowl and begin whipping at high speed.

When you reach the soft peaks stage, add the vanilla extract and almond extract, if using. Keep whipping until you get to the stiff peaks stage. This can take anywhere from 2.5 minutes or more, depending on your mixer and your aquafaba.

Once you reach the stiff peaks stage, slowly add the sugar, a few tablespoons at a time, and continue whipping with your mixer. Wait until the sugar has been dissolved into the aquafaba before adding more sugar. The mixture will start to become glossy and thicker. Once all the sugar has been added and the aquafaba is glossy, stop whipping.

Gently fold the shredded coconut, a little at a time, into the whipped aquafaba.

Using a medium (1.5 tablespoon) scoop, scoop the coconut mixture onto your lined baking sheet. Be sure to pack the mixture into the scoop for each cookie very well by pressing the coconut into the scoop.

Bake for 20-minutes or until golden around the bottom edges.

Leave macaroons on the cookie sheet to cool for about 5-minutes so they can firm up more, then remove and place on a cooling rack.
Dip in Chocolate (optional)
Place chocolate and coconut oil in a bowl and place the bowl in the microwave and set for 30 seconds. When the time is up, remove the bowl and stir the chocolate. Scrape down the sides and repeat until just a few lumps remain. At this point, don't put the bowl back in the microwave, just stir until all of the chocolate has melted and is completely smooth, set aside to cool a little. (The double boiler method can also be used to melt the chocolate, see notes below.)

When macaroons have cooled, dip each one into the chcolate and place on a parchment lined baking sheet. Using a spoon, you can also drizzle a little on the tops of each macaroon.

Place baking sheet in the refrigerator until chocolate has firmed up.
Recipe Notes:
Aquafaba can be tricky to work with, so before making this recipe, please read all of the expert tips and troubleshooting info above, as well as the notes below to ensure the recipe result is successful for you.
Even if your baking sheet is non-stick and/or brand new, still line it with parchment paper or a silicone/silpat liner or you run the risk of your macaroons sticking.
It is important that all tools you will be using be free from any oil and oil residue. Oil will prevent your aquafaba from whipping.
Fresh lemon juice can be used in place of the apple cider vinegar.
If you're not using the almond extract, replace it with more vanilla, bringing the total amount of vanilla to 1 ½ teaspoons.
It's important that the proper type of shredded coconut be used for this recipe. First, it has to be unsweetened, second, you need coconut that's finely shredded. See the image above to make sure you have the right kind. If you have coconut that is shredded into long pieces, pulse a few times in your food processor until it looks like the picture above. This is a brand I recommend (Amazon link).
Coconut flour or freshly grated coconut will NOT work as a substitute for the shredded coconut.
A 1.5 tablespoon scoop (this is the one I have) is highly recommended for scooping the coconut onto the baking sheet since it compacts the coconut, gets rid of any extra spaces, and will help your macaroons hold together and not be crumbly.
If using the double boiler method to melt your chocolate, fill a medium pot ⅓ of the way with water and place on the stove over medium-low heat. Place a tempered glass or stainless steel bowl on top of the pot and stir until the chocolate has fully melted. Be sure that no water makes its way into the bowl or your chocolate will seize. Click this link to see this method in action.
This recipe makes 16 vegan coconut macaroons if using a medium scoop like I use.
Macaroons will keep for up to two weeks in the refrigerator but will start to dry out and become crumbly over time.
Nutrition info is for one of 16 macaroons, not dipped in chocolate, and is to be used only as a rough guide. Click here to learn how nutrition info is calculated on this website.
Nutrition Info:
Serving:
1
macaroon
|
Calories:
95
kcal
|
Carbohydrates:
7.7
g
|
Protein:
0.9
g
|
Fat:
8
g
|
Saturated Fat:
7
g
|
Sodium:
2
mg
|
Potassium:
0.1
mg
|
Fiber:
2.6
g
|
Sugar:
5
g
|
Calcium:
0.4
mg
|
Iron:
0.7
mg
Did You Make This Recipe?
If so, please share a picture with me on Instagram! Tag @delightfuladventures and hashtag #delightfuladventures. I can't wait to see!