Easy vegan rice bowls loaded with roasted veggies, chickpeas, and other good-for-you ingredients. This easy plant-based, gluten-free recipe is family-friendly and can be easily customized based on the veggies you have on hand, PLUS, it's also great for vegan meal-prep and can be served for either dinner or lunch.
This page may contain affiliate links. Click to learn more.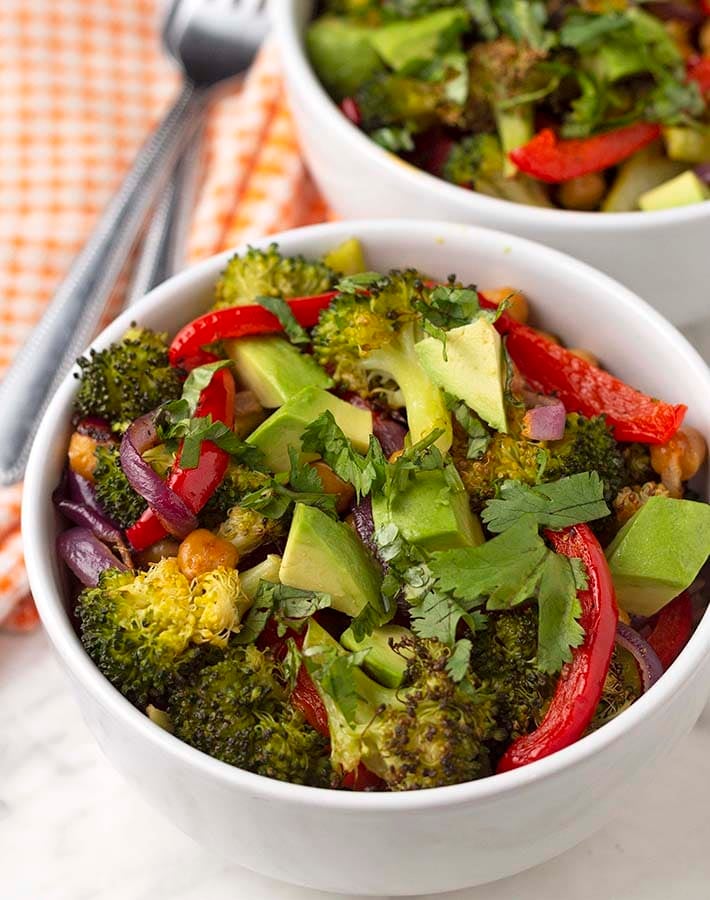 Today, I'm sharing another quick and easy vegan dinner recipe: BBQ Chickpea and Veggie Bowls filled with roasted veggies and chickpeas and drizzled with zesty bbq sauce!
This vegan rice bowl recipe comes courtesy of fellow blogger and friend, Jenn Sebestyen who you may know from the website Veggie Inspired.
Her book, "The Meatless Monday Family Cookbook" was recently published and it's filled with family-friendly, quick, easy plant-based meals.
Jenn's publisher sent me a copy of the book to review and I'm so glad to now have it in my collection to turn to when I need some dinner inspiration.
What Kind of Recipes Will I Find in Meatless Mondays?

This book contains over 100 delicious, plant-based, and kid-approved dinner recipes, many of which can be on the table in 30-minutes or less.
The book also contains many tips for making ingredient swaps, stocking your kitchen, and for how to get your kids to help out with the recipes in the book.
In the book, you'll find recipes like:
Creamy Vegetable Noodle Soup
Plus salads, pasta dishes, casseroles, delicious stews and more!
And of course, this recipe for veggie rice bowls!
Ingredients You'll Need
Everything you'll need is seen in the picture below.
I used a store-bought BBQ sauce when I made this recipe, but Jenn does have a recipe for her own BBQ sauce in the book. Either will work just fine!
Can Veggies Be Substituted? How About the Rice?
The great thing about rice bowl recipes is that swaps can be made, quite easily.
I love Jenn's recipe as it's written, but if you have allergies or don't like a particular veggie, swapping one or two out shouldn't be a problem.
As long as long as the veggie you're taking out has the same cooking time as the veggie you're adding in. You want to be sure it will cook through properly and finish in the same time as everything else.
Parsley can be substituted for the cilantro since I know there are many who don't like cilantro!
And if you don't want them to be brown rice bowls, feel free to use white rice, or if you're looking to take the rice out completely, quinoa would work great.
Steps to Make Vegetarian Rice Bowls
(Note: I've outlined the step-by-step on how to make this veggie rice bowl recipe here, but find the full recipe, ingredients, and directions at the end of this post.)
There are just a few steps to this recipe, it's an easy one.
After preparing all the vegetables, you'll place them on baking sheets (picture on the left, below), toss with the oil, salt, and pepper and roast until the veggies have cooked through (picture on the right, below).
After the veggies and chickpeas have finished roasting, remove them from the oven and assemble the bowls by first adding the rice, topping with the roasted veggies and chickpeas, then the diced avocado and cilantro.
You'll then drizzle your BBQ sauce on top and that's it, your simple rice bowls are ready to serve!
This was a meal that was loved by my whole family, kids included! They were declared to be the best rice bowls, so I now have requests to make them again, soon 🙂 And I will!
You can serve these rice bowls for lunch or dinner, and they can even be pre-made for lunches throughout the week. To pre-make for serving later, do everything except adding the cilantro, avocado, and barbecue sauce.
To serve for lunch, simply reheat and then add the three toppings.
How Long Will They Keep In the Fridge?
Your vegan brown rice bowls will be fine in the refrigerator in an airtight container for up to 3 days.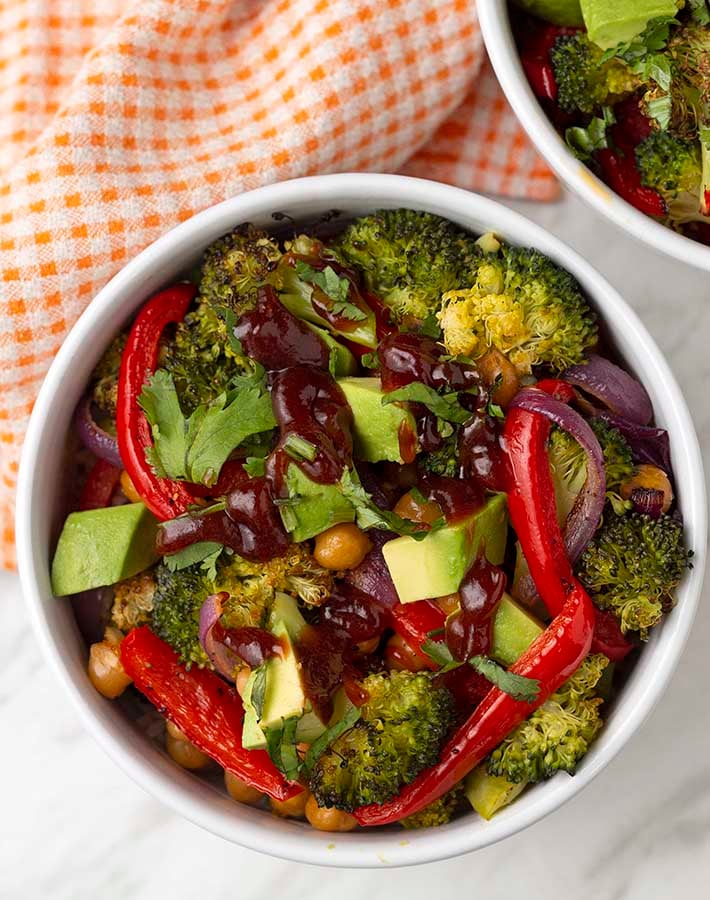 The Meatless Monday Family Cookbook is for Everyone
Whether you're vegan, vegetarian, have kids, don't have kids, or you're an omnivore looking for more meatless meals to add to your rotation…there are so many delicious vegan recipes in this book to choose from.
There's something for all tastes making it a great gift to yourself or to anyone on your list. (Note that the majority of the recipes in this book have an accompanying picture, but there are a few that don't, so keep that in mind if this is something that's important to you.)
If you buy a copy of "The Meatless Monday Family Cookbook," let me know which recipe you'll be making first (other than these roasted veggie rice bowls, of course!)
If you like this recipe, you may also like these other easy vegan dinner recipes:
And you can help others to find this vegan rice bowl recipe by pinning it to your recipe board on Pinterest!
Click here to pin it now!
How to Make Vegan Rice Bowls
Reprinted with permission from Jenn Sebestyen and Fair Winds Press, an imprint of Quarto Publishing Group USA Inc. © 2019. All opinions and images are my own.