When we make baked treats, the major things we want to be sure we get right are the taste and the texture. But another part of the equation is how it looks—we do eat with our eyes first, right? This is why I'm showing you how to make a vegan egg wash for baking so you can make all of your baked goods look almost too pretty to eat.
Almost!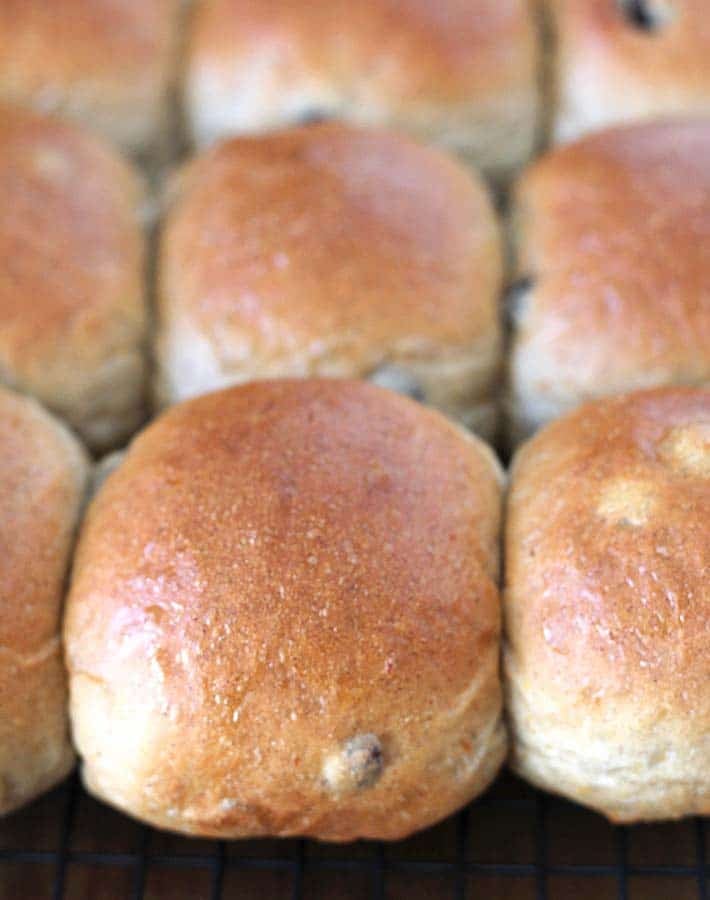 What is the Point of an Egg Wash?
The main point is to give your finished product that beautiful golden brown colour. It's not mandatory, but it's nice to have rolls or buns with those pretty golden tops.
Your vegan egg wash can also be used as a way to make toppings stick, like grainy turbinado sugar or sesame seeds or to make edges stick together if you're making something like hand pies.
There is a whole scientific explanation on how and why food browns with and without things like vegan egg washes (it's called the Maillard reaction), but I won't bore you with all of that.
If you are interested, though, like I was, you can read the Wikipedia page on the topic.
What Can Be Substituted for an Egg Wash?
There are several ways you can make a vegan egg wash for baking, but my go-to for sweets is maple syrup and non-dairy milk, mixed together.
Agave syrup can also be used in place of the maple syrup but since I always have maple syrup on hand, that's what I use.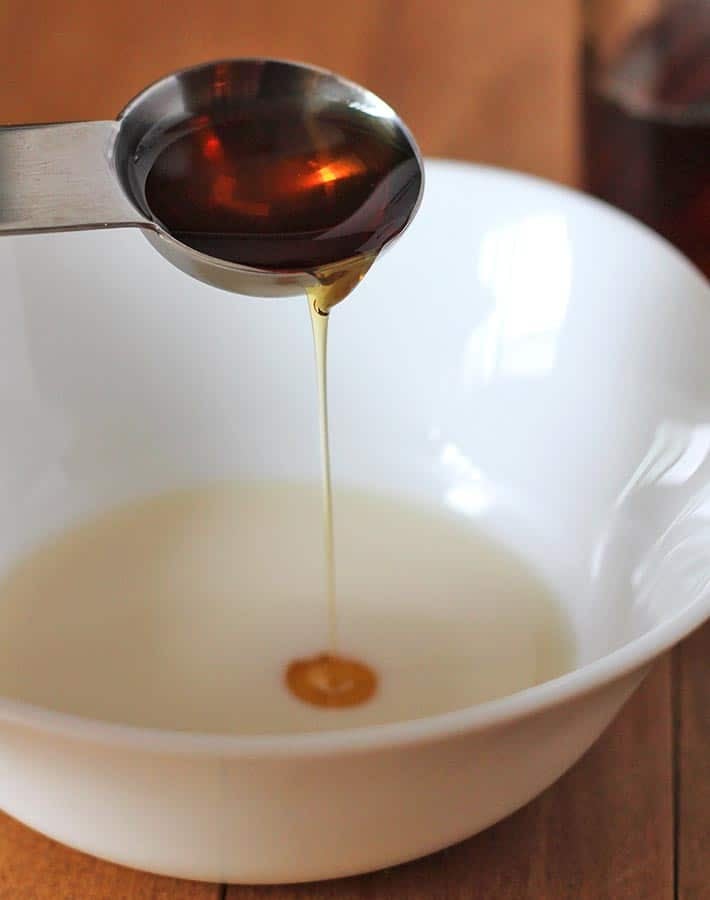 Just mix the two ingredients (see below for proportions), brush onto your recipe, and bake.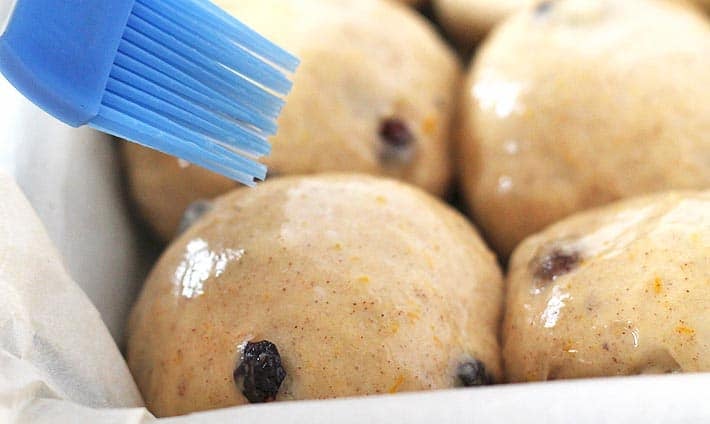 Other alternatives you can use for a vegan egg wash:
I have always had the best results from using the non-dairy milk + maple syrup mix, but if you don't have maple syrup or agave on hand, you can also use the following on their own:
soy milk
almond milk
coconut milk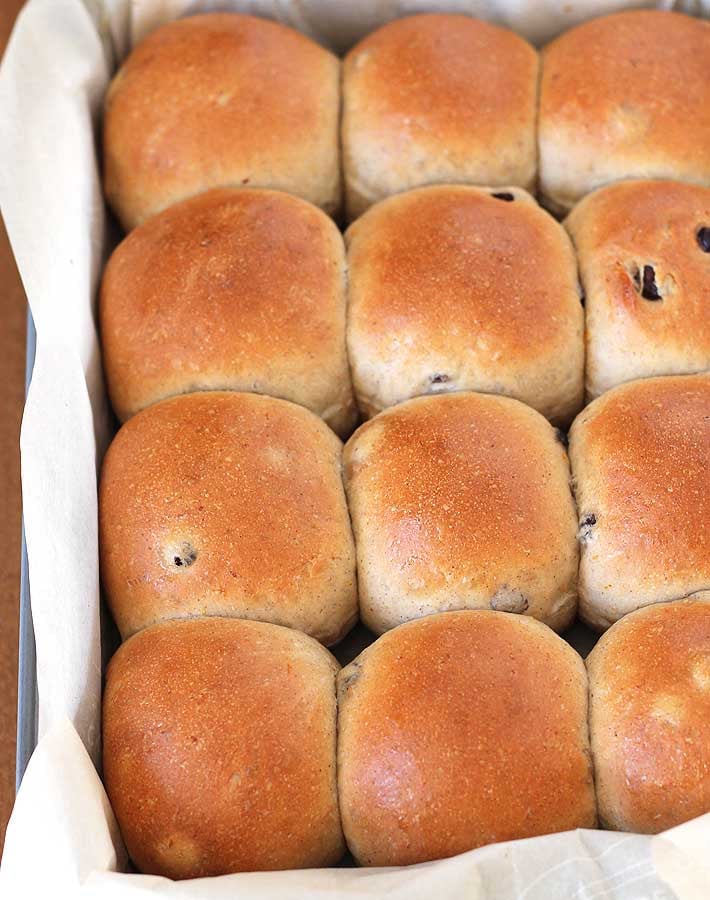 Those are all the ways you can make a vegan egg wash for sweet baked goods, but how about savoury baked treats? What can be substituted for an egg wash in those cases?
How to Make a Vegan Egg Wash for Savoury Baking
If the recipe browns on its own as it bakes, you can brush on a little neutral flavoured oil when it comes out of the oven to give it that finishing glow, as I do with my whole grain vegan spelt rolls. (<-- click that link to see what they look like).
For things that need a little help browning, you can brush with coconut oil or aquafaba before baking, to give it the perfect finish.
If you like this recipe, you may also like these:
How to Make a Vegan Egg Wash for Baking
How to Make a Vegan Egg Wash for Baking
Learn how to make a vegan egg wash for all of your sweet and savoury baked goods.

Ingredients:
2

tablespoons

unsweetened dairy-free milk

(I use almond but any plant milk will work)

1

tablespoon

pure maple syrup
Instructions:
Stir non-dairy milk and maple syrup together.


Brush onto your rolls, bread, or any sweet baked good that needs golden finish.

Recipe Notes:
This recipe works nicely for sweet baked goods, see above for suggestions on what you use for savoury baked goods.
If you don't have maple syrup, you can use agave nectar in its place.
Recipe can be halved for smaller batches of baked goods.
Nutrition info is for the unsweetened almond milk + maple syrup recipe above. Count is for the entire recipe but note that most baked goods don't need the entire amount. Learn how nutrition info is calculated on this website.
Nutrition Info:
Calories:
54
kcal
|
Carbohydrates:
13
g
|
Sodium:
24
mg
|
Potassium:
21
mg
|
Sugar:
13
g
|
Vitamin A:
50
IU
|
Calcium:
60
mg
Did You Make This Recipe?
If so, please share a picture with me on Instagram! Tag @delightfuladventures and hashtag #delightfuladventures. I can't wait to see!