HelloFresh sent me ingredients for three meals so I could review their service and share my honest thoughts with you in my HelloFresh Canada review. As always, all opinions in this post are my own!
Have you heard of HelloFresh Canada? I had not heard of them until recently and I was intrigued. I'm all about food (as you may be able to tell!), so when they offered to send me their veggie box to try out, I dug a little deeper to find out if this service would be a good fit for my family.
I had all the questions you may have...What is a HelloFresh subscription? Will it be enough for my family? How much is delivery? Is it suitable for those with food allergies and special diets?
I met with Irene Ngo, Head of HelloFresh Canada Culinary a few weeks back and she answered all of my questions (I had a lot of them!). Irene is in charge of developing and testing all the recipes HelloFresh offers to its customers.
What is a HelloFresh meal subscription?
HelloFresh is a meal subscription service, so once you're signed up, you're subscribed to receive a new box each week.
You aren't locked in for any minimum amount of deliveries, so if you decide that you need to pause your deliveries, change something about your deliveries, or cancel your subscription, you can do so at any time.
And speaking of deliveries, the shipping cost is built into the cost of your plan, so there is no extra charge on top of the prices listed below. Your ingredients will arrive on your doorstep each week in recyclable, insulated boxes complete with ice packs.
HelloFresh Canada currently only delivers to addresses in Ontario, Manitoba, Saskatchewan, Alberta, British Columbia, and the Maritimes. Click here for more info.
What kind of plans are available?
A lot of thought goes into the meals that end up in their boxes and to make sure the meals are healthy and balanced, their team includes dietitians who analyze everything. Meals are all based on seasonal and fresh ingredients.
There are currently three plans available to order: The Pronto Plan, The Family Plan, and The Veggie Plan.
Pronto Plan meal boxes contain three meals and take 30-minutes to prepare. It can be ordered to serve either two ($13.33/meal) or four people ($11.67/meal).
Family Plan meal boxes come with four meals ($10.83/meal) and are designed to appeal to everyone (they're built with kid-friendliness in mind!)
The Veggie Plan is 100% vegetarian. It comes with three meals for two ($12.33/meal) and is the newest box to join the lineup. It was actually introduced due to customer demand!
Can I see the recipes ahead of time?
If you visit the recipes section of their website, you can see the recipes in this week's boxes, last week's boxes, and upcoming boxes.
Each recipe has its ingredients listed and clearly lists allergens, so you can decide whether or not each meal is suitable for you.
If there happens to be a recipe in the box that is not suitable for you, you can swap it out with something else being offered that week.
Being able to see the ingredients and see a list of allergens was important for me because of the food allergies and special diet we have to work with.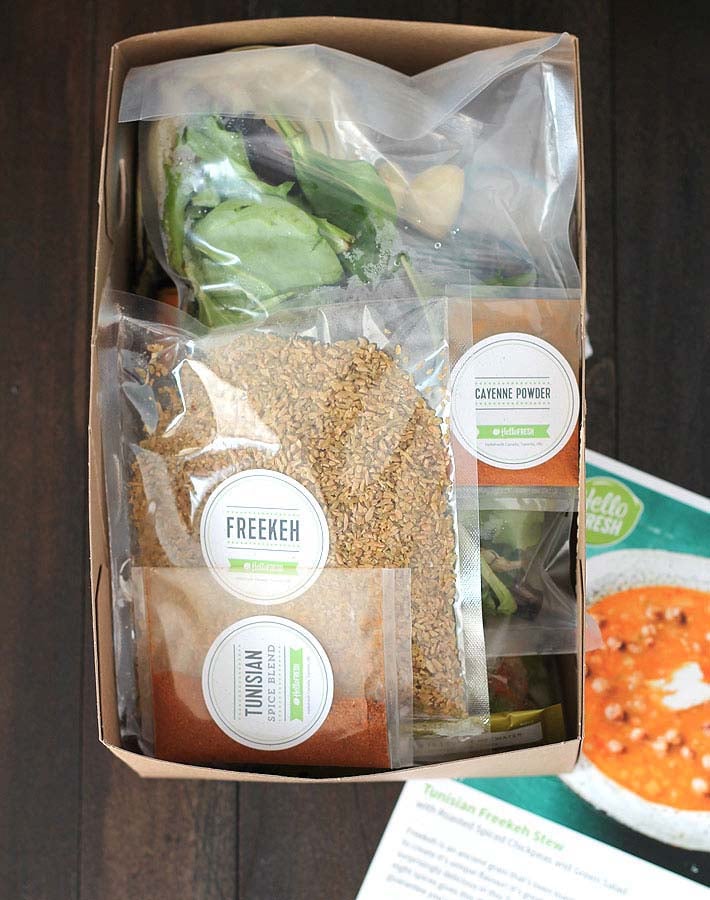 Is the meal prep easy? Do the meals taste good?
To try out the service myself, I was sent two veggie boxes that contained three veggie meals for my family. The meals were more than enough and delicious.
It was very nice to take a little break with my meal planning and list making for a few days and it opened us up to a few ingredients and dishes we may not have tried had it not been for these recipes.
One of the recipes I received was the Tunisian Freekeh Stew with Roasted Spiced Chickpeas and Green Salad. The box also contained ingredients for a Charred Veggie Salad, and a Brussel Sprout Crumble.
In the image above, you'll see the ingredients in the just opened Tunisian Freekeh Stew ingredient box. Each recipe comes with everything you'll need (you'll have to use your own staples such as salt, pepper, oil, etc) and a very easy-to-follow recipe card that contains clear directions, timings, and images.
All of the recipes I received were categorized as level 1 (aka: easy!). There is a companion app you can download to help you with timing certain steps. I did not use the app, but you can check it out in the Apple Store or Google Play.
I did find that it took me a little longer to make the recipes than the times listed on the cards. Maybe that was just me? Not sure. It could have been caused by having two very interested kids hovering around who wanted to see everything that was going on!
In this image, you'll see the unpacked ingredients. Everything is packaged separately and is clearly labelled.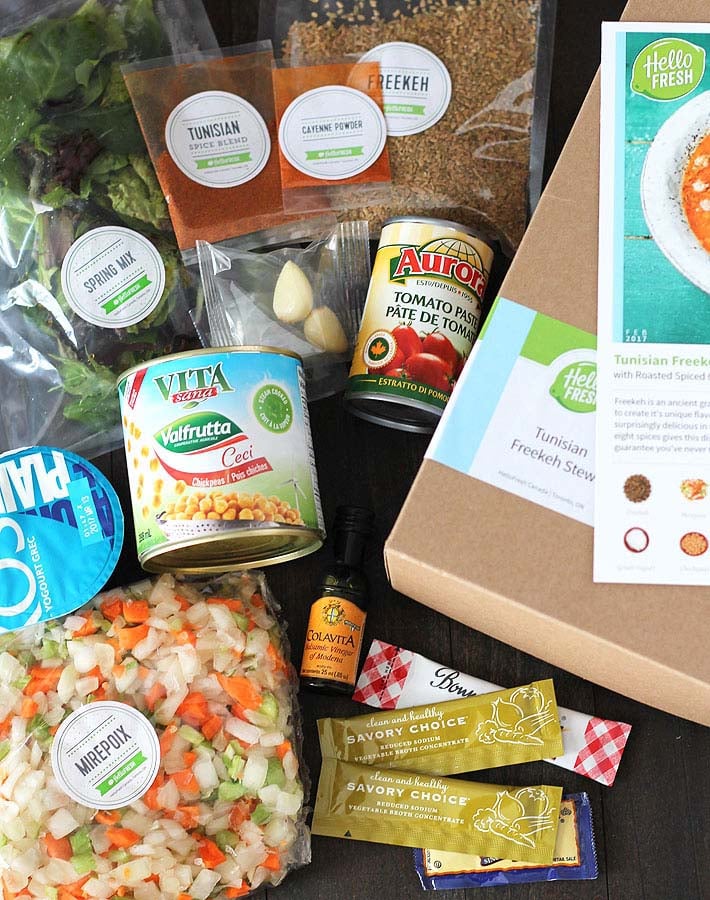 Are HelloFresh Canada plans suitable for those on a vegan diet?
The answer to this is: Yes and no. It all depends on your comfort level in the kitchen.
There is no Vegan Plan, so the closest you're going to get at this point is with the Veggie Plan. All of the veggie recipes are vegetarian, but some recipes call for non-vegan ingredients.
For example, the Tunisian Freekeh Stew recipe you see below called for a spoonful of Greek yogurt for garnish. I simply left it out and garnished mine with parsley.
If you're comfortable with changing up recipes to make them vegan, you will have no problems, however, there are some recipes that rely heavily on a non-vegan ingredient to be a big part of the recipe.
For something like that, when ordering, you can swap that recipe out for a more suitable one in another plan or you can just skip that week. It's your call and it all depends on your comfort level.
The same applies for gluten free and other special diets. Be sure to keep a close eye on the ingredient and allergen lists.
I asked Irene if a vegan box or other boxes that specifically cater to special diets would be available soon, but as of now, there are no plans. If there is something you would like to see, get in touch with them and let them know!
I hope my HelloFresh Canada review helped you decide whether or not this is a service that's suitable for you. If you have questions, get in touch with them or check out their FAQ page.
Ordering from HelloFresh Canada is all about the convenience. They do the planning, shopping, and delivery for you, you take care of the rest!