An easy vegan stuffed sweet potatoes recipe that can be served as a light lunch, for dinner, or as a vegan side dish. These colourful black bean stuffed sweet potatoes are also filled with corn, avocado, and other delicious fillings, PLUS, they're tasty and simple to make. You're going to want to add this recipe to your rotation!
Although it may seem like it's all about vegan gluten free desserts and treats around here, I do share the occasional savoury recipe. A lot of you have told me you like when I share easy recipes for lunch, dinner, and side dishes, so ask and you shall receive!
Here are just a few that I've shared so far (click this link to see all of my easy vegan dinner recipes!) and I'll be doing more, so stay tuned!
Today's recipe is for vegan stuffed sweet potatoes that are filled with a combination of tasty ingredients and if you don't have something one of the ingredients on hand, you can easily substitute, details about that below.
Ingredients for Black Bean Stuffed Sweet Potatoes
All you need is eight simple ingredients for this recipe, you can see them all in the picture below.
As you may know, other loaded sweet potato recipes are topped with cheese or some sort of dairy filled sauce, but this recipe doesn't use any of those things.
To make stuffed sweet potatoes vegan, you simply avoid those ingredients and use other bright, fresh ingredients in their place (although, you can top with vegan shredded cheese, if you'd like!)
How to Make Sweet Potatoes Stuffed with Black Beans and Corn
(Note: I've outlined the step-by-step on how to make this stuffed sweet potato recipe here, but find the full recipe, ingredients, and directions at the end of this post.)
The first thing you'll do is wash and scrub the sweet potatoes and put them in the oven to bake. You can also make them in your Instant Pot by following this easy step-by-step.
Next, when the sweet potatoes are almost finished in the oven, you'll make the baked sweet potato filling by cooking the onion for a few minutes and then adding the black beans, corn, spice, and salt.
Once the sweet potatoes have finished baking, you'll let them cool slightly and then slice each in half.
You'll then scrape the insides with a fork to make the sweet potato easy to pick up with a spoon when eating.
After that, fill each with the vegan sweet potato stuffing, top with the avocado, diced tomatoes, and chopped cilantro and you're done!
Four bright, colourful, fresh and healthy stuffed sweet potatoes, ready to serve!
Can a Different Bean Be Used for the Filling?
Yes, if you don't like black beans or you don't have them on hand, red or white beans work well, or you can even use chickpeas or a mix of the beans mentioned.
Can They Be Topped with a Sauce?
Of course! Since the fillings and toppings kind of make these Mexican stuffed sweet potatoes, stick with a sauce that goes well with those flavours like an avocado sauce or a cashew cream sauce. If you like some heat, you can also top with a little Sriracha sauce.
How to Serve Vegan Stuffed Baked Sweet Potatoes
These loaded sweet potatoes stand perfectly fine on their own, I like to serve them as lunch or as the main course for dinner with veggies or a salad on the side.
You can also serve them as part of a buffet for a big meal or as a side dish with something else as the main course (anything you'd like, really!), but I would stick with something small because these sweet potatoes are very filling.
Can They Be Made Ahead?
They're best served freshly made, but if you need to make them ahead and store, make the sweet potatoes and filling, cool everything off, and then refrigerate separately in airtight containers, don't fully assemble and then refrigerate.
When you're ready to serve, heat the sweet potatoes in the oven, a toaster oven, or the microwave and heat the filling in a skillet or the microwave (the sweet potatoes will take longer to heat up than the filling, so plan accordingly).
Prepare the avocado, tomato, and cilantro, and then assemble when the sweet potatoes and filling are ready.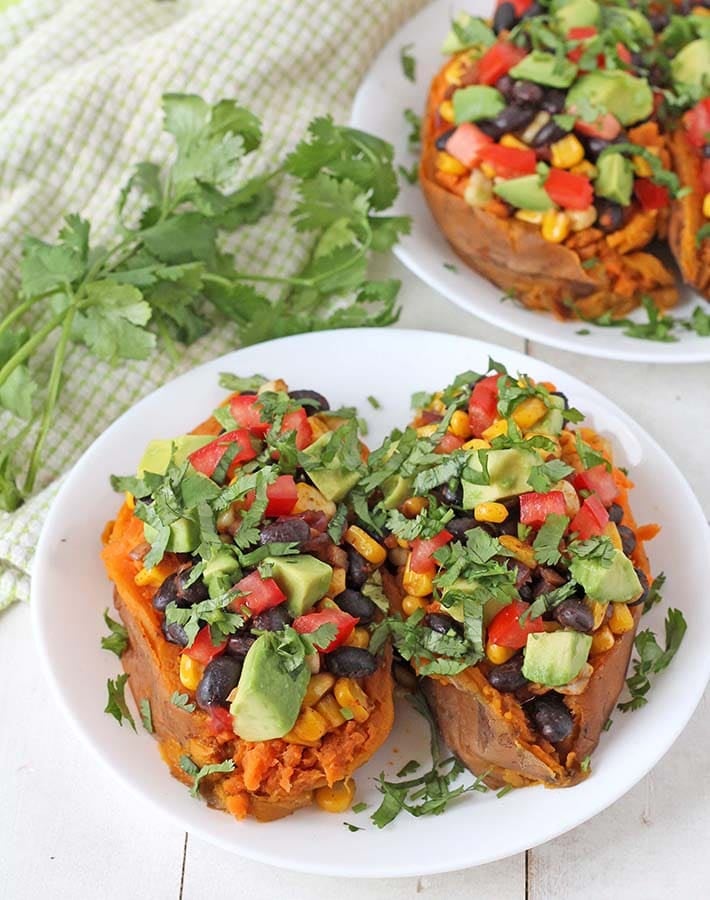 And one more thing…I was asked this the last time I served this recipe: can I eat sweet potato skin? Of course you can! As long as you scrubbed and washed the sweet potatoes well before baking, eat away!

If you make this recipe, please tell me about it and leave a rating in the comments below. You can even share a pic with me on Instagram, I absolutely LOVE seeing your remakes 🙂
You can also help me to help others find this loaded sweet potato recipe by pinning this post to your recipe board on Pinterest! CLICK HERE TO PIN IT NOW!

If you like this savoury stuffed sweet potatoes recipe, you'll also like these other vegan sweet potato recipes:
How to Make Vegan Stuffed Sweet Potatoes