This easy, no-bake, dairy-free vegan lime cheesecake recipe contains no cashews and is also gluten-free! It's the perfect creamy, tangy, sweet dessert to end any meal.
This page may contain affiliate links. Click to learn more.
Whether you're celebrating a special occasion or you just want to make a dessert to impress, just because, these sweet, but tangy, coconut lime cheesecakes will make everyone happy!
What will make YOU extra happy is how easy they are to make!
How Do You Make Dairy-Free Cheesecake?
(Note: I've outlined the step-by-step here, but find the full recipe and directions at the end of this post)
The first step is to make the oat crust that the filling will sit on. Once the crust is made, you'll then press it into muffin cups and then chill them while you make the cheesecake filling.
Next, you'll make the coconut lime cheesecake filling by blending all of the ingredients together in your high speed blender.
Once blended, pour the filling into each muffin cup, sprinkle with the optional lime zest and shredded coconut garnish, then freeze!
After they have firmed up in the freezer for at least an hour, they'll be ready for serving!
Easy, right?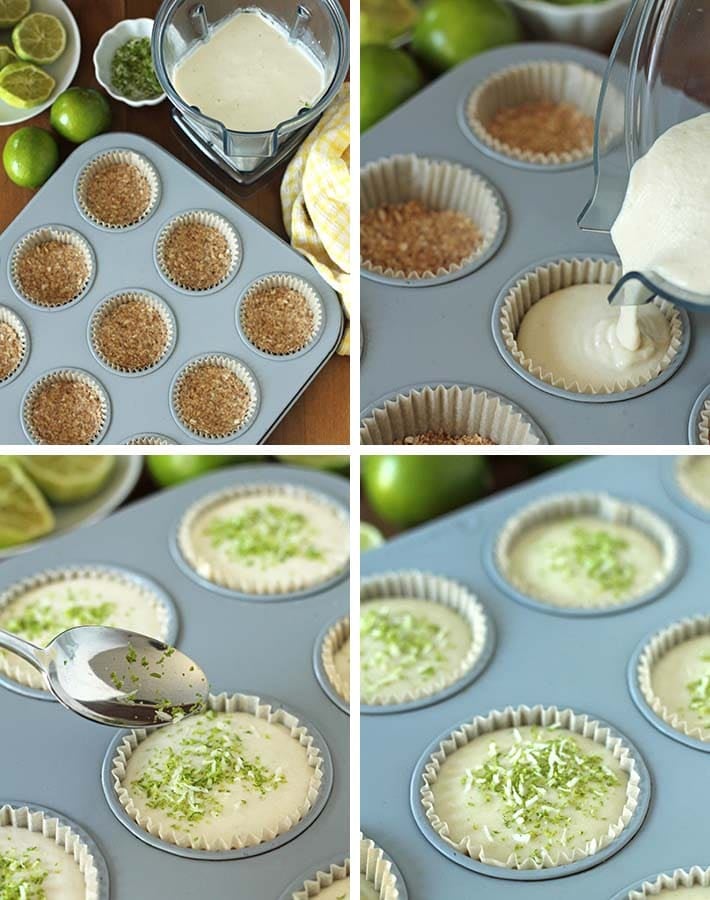 What Kind of Blender Is Needed to Make This Recipe?
You must use a high speed blender for this recipe!
You can use a food processor or a regular blender to make the crust, but a high speed blender is absolutely essential for making the cheesecake filling part of the recipe.
A regular blender is not powerful enough to blend the almonds and get them smooth and creamy, which is the texture you need for a successful cheesecake recipe.
There are a few high speed blender brands out there, but the one I own (and love!) is a Vitamix (Amazon Link), this one here:
A high-speed blender is an investment, they aren't cheap (I saved for a while before buying mine), but I use it almost daily to make things like smoothies, sauces, soups, and more!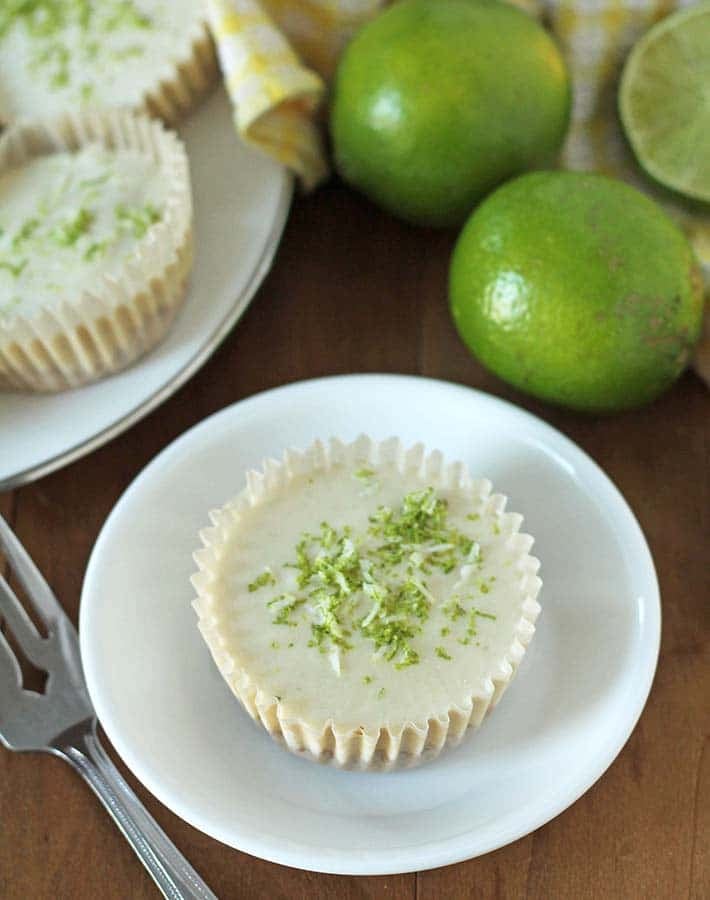 What Kind of Limes Should Be Used?
I use regular limes for this recipe, but you can also use key limes, if they are available, in place of the regular limes. This would make your recipe vegan key lime cheesecake which will be just as delicious!
How Should They Be Served?
After your lime cheesecake bites have firmed up, they can be enjoyed straight from the freezer, or you can leave them out on the counter to partially thaw for a little while before serving.
I like to eat them fully thawed but try them different ways to see how you prefer them.
If Lime Isn't Your Thing…
This is the third vegan cheesecake recipe I've shared on the site so far. If you haven't already, be sure to check out the others:
These recipes are favourites around here, for many reasons. All of my cheesecake recipes are:
no-bake
dairy-free
cashew-free (yes! no cashews in these little cheesecakes!)
made with almonds
gluten-free
easy-to-make
delicious
Is there a particular vegan cheesecake flavour you'd like to see me make next? Let me know!
Leave me a comment below if you make this recipe or you can also post a pic on Instagram and tag me. I love seeing your photos of my recipes 🙂 And don't forget to pin this recipe on Pinterest!
If you like this easy vegan lime cheesecake recipe, you may also like these:
How to Make Vegan Lime Cheesecake