Quick and EASY vegan chocolate donuts (with a gluten-free option!) that are soft, fluffy, and delicious. There are two glaze options for you to choose from sugar or chocolate. Whichever glaze you choose, your donuts are going to be amazing! Keep reading for all the details.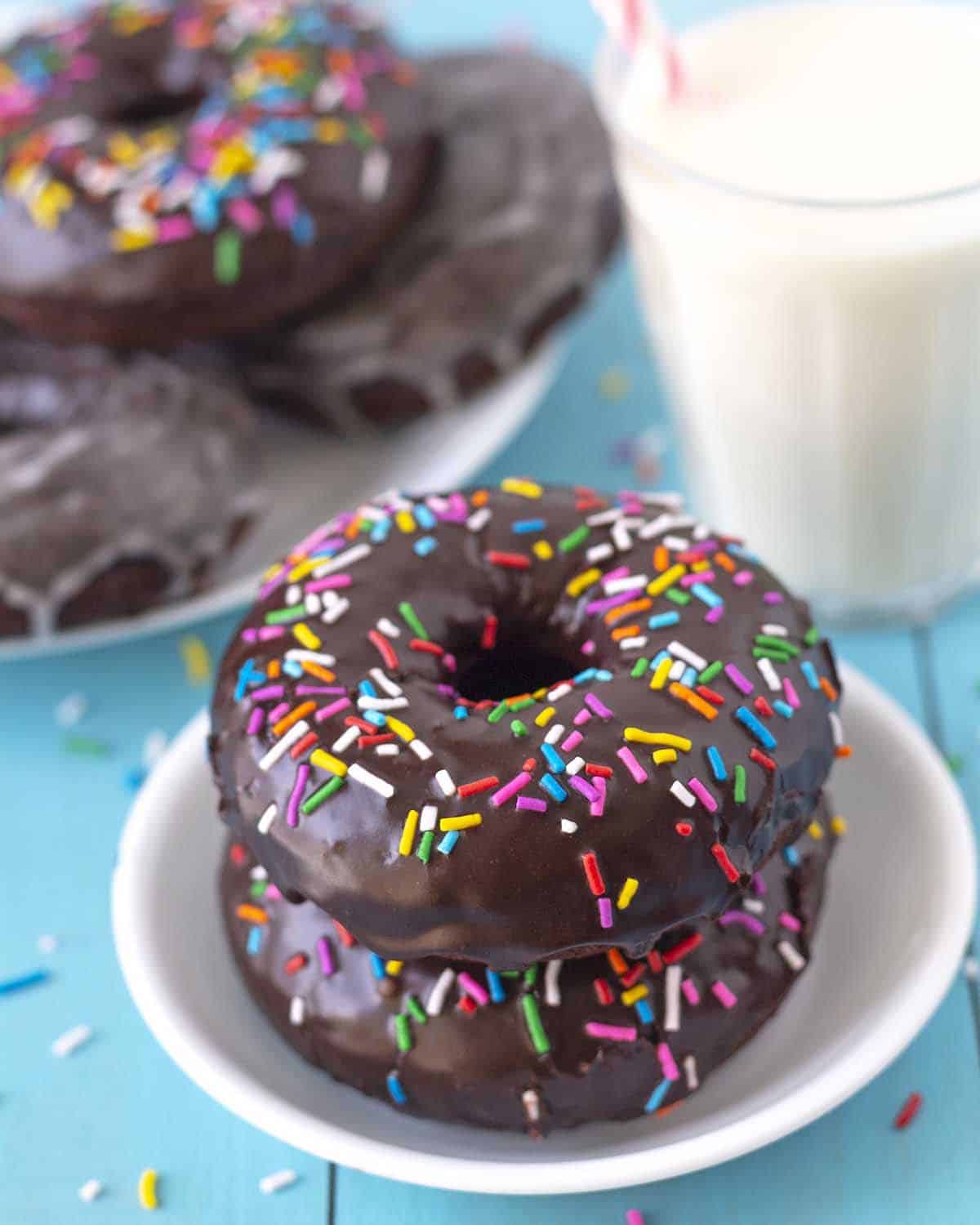 If donuts (aka: doughnuts!) are currently on your cravings list, then these vegan chocolate donuts are a must-make!
They're baked, not fried and they come together quickly so the craving you're trying to fix will be over in no time.
But be warned, they're so quick and easy to make (and of course, delicious!), you're going to find yourself making them quite often!
Before developing this recipe, I had never made donuts, baked or fried, so you can be confident that this recipe was tested very thoroughly.
(Have a read through the comments below to see how many readers have made them and were happy with the results!)
So for those of you who are vegan and not gluten-free, I've got you covered. For those of you who are vegan AND gluten-free, I've got your back, too.
If you think a donut is a perfect treat, then you should check out these other recipes:
Ingredients You'll Need
All you need is a few simple ingredients, you likely have them in your kitchen right now!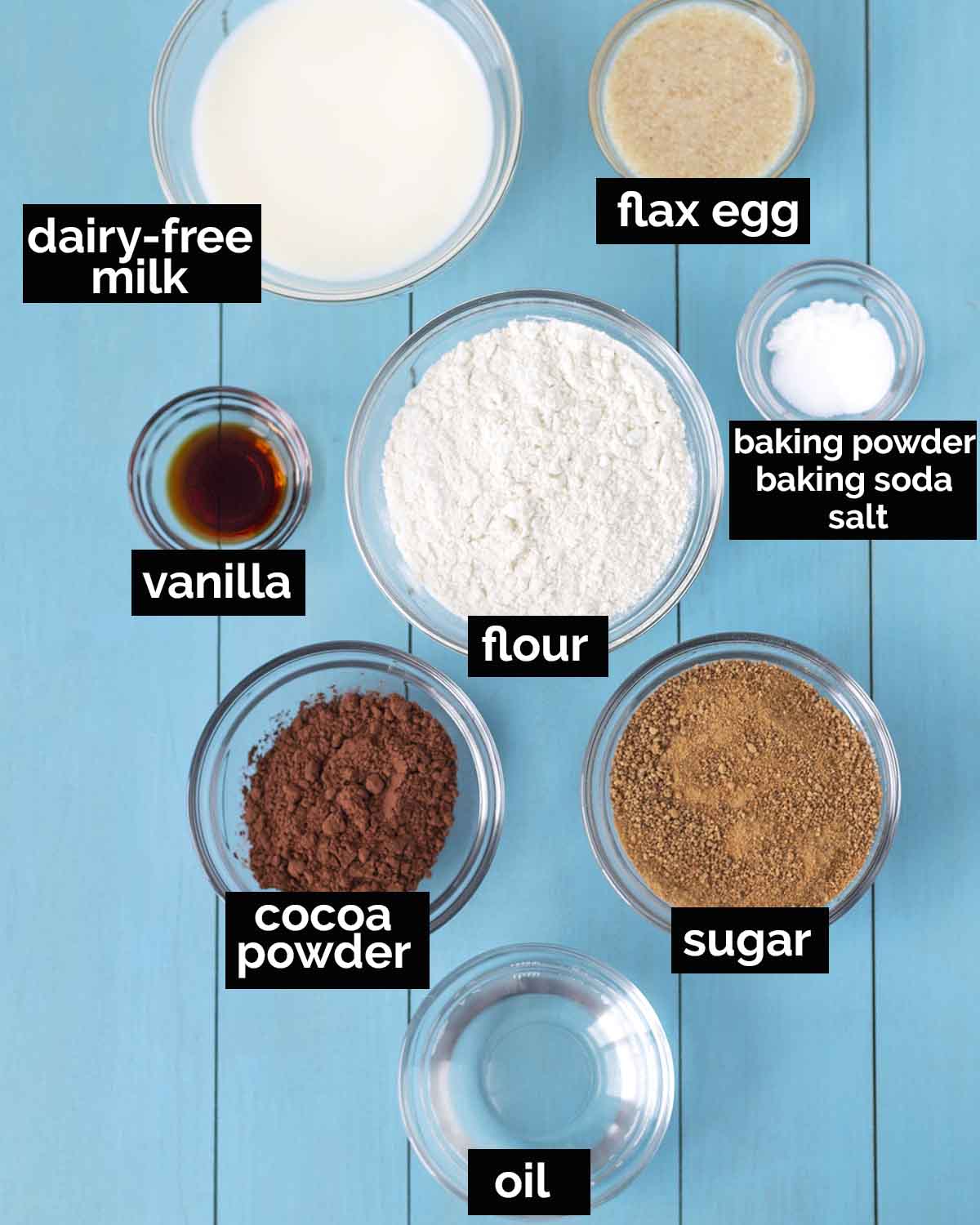 Ingredient and Substitution Notes
For the Donuts:
Flour - Like all of my vegan donut recipes, you can make these just vegan or vegan AND gluten-free. If you are making the vegan gluten-free version, you will need the Gluten Free 1-to-1 Baking Flour in the BLUE bag.
I have not tested this recipe with any other gluten-free flour, so make sure to use this one since all gluten-free blends DO NOT perform the same.
I tested the recipe with the Bob's Red Mill Gluten-Free All-Purpose Baking Flour in the red bag and the taste was off so I do not recommend using that one. I also tried an oat flour/almond flour blend and that wasn't quite right either.
NOTE: When baking, measuring your flour accurately is so important to get the best results. Check out my article about how to measure flour correctly before you start.
Cocoa Powder - I use Dutch-process cocoa powder in all my recipes since it provides such a rich chocolate flavour. If you are looking for an ethical cocoa powder brand, read my article "Is Cocoa Powder Vegan" to get a list of options.
Sugar – I use coconut sugar in this recipe but you can use white sugar or cane sugar if that is all you have on hand. I have not tried making this recipe with liquid sweeteners (like maple syrup or agave) or sugar alternatives, so I am unsure how they would work.
Not all sugar is vegan, some are processed using animal bone char, so to be sure that yours is vegan, buy an organic brand (organic sugar is not processed using bone char) or one that is labelled as vegan.
Baking Powder and Baking Soda - These ingredients are important for the donuts to rise properly, they cannot be omitted or substituted.
Flax Egg – Since this recipe is made without eggs, the flax egg acts as a binder. If you can't have flax, use ground chia seeds as a replacement for the ground flax seeds.
Dairy-Free Milk - Any type of non-dairy milk can be used (I use almond milk).
Oil – I use coconut oil when making this recipe but any type of neutral-flavoured vegetable oil can be used in place of coconut oil, such as safflower or sunflower. If you do use coconut oil, make sure that all of your other ingredients are at room temperature before starting so it does not solidify when it comes into contact with a cold ingredient. Melted vegan butter can be used instead of oil.
Vanilla Extract and Salt - Just a little of each is needed to enhance the flavour.
For the Glaze
There are two glaze options to choose from: a simple sugar glaze and a simple chocolate glaze.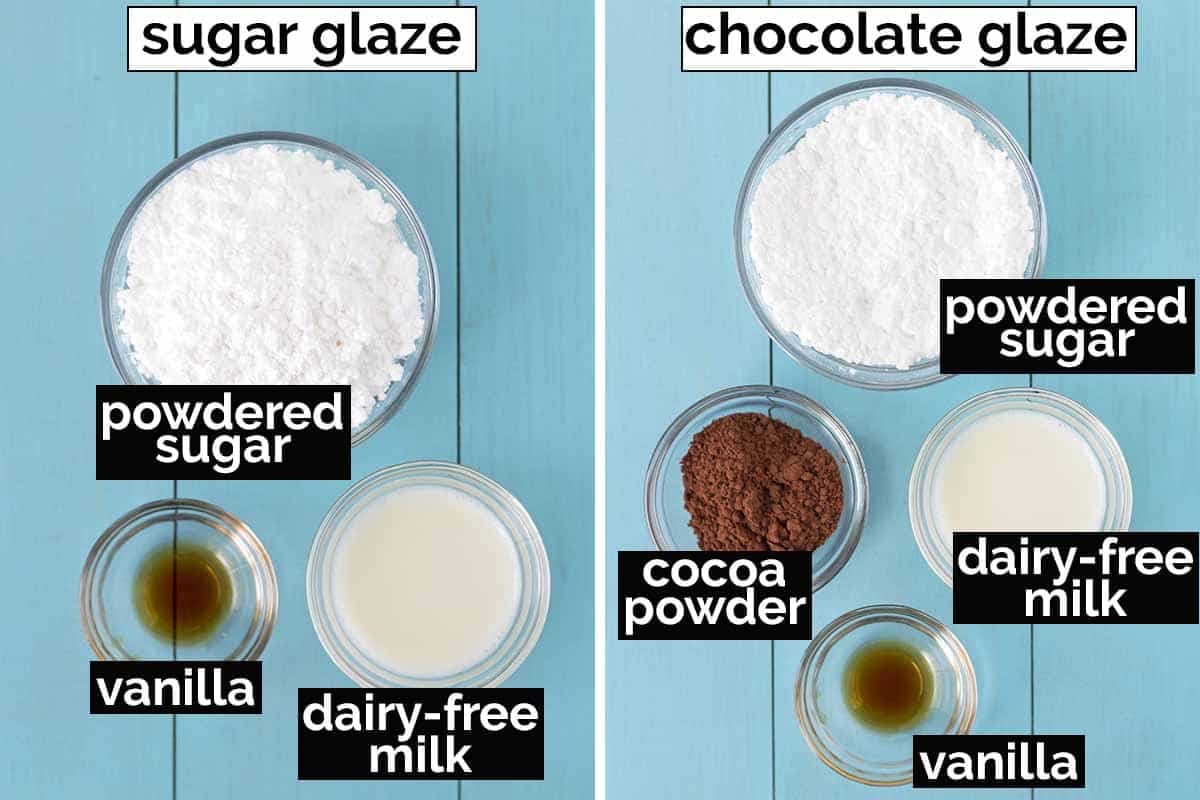 Powdered Sugar - Powdered sugar is essential to both glaze options and cannot be replaced with liquid sweeteners or any type of granulated sugar. I have not tried using any alternative sugars.
How to Make Them
(Note: I've outlined the step-by-step on how to make this vegan chocolate donut recipe here, but find the full recipe, ingredients, and directions in the recipe card at the end of this post.)
1. Mix all of the dry ingredients in a large bowl, and mix the wet ingredients in a small mixing bowl.
2. Combine the wet and dry ingredients.
3. Using a piping bag or a spoon, evenly divide the batter into a six-cavity donut pan.
Using a piping bag is the easiest way to get the batter into the donut pan. To do this, place the bag into a tall glass or cup and fold the top over the top of the cup. Slowly pour the batter into the bag. Twist the top of the bag so the batter moves down and then using scissors, cut the tip of the bottom corner off. If you're using a reusable piping bag, make sure to fold up the opening before placing it into the cup so the batter does not escape as it is being added to the bag.
4. Bake!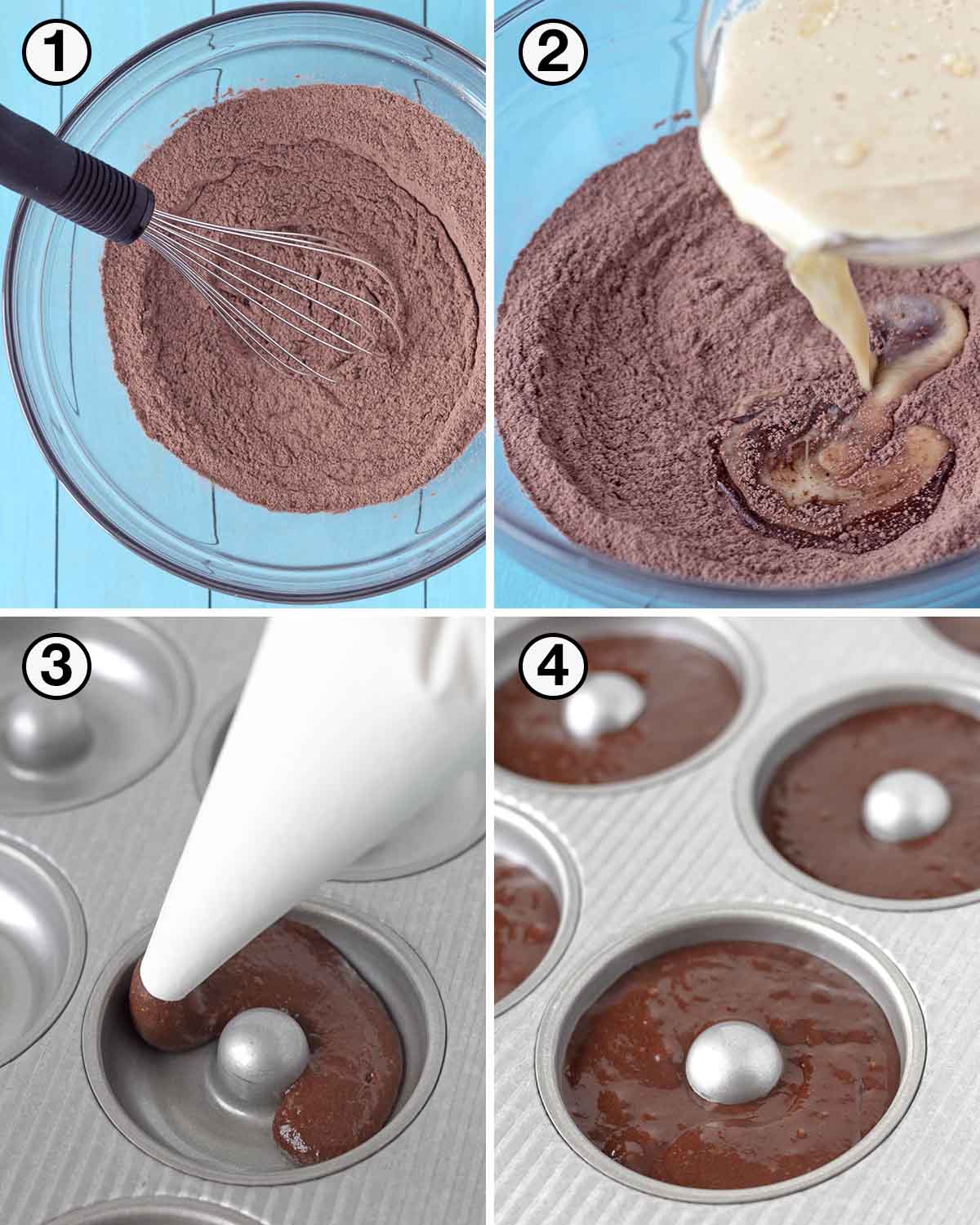 After they have finished baking, remove them from the oven and let them sit in the pan for a few minutes before removing them and placing them on a cooling rack to fully cool.
While waiting for them to cool, make the glaze (details in the recipe card below!)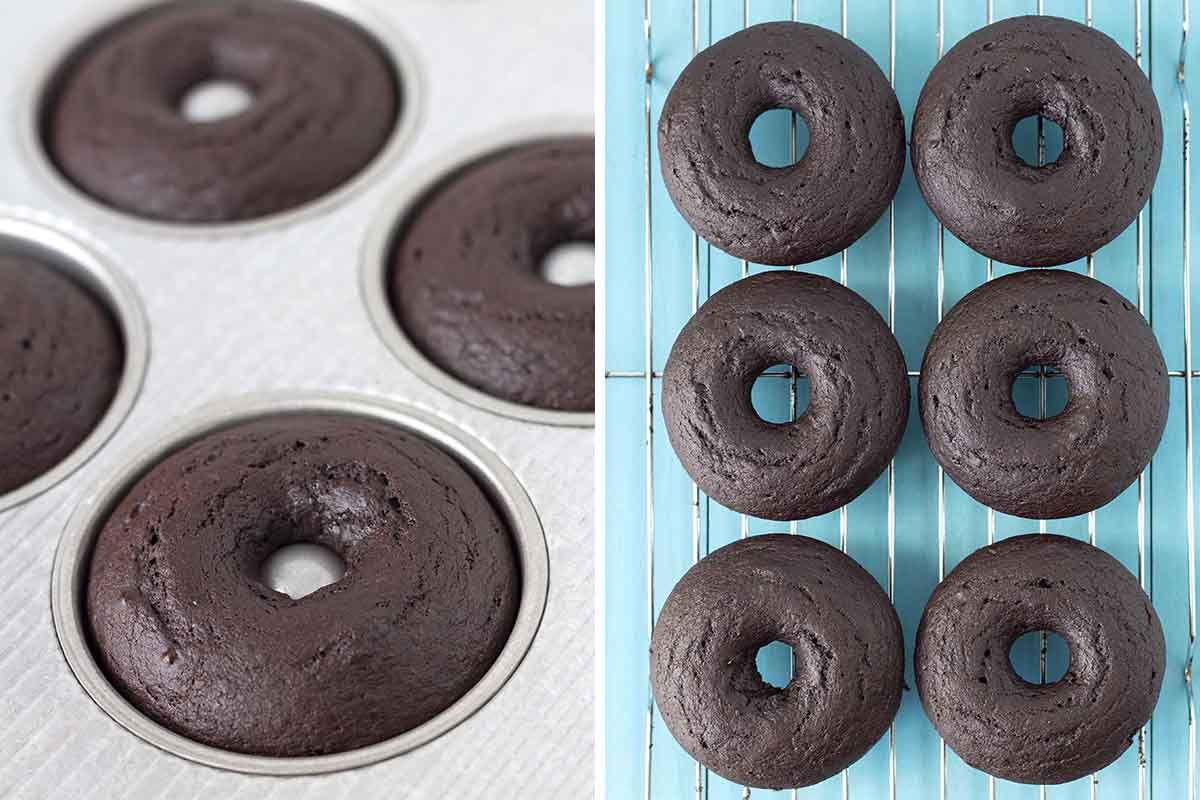 Chocolate or Sugar Glaze?
You can't go wrong with either option, both are delicious. Try one this time and the other one the next time you make them!
Make sure that the donuts have fully cooled before you dip them in the glaze or the glaze will melt right into the donuts and you will end up with a mess.
After dipping them, allow the topping to dry, fully, before serving.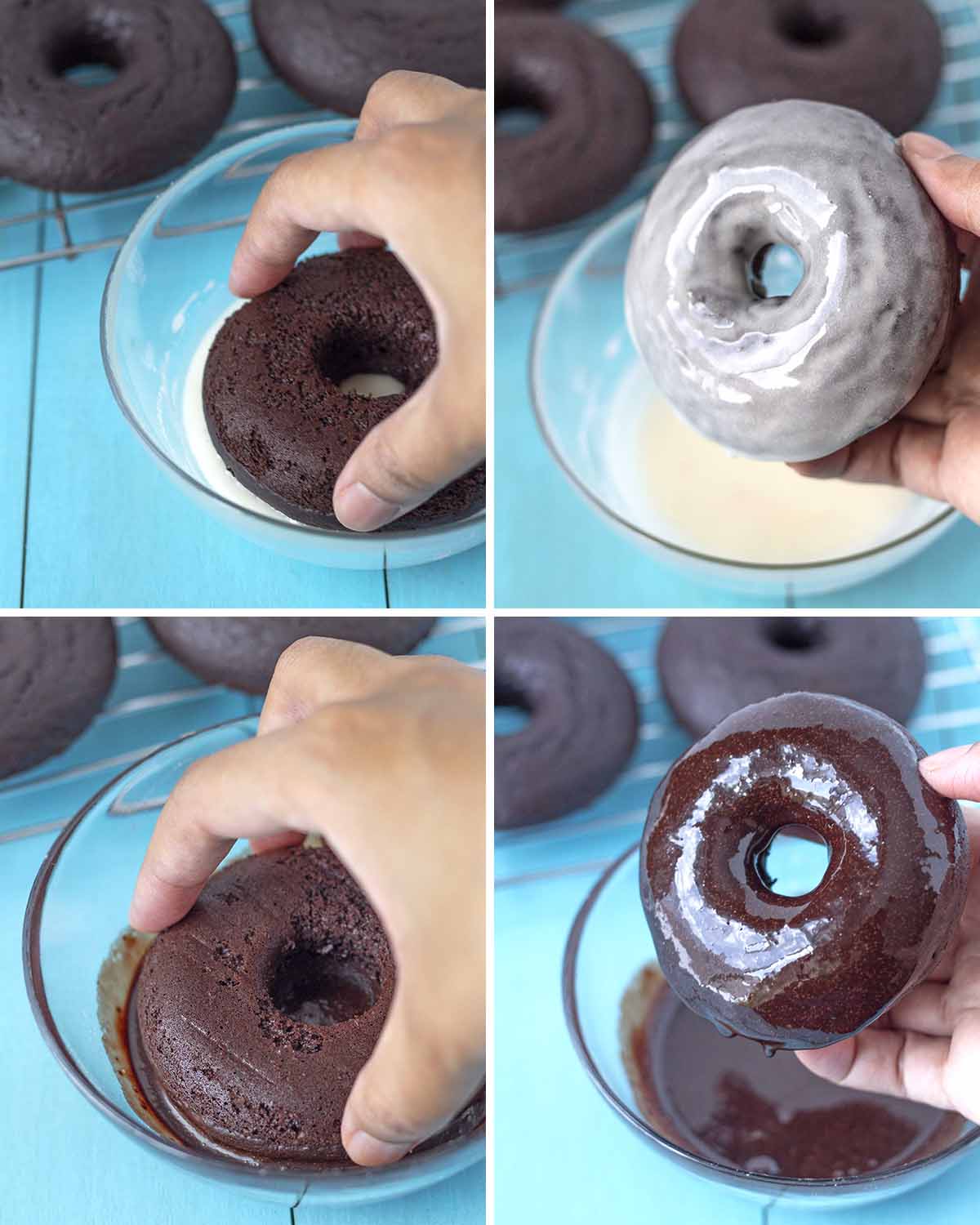 Topping Ideas
After dipping them in the glaze, if you'd like to add a topping, feel free to do so, but make sure you do it right away when the glaze is still wet so the topping sticks and stays stuck. Here are some ideas:
vegan sprinkles (use seasonal sprinkles if you're making them for a special occasion (Halloween, Valentine's, Christmas, etc.)
shredded coconut or coconut flakes
mini chocolate chips (read this article to find a list of vegan chocolate chips)
chocolate shavings
Oreo crumbs
chopped peanuts or nuts, salted or unsalted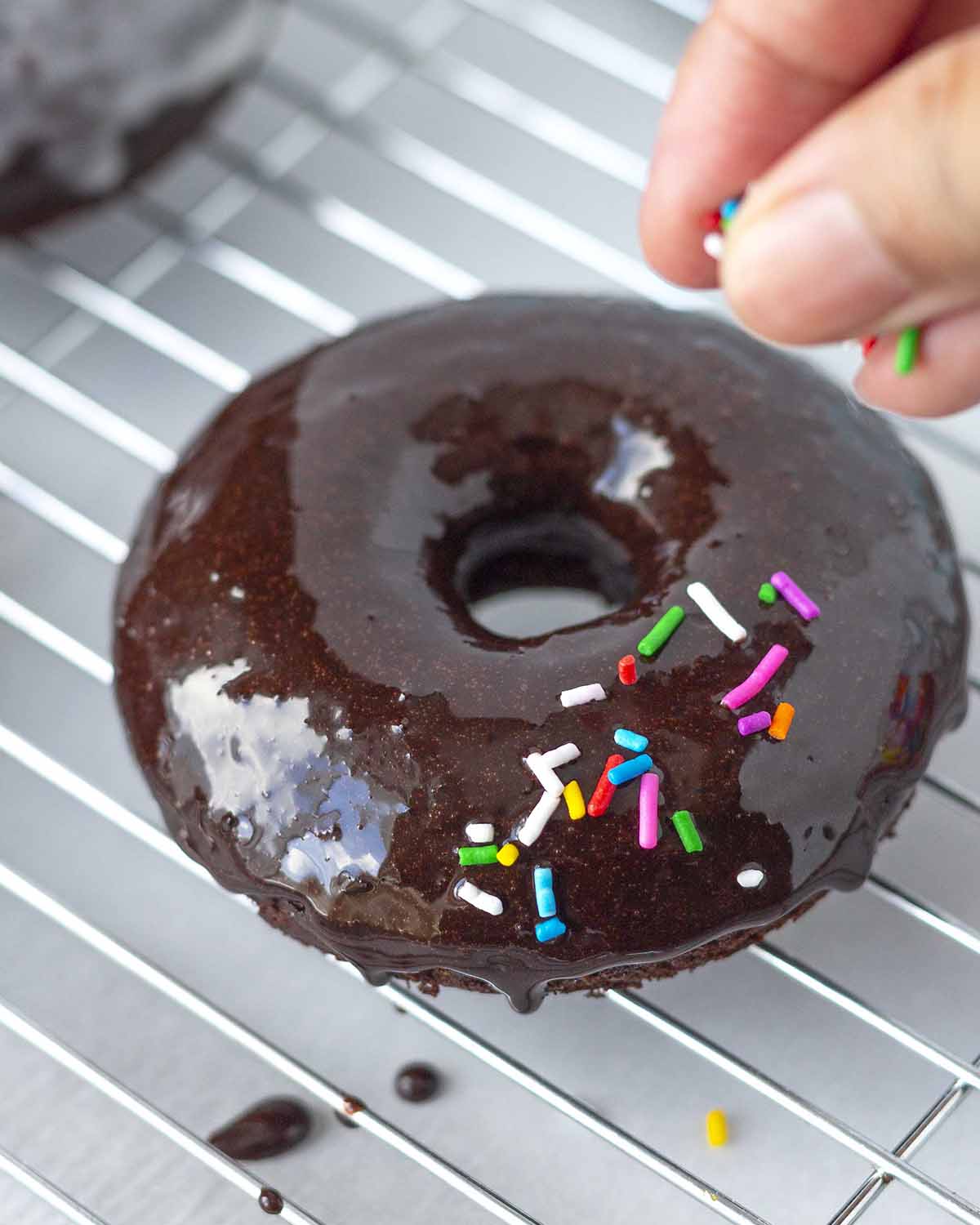 What's the Texture Like?
Both the vegan and the vegan, gluten-free versions of this recipe are soft and fluffy.
They're not quite like fried donuts. The fried, non-yeast, counterparts to my vegan gluten-free baked chocolate donuts are heavier and denser. Still delicious, but these are lighter versions that are just as delicious.
As for the taste, baked donuts are delicious. They're like mini, doughnut-shaped chocolate cakes.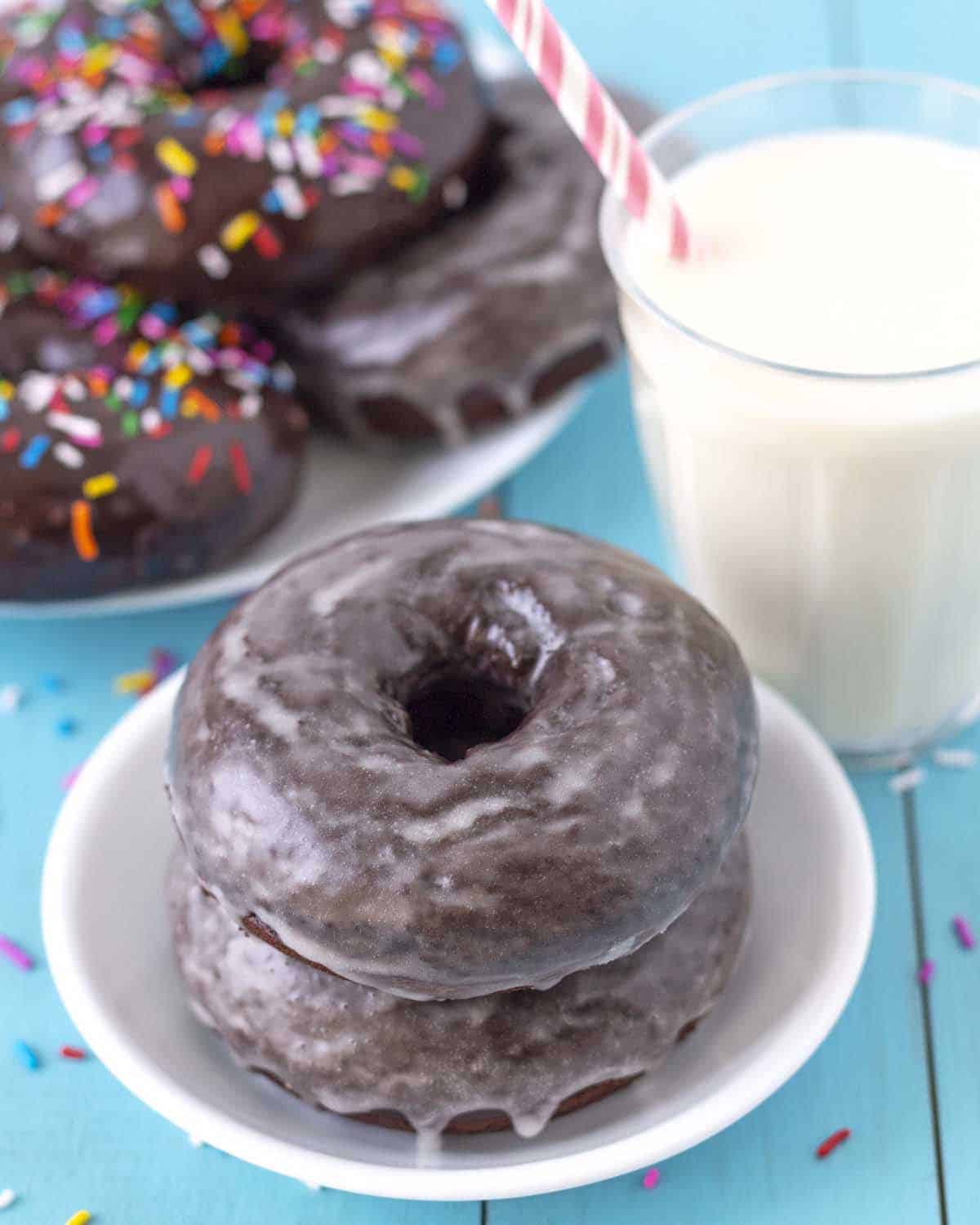 Making Ahead
If you would like to get a head start making your vegan chocolate glazed donuts, you can premix the dry ingredients and store them in an airtight container. When you're ready to make the donuts, mix the wet ingredients and go from there.
The donut batter cannot be made ahead and stored in the refrigerator, the donuts will turn out flat and will not rise.
Storing and Freezing
These donuts are best served on the day they were prepared, but if you do have leftovers, store them in the refrigerator in an airtight container for 1-2 days.
If you would like to freeze them, you can freeze the donuts before they have been dipped.
Bake the donuts, cool them, then store them in an airtight freezer bag or container for up to 2 months. When you're ready for them, remove them from the freezer, thaw at room temperature, make the glaze, dip, and enjoy.
Are you new to vegan gluten-free baking? If so, be sure to read all of my vegan gluten-free baking tips!
Tips for Success
Measure and have all your ingredients ready to go before starting. This will make the process run smoothly, quickly, and easily.
Measure your flour correctly. Too much will make your batter dry and very crumbly resulting in donuts that are also dry and crumbly. Please read my article about how to measure flour correctly. This tip also applies to all other ingredients, make sure to measure them accurately to get the best results. I highly recommend using a scale (this is the scale I own (Amazon Link) and my weight measurements.
Don't skip the resting time after you've removed them from the oven. You must wait a few minutes before transferring them from the pan to a cooling rack since they are fragile right after baking. They continue to bake as they rest and will firm up as they cool to make removal from the pan easy.
Be sure to warm the milk for the glaze if you are making the chocolate glaze, this helps it to mix well into the powdered sugar and cocoa powder.
When making the glaze, don't add too much milk, just add enough so it's thick, but not too thick. If it's too runny, it will soak right into the donuts. Start with the lower amount in the range given in the recipe and work your way up from there.
Make sure that the donuts have fully cooled before you dip them in the glaze or the glaze will absorb right into the donuts and you will end up with a mess.
Read this post from top to bottom before you start. I've included a lot of tips and tricks so you get things right. Also read through the actual recipe before getting started.
Follow the recipe exactly as it's written for the very best results.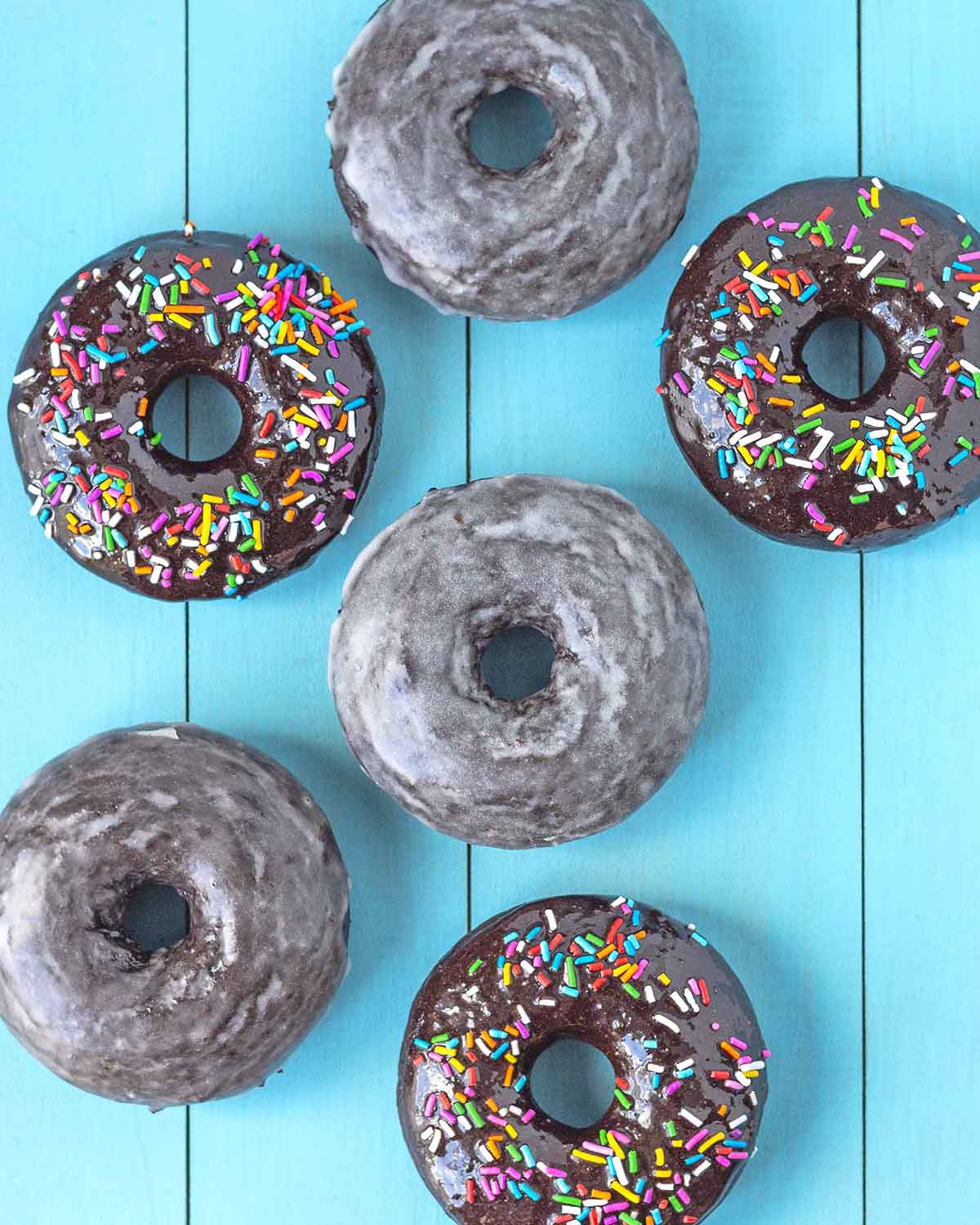 Recipe FAQ
What's the Difference Between a Vegan Donut and a Regular Donut?
Regular donuts usually contain eggs and dairy products, and vegan donuts only contain vegan ingredients and do not contain any animal-derived ingredients.
What's the Best Doughnut Pan to Buy?
Any standard sized six cavity donut pan will work for this recipe. This is the pan I own and love. It's heavy-duty and it's non-stick but does not contain a Teflon coating.
What If I Don't have a Donut Pan?
This recipe was developed specifically to be donuts so I would not recommend converting it to something else. If you don't have a donut pan and you want to make a similar chocolate treat, I recommend making my vegan gluten-free chocolate muffin recipe instead.
Does a Pastry / Piping Bag Need to Be Used?
This is the easiest way to get the batter into the donut pan, but if you don't have one, you can use a Ziploc bag with the corner cut off or a spoon.
Want more donuts? Be sure to look through this list to see all of my vegan donut recipes!
So bake up a batch for Valentine's Day, a birthday, or any day you feel like having a treat, it doesn't have to be a special occasion! Share with family, friends, co-workers, and classmates...no one will know they're vegan...or vegan and gluten-free.
If You Make This Recipe
I hope you enjoy these crave-worthy baked chocolate donuts. If you make them, share a pic on Instagram. I'm @delightfuladventures over there and my hashtag is #delightfuladventures. I love seeing your remakes!
If You Like This Recipe
You'll probably also like these other vegan chocolate recipes:
Vegan Chocolate Donuts (With a Gluten-Free Option!)
Soft, fluffy, moist, and delicious vegan chocolate donuts that are so quick and EASY to make! Top them one of two ways: with chocolate glaze OR with a vanilla sugar glaze. Either way, you're in for a delicious treat when you make this recipe. They're baked, not fried, and there's also an option to make them gluten-free!
Ingredients:
For Sugar Glaze:
¾

cup

(90g)

powdered sugar

sifted

4 - 5

teaspoons

warm unsweetened dairy-free milk

⅛

teaspoon

vanilla
Instructions:
Preheat oven to 375°F (190° C).

Grease your donut pan (if needed).

Prepare your flax egg by whisking together ground flax seeds and water. Set aside to thicken.

In a large bowl, whisk the flour, cocoa powder, coconut sugar, baking powder, baking soda, and salt.

In a small bowl, mix the milk, melted coconut oil, vanilla, and flax mixture together.

Pour wet ingredients into dry ingredients and mix well to combine.

Using a piping bag or a large Ziploc bag (see note below), pipe the mixture into each cavity of your donut pan. A spoon can be used if you don't have a bag.

Remove from oven and let the pan sit for a few minutes before removing the donuts.

Remove the donuts from the pan and place on a cooling rack.
While the donuts are cooling, make the glaze:
Add the powdered sugar to a small bowl (if making the chocolate glaze, add the cocoa powder, too). Add the vanilla and 2 teaspoons of milk. Mix.

Add more milk, 1 teaspoon at a time until a thick glaze has formed. If the glaze is too thick to dip the donuts, add a very small amount of milk and mix until you have a thick glaze.

When the donuts have fully cooled (they don't take long!), dip the tops of each doughnut into the glaze. Repeat with all the donuts.

Place the donuts back onto the cooling rack for the excess glaze to drip off and firm up. (Place a piece of parchment paper under the rack to catch the drips!)
Recipe Notes:
Note that I'm using all-purpose flour in the video that's included in this post.
Please read all of the information and FAQ info above, as well as the notes below before making this recipe.
Make sure to measure your flour correctly.
If you are making the vegan gluten-free version of this recipe, it's important to know that every gluten-free flour blend uses different ingredients and ratios. Results will always vary when different flours are used. I tested with several different flours and the only one that worked well for me was the Bob's Red Mill 1 to 1 Baking Flour (the one in the blue bag, not the red bag) so please know that your results may not be the same as mine if you substitute with a different gluten-free flour. This recipe will NOT work with coconut flour or any other single gluten-free flour.
If you are making the vegan gluten-free version, the batter will be very thick. That's OK! Just pipe it into the pan as-is.
A piping bag is recommended for getting the batter into the pan. If you don't have a piping bag, use a large Ziploc bag and snip off the end to stand in for a piping bag. Read the info above on how to fill the piping bag. If you don't have either, carefully spoon the batter into each doughnut cavity.
Make sure that the donuts have fully cooled before you dip them in the glaze or the glaze will absorb right into the donuts and you will end up with a mess.
It's best to eat the donuts the same day they were made. The glaze does not hold up well. If you have leftovers, refrigerate them for 1-2 days but know that the glaze may melt into the doughnut if kept for too long.
The nutrition info listed is for the vegan gluten-free version using the regular sugar glaze. The calorie count for 1 doughnut using the vegan-only recipe (using all-purpose flour) is approximately 189 calories. Nutrition info is to be used as a rough guide only, learn how nutrition info is calculated on this website.
Nutrition Info:
Serving:
1
donut
|
Calories:
205
kcal
|
Carbohydrates:
30
g
|
Protein:
2
g
|
Fat:
8
g
|
Saturated Fat:
7
g
|
Monounsaturated Fat:
1
g
|
Sodium:
148
mg
|
Potassium:
83
mg
|
Fiber:
2
g
|
Sugar:
13
g
|
Vitamin A:
50
IU
|
Calcium:
60
mg
|
Iron:
0.9
mg
Did You Make This Recipe?
If so, please share a picture with me on Instagram! Tag @delightfuladventures and hashtag #delightfuladventures. I can't wait to see!
This post was updated in October 2022 to include new images and more helpful information. These are the old images: