This post and recipe for vegan bolognese, is sponsored by Purolator Tackle Hunger. I was compensated for my time, and as always, all opinions in this post are my own.
This shortcut vegan Bolognese is made with lentils and pantry staples that you probably already have on hand. It's a filling, flavourful, family-friendly meal that you can have on the table in just under 30-minutes...and it's SO easy to make!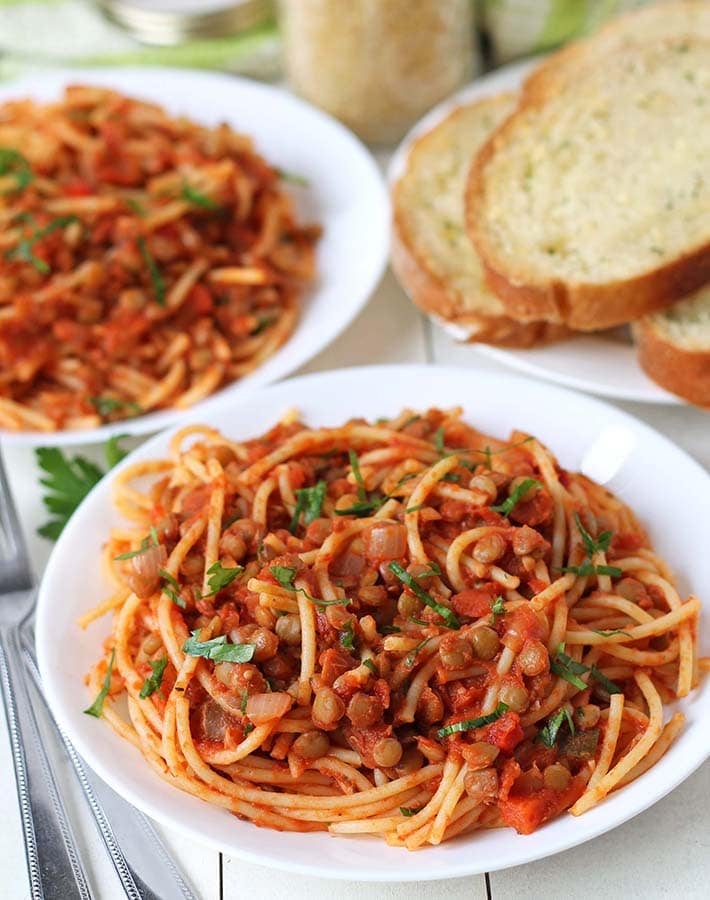 I was asked to take part in Purolator's Tackle Hunger Campaign and after I heard the details, it was an immediate YES. Food, giving back, and sports? Yes, please.
I grew up going to Ottawa Rough Riders' (as they were called back then) practices and watching games with my dad, so it was a lot of fun (and a little nostalgic) to work on this campaign.
This Time of Year is a Crucial Time for the Ottawa Food bank
During the summer months, food donations and fund raising is especially important since donations tend to be slow. All that was received during the "giving season," the time when donations are at their highest (October - December 31), runs out by April.
The Tackle Hunger Campaign
To help our local food banks, for the past 16 years, Purolator has been running the Tackle Hunger Campaign (PTH), which is a partnership with the Canadian Football League (CFL). Every season, each team in the league has a dedicated game where fans are asked to bring along a non-perishable food item or cash donation, for their local food bank, to the game.
Since 2003, the program has helped deliver the equivalent of more than 13 million pounds of food to food banks across Canada.
This year, my city's team, the Ottawa REDBLACKS' PTH game took place on July 16th and the equivalent of 24,000 pounds of much needed food was donated to the Ottawa Food Bank!
How I Decided On This Recipe
At an event to kick off the campaign here in Ottawa, I met with two of the Ottawa REDBLACKS players, Kevin Brown II (#31) and Jonathan Newsome (#43), and sat with them for a few minutes to talk food. My favourite topic 🙂
Now, you may be wondering what all of that has to do with a lentils and pasta recipe!
As part of this campaign, I was also asked to create a recipe using food bank staples. In my conversation with the Ottawa Food Bank reps, I leaned that the important staples they're always in need of are: legumes, pasta, pasta sauce, peanut butter, cereal, rice, tuna, and canned vegetables.
So I asked Kevin and Jonathan what they would make if they had to create a dish using some of those staples.
Both came up with some great sounding pasta dishes, so that's the direction I went in. They also eat plant-based during the season, and whenever they can outside of the season, so of course, this recipe, like all of my other recipes, is also plant-based.
Eating plant-based is not as hard as some may think, there are many amazing, delicious meals that can be prepared using just plant-based proteins. Think of all the things that can be made with lentils, beans, and chickpeas!
The food banks staples I'm using to make my vegan Bolognese are pasta, pasta sauce, and legumes (lentils). Good food can be for everyone and I hope this recipe shows that.
So...What Is Vegan Bolognese Sauce?
This is not your traditional Bolognese sauce! Traditional Bolognese contains meat, but this vegetarian Bolognese uses lentils instead of meat.
It's a dish that's great idea for:
meatless Mondays
incorporating more plant-based meals into your rotation
if you already eat plant-based / vegan / vegetarian and you want to add a quick and easy meal idea to your list
OR if you just want to eat something that tastes good and will fill you up!
Ingredients for Lentil Pasta Sauce
See all the ingredients in the picture below? Add a little oil for sautéing the onions and garlic plus water for boiling the lentils and pasta and that's all you need for this recipe! There are a few ways you can customize your recipe to suit your tastes and I've included those details below.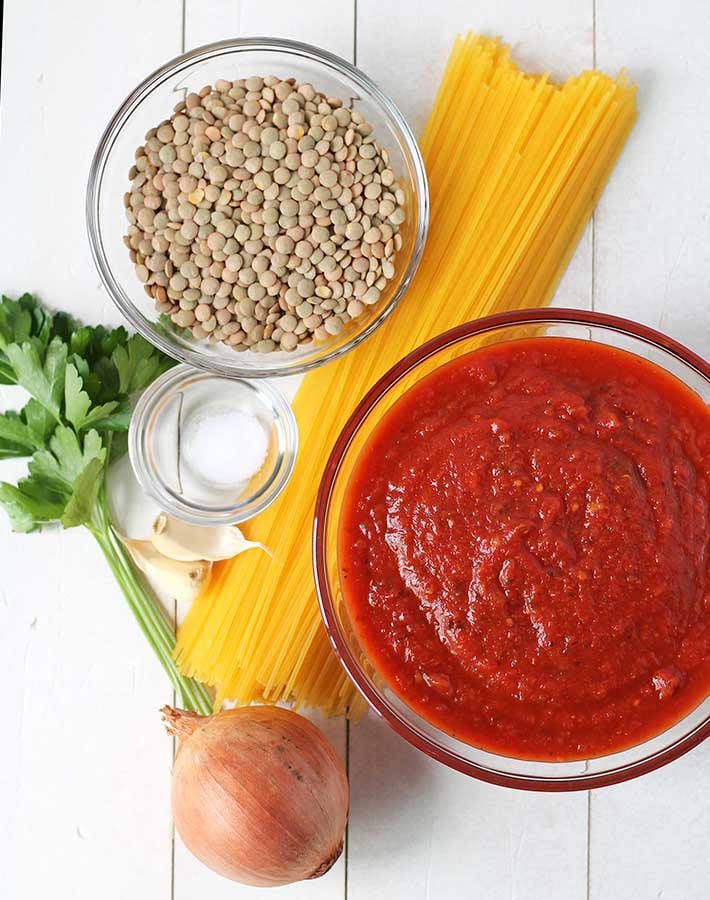 What Kind of Sauce Should Be Used?
Use your favourite jarred pasta sauce. I like to use a primavera sauce because it has veggies in it, but this recipe will work with any pre-made sauce.
One thing to keep in mind is that if you want to keep your lentil Bolognese vegan, read the ingredient list to make sure your sauce doesn't include any dairy or meat.
What Kind of Lentils Should Be Used?
I like to make vegan Bolognese with green lentils (like you see in the pictures), but brown lentils also work well. I would not use red lentils for this recipe since they get mushy as they cook. You can read more about the different types of lentils here.
What Kind of Pasta Should Be Used?
My preferred pasta is spaghetti or any other long pasta, but any type can be used, just be sure to use the amount stated in the recipe. If you're gluten-free, use gluten-free pasta, or you can also use zucchini noodles.
Keep in mind that using too much will result in dry pasta with barely any sauce to coat all of the noodles. If you want to use more pasta to make more servings, the sauce can be doubled.
How to Make Vegan Bolognese Sauce
(Note: I've outlined the step-by-step on how to make this lentil Bolognese here, but find the full recipe, ingredients, and directions at the end of this post.)
Before you make the sauce, you'll need to get the lentils and the pasta cooking so they're ready and waiting when you need them. Once that has been done, you can start the sauce.
When I use jarred pasta sauce for any recipe, I like to give the flavours a little boost by sautéing onions and garlic, and then adding the sauce to it, which are the first two steps you'll do.
After that, you'll add the cooked lentils to the pan, give it a stir and that's it, your lentil Bolognese sauce is done!
The next step is to add the cooked pasta to the pan and toss it with the sauce until all the pasta is coated.
How to Customize Your Spaghetti with Lentils
Since jarred pasta sauce is being used, there are a few ways to customize the dish to suit your tastes. You can:
Chop up any veggies you have in the fridge and cook them with the onions and garlic.
Use a little less pasta than what is called for so you end up with extra saucy noodles.
Add fresh or dried herbs.
Add your favourite spices.
Add some spiciness, try red pepper flakes!
Add some greens, like baby spinach, and let them wilt down.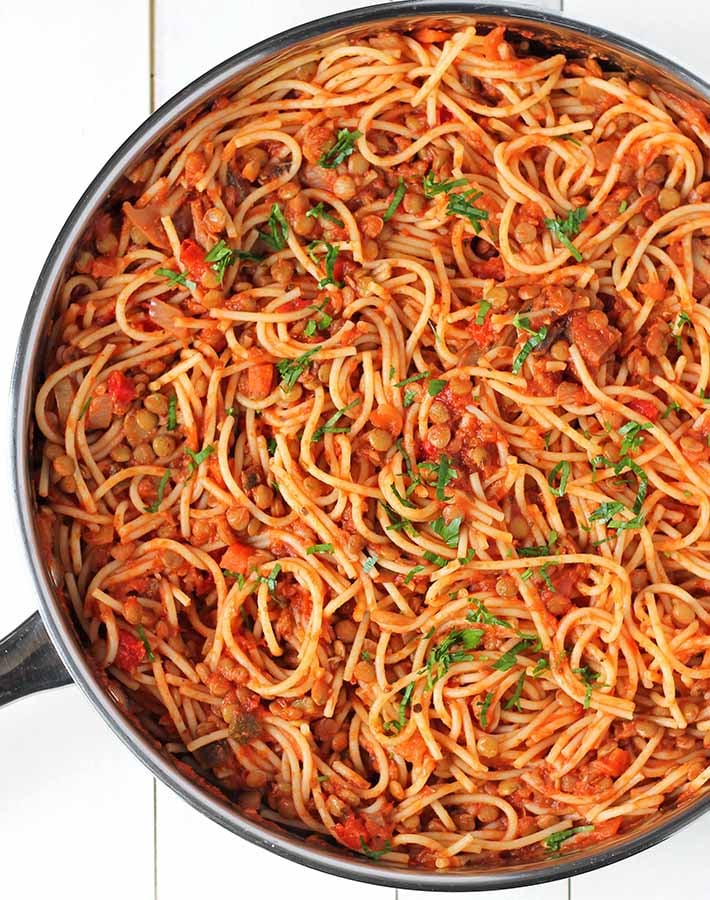 How to Use Vegan Bolognese
My favourite way is to serve it on pasta but if you want to skip the pasta, you can just make the lentil spaghetti sauce and serve it on top of:
a baked potato
mashed potatoes
nachos
toast
Or you can use it to make lasagna. There are so many possibilities.
What to Serve with Veggie Bolognese
You can serve it as-is, or:
Garnish with chopped parsley (like I did) or basil
Top with vegan Parmesan
With garlic bread
With a salad
With roasted vegetables (like this garlic cauliflower)
Can I Freeze the Sauce?
Yes! If you just want to make the sauce without the pasta to use at a later date, make it, cool it off, and put in an airtight container. It can be kept in the freezer for up to a month.
When you're ready to serve, thaw in the refrigerator overnight, cook your pasta, heat the sauce in a skillet, add the pasta, toss, and it's ready to serve!
See? Good food can be for everyone! If your city has a CFL team, keep an eye open for your team's PTH game (you can see the schedule on this page) so you can bring a donation, and enjoy a game. Win/win (and hopefully a win for your team, too!)
If You Make This Vegan Bolognese Recipe...
...let me know by leaving a rating and comment below or you can take a pic of your finished dish and post it on Instagram and tag me (@delightfuladventures). I want to see!
If you like this lentil pasta recipe, you may also like these other easy vegan dinner recipes:
Quick & Easy Vegan Bolognese
Shortcut vegan Bolognese made with lentils and pantry staples. You can have this filling, flavorful, family-friendly meal on the table in under 30-minutes!
Ingredients:
¾

cup

dry green lentils

¼

teaspoon

salt

340

grams

(12oz)

dry spaghetti

(gluten-free, if needed)

2 ¼

cups

water

1

tablespoon

oil

½

yellow onion, chopped

2

cloves

garlic, chopped

2 ½

cups

(650ml)

pasta sauce

chopped parsley, chopped basil, or vegan Parmesan for garnish

(optional)
Instructions:
Prepare the Lentils
Pick through the dry lentils to make sure there isn't anything there that shouldn't be.

Add lentils to a small colander, sieve, or bowl and rinse.

Add lentils and water to a small pot and bring to a boil. Once boiling, lower heat to medium and simmer until lentils are cooked through. This should take about 15-20 minutes. When ready, drain any excess water and set lentils aside.
Prepare the Pasta
While lentils are cooking, prepare pasta using directions on package. Drain and set aside.
Prepare the Sauce
Heat oil in a large skillet over medium heat. Add onions and cook for about 2 minutes. Add the garlic and continue to cook for another 2 minutes, until the onions begins to brown.

Lower heat to medium and add pasta sauce to the skillet and stir. Add lentils to the sauce, stir again.

Add cooked pasta to the skillet and gently toss the pasta using tongs until all noodles are coated with the sauce. Remove from heat and serve.
Recipe Notes:
Please read through all info and tips above before making this recipe.
This recipe will make 4-6 servings and will depend on how large or small you make each serving.
Canned cooked lentils can also be used. Measure out 1.5 cups and rinse to remove excess salt and skip the cooking, just add them straight to the sauce after rinsing.
Nutrition info is based on 1 of 4 servings of the recipe prepared as written, using gluten-free spaghetti, a no sugar added primavera sauce, and no garnishes. Nutrition info is only to be used as a rough guide. Click to learn how nutrition info is calculated on this website.
Nutrition Info:
Serving:
1
g
|
Calories:
529
kcal
|
Carbohydrates:
101
g
|
Protein:
17
g
|
Fat:
7
g
|
Saturated Fat:
1
g
|
Monounsaturated Fat:
2
g
|
Sodium:
633
mg
|
Potassium:
350
mg
|
Fiber:
18
g
|
Sugar:
10
g
|
Vitamin A:
650
IU
|
Vitamin C:
8.3
mg
|
Calcium:
80
mg
|
Iron:
4.9
mg
Did You Make This Recipe?
If so, please share a picture with me on Instagram! Tag @delightfuladventures and hashtag #delightfuladventures. I can't wait to see!