An easy recipe for tofu breakfast burritos that include roasted potatoes, a delicious tofu scramble, and fresh toppings. These burritos can be served right away or made in advance and put in the freezer for later! In my opinion, this is one of the best vegan breakfast recipes to make!
This page may contain affiliate links. Click to learn more.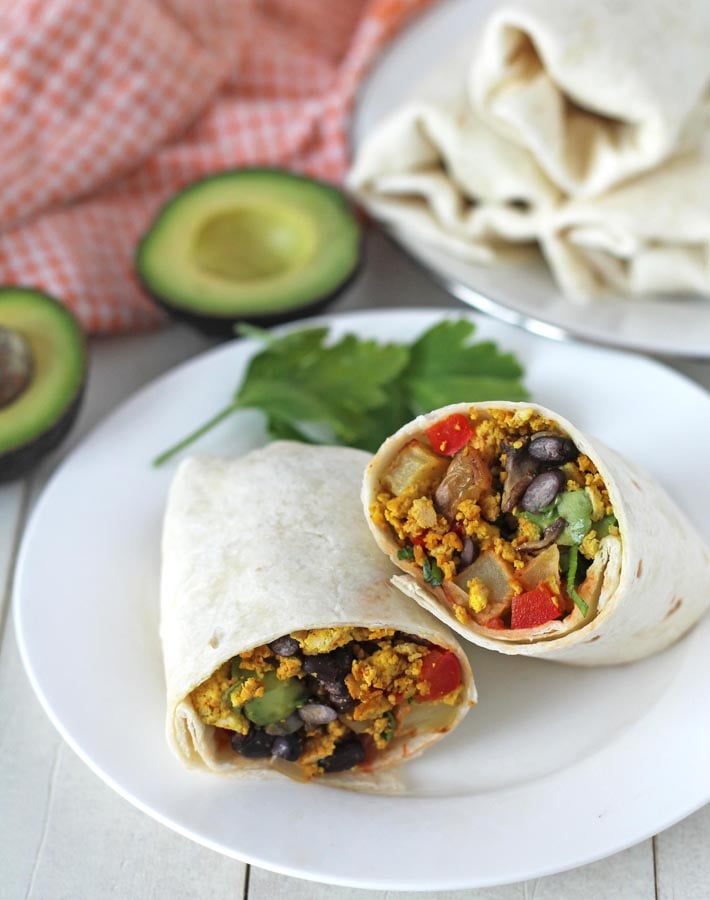 The Answer to Cereal Boredom: Tofu Breakfast Burritos!
For a while now, my kids want absolutely nothing to do with cereal for breakfast. I wrote a little about this over on CBC Parents, but basically, cereal is off the menu and it's all about ANYTHING BUT cereal.
There are plenty of other healthy vegan breakfast options out there, but I wanted new things that were nutritious, easy to make, and things they'd actually eat.
While brainstorming ideas for new breakfast options, these tofu breakfast burritos made the shortlist. They've since become a fast favourite and are enjoyed with no complaints. Sigh of relief.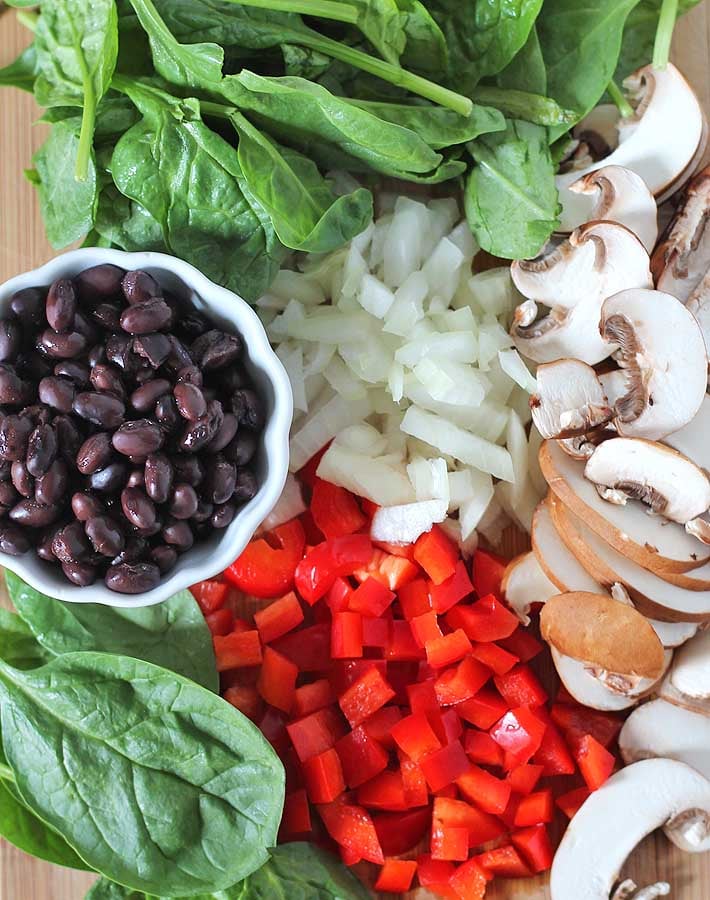 I make a batch on the weekend, freeze them, and then they re-heat their tofu burritos on school mornings, by themselves.
And no one has to eat cereal. Win, win.
These vegetarian breakfast burritos are loaded with nutritious ingredients and the toppings can be anything you and / or your kids like.
Do These Vegan Breakfast Burritos with Tofu Taste Like Tofu?
If you or your kids don't like tofu (or think you don't like tofu!), rest assured, these don't have that tofu taste that many dislike. The tofu scramble is seasoned nicely and have optional black salt (see below for more info on black salt!) to give it an "eggy" flavour, so no. No strong tofu flavour here!
(If you're looking for more tofu breakfast recipes, be sure to check out my southwest tofu breakfast tacos!)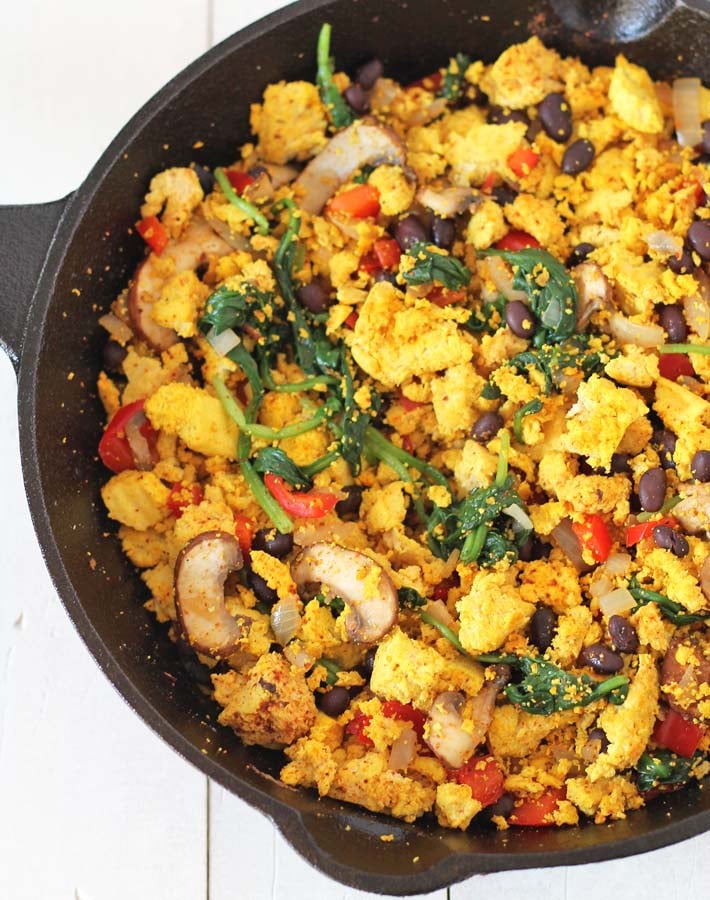 The Filling for Tofu Scramble Breakfast Burritos
The roasted potatoes and the tofu scramble are the base fillings for your tofu breakfast burritos, but for the rest, you can customize based on what you like.
Toppings for Vegan Breakfast Burritos
For the burritos in the photos, I've topped them with salsa, chopped parsley, and diced avocado. Every time I make them, I top them differently and you can do the same so you have a different burrito every time. Experiment a bit by using different toppings to see what your favourite combos are.
Here are some more topping suggestions:
diced tomatoes
vegan cheese shreds
vegan sour cream
cilantro
green onions
chives
diced red onions
hot sauce or sriracha
hummus
guacamole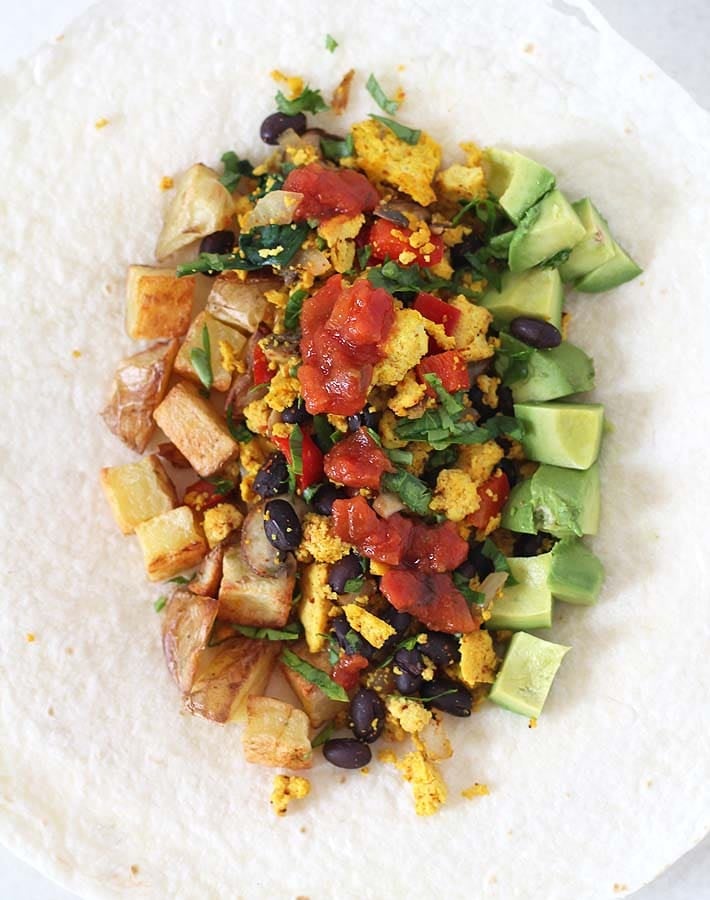 As mentioned, these tofu burritos are 100% freezer-friendly. Make them on the weekend so you can enjoy a quick, filling and easy vegan breakfast on busy weekday mornings.
Are There Special Steps to Follow in Order to Freeze These Tofu Breakfast Burritos?
Yes. If you're going to make a big batch and freeze for later (they're perfect for vegan meal prep!), I've included instructions in the recipe on how to do that.
If I Freeze Them, How do I Re-Heat Them?

I've include directions in the recipe notes about that, as well 🙂
What is Kala Namak / Black Salt and Why Does This Recipe Call For It?
Kala namak is optional, so you if you don't want to use it, regular salt can be used instead.
Kala namak is also known as "Himalayan black salt" (even though it's not black!) and contains sulpher compounds which will give your tofu scramble an "eggy" flavour. A little goes a long way when you add it to your recipes!
If you've never had a tofu scramble before, the texture and look is very much like eggs (see images above and below!) and the kala namak will make the taste very similar to eggs.
If eggs are something you enjoyed before, you will likely enjoy adding black salt to your vegetarian breakfast burritos.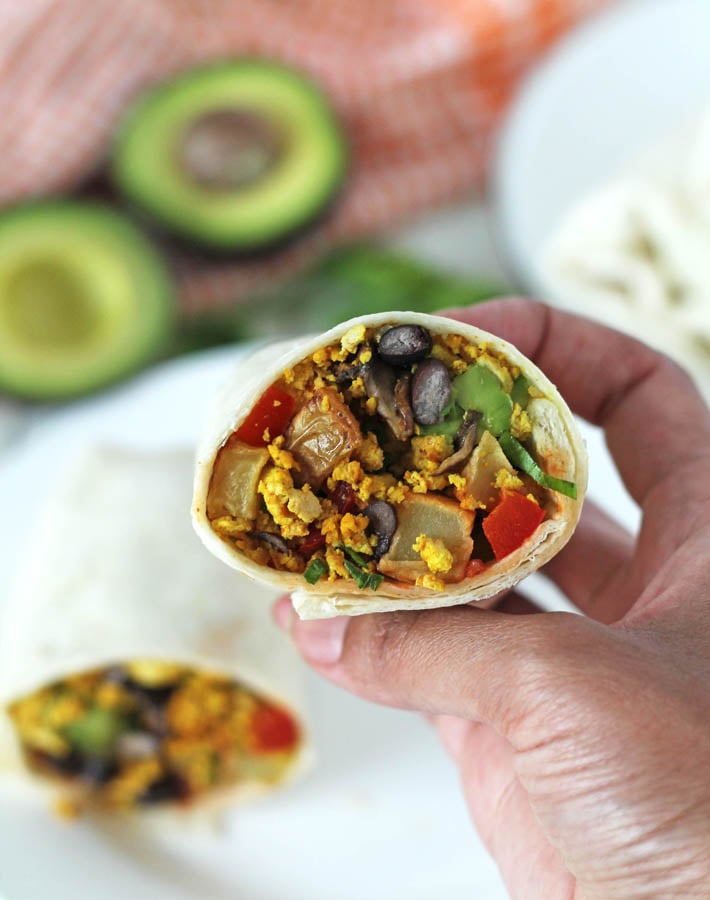 If you make these, please share a pic with me on Instagram or let me know about it by leaving a rating and a comment below!
You can also help me to help others find this vegetarian breakfast wrap recipe by pinning it to your recipe board on Pinterest! You can do that by clicking here.
If you like these tofu breakfast burritos, you may also like these:
How to Make Tofu Breakfast Burritos