The kind of granola I like can't be too sweet, it needs to be crunchy, and the granola has to be clusters (I'm not a big fan of loose, crumbly granola). This is why I usually have a batch of Nut Free Maple Coconut Granola Clusters in my cupboard.
I think my love of granola dates back to my childhood when my mom kept a granola stash all to herself. It was a store bought box that she only got when it was on sale because it was a little pricey. When she brought a box home, we all knew it was off limits because it was her special thing. I specifically remember it being the cluster kind of granola and it was delicious. Perhaps it was extra delicious because it was off limits to everyone? Maybe.
Nowadays, my own food stash that is off limits to others consists of chocolate (what do you keep in yours?!), not granola…because of this recipe. My nut free granola is homemade, simple to prepare, and it's not pricey to make so I can make enough for the entire family to enjoy. (In fact, it's cheaper to make your own granola than to buy the store stuff!) And the best part? Because they're clusters, they're so easy to grab and eat while you're on-the-go. Don't you want to grab a few of these right now?!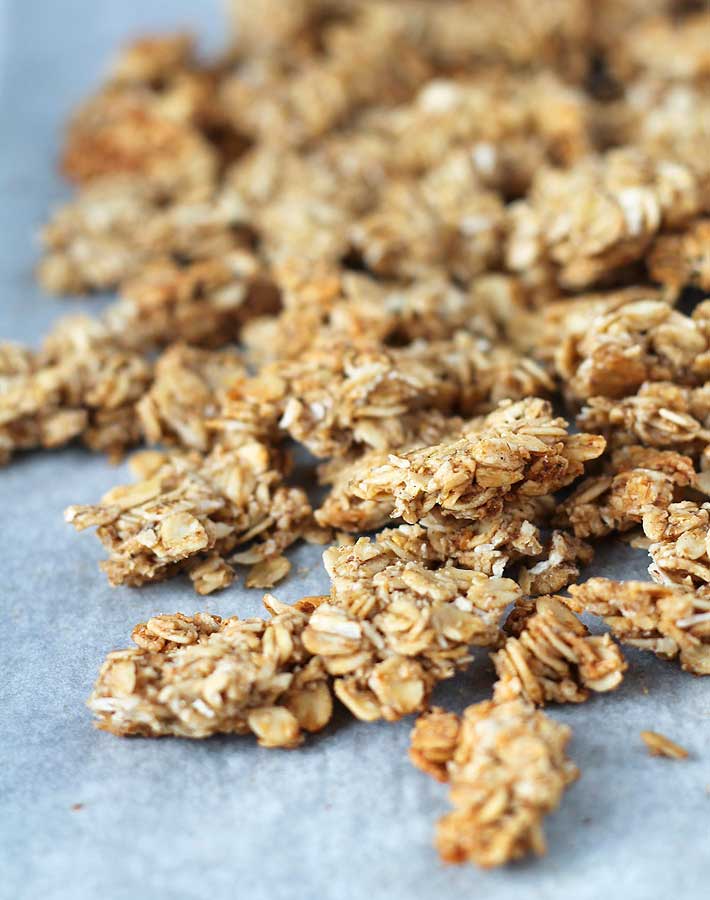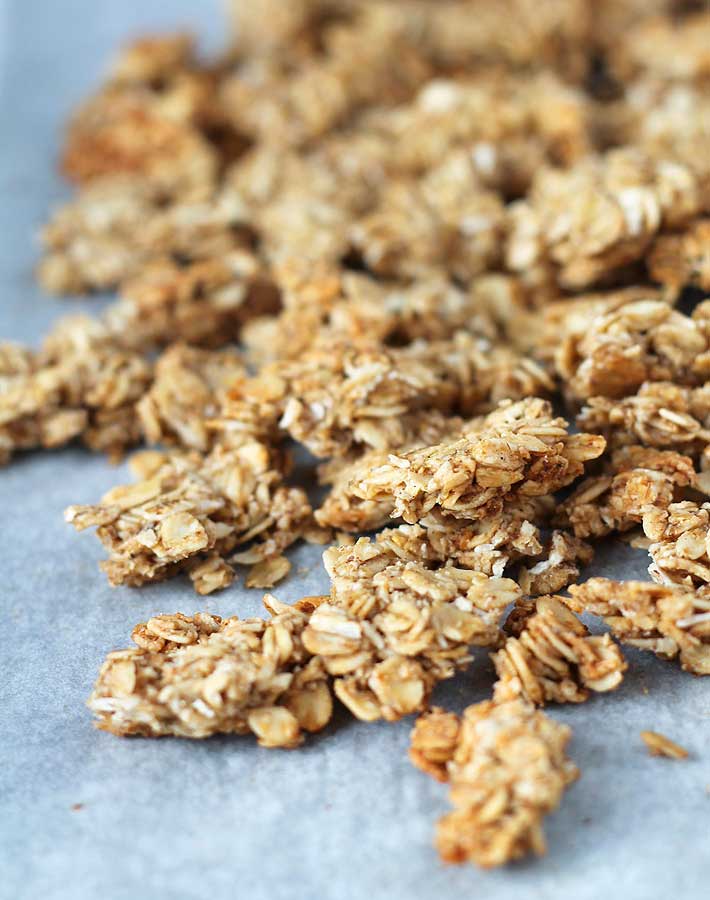 All it takes is simple ingredients you probably already have in your cupboards. It's delicious to have for breakfast, of course, but it can also be enjoyed as school snacks, afternoon snacks, travel snacks…any time snacks. It's also a nice addition to yogurt parfaits and any other recipe that calls for pre-made granola.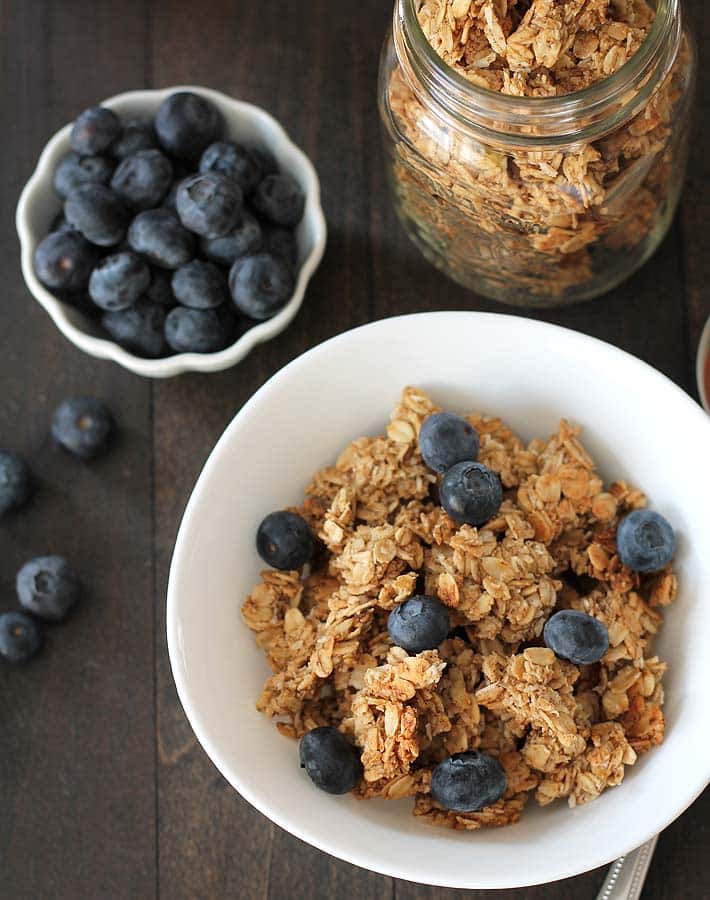 I chose to make my nut free maple coconut granola clusters without nuts so my kids can bring them to school (their school is 100% nut-free) but you can add them if you'd like. I have not made a nut version (yet) but I would use the raw, un-roasted kind since the granola spends some time in the oven. That oven time will toast the raw nuts up nicely.
And we can't not give the maple and coconut a small mention. This is a great flavour combo that's perfect for granola.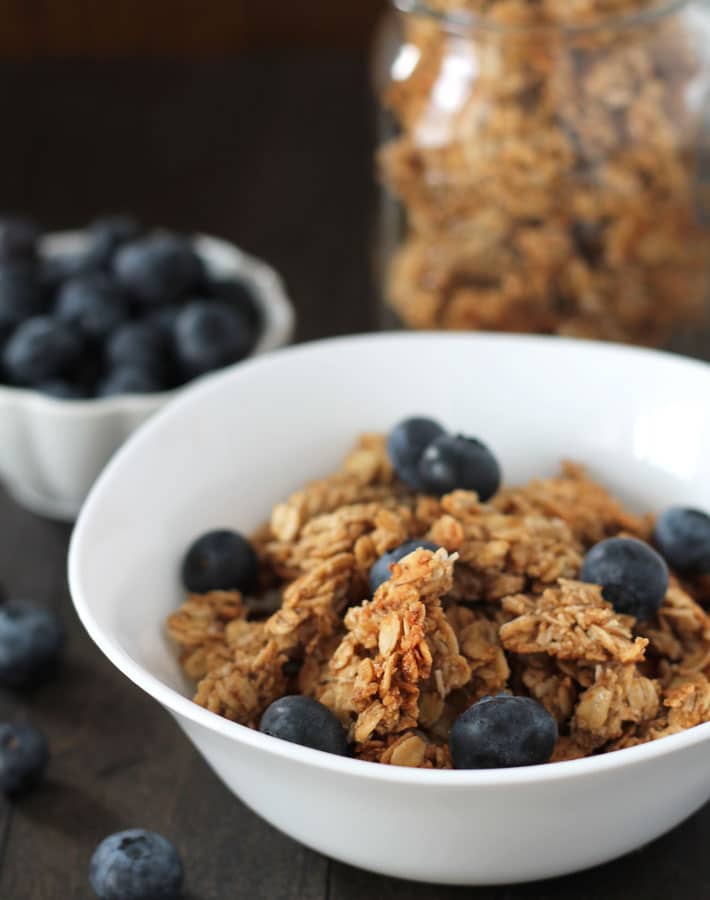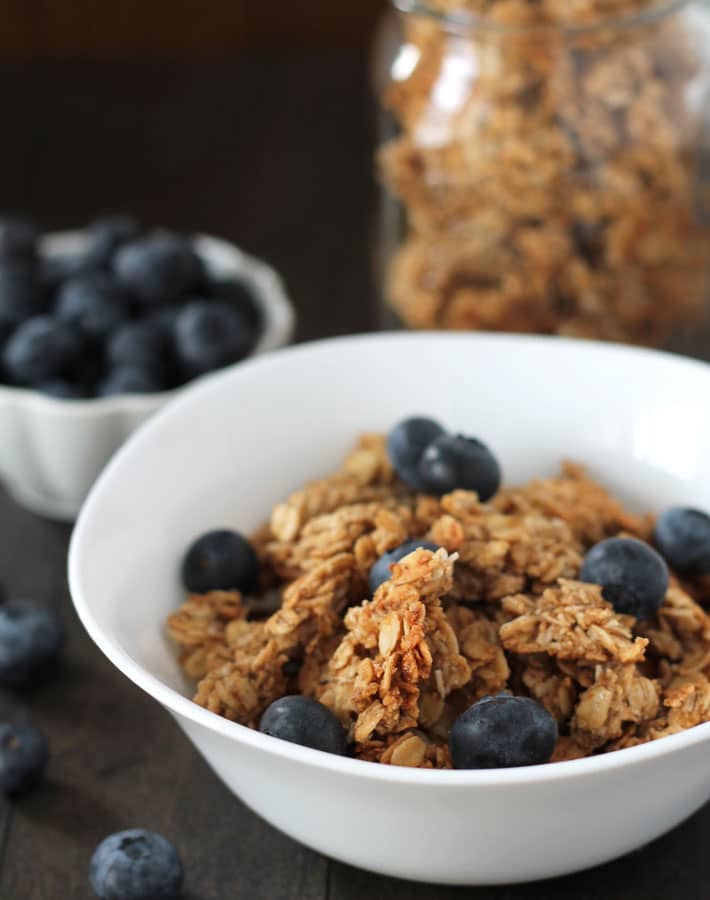 Before heading off to make your own granola clusters, click here for more delicious breakfast ideas!
This page contains affiliate links. Click to learn more.
How to Make Nut Free Maple Coconut Granola Clusters
Print Recipe
Nut Free Maple Coconut Granola Clusters
Delicious nut free maple coconut granola clusters that are perfect to have for breakfast or for snacking on in the afternoon!
Instructions
Preheat oven to 325°F degrees.

Line a cookie sheet with parchment paper, set aside.

Prepare your flax egg by whisking together ground flax seeds and water. Set aside to thicken.

Whisk together the rolled oats, oat flour, shredded coconut, coconut sugar, ground cinnamon, and salt until well blended.

In a small bowl, whisk together the flax seed mixture, melted coconut oil, pure maple syrup, and the vanilla until combined.

Add wet mixture to dry mixture and mix well so dry ingredients are coated.

Scoop out the mixture onto the parchment-lined cookie sheet and press down to flatten. (see note below)

Bake for 15 minutes and after 15 minutes, rotate the cookie sheet and bake for another 15 minutes. Keep an eye on it and if you see the edges getting a little too dark, take it out.

Remove from the oven and cool. (The granola may seem soft to the touch, but it will harden more as it cools.)

Once cooled, break into pieces. Make your clusters as big or as small as you'd like.
Recipe Notes:
This recipe makes approximately 4 cups of granola. Calorie count listed above is for 1/3 cup (113 g) of granola
Make your own oat flour by following the instructions in this post.
When flattening the mixture before baking, don't flatten too much or it will burn but flatten enough so it's not too thick. If it's too thick, the clusters turn out soft and not crunchy. You want it to be about 1/4 of an inch thick. When pressing down, the mixture may not fill out your cookie sheet, that's OK. Click here to see how mine looked before I put it in the oven.
Nutrition Info:
Serving:
113
g
|
Calories:
186
kcal