Vegan No Bake Peach Cheesecake Bites that are creamy, sweet, tangy and full of juicy, fresh peach flavour. This is the perfect summer dessert to make during peach season!
This page may contain affiliate links. Click to learn more.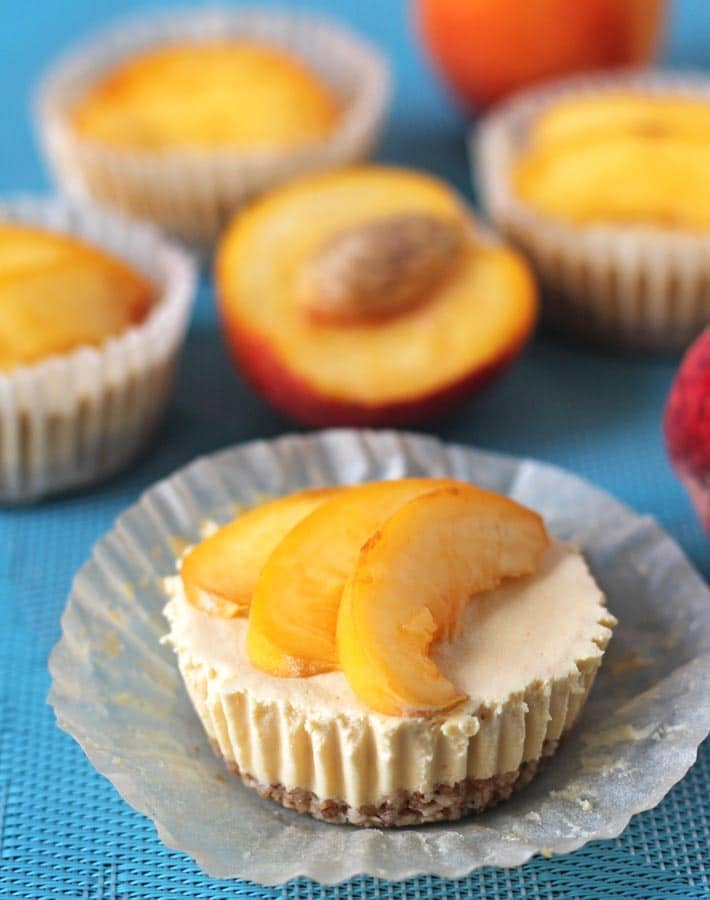 Summer is my favourite time of the year, for many reasons. If you love summer as much as I do, then you'll probably agree with why:
longer days
the hot weather and being warm (I really dislike feeling cold)
being able to have my windows open
the seasonal fruits and berries
peaches 🙂
Those are just a few of the reasons (there are many more!), out of all the seasons, why summer will always have my heart.
That last one in the list, though? Peaches? They play a big part in my love for summer.
To me, peaches, when in season and at their peak, are perfection. My favourite way to eat them is just as they are.
And I think I've found the second best way to eat them and that's in these vegan no bake peach cheesecake bites.
They look like regular cheesecake, they have a crumbly base, and a creamy, sweet tangy filling, but what's special about this no bake peach cheesecake recipe is this:
They have no cashews (yes! Cashew-free vegan cheesecake!)
It's vegan cheesecake made with almonds
They are dairy-free
They are loaded with fresh, summery peach flavour
They're sweet, but tangy at the same time, just like regular cheesecake
Making this recipe is not complicated. The finished cheesecakes are so pretty that it may seem like it's a complicated recipe, but it really isn't.
There are two parts, making the base and then the filling. Let's talk about that filling.
To make the filling, chop your peaches (like in the picture above), gather the other ingredients, measure them out, add them all to your high speed blender, blend, and then pour into the prepared muffin cups. Easy, right?
Is a High-Speed Blender Really Necessary to Make Vegan Cheesecake?
For this no bake peach cheesecake recipe, YES. It's 100% necessary.
I can't comment on vegan cheesecake made with cashews because I have never made one. Almonds are a little harder than cashews, even after being soaked, so in order to get the mixture as smooth as possible, and to avoid damaging your regular blender, a tough, high-speed blender is necessary.
I have a Vitamix, but other high speed blenders, such as Blentec will work just as well.
What is the Texture of a Vegan Almond Cheesecake Like?
It's smooth and creamy but because it's made with almonds, there will always be a very small amount of texture that remains. The mixture is not going to get 100% smooth like a cashew cheesecake, no matter how long you blend, but I don't mind this at all, as it's barely noticeable.
Can Frozen Peaches be Used for This Recipe?
Yes! If you get a vegan peach cheesecake craving when peaches are not in season, feel free to use frozen peaches. Just be sure to thaw them out before making the recipe, and after they have thawed, chop them as shown in the picture above.
When it comes to garnishing and making your peach cheesecakes pretty, I like to keep it simple and use fresh peach slices, like in the pictures above and below.
And I mentioned this when I shared my recipe for Vegan Lemon Strawberry Cheesecake Bites, Blueberry Cheesecakes, and my Vegan Lime Cheesecake …I don't like eating them right out of the freezer, I prefer to have them thaw out almost fully before eating, but you can try the different ways to see which way you prefer.
If you like this Vegan No Bake Peach Cheesecake Bites recipe, then you may also like these:
Don't forget to pin this recipe for later and if you make it, please share a picture of them with me on Instagram (I'm @delightfuladv)!
How to Make Vegan No Bake Peach Cheesecake Bites